Matcha has taken the western world by storm.
That much is safe to say.
But it has a unique flavor that is completely new to many in the west.
As a result, a lot of people have a hard time acquiring a taste for it.
So what does matcha taste like exactly?
Ask 10 people and you may get 10 different answers.
That is to say: it's not something you can describe with a single word or two.
But you can with an entire article. Keep reading to learn what you can expect to taste when you drink matcha and what you can do if you do not enjoy the flavor.
What Does Matcha Taste Like?
In general, matcha's taste can be described as vegetal, earthy, grassy, sweet, nutty, and slightly bitter. But it can have varying flavor profiles. Shaded matcha, or matcha that is grown in the shade for up to three weeks, has a sweeter taste than unshaded matcha.
The way you brew matcha can impact its flavor as well. If you use boiling water, the tea will end up with a more robust and bitter taste than if you use hot water (at 175° F or 80° C) to brew it. Let's take a closer look at the various factors that can have an impact on the taste of matcha.
Factors That Can Impact The Flavor Of Matcha
As mentioned, there are a number of factors that impact matcha's taste and flavor profile. These are the most important ones.
Cultivation And Processing
As mentioned above, the way matcha is grown, harvested, and processed greatly impacts its flavor. Matcha that is shaded for three weeks is sweeter than unshaded or lower-shaded matcha, since the shading process reduces its catechin content.
Catechins impart an astringent or bitter taste to the tea. Similarly, organic matcha that is cultivated without pesticides and chemicals tastes different than inorganic matcha. Organic matcha has an earthier taste.
Matcha Powder Quality And Grade
Higher-quality matcha has more amino acids, which gives it a sweeter taste than lower-quality matcha. Poor or lower-grade matcha powders are brownish-green instead of vibrant green.
Higher-quality matcha also has more chlorophyll, which imparts a brighter and greener color to the powder. Chlorophyll also impacts the flavor.
The grade of matcha powder also makes a difference in terms of flavor. There are different types of matcha powder available.
Ceremonial Grade Matcha: This is the highest quality matcha. It has a sweeter umami. Its color is brighter green, and the final brewed tea is sweeter and creamier.
Premium Grade Matcha: This type is used for everyday drinking. It has a mildly vegetal taste.
Culinary Grade Matcha: As the name indicates, this type of matcha is used for cooking and baking. It has a grassier and more robust taste.
Learn more about matcha in our complete guide.
Type And Temperature Of Water
The kind of water you use to brew your matcha can also impact its flavor. The pH levels and salts in hard water (which is most tap water) tend to overpower matcha's delicate flavor profile.
By using soft or spring water to brew your matcha, you can bring out matcha's subtle flavors. You can also filter your tap water.
Similarly, if you use boiling or scorching hot water, it will release more catechins and make your brewed matcha taste more bitter. If you use cooler water, it will yield a lighter flavor.
I generally recommend starting with water that is 175° F (80° C) and then adjusting from there. If you want your tea more bitter, increase the temperature a bit on the next brewing. If you want your tea sweeter, decrease the water temperature.
Quantity Of Matcha Powder
The matcha powder to water ratio will also naturally determine your tea's taste. In Japan, there are two ways to make green tea based on the powder-to-water ratio.
Usucha: This is a lighter, more flavorful, and sweeter matcha. It is also thinner since you use about 1 teaspoon of matcha powder in 70 ml of hot water.
Koicha: This is a thicker, fuller-bodied, and more robust matcha. You generally use two teaspoons of matcha with 40 ml of hot water. This yields a stronger and more bitter tea.
Additives
If you are new to matcha and do not appreciate its grassy or bitter flavor, try adding a bit of honey or agave nectar to sweeten it lightly. There are also a number of foods you can pair with matcha that may make it taste better to you.
Does Matcha Taste Like Green Tea?
Although matcha and green tea both come from the same Camelia Sinensis plant, and matcha is a type of green tea, their taste profiles are different.
Since matcha is grown in the shade, it is protected from oxidation. On the other hand, green tea is not shaded, and consequently, it undergoes oxidation, which impacts its taste.
Green tea has a refreshing, lightly bitter taste. Matcha, which is essentially a concentrated form of green tea, has a more robust, earthier, and grassier taste.
Matcha's bold and robust flavor profile is great on its own, but also finds use in culinary purposes. And it also tastes great with milk in the form of lattes. Green tea is best enjoyed without milk, although some people like flavoring it with honey and/or lemon juice.
Does Matcha Taste Better Hot Or Cold?
Hot matcha tastes slightly sweeter, nuttier, and creamier. Cold matcha is more refreshing and smoother. If you find your matcha too bitter when hot, try whisking it in slightly cooler water.
Cool matcha can be mixed with a dash of lemon juice and honey for a refreshing summer drink. You can also whip up a cold matcha latte by mixing it with cold milk (dairy or plant-based) and sweetening it with some maple syrup.
Why Don't I Like Matcha?
Matcha may be one of the most popular teas in Japan, but not everyone likes it. Here are some reasons you may be having a hard time acquiring a taste for matcha.
Bitterness
Matcha, like most green teas, has an earthy, grassy, and slightly astringent taste. The tea contains plenty of catechins, which are antioxidants that impart a bitter, vegetal flavor to the tea. This bitterness can be overwhelming for some people, and that is a big reason some find matcha unappealing.
Bad Experience In the Past
Another reason you may not enjoy matcha could be due to a bad experience with it in the past. Perhaps you brewed poor-quality or stale matcha, or it ended up being too bitter because you used a lot of matcha powder in a tiny amount of boiling water and drank it without a sweetener.
If you prefer a sweeter matcha, try brewing it with a lower matcha-to-water ratio and a dash of honey. Also, use cooler water for a more refreshing taste.
How Do I Start Liking Matcha?
There are a number of things you can try to start appreciating matcha and reaping its numerous health benefits. In fact, I have an entire article on how to make matcha taste better. Here are some brief suggestions.
Experiment With Different Brands And Flavors
These days, matcha is available in various flavors, so do some research and find one you love. Be adventurous and have fun when you experiment with matcha.
Use Ceremonial Matcha Instead Of Culinary Matcha
Ceremonial matcha is lighter, creamier, sweeter, and has a more delicate flavor than culinary matcha. Culinary matcha is bolder and more robust, with a grassier taste. If you are struggling to enjoy matcha, go for the ceremonial grade variety.
Brew It Right
As explained above, by using less matcha and more water (at the right temperature), you can reduce its bitterness. Lighter or thinner matcha is ideal for beginners or those who are new to this beverage.
Similarly, cold matcha preparations are also refreshing and not as bitter as hot matcha. This article covers how to make matcha.
Make Matcha The Secondary Ingredient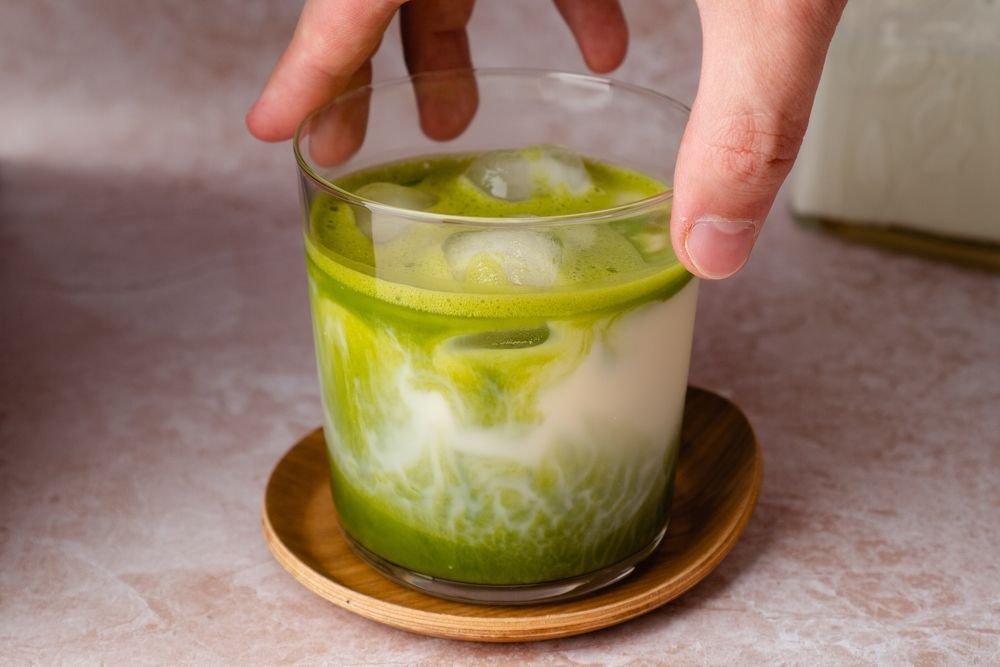 You could try having matcha in the form of smoothies or shakes. You can also flavor it with fruit juices or sweeten it lightly with honey, maple syrup, etc. This article gives you a lot of different ways you can use matcha powder.
Flavor Of Matcha: Final Thoughts
Matcha can taste quite different for different people. This is mainly due to the specific powder used and the way you prepare it. The most common description of the way matcha tastes is grassy or vegetal.
But there are many other flavors it can have. Some even report matcha tasting like seaweed or fish.
If you have tried matcha and did not like it, try some of the suggestions above. You may find that changing the powder you use, or the way you brew it can help. You can also add other ingredients to it to mask some of the flavors you do not enjoy.