Beer and pizza. Milk and cookies.
Some flavor pairings are simply legendary.
At least for us in the west. In Japan, they have different legendary flavor pairings.
Sake and sushi. Matcha and…what?
What flavors go well with matcha?
One matcha flavor pairing is legendary. But plenty of other flavors go well with this green tea powder, too.
Keep reading to learn what goes well with matcha. We will also cover some ways to make matcha taste better, if you happen to not like its natural flavor.
What Flavors Go Well With Matcha?
Matcha goes especially well with sweet flavors. That is why it is commonly used in desserts. This is the classic combination. The legendary Japanese flavor combination.
But matcha can also pair with salty or bitter foods. Not everyone will enjoy this as much, but many swear by these combinations, too. Let's take a look at some great foods that go well with matcha.
What Goes Well With Matcha
All of the following foods go well with matcha tea. However, sweet foods definitely pair best with the vegetal flavor of green tea powder.
Desserts And Baked Goods
Matcha pairs beautifully with chocolate-based desserts. Matcha's sweet vegetal flavor can balance out the bitterness of cocoa. No wonder matcha also goes well with baked goods like cookies and cakes. You can certainly use matcha powder in your homemade dessert recipes.
Snacks
Matcha has a wide range of flavors, such as vegetal, sweet, lemony/citrusy, nutty, grassy, or earthy, depending on how it is harvested and processed.
Accordingly, you can pair your matcha with crackers, snacks, cheese cubes, light sandwiches, or bread. Nuts like almonds, walnuts, lightly salted cashew nuts, etc. also complement matcha's vegetal taste.
Fruits
Matcha pairs very well with fruits like strawberries, blueberries, oranges, mango, pear, bananas, etc. If you love matcha smoothies, you can add these fruit toppings and blend them with milk or yogurt, to take the flavor of matcha to a whole new level.
High-Fiber Foods
Matcha green tea also goes well with high-fiber foods like grains, beans, nuts, and seeds. In fact, if you're looking to lose weight, opt for these foods alongside matcha to feel full longer and also get protein and energy to burn more fat.
Meat And Seafood
If your matcha has a lemony or citrusy flavor profile, you can pair it with chicken curries, steaks, or other meaty entrees. If your matcha is smoky or nutty, you can serve Middle Eastern, Japanese, or other Oriental stir-fry cuisines with it. The matcha's astringency will cut through the food's strong flavors.
If your matcha is vegetal, grassy, or earthy, seafood will go well with it. The umami flavor of seaweed and fish and matcha's vegetal, grassy flavor balance each other out well. Some people even feel that matcha has a fishy flavor itself.
Pizza And Pasta
Certainly, pizza and pasta usually taste better with wine, beer, soda, or sparkling water. It is not common to pair matcha with these popular dishes. However, that does not mean you can't do it.
If you want to slurp on some hot matcha after having pizza or pasta, go for it! The combination isn't bad at all, and matcha may even cut through the food's heaviness.
What Foods Should You Never Pair With Matcha?
One of the main foods to never pair with matcha are iron-rich green vegetables. There is a likelihood that the tannins in matcha could interfere with iron absorption, so it may be best to avoid having iron-rich foods like green vegetables right before or after having matcha. Experts also recommend not eating iron-based supplements for at least an hour after consuming matcha.
How Is Matcha Best Served?
If you are new to matcha, try mixing it with milk to make a matcha latte. You can also sweeten it lightly with maple syrup or honey. This is a great way to drink matcha, if you don't like its bitter or grassy taste.
Ideally, matcha is best served traditionally: plain, with hot (not boiling) water. You can buy special ceremonial tea bowls to serve your matcha. Use a special whisk called a chasen to whisk the matcha into a foamy drink.
Learn how to brew matcha here. Once it is ready, drink it right away while it is nice and hot.
Should You Add Anything To Matcha?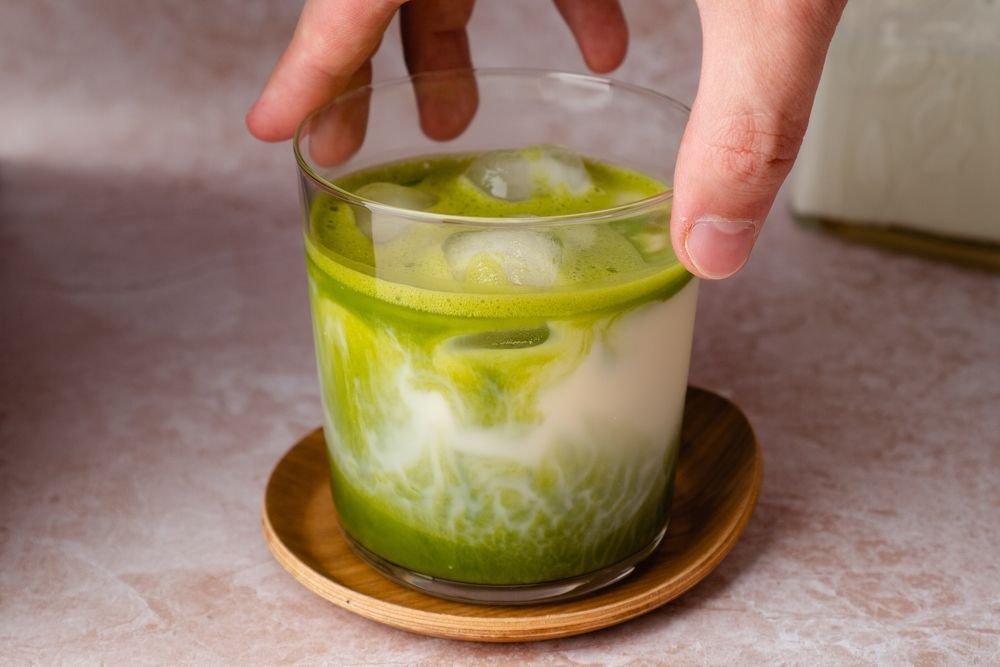 Traditionally, matcha is served plain with hot water. It is whisked into a foamy green liquid and slurped hot. You need not add anything to it.
However, there are various ways that people choose to enjoy their matcha. Whether you should add anything to it depends on your personal taste preferences. Here are some options to consider:
With lemon juice: A few drops of lemon juice can help overcome the strong, grassy flavor of matcha.
With sweeteners: Honey works best, although you could also add Stevia, sugar, maple syrup, or agave nectar to sweeten your matcha. Sweetening helps overcome matcha's strong, bitter taste.
With spices and extracts: Some people like to add vanilla extract, cinnamon, or ginger to their matcha to enhance its flavor profile. You could even experiment by mixing and matching these spices and extracts to create a unique blend of flavors.
In smoothies: Matcha tastes great in the form of fruit or vegetable smoothies. You can add your choice of fruits (strawberries, bananas, etc.) and dairy or non-dairy milk to the matcha to blend into a healthy smoothie.
How To Make Matcha Taste Good
If you don't like the flavor of matcha, there are several ways to make matcha taste better. We already touched on some of them, but here are the main ways you can alter the taste of matcha.
Reassess Matcha's Traditional Preparation
Make sure to only use high-quality, vibrant green matcha powder, because that can impact your tea's taste greatly.
Use hot, not boiling, water. It should be around 175° F (80° C). Boiling water tends to enhance matcha's bitterness.
Dilute your matcha–use less powder and more water.
If you find matcha too bitter, grassy, or vegetal, you can overcome its bitterness with a dash of honey or even a bit of chocolate syrup. Don't go overboard, though.
Make Matcha Lattes Or Smoothies
Matcha tastes great with milk. It is one of the main similarities between matcha vs coffee. If you don't mind the additional calories, you can choose to drink matcha lattes.
Consider using non-dairy or plant-based milk like oat milk, almond milk, etc to make your latte
Sweeten it lightly with maple syrup or agave nectar
Consider adding fruit toppings for a natural flavor and sweetness
Choose Flavored Matcha
Matcha comes in unique flavors these days, including fruity flavors like pineapple and passionfruit. Try these variants if the plain matcha tea is too bitter or grassy for your taste.
What Is The Healthiest Way To Drink Matcha?
The healthiest way to drink matcha is the traditional way – without any additives, sweeteners, etc. Adding sweeteners to matcha certainly helps overcome its bitterness, but you are increasing your calorie intake unnecessarily.
Do not use excessive amounts of sugar to sweeten your matcha. If needed, go for Stevia or a tiny bit of honey to lightly sweeten your matcha.
If you choose to drink matcha lattes, limit the amount of milk you add. Milk increases your calorie intake and could also dilute matcha's nutritional impact.
If you want to enhance your matcha's flavor, simply add a few drops of lemon juice, vanilla extract, or cinnamon powder to it. These ingredients won't increase your sugar and calorie intake.
Is Matcha Better With Water Or Milk?
Matcha can be enjoyed with either water or milk, and the choice depends on your personal preference. Drinking matcha traditionally (with hot water) allows you to experience the tea's pure and robust flavor.
On the other hand, using milk, whether dairy or plant-based, creates a creamier texture and can mellow out the matcha's bitterness. However, milk can also dilute some of matcha's health benefits and increase your calorie intake.
To optimize matcha's flavor and health benefits, consider enjoying it traditionally with hot water. You could add a few drops of lemon juice and/or honey to lightly sweeten it and overcome its bitterness.
What Goes Well With Matcha: Final Thoughts
Matcha pairs perfectly with sweet flavors. That is why the classic combination in Japan is matcha with a sweet treat. And why people love adding matcha to various dessert recipes these days.
But matcha can also pair well with many other flavors. That is not surprising, given how complex the flavor of matcha is. It can bring out different types of flavors, depending on what you pair it with. And that's where we get to the fun part: experiment!
I love trying new combinations and seeing how well they go together. Hopefully this article gave you some ideas to try, or some inspiration to come up with creative new flavor combinations of your own. Then leave a comment and teach me what flavors go well with matcha!