You know matcha is healthy.
And you want to take advantage of that.
But it seems so complicated!
You either have to cook with it or brew it using special utensils.
The brewing process might seem intimidating, but once you know how to make matcha, it's actually quite easy.
And you can get all the utensils in a cheap matcha set. Or just substitute things you already have around the house.
The point it, there are no more excuses. Get yourself some matcha powder and follow the instructions below to prepare a delicious and healthy cup of matcha green tea.
How To Make Matcha Green Tea
We will begin with brewing instructions for traditional hot matcha, but you can also make it cold or use tea bags. Those instructions follow below, as does a brewing guide for matcha latte.
Brewing Matcha Step By Step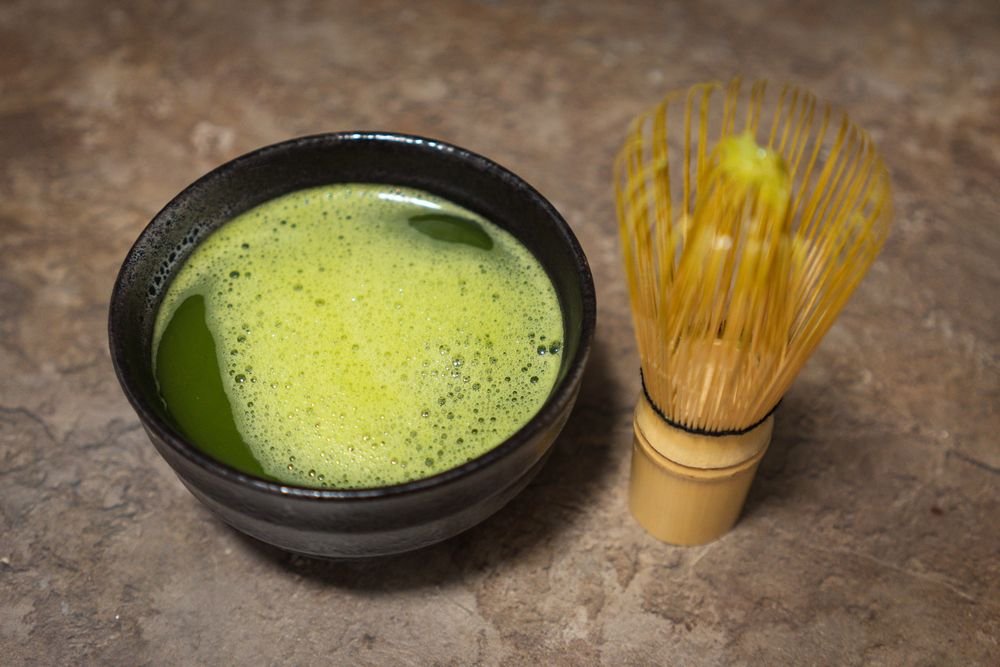 Making a delicious cup of matcha begins with quality ingredients. You need good green tea powder and good water. For the actual brewing, you need several utensils. The easiest way to get them is in a set.
My complete matcha guide has includes my recommendation for a good set, as well as good matcha powder to buy. Make sure the powder is not past its expiration date. Matcha powder rarely goes bad per se, but it does get stale, which affects the taste.
Step 1: Choose Quality Matcha
Matcha is more than just powdered green tea. Use the following criteria to choose your matcha for an intense flavor, texture, and taste:
Origin: The best matcha comes from Japan. Choose matcha that has been produced in one of the main matcha-growing regions of the country, like Uji.
Grade: Matcha comes in three different grades. Ceremonial is best for drinking, but premium is fine, too, for most people.
Color: Select matcha that is bright green in color. It should not be brownish-green or yellow-green, because that indicates poorly cultivated matcha or matcha that was not properly shaded.
Texture: select smooth, well-ground matcha; avoid matcha that is rough or sand-like in texture.
You also want to make sure you store your matcha correctly, so that it does not lose its freshness.
Step 2: Choose Good Water
To make matcha, you should ideally use soft mineral water or natural spring water. Avoid using European bottled water because it is very "hard."
If you do not have access to bottled mineral water, you can substitute tap water. If using tap water, let it sit in the pot for a few hours to remove the chlorine. You can then proceed to brew matcha tea following the instructions below.
Step 3: Brew Your Matcha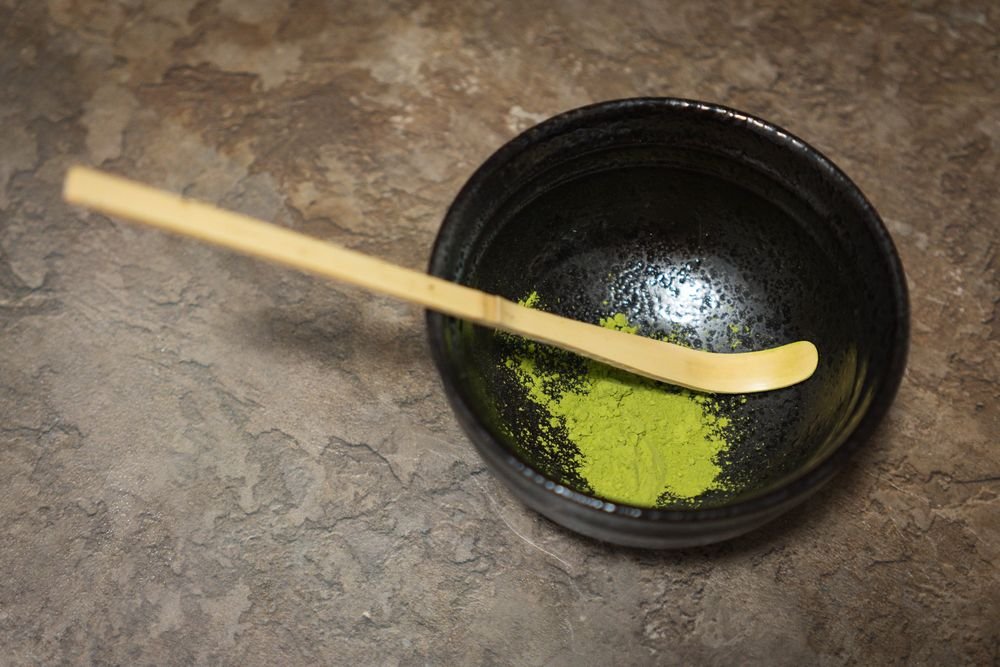 You can prepare matcha either hot or cold. These instructions are for hot matcha. You'll find instructions for cold matcha, teabags, and matcha latte below.
Ingredients
Matcha powder
6-8 oz. of spring or filtered water
Utensils Needed
Bamboo whisk (chasen)
Measuring ladle (chashaku)
Sifter
Glass, cup, or bowl
Steps
Heat water. The ideal temperature for brewing hot matcha is 175° F (80° C).
Warm the glass/cup/bowl (see the section below on secrets to brewing matcha perfectly).
Measure one and a half ladlefuls (about 1-½ tsp) of the matcha powder into the sifter and sift it into the warmed glass, cup, or bowl.
Add about 2 oz. (70 ml) of boiling water to the matcha powder and let it sit until it cools down slightly.
Whisk the mixture into a smooth, lump-free paste using the chasen. If you want a foamier tea, make an "M" or "W" shaped movement in the bowl using the chasen. Whisk for 10-15 seconds.
Add the remaining hot water to the matcha paste.
Whisk again.
Your matcha is ready to drink!
This video shows me preparing a cup of matcha. I did not have a strainer, so I did without it, which is fine.
Can You Make Matcha With Cold Water?
Yes, you can make matcha with cold water. Follow these instructions to make a refreshing cold matcha drink.
Ingredients
1 tsp matcha powder
250 ml cold water
1 tsp honey (optional)
A wedge of lemon (optional)
Ice cubes (optional)
Sprig of mint (optional)
Utensils Needed
Preserving jar with lid
Spoon, wooden whisk, or stirrer
Serving glasses
Steps
Add the matcha powder to the preserving jar
Pour water on top
Stir or whisk briefly
Add honey and stir or whisk again
Screw the jar shut with the lid and shake until matcha powder and honey dissolve and the tea is frothy.
Pour the frothy matcha over ice cubes in serving glasses.
Garnish with lemon wedges and mint sprigs.
Matcha Latte Recipe
Matcha latte is made using milk, which gives a creamier, richer flavor to matcha.
Ingredients
1 tsp matcha
1 tbsp hot water
1 cup milk (dairy or plant-based)
Sweetener of your choice (honey, stevia, agave, etc.); this is optional
Utensils
Sieve/sifter
Cup or bowl
Bamboo whisk or stirrer
Saucepan
Milk frother or blender
Steps
Sift the matcha powder in the cup or bowl.
Add a tablespoon of hot water. Be careful not to use boiling water.
Whisk the matcha-water mix into a lump-free paste.
Heat milk in a saucepan until hot but not boiling.
Use a handheld milk frother to froth the milk. Alternatively, you can use a blender to froth the milk.
Pour the frothy milk over the matcha paste.
Use the bamboo whisk or stirrer to combine the matcha paste and milk.
Add the sweetener of your choice. This is optional.
Enjoy the hot latte right away.
How To Brew Matcha Tea Bags
Matcha tea bags are a convenient way to enjoy matcha tea. Here are the steps to brew matcha tea bags.
Ingredients
Matcha tea bag
8 oz. of water
Utensils
Steps
Heat about 8 oz. of water to 175 °F (80 °C). Do not use boiling water, as that can make your matcha bitter.
Place the tea bag in a cup or bowl.
Pour the heated water over the bag. You can fill the cup halfway or as per your desired strength.
Steep the tea bag for 2-3 minutes. Do not over-steep, as that could make your matcha bitter.
Remove the tea bag and enjoy the hot matcha.
Do You Mix Matcha With Water Or Milk?
The traditional method of making matcha uses water. However, many non-Japanese people prefer drinking matcha concoctions with milk.
Milk gives a creamier, richer, and sweeter flavor to matcha. Matcha made with hot water has a sea-weedy, bitter, malty, or edamame-like taste. I love the flavor of matcha, as do many others.
But not everyone. Many people haven't acquired a taste for the traditional, bitter matcha. Thanks to joints like Starbucks that serve matcha lattes, most Americans and Europeans have developed a taste for sugar-laced, matcha lattes.
The choice of using milk or water in matcha depends on personal preference. If you prefer creamier and sweeter matcha, then go for milk. If you prefer a more traditional vegetal taste, then water works best.
How To Whisk Matcha
The best way to whisk matcha is to use a bamboo whisk designed specifically for the task. This matcha utensil is known as a chasen and you can get them in tea stores or online from places like Amazon. It is easiest to buy a set that includes the shisk, a cup, and a scoop.
When whisking matcha, keep the whisk just above the bottom of the cup and whisk the liquid using an "M" or "W" motion. You should only have a small amount of liquid in the cup (70 ml) and you want to whisk it up nice and frothy.
Once it is ready, you can add more water, if you want. I always do, then give that a brief whisk and you are done. If you do not have a chasen, you can still make matcha. This article goes over several ways to make matcha without a whisk.
Matcha Water Temperature
As mentioned, one of the keys to making matcha is to refrain from using boiled water. Heat your water to around 175 °F (80 °C). Or use cold water, if you prefer.
Matcha To Water Ratio: How Much Powder To Use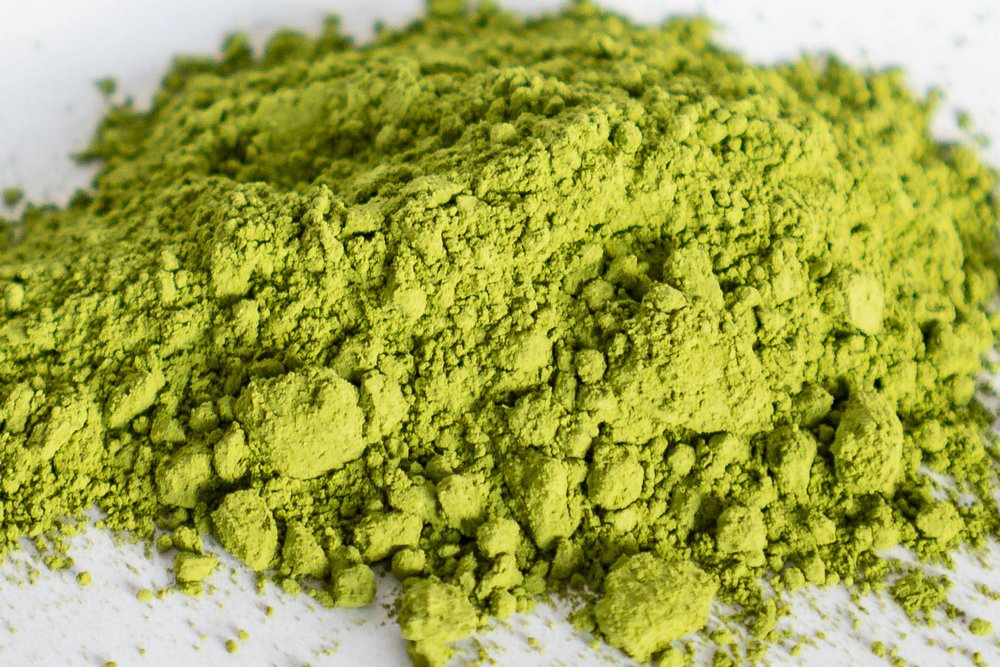 The ideal matcha-water ratio is 1:70. That is the ratio for usucha, which is the standard way to prepare matcha. This means using 1 gram of powder for 70 ml of water. I never measure it exactly, though. I just use two scoops of my chashaku (the bamboo ladle).
And then I always add more water after I have made my matcha. I know it dilutes it a bit, but that's fine. I prefer to have more to drink. 70 ml is not very much liquid at all.
If you want to make koicha, use 3-4 scoops (about 1.5 tsp) of matcha powder. Koicha is a much thicker matcha that is served during tea ceremonies.
Matcha Brewing Time
Since matcha comes in the form of a fine powder, it does not need to be steeped, unlike other green teas.
The fine matcha powder can be passed through a sifter to ensure clump-free matcha. You simply pour hot water into the bowl over the sifted powder and whisk vigorously to dissolve it completely.
Ideally, you should whisk for at least 15 to 20 seconds to create the perfect matcha texture. It is best to drink the matcha right away to enjoy its flavor. But if it is too hot, go ahead and wait a bit!
Secrets To Brewing The Perfect Matcha
Sift or strain the matcha for a lump-free, clump-free tea.
Use the proper ratio of matcha to water (1:70).
Warm the bowls/cups when drinking hot matcha. This will enhance your matcha drinking experience, especially on cold days.
Whisk matcha thoroughly. Once you start getting a light, foamy tea, move the whisk slightly upward to the surface of the tea to get a creamier tea.
Don't be afraid to experiment with matcha brewing! Try variations and different ingredients.
Serve matcha with sweets – that is how they do it in Japan! The sweet treats help balance matcha's vegetal, slightly bitter flavor.
Matcha Preparation: Final Thoughts
Brewing matcha can seem a bit intimidating, given the special utensils and the whisking instead of steeping. But once you know how to make matcha, you quickly realize it's actually quite easy.
I hope this guide helped you, but remember: it is sust that. A guide. If you feel the matcha green tea you get is too strong, use less powder or more water. If you feel it is too weak, add more powder. In other words, experiment until you get the perfect cup of matcha exactly the way you like it!