Tired of trying different variations of green and black tea?
Want to switch things up with a unique flavor?
Try some Eucalyptus tea!
Known for its ability to fight off colds, this immune-boosting, super-soothing, antioxidant-rich, and anti-inflammatory plant can do wonders for your health.
But it is also highly toxic!
That means you need to be careful. So how do you make it and drink it, and what exactly are the health benefits and the potential risks?
Keep reading to learn all about eucalyptus tea, including its many benefits, its dangers, and why it can be of the best herbal teas for improved health and overall well-being.
Eucalyptus Tea: Everything You Need To Know
We'll begin our deep dive into Eucalyptus tea with a bit of background (you'll be surprised at how new it is), before going into the benefits and potential dangers. We'll finish with instructions on how to make it, how to help it taste better, and how to consume it safely.
The Eucalyptus Plant
Eucalyptus is a fast-growing botanical with over 700 species. It contains a range of potent chemicals like tannins and eucalyptol that may have various effects on the body.
Technically, eucalyptus — especially when used in high concentrations such as in eucalyptus oil — is toxic. But it can offer a plethora of health benefits if used in moderation.
This is why eucalyptus tea, which contains a smaller amount of eucalyptus leaves, is generally considered a fair middle ground.
History Of Eucalyptus Tea
Eucalyptus, which means "well-covered" in Greek, is a type of evergreen tree that's native to Southeastern Australia and Tasmania.
For hundreds of years, indigenous people from these countries have used the bark, leaves, and roots of the eucalyptus tree for various purposes, including their pharmaceutical benefits.
They've used tinctures, teas, and salves of this plant to treat colds, respiratory viruses, and other ailments for quite some time now.
But the use of eucalyptus leaves in tea is fairly new. The introduction of the tea came less than three decades ago, back in 1997.
The medical properties of the eucalyptus leaf were highlighted by Kenji Shimabukuro, a researcher from Japan, who patented eucalyptus tea. Here's how he processed his tea.
Processing Of Eucalyptus Tea
Eucalyptus tea goes through 5 main processing steps before it is ready to be steeped and consumed.
Step 1: Steaming
The eucalyptus leaves are steamed for 30 seconds to soften them, which makes them easier to roll and stops them from oxidizing. This also enhances the aroma of the leaves, elevating their overall appeal. It is similar to the way green tea is processed.
Step 2: Cooling
Once steamed, the eucalyptus leaves are cooled to preserve their color and appearance.
Step 3: Drying
The cooled eucalyptus leaves are dried to rid them of moisture, which reduces their moisture content to a meager 5%. If you want to try doing this yourself, you can learn how to dry leaves for tea here.
Step 4: Rolling
The dried eucalyptus leaves are rolled in rumpled-twisted form.
Step 5: Grinding
Finally, the dried eucalyptus leaf rolls are finely ground and then packaged into tea bags.
The Finished Tea Leaves
Kenji Shimabukuro's patent report noted that the content of tannin in his tea was 13.6%. This amount may look inconsequential, but it is noteworthy, especially because tannin is astringent and bitter-tasting.
This dry, puckering-in-the-mouth feeling of the astringent tannins was treated as a good aspect of the tea, because it offered better medicinal benefits.
Luckily for us, we don't have to sacrifice taste in favor of health benefits. There are many ways to make eucalyptus tea more palatable.
For example, if you make a blend of eucalyptus tea with black tea and cinnamon powder, it can improve its color, aroma, and taste and make it much more appealing. You can also stir in some honey to add a touch of sweetness to it.
What Kind of Tea Is Eucalyptus Tea?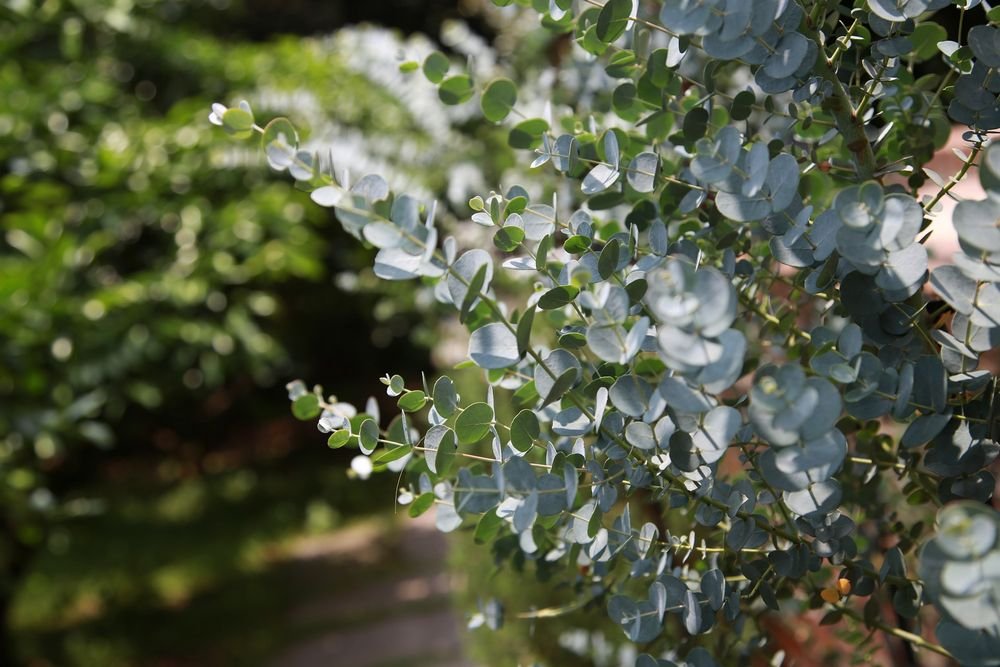 According to the Integrated Taxonomic Information System(ITIS) report, there are diverse varieties of eucalyptus plants growing all over the world.
However, when we talk about eucalyptus tea, we typically refer to a type of herbal tea made from ground leaves of Eucalyptus globulus, also known as the blue gum tree or Australian fever tree.
This fast-growing tree has a smooth bark and leathery, round blue-green-grayish leaves when young, that become long and sickle-shaped as they mature. The point-shaped glands in these leaves contain an essential (and volatile) oil — eucalyptus oil — that may produce harmful side effects when consumed.
But don't worry, you can still consume it. Just in a different form.
Eucalyptus tea is made from crushed leaves and not from the oil extracted from them. When you brew the eucalyptus leaves, the pale-green colored tea has a woody and pine-like clean, fresh scent.
It sounds complex, but you may already be familiar with its scent, because many personal care brands use eucalyptus in their products, to bank on its medicinal properties.
What Does Eucalyptus Tea Taste Like?
Because eucalyptus leaves are high in tannins, the tea can taste astringent and bitter, with a menthol finish.
If you brew eucalyptus tea on its own without adding any other ingredients, it can taste quite unpleasant. But it won't be as evident as the woody menthol cooling flavor that can make it much more bearable to your palate.
Benefits Of Drinking Eucalyptus Tea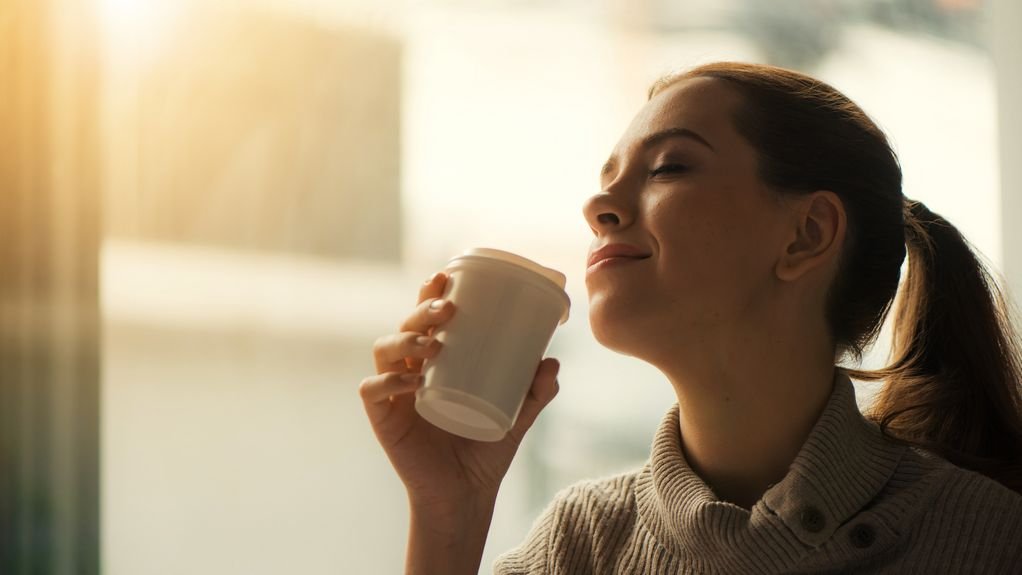 When it comes to the benefits of drinking eucalyptus tea, you'll find that even the internet doesn't have much to go on. This is because most research conducted on the subject has focused on the benefits of eucalyptus oil, rather than eucalyptus tea.
However, there is more than enough research on specific components of eucalyptus tea, such as flavonoids and tannins, to point to the positive effects eucalyptus tea can have on our health.
May Protect Against Chronic Diseases
According to a 2019 study conducted by Edith Cowan University, eating a diet rich in flavonoids — a chemical compound found in abundance in eucalyptus — may protect us against chronic illnesses like cancer, diabetes, and heart diseases.
Moreover, a 2012 study that examined the association between flavonoid intake and cardiovascular disease mortality among 38,180 men and 60,289 women found that flavonoid-rich foods were associated with lowered risk of fatal cardiovascular death in a whopping 18% of participants.
However, this is not a direct effect of drinking eucalyptus tea, so more research is required to confirm these findings.
May Boost Immunity To Reduce Your Risk Of Getting Certain Diseases
Eucalyptus oil is widely known for its antimicrobial effects, so drinking eucalyptus tea might offer you similar antibacterial properties, albeit at a much milder level.
A study on the antimicrobial properties of this plant also found that it may reduce your susceptibility to viruses like Coxsackie B4, Rotavirus Wa, and Herpes Simplex-1.
May Relieve Common Cold And Flu Symptoms
Eucalyptus contains eucalyptol, an anti-inflammatory agent, that can manage cold, cough, and congestion symptoms. This is why eucalyptus is so common in cold and cough products.
The tea vapors of eucalyptus tea can work as an inhalant by opening up the congestion in your lungs and reducing mucus. This may help soothe a sore throat, nasal congestion, and cold-related headache, while making it easier for you to breathe.
It may also prove beneficial in helping reduce the duration of your cold, but according to the American Lung Association, there isn't enough evidence to support its use in the treatment of a cold.
May Improve Respiratory Health
While several studies have confirmed the respiratory benefits of eucalyptus oil, more research is required on eucalyptus tea. However, the premise is that eucalyptus works wonders for your immune system in all forms, so it may provide relief for people with bronchitis, asthma, and other respiratory problems.
Lower Blood Sugar
An animal-based study published in the British Journal of Nutrition in August 1998 showed that eucalyptus tea can be used for treating diabetes.
However, further studies need to be conducted to determine the chemical pathway that might control diabetes. But it is generally believed that some components in the eucalyptus leaves can affect blood sugar levels.
Hence, the tea may be useful for those with borderline diabetes (pre-diabetic) and those suffering from high blood sugar. Avoid adding sugar or honey, since that can have a contradictory effect.
PSA: Eucalyptus tea lowers your blood sugar levels. For that reason, it would be wise to stop consuming it at least two weeks before surgery to ensure better blood sugar control both during and after surgery.
May Reduce Pain
Eucalyptus leaves have anti-inflammatory properties. Consuming them in your tea may help ease aches and reduce muscle strains.
Breathing in the soothing and refreshing steam of the eucalyptus tea as it brews may also help fight inflammation in certain areas of your body and improve your overall health.
This list is, by no means, comprehensive. If you want to learn more about eucalyptus tea, read all about it here.
Side Effects Of Drinking Eucalyptus Tea
According to the US Food and Drug Administration, the leaves of the eucalyptus globulus tree are "generally recognized as safe," provided they're manufactured in accordance with good manufacturing purposes.
Thus, eucalyptus leaves are safe when used as a flavoring in small amounts, so drinking eucalyptus tea shouldn't be a problem for most adults.
However, you should still steer clear of giving your children eucalyptus tea, unless otherwise approved or recommended by a doctor. After all, at the end of the day, eucalyptus is still a toxin.
Infants and children exposed to eucalyptus oil have been reported to experience seizures, difficulty breathing, and other negative effects on the nervous system.
If poisoning occurs, it can manifest in the form of various symptoms such as diarrhea, vomiting, irregular heartbeat, stomach pain, or unconsciousness. Unfortunately, there's no treatment option available that can help reverse the poisonous effects of this essential oil, so it's best to avoid it altogether.
Again, these findings may not be specific to eucalyptus tea, but there still could be a correlation because eucalyptus tea is typically seen as a milder form of eucalyptus oil.
While eucalyptus tea isn't as toxic as eucalyptus oil, it still contains the same compounds and properties that can cause severe symptoms and may even result in death.
As a result, we strongly advise that you consume it with caution.
Eucalyptus tea can also affect how certain medications work in your system, particularly ones that are changed and broken down by the liver. It may alter the effects of these medications on your body and may even magnify their side effects.
Further studies need to be carried out to better understand the amount of eucalyptus consumption that may cause health problems.
If you are on medication, pregnant, or breastfeeding, it would be better to err on the side of caution and speak with a healthcare provider before consuming any herbal teas or treatments.
How To Drink Eucalyptus Tea
Like any other herbal tea, you can brew eucalyptus tea using traditional tea bags or loose eucalyptus leaves.
If you're using store-bought tea bags, you want to steep the tea bag in boiled water for 4 to 7 minutes. Instructions differ across brands, so it is always best to follow the manufacturer's instructions printed on the label to make your tea.
If you're using fresh eucalyptus leaves, steep the leaves for longer. Shoot for about 10 minutes, to allow the flavors to fully come through.
You can also add immune-boosting ginger and turmeric or honey to your tea, to stock up on additional health benefits in your mug, while also making it much more flavorful. You can also blend eucalyptus with peppermint, spearmint, or chamomile teas to amp up the soothing power of the tea.
How Often Can I Drink Eucalyptus Tea?
Eucalyptus tea doesn't have a recommended dosage, so we can't really make any recommendations. That said, how often you can sip on this herbal tea will depend on how you make it.
If you're using store-bought eucalyptus tea bags, a cup or two per day will do the trick. However, if you're making it using fresh eucalyptus, we would recommend that you limit your eucalyptus tea intake to 8 ounces (or 1 cup) per day.
Too much eucalyptus, especially in a form as potent as leaves, can be dangerous for your health.
Friendly tip: while eucalyptus tea is associated with some excellent health benefits for your respiratory and immune systems, it should never be used to replace medical treatment. Talk to a healthcare provider to learn more.
Eucalyptus Tea: Final Thoughts
The leaves of the eucalyptus tree can offer anti-bacterial, anti-inflammatory, and immune-boosting benefits. However, as you can now tell, natural doesn't always mean safe.
If you're planning to consume eucalyptus tea, stick to the proper dosage and consult a healthcare professional before using it to ensure a safe experience.
You should also monitor your body's responses after adding eucalyptus tea to your diet, so you can make more informed decisions for your overall health.