Do you want to drink tea, but just don't like it?
Maybe you want to take advantage of the health benefits, but simply can't get past the flavor?
Luckily, you have a few options.
First, there are a number of ways to make tea taste better.
Those allow you to enjoy true teas and benefit from the many healthy components they contain.
Second, you can drink other types of tea that are not made from the Camellia sinensis plant.
Many herbal teas have completely different tastes from true teas. And even some true teas taste completely different.
Keep reading for a list of tea for people who don't like tea. You should be able to find at least one type of tea below that suits your tastes.
Best Tea For People Who Don't Like Tea
If you have tried adding sweeteners or other flavors to your green tea or black tea, but you still don't like the way it tastes, this list is for you. Here are a bunch of alternatives that all have very different flavors from black or green tea.
If you are not sure where to find these teas, we have an article listing the best herbal tea brands you can find online. Many are available on Amazon, or in their own online stores.
Ginger Tea
Ginger tea is a herbal infusion made from the ginger root. It is very simple to make your own ginger tea by grating or slicing fresh ginger into a mug and adding hot water.
It is not a true tea and does not contain any tea leaves, yet it has a warming flavor packed with health benefits. Ginger tea is full of antioxidants and has anti-inflammatory properties.
You can add honey and lemon for a flavor boost and a health boost. Ginger tea with honey and lemon is the perfect drink to help ward off the common cold and fight off the flu.
And you don't have to make actual ginger tea. Ginger is also a great ingredient to add to black tea or green tea. Or other types. If you prefer ginger herbal tea, without green or black tea in it, there is a good recipe in my article listing recipes for various herbal teas.
Hibiscus Tea
Hibiscus tea is a herbal tea made as an infusion from the deep magenta-colored calyces of the roselle hibiscus plant. The plant originated in Western Africa, where hibiscus tea is very popular. In fact, it is the national drink of Senegal. It is also hugely popular in Mexico (agua de jamaica).
Hibiscus tea is made by steeping dried parts of the roselle hibiscus plant in water. The plant's calyces impart a sharp taste with hints of cranberry, and the resulting infusion comes with added health benefits. Hibiscus tea is full of antioxidants, is purported to help lower blood pressure and fat levels, and may even promote weight loss.
Herbal Mint Tea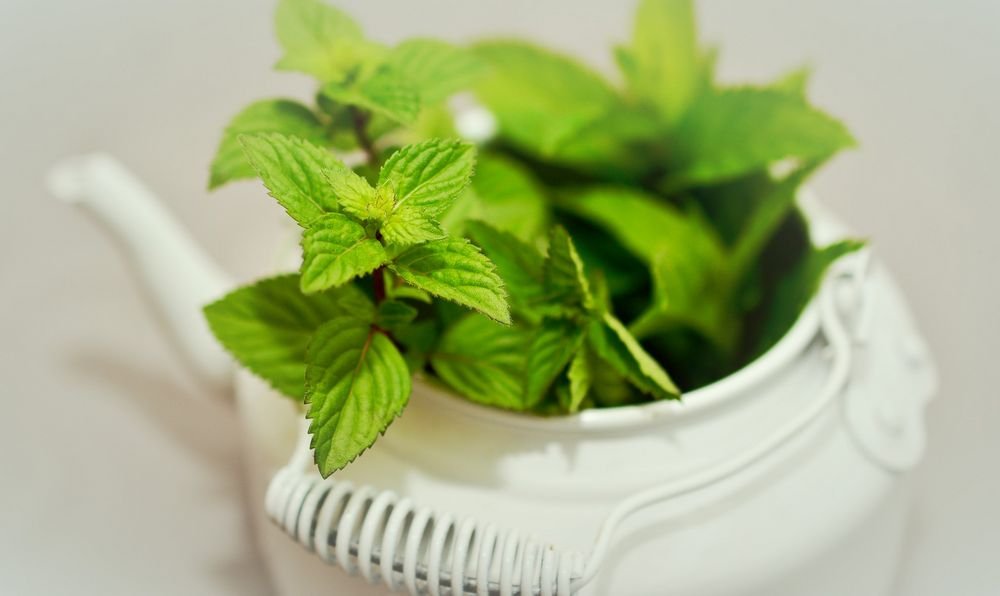 Herbal mint tea has a minty taste that is slightly sweet and spicy. Perfect for a summer's afternoon, herbal mint tea has a refreshing and mildly calming effect.
The drink is very easy to prepare by infusing mint leaves in hot water. Using peppermint leaves will give you peppermint tea, but you can also use spearmint leaves to make spearmint tea in the same manner.
Mint leaves contain a high content of essential oils, especially menthol, and mint tea is popular for its curative effects. It is claimed that peppermint tea can help relieve headaches and clear up the sinuses, and its calming effect on the digestive system can help soothe a stomach ache.
Peach Blossom Tea
Peach blossom tea, also known as peach flower tea, originates from Korea, where it is known as dohwa-cha. It is easy to prepare by infusing hot water with dried peach blossoms.
The peach flowers are harvested during the spring, then dried in a shady place before being stored in paper bags.
Containing no tea leaves, this herbal infusion has a sweet and fruity taste. It is reported to ease constipation and may help treat calculi, such as kidney stones. The light and fruity taste is perfect for a refreshing summer beverage to enjoy in the sun.
Mango & Passionfruit Tea
Mango and passionfruit tea is another fruit infusion that isn't blended with any leaves from the Camellia sinensis plant. It is perfect for those who don't enjoy traditional teas.
Fruity and refreshing, this herbal tea is made with rosehip, orange peel, safflower, hibiscus, and lemongrass, alongside mango and passionfruit.
The resulting beverage is wonderfully refreshing, and the fruity flavor is free from the bitter aftertaste that often accompanies true teas made with leaves from the Camellia sinensis plant.
Matcha Green Tea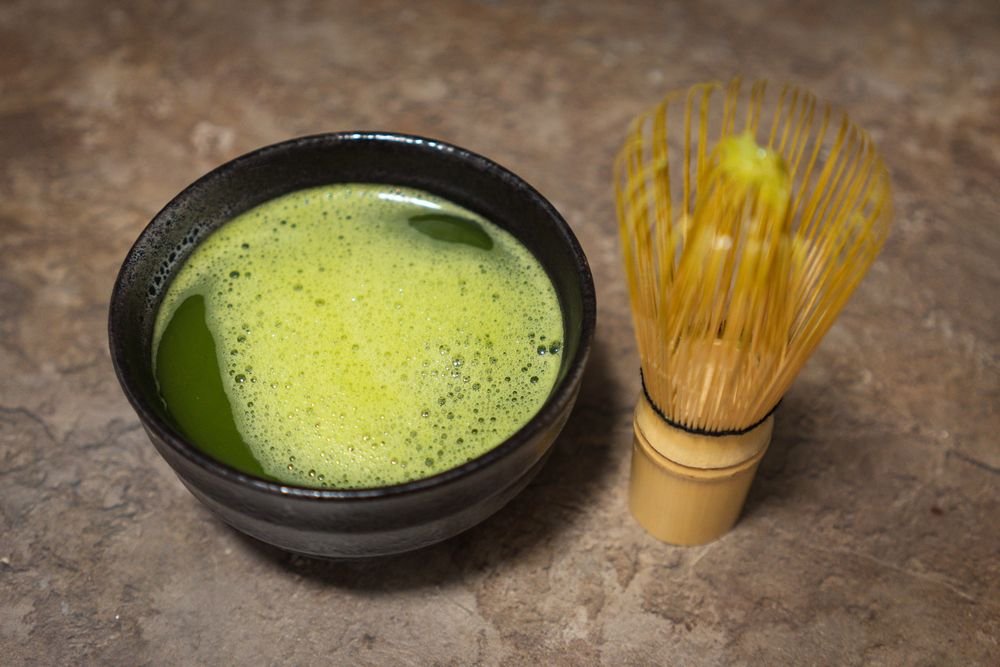 Matcha tea is made from specially-grown green tea leaves which are finely ground to a powder. The tea leaves are shaded from the sun for three weeks before harvesting, which promotes chlorophyll production.
It is this extra chlorophyll that gives matcha green tea its distinctively bright green hue. When you drink matcha green tea, you consume the leaves rather than removing them from the water as with traditional teas.
Because it is made using leaves from the Camellia sinensis plant, matcha green tea has a slightly bitter taste, accompanied by a lingering sweet aftertaste.
But you want to make sure to get good quality matcha powder. Buying cheap matcha has left many a first-time drinker wondering: why does matcha taste like fish? Or seaweed?
Matcha tea contains caffeine, but it also has a calming effect and won't leave you buzzing, as an espresso would.
One drawback of matcha is that the preparation is a bit more complicated and requires a few additional implements, like a matcha whisk. However, that is only if you want to make matcha in the traditional way.
You can actually use several other tool that most of us already have at home, instead of a whisk. Learn how to make matcha tea without whisk, if you are interested in trying matcha, but do not want to buy the specialized tools.
Oolong Tea
Oolong tea is a true tea, made from the leaves of the Camellia sinensis plant. But it imparts a milder flavor than other true teas, such as black tea.
Black tea leaves get their color from being allowed to oxidize. This oxidation process also leads to black tea being high in tannins, which can lead to a feeling of nausea in some people.
Tannins can also make your mouth feel dry when you drink tea. Oolong tea leaves are only partially oxidized, leaving them with lower levels of tannin and a more subtle flavor.
Oolong tea has many purported health benefits, including aiding digestion and promoting brain and heart health. Oolong tea is prepared by steeping one or two teaspoons in 90° water for three to five minutes, depending on the desired strength.
The Chinese use a slightly different brewing method termed gongfu, which literally just means 'skill'. In this method, you use a large amount of tea leaves in a tiny pot, but cut the steeping time to 10 seconds or so. You can reuse the leaves many times (10 or more) with this method.
Rooibos Tea
Rooibos tea, pronounced roy-boss, comes from the Western Cape region of South Africa and is very popular within the region. In recent times, its popularity has spread across the globe.
Rooibos tea is a herbal infusion and not a true tea. It is prepared with leaves from the Aspalathus linearis plant rather than using leaves from Camellia sinensis, as true teas do.
This leaves Rooibos tea with a low level of tannins, and the resulting flavor is less bitter. Rooibos tea is also naturally sweet, which also helps reduce any bitterness. In addition to being low in tannins, Rooibos tea is also caffeine-free. Learn more about rooibos' benefits and drawbacks.
Chai Tea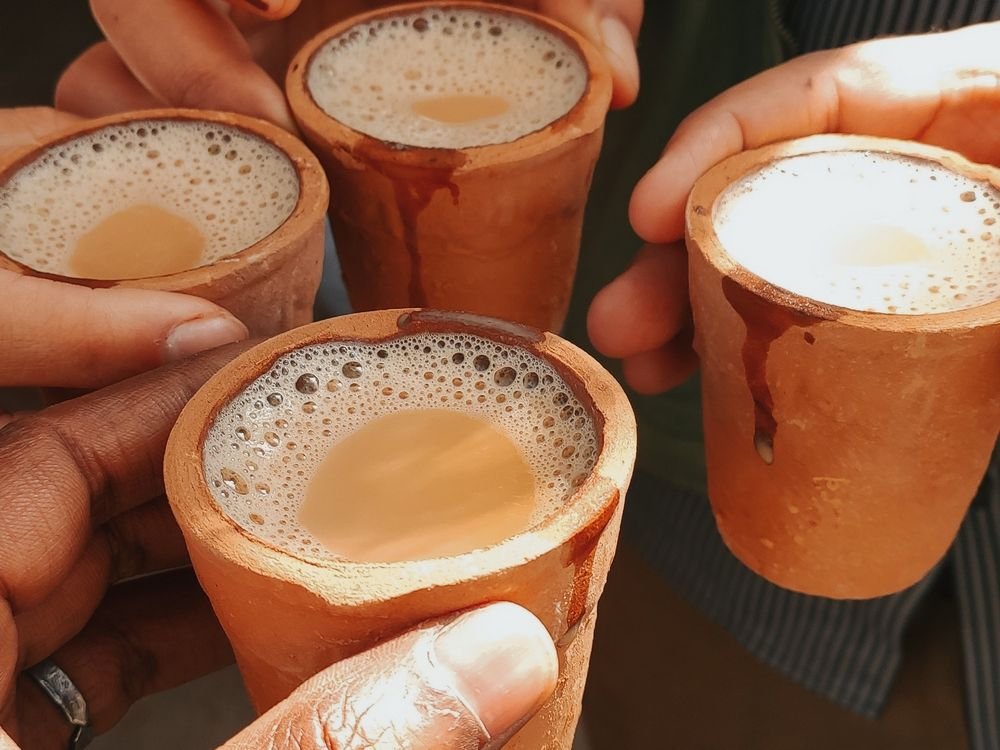 Chai tea, or masala chai, is a tea beverage originating from India which is made by boiling black tea in milk and water with a mixture of aromatic herbs and spices. The name "chai" originates from the Hindi word "chai," which was derived from the Chinese word for tea, "cha."
Despite its use of fully oxidized black tea leaves, chai tea's rich flavor is gentle on the stomach, in part due to the inclusion of milk. What does chai tea taste like?
The spice mix, or masala, is based on ground ginger and green cardamoms and is augmented with one or more of cinnamon, star anise, fennel, nutmeg, ginger, vanilla, and honey.
The inclusion of ginger root and cinnamon can have a calming effect on the digestive system, making chai tea appealing for those who find traditional teas to have a nauseating effect.
This article lists the best chai teas available, if you don't want to have to buy all of the ingredients and mix them together yourself.
And if you don't really like having all the spices in your tea, you could try something like Hokkaido milk tea. Hokkaido milk tea is black tea with milk and a sweetener. Nothing more.
Sweet Tea
Finally, we have the favorite tea of the southern United States. It is a good tea for those who don't like tea, because it retains virtually no actual tea flavor.
It has a ton of sugar that masks any other flavor. Plus, the tea used is usually black tea in tea bag form, which does not have much flavor to begin with.
I realize this sounds like I hat sweet tea. And it is true I don't like it, but it is a perfectly fine drink for people who do. It just depends if you can handle the sugar content. I can't. If you compare sweeet tea vs soda, the tea usually has just as much, if not more, sugar.
Tea For People Who Don't Like Tea: Final Thoughts
Yes, you can still drink tea, even if you don't like tea. And even if you have not been able to find anything you can add to your tea to make it taste better.
There are six different types of true teas, i.e. those made from the leaves of the Camellia sinensis plant. You could begin by trying a new one of those. Oolong is the best place to start.
If you don't like oolong tea either (or white, yellow, or pu-erh), try some herbal teas. There are so many different ones and many of them have a completely different flavor profiles, that you are bound to find at least one you enjoy.
It is also worth pointing out that there are hundreds of different flavors you can add to tea. Just because you haven't found one you like yet, your flavor may still be out there. The luxury tea brands listed in this article sell a lot of unique blends that may be your key to enjoying tea.