Rooibos tea has been enjoying a surge in popularity recently.
And for good reason.
It is incredibly healthy and it does not contain caffeine or tannins.
That makes it a great alternative to drinks that do, like tea or coffee.
But what does rooibos tea taste like? Can it compete with coffee or tea in terms of flavor?
You'll be surprised to learn it actually tastes incredibly similar to a hugely popular type of tea.
Keep reading to learn which one, plus much more about rooibos' flavor profile. We will also cover some other things you will want to know about this popular healthy drink.
What Does Rooibos Tea Taste Like?
Rooibos tea typically has a nutty, malty, earthy, and full-bodied flavor. It tastes very similar to black tea.
Most people drink it for its taste and its health benefits, along with its low concentration of caffeine and tannins. Rooibos tea contains considerable flavonoids, vitamin C, and other antioxidants.
If you don't like the taste plain, you can add milk to it, honey, or vanilla extract. Or all three. You can drink it hot, cold, or iced.
Before we get deeper into the flavor profile of rooibos tea, let's take a look at what it actually is and how to best prepare it.
What Is Rooibos Tea?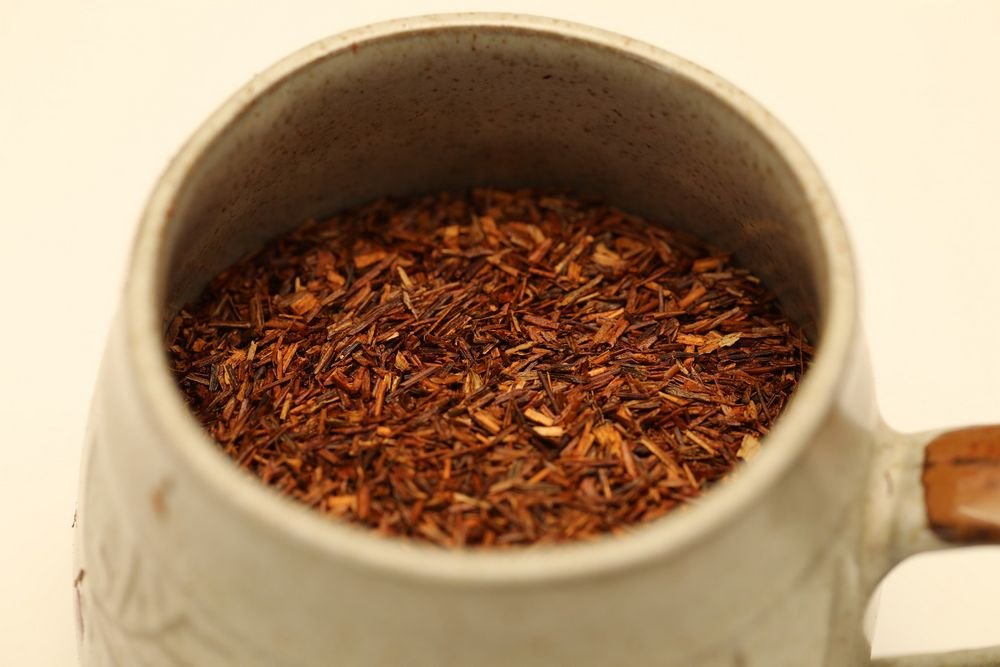 Rooibos tea (pronounced as roy-bows in the USA) is also called red bush tea. It is a caffeine-free herbal infusion made by steeping the leaves of the rooibos plant (Aspalathus Linearis), which is native to South Africa.
Once dry, the leaves take on a red hue which imparts red color to the tea.
South Africans drink rooibos tea just like the Japanese or Chinese drink their green teas – daily and without many additives.
Because of its lack of caffeine, rooibos tea is considered a great alternative to caffeinated beverages. This herbal tea is also touted for its health benefits. All these factors have led to a rise in the popularity of rooibos tea the world over.
Rooibos Varieties
Rooibos is available in two varieties depending on how it is grown and harvested. Here is a brief summary of the differences, but I have much more on this in my full comparison of green rooibos vs red rooibos.
Green Rooibos: Similar to green tea, green rooibos is not oxidized and retains its green color. This type of rooibos tastes grassier and vegetal, like yerba mate or chamomile teas.
Red Rooibos: This is the fully-oxidized version of rooibos. It tastes earthy, malty, and nutty, like black tea.
How To Make And Serve Rooibos Tea
Traditionally, you make the tea by steeping the rooibos leaves in hot water for at least 4 minutes. These days, you can find rooibos in the form of dried leaves or tea bags.
The best part about preparing rooibos tea is that, unlike the teas made using Camelia sinensis plants, you can never over-steep this tea. Due to its lack of tannins, the tea won't be bitter or astringent, even if you steep it for a long time.
Rooibos Flavor Profile
Rooibos tea has a nutty, malty flavor, similar to black tea. Some people add milk to it, which brings down its earthy flavor a bit, while also complimenting the beautiful red color.
The malty flavor profile of rooibos tea makes it a great caffeine-free alternative to some of those delicious, but caffeinated, beverages.
You can also make rooibos tea like a chai latte: frothy and with some honey. This further enhance its nuttiness.
Rooibos Tea As An Alternative To Black Tea
According to Stephen Cherniske, the author of Caffeine Blues: Wake Up to the Hidden Dangers of America's #1 Drug, rooibos tea has the same taste, color, and body as black tea, but without the astringency.
The author goes on to state that rooibos tea is so similar to black tea that a consumer test panel in Britain was fooled into thinking that rooibos tea was black tea.
In fact, Dr. U B Lal, in his book Journey to Healthy Life, recommends this tea to people with anemia, instead of black tea, because black tea which interferes with iron absorption, due to its high tannin concentration.
Flavor Of Rooibos Tea With Milk
Many people prefer adding milk to rooibos tea for a richer, creamier flavor. When drunk with milk and honey, it tastes similar to a chai tea or chai latte.
If you are vegan or lactose intolerant, you can add plant-based milk to rooibos tea.
Of course, there is always the option of drinking rooibos tea plain. Some people also simply add honey and vanilla extract to rooibos, but leave out the milk.
Does Rooibos Tea Make You Sleepy?
Rooibos tea is one of the best bedtime teas to help you fall asleep faster and sleep deeper. One of the health benefits of this herbal tea is reduced cortisol levels. This enhances sleep quality and helps you sleep better.
Since the tea is devoid of caffeine, it is not the best tea to drink if you want to stay up to study or work.
Health Benefits Of Rooibos Tea
Rooibos has numerous health benefits. But it can have some ill effects in people with certain conditions, too. We will only cover the health benefits here, so make sure you also read up on all of the pros and cons of rooibos tea.
Reduces High Blood Pressure
Dr. U.B Lal, in his book The Journey to Healthy Life, states that Rooibos tea is a natural remedy for high blood pressure. He advises patients to drink rooibos instead of black tea, in addition to dietary changes, medication, and lifestyle changes.
Dr. Lal goes on to state that rooibos also reduces the activity of angiotensin-converting enzymes which can benefit overall cardiovascular health.
Contains Many Nutrients, Vitamins And Minerals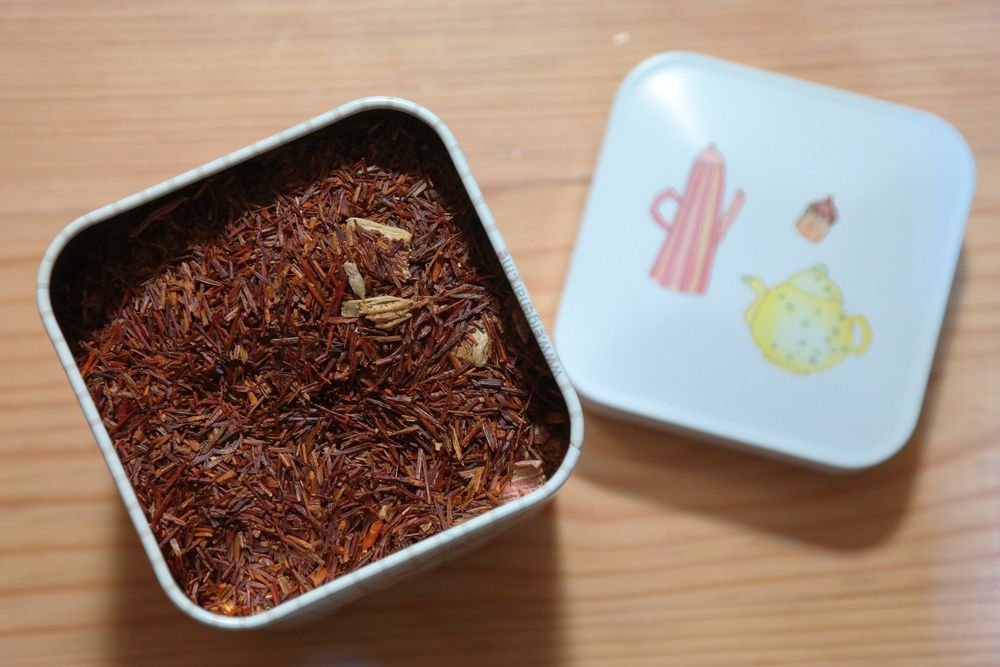 Rooibos contains plenty of vitamin C, minerals, Quercetin, luteolin, rutin, and other flavonoids. It also contains polyphenols, just like green tea. Polyphenols are an antioxidant.
No Oxalic Acid, Caffeine, Or Tannin
Unlike green and black teas, rooibos is free of oxalic acid. Oxalic acid is linked to the formation of kidney stones. Rooibos tea also does not contain tannins, unlike and green teas. Tannins are known to interfere with iron absorption, as well as the absorption of certain other nutrients.
Lastly, rooibos does not contain any caffeine. Caffeine can cause sleeplessness, anxiety, jitteriness, heart palpitations, and headaches. This makes rooibos a great alternative to caffeinated beverages. But it also means it is not the right drink for you if you are looking for an energy boosting tea.
Reduced Stress And Anxiety
As mentioned earlier, rooibos tea targets cortisol levels and can help promote better sleep. It may even prevent anxiety and stress.
Great For The Skin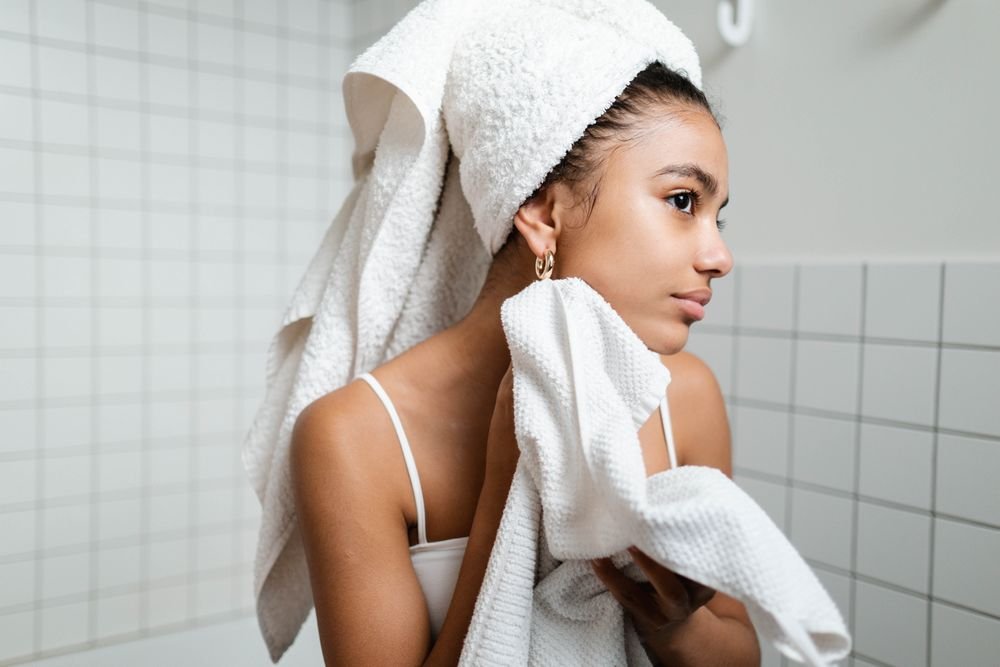 The antioxidants and quercetin in rooibos, along with zinc and alpha hydroxy acids, may help reduce skin inflammation, ward off wrinkles, and give you clearer and younger-looking skin. The flavonoid chrysoeriol in the tea may also improve blood circulation, to make your skin glow.
Rooibos Tea Flavor: Final Thoughts
Rooibos tastes quite similar to black tea. So similar that many people can't tell the difference, especially when you add milk and a sweetener.
Since rooibos does not contain caffeine or tannins, it is a great alternative to black tea, or to coffee, for anyone looking to avoid either ingredient. Even better, it has many of the same health benefits as tea.
Of course, sometimes you want the energy caffeine can provide, or the health benefits of tannins. If that is the case, you are better off with coffee or tea, instead of rooibos.
That is why I drink all of them (though I seldom drink coffee). Whenever I want to avoid caffeine, I reach for the rooibos. The rest of the time, it is tea for me. Of any type: green, black, oolong, white, pu'er, and eve yellow, whenever I manage to find a good one.