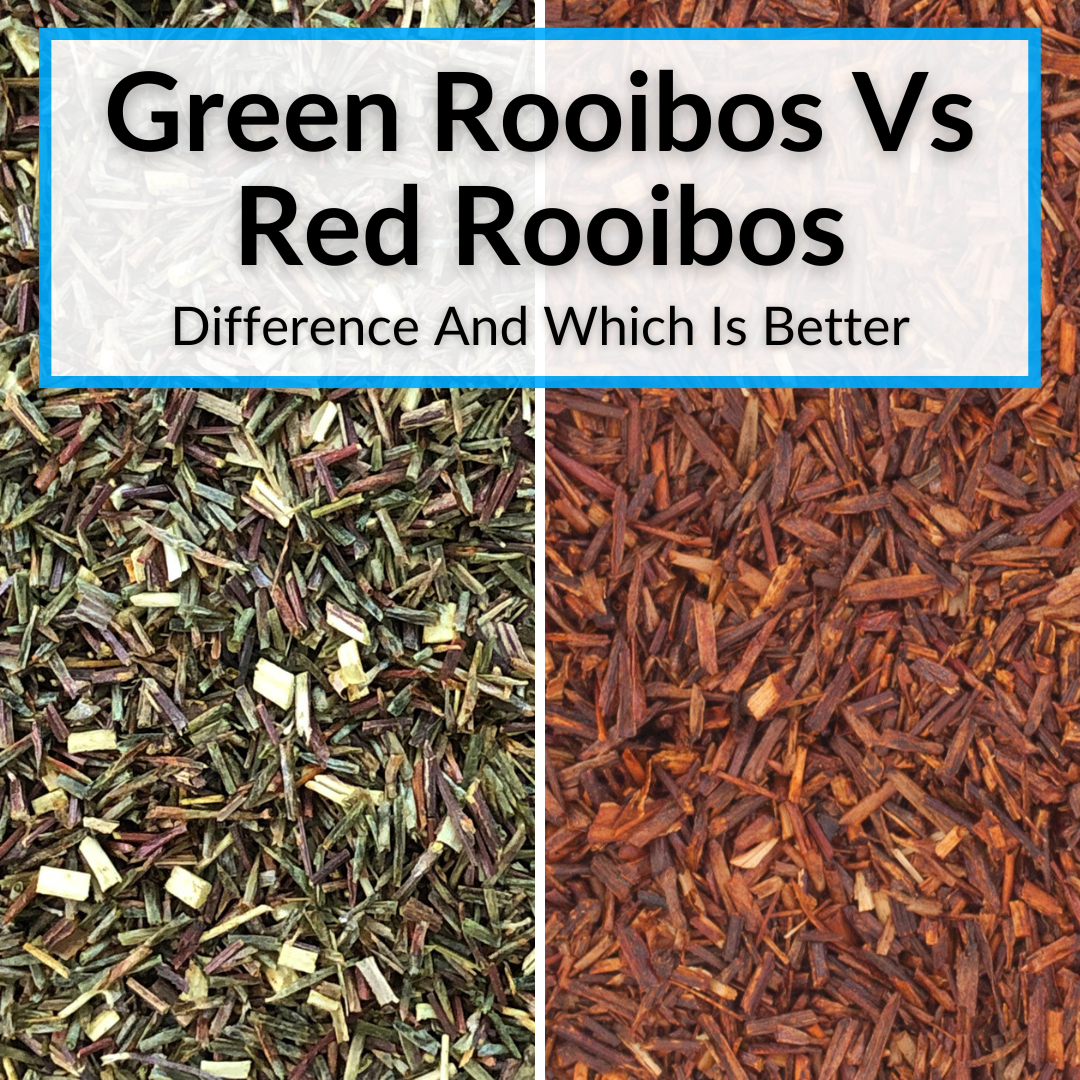 Rooibos means red bush.
It refers to the reddish color of the dried rooibos leaves that are used to make the tea.
This means that the term "red rooibos" is redundant.
But we use it to distinguish between green rooibos vs red rooibos tea.
In essence, they are related to each other in a similar way as green and black tea (which also brews to a red color, coincidentally) are related to each other.
What does that mean exactly?
Keep reading to find out. We will compare the two types of rooibos tea in great detail and help you figure out which one to try (ok, both, but which one to try first).
Green Rooibos Vs Red Rooibos
We will begin our comparison of red rooibos vs green rooibos tea by looking at each variety individually, before comparing them directly and getting into the specific advantages of each.
Green Rooibos
Green rooibos tea is a type of herbal tea obtained from the leaves of the Aspalathus linearis shrub. This shrub, which belongs to the pea family, mainly grows on the western coast of South Africa.
Green rooibos tea is made from the newly picked and quickly dried leaves of Aspalathus linearis. Unlike red rooibos, the leaves are not bruised or fermented in the green variant, so there is no oxidization.
Instead, the leaves are dried immediately after cutting, using hot air in a covered vessel. This reduces the moisture in the tea leaves, decreases microbial activity, and increases the tea's storage time. It also preserves an optimum phenolic content of the leaves and prevents discoloration.
Red Rooibos
Like green rooibos, red rooibos is also made from Aspalathus linearis. The difference is that the newly picked leaves are oxidized and fermented. The leaves are also bruised using machines to ensure oxidization. This imparts a rich red color to the tea.
Differences Between Red And Green Rooibos Teas
There are several differences between green and red rooibos teas. These are the most important ones.
Manufacturing Process
As mentioned before, green rooibos is made from non-oxidized, newly picked, and tender leaves of the Aspalanthus linearis shrub. Red rooibos is made from bruised and oxidized leaves of Aspalanthus linearis. Red rooibos is a result of fermentation and oxidation.
Color
Red rooibos is red due to the oxidization process, whereas green rooibos is pale green, tan, orange, or green-brown.
Flavor
The oxidization process imparts a sweeter, richer taste to red rooibos. Green rooibos also has a pleasant, tea-like taste, but it may be earthy, bitter, or grassy.
Antioxidants
According to Dr. Penny Stanway, author of The Miracle of Tea: Practical Tips for Health, green rooibos tea has twice the level of antioxidants as red rooibos. It especially has higher levels of the flavonoids nothofagin and aspalathin.
Similarities Between Green And Red Rooibos
Naturally, red and green rooibos teas have several common features. These are the primary similarities.
Aspalathus Linearis
Both teas are made from the leaves of this South African shrub. It has several thin branches and needle-like leaves.
Contents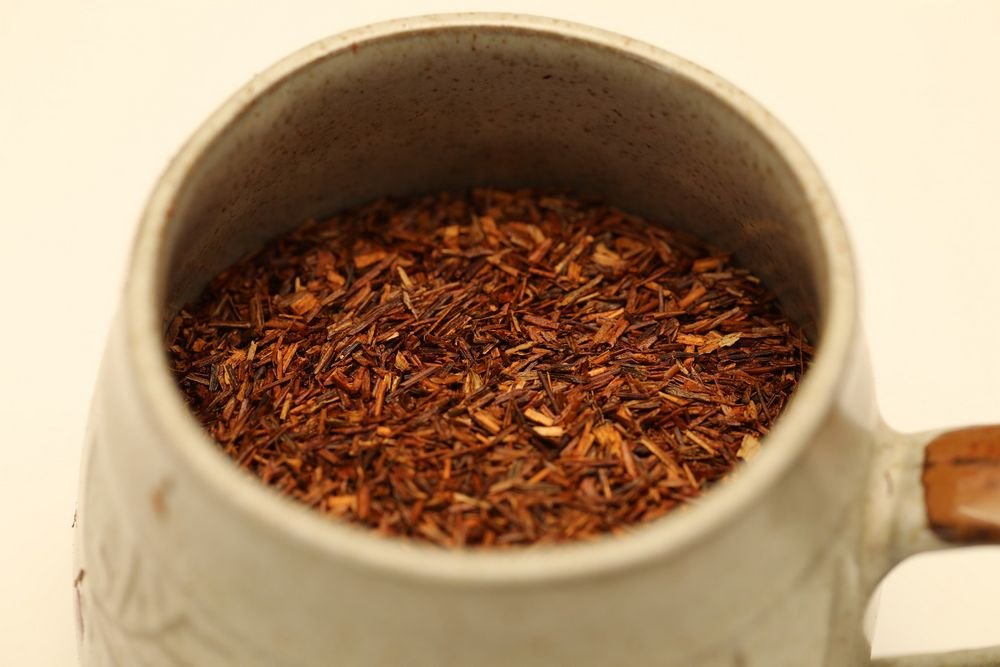 Both varieties of rooibos contain certain acids like alpha-hydroxy, coumaric, and vanillic. They also contain alkaloids like cylcopine and aromatics like damascenone. Both teas are flavonoid-rich and contain luteolin, nothofagin, orientin, quercetin, rutin, and aspalathin.
Flavor Profile
While red rooibos is sweeter than green rooibos, both teas have a pleasant, sweet-sour, bitter, and caramel-like flavor profile.
Similar Uses
Red and green rooibos teas both make excellent beauty tonics. They are caffeine-free beverages that can help you replace your coffee or black tea. Both varieties of tea have numerous medicinal or herbal properties. They are also great for cooking various recipes.
Health Benefits
Another similarity between the two variants is that they are both healthy beverages. Here is a list of the health benefits of rooibos.
Zero caffeine: Both green and red rooibos teas are free of caffeine. They are also rich in antioxidants and enhance iron absorption. This makes rooibos an excellent option for people who suffer from insomnia, headaches, increased heart rate, etc. after consuming caffeinated beverages.
Low in tannins: People who have anemia can drink rooibos tea, because it does not interfere with iron absorption, unlike tannin-based teas.
Could lower the risk of diabetes: Studies have shown that rooibos tea extracts may have a beneficial effect on people with a risk of type-2 diabetes.
May lower cholesterol and benefit cardiovascular health: drinking rooibos tea may improve cholesterol levels and lower the risk of heart attacks and strokes. Regular consumption may even lower blood pressure.
Promote digestive health: Both rooibos teas are good for digestion.
May improve bone health: The calcium and magnesium content of rooibos can benefit bone health.
Allergies: regular consumption may relieve seasonal allergies in some people.
Advantages Of Green Rooibos Tea
Green rooibos has a higher antioxidant content than red rooibos. Its protective plant compounds, like asphalatin, could translate into many health benefits, including protecting the body from free radical damage.
Green rooibos tea also has less astringency. It has a delicate, sweet profile with a tiny hint of caramel.
Advantages Of Red Rooibos Tea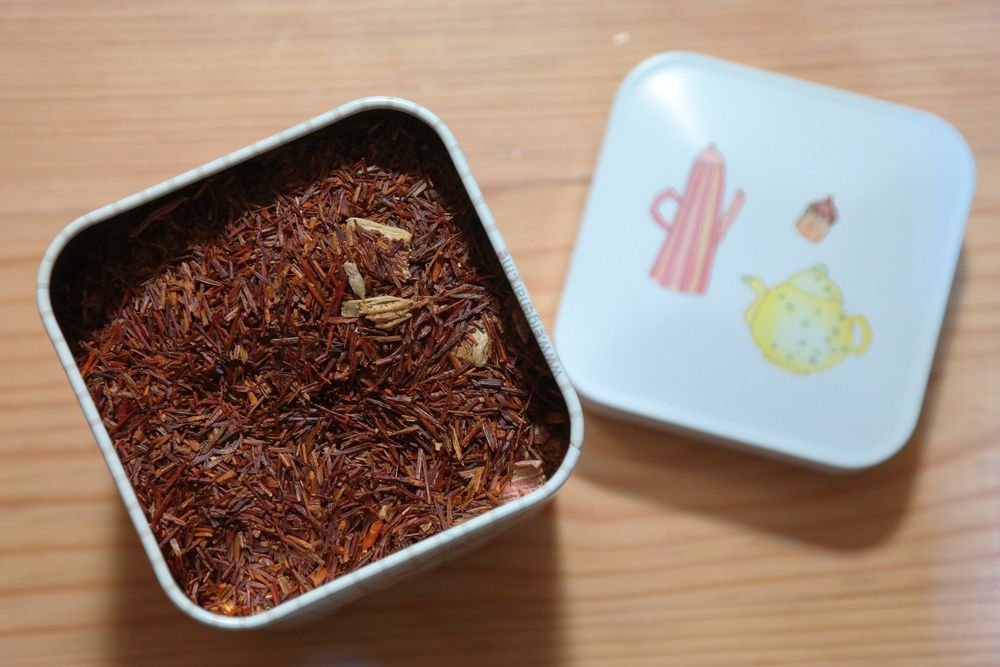 Red Rooibos also has more or less the same health benefits as green rooibos, but it is sweeter and has a full-bodied flavor that green rooibos lacks.
Red rooibos is cheaper than green rooibos since the method by which green rooibos is produced is more expensive than traditional methods of red rooibos manufacture.
Which Rooibos Type Is Best For You?
Go for green rooibos if you prefer herbal, grassier teas. On the other hand, if you want a richer, sweeter, and fuller flavor, opt for red rooibos.
Both teas have more or less the same health benefits. Green rooibos may be slightly healthier due to its higher antioxidant content.
If budget is a concern, go with red rooibos, since it is usually cheaper than its green counterpart.
Red Vs Green Rooibos: Common Questions
Next, we will answer some common questions related to the two types of rooibos tea. If you have any additional questions, please feel free to ask them in the comments below.
Is green rooibos healthier?
Green rooibos does have a higher antioxidant content than red rooibos. However, both teas are equally healthy and both are caffeine-free. They may benefit people with allergies, insomnia, digestive issues, and headaches.
What is green rooibos good for?
Green rooibos has a higher antioxidant content, which could protect the body from free radical damage. It may benefit heart health, lower the risk of diabetes, and even help fight cancer.
Does rooibos increase testosterone?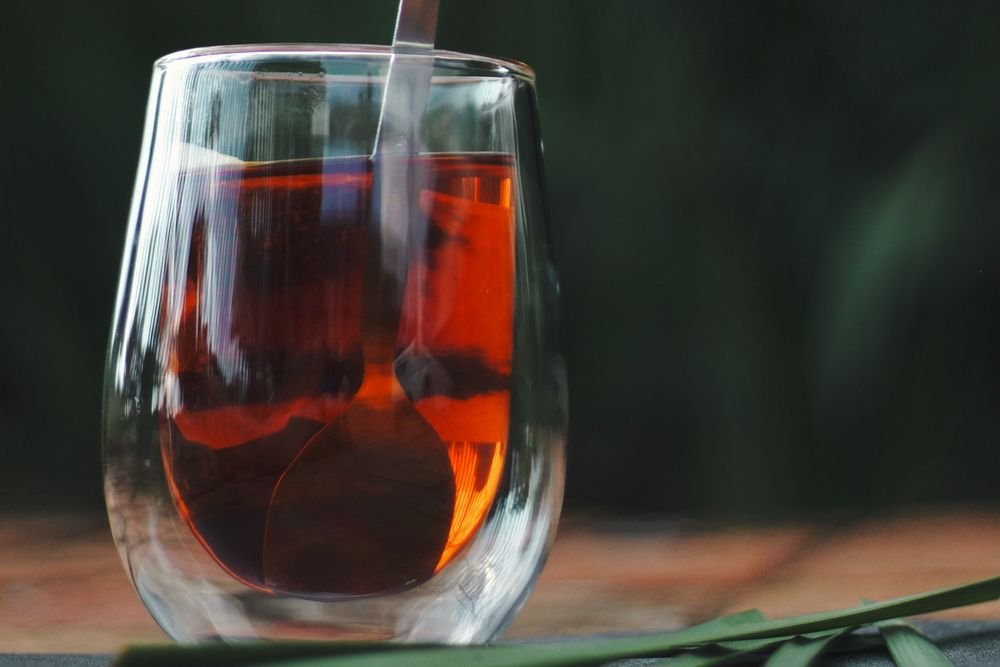 Studies show that almost all varieties of tea tend to decrease testosterone production. Under "human chorionic gonadotrophin"stimulation, both rooibos and camelia sinensis teas have shown a significant reduction in testosterone production at all concentrations.
Is green rooibos safe?
You can safely drink both rooibos varieties in moderation or use them in cooking and recipes. However, drinking over 10 cups a day for more than a year has been known to cause liver problems in some people.
How do you drink green rooibos?
Steep a green rooibos teabag (or one heaping teaspoon of the tea leaves) in a cup (8 ounces) of hot water for 2 to 3 minutes. You can sweeten it with honey or sugar or drink it plain. Some people even add dairy or vegan milk to their rooibos.
Red Rooibos Vs Green Rooibos: Final Thoughts
When comparing green rooibos vs red rooibos teas, there are obviously many similarities. They are both made from the same plant, after all. But there are also some key differences.
All of the differences stem from the primary difference, which is the production process. Redd rooibos leaves are allowed to oxidize, while green rooibos leaves are quickly heated to stop the oxidation process.