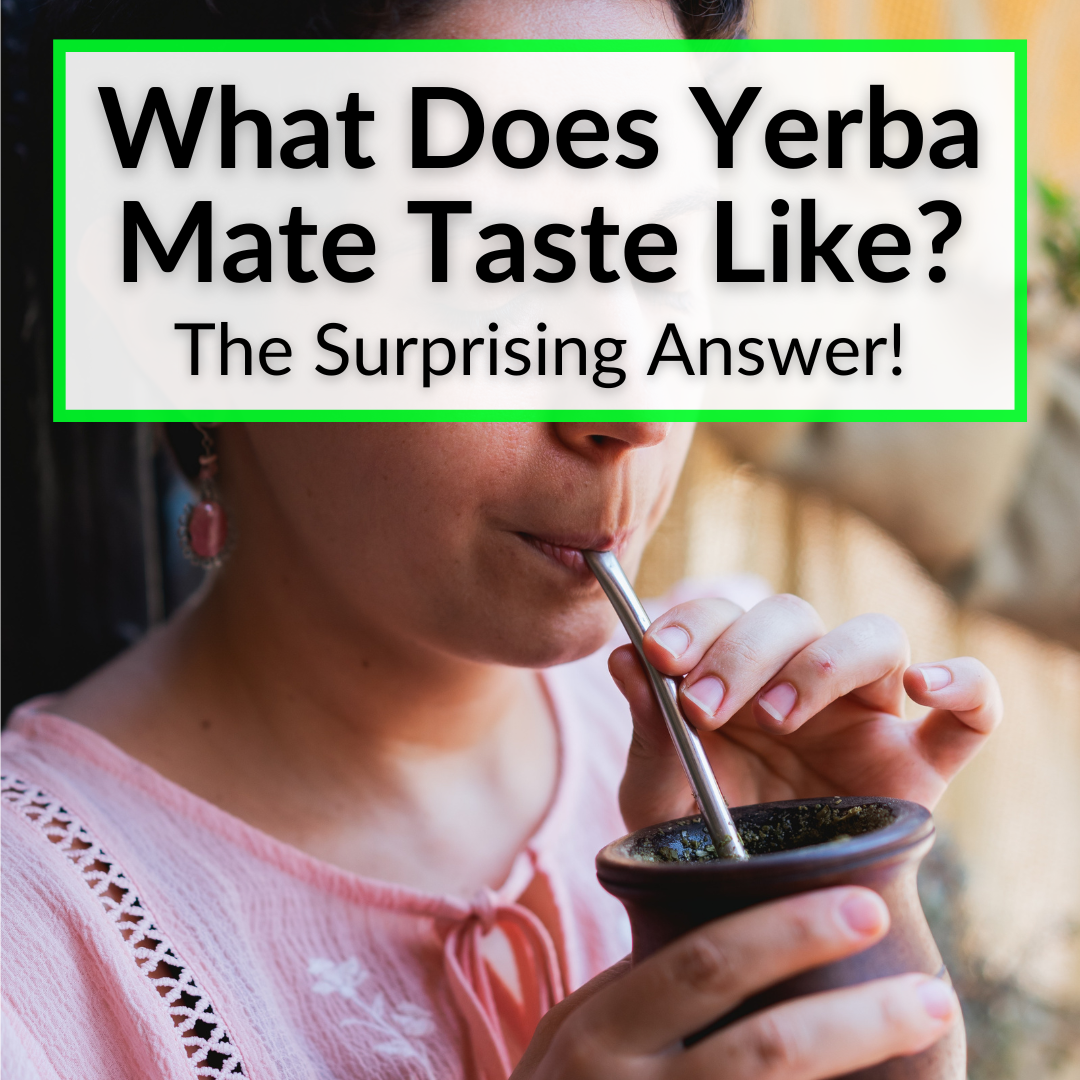 Yerba mate has been enjoying a surge in popularity in the US and Europe.
Maybe you have a Brazilian, Argentinian or Uruguayan friend who drinks it.
Or you learned about it from your favorite south American football (i.e. soccer) player.
Either way, you're curious about the drink.
People seem to love it, so it must taste great, right?
Well, maybe. Not everyone enjoys it. So what does yerba mate taste like then?
Keep reading to find out. You'll see that the answer is far from straightforward. We will also cover a few other things you'll want to know about this popular south American beverage.
What Does Yerba Mate Taste Like?
You can describe yerba mate as having a bitter, smokey, nutty, woodsy, or earthy taste. The truth is, it can have varying tastes, depending, on the method used for processing it.
Some people describe mate's taste as that of coffee or green tea. It can also take on the taste of whatever you add to it: mint, lemon, honey, milk, etc.
Because yerba mate has such varying taste profiles depending on how it is prepared and processed, the taste of yerba mate ultimately depends on the brand of the tea you choose. Let's take a closer look at the different possible taste profiles of yerba mate.
Bitter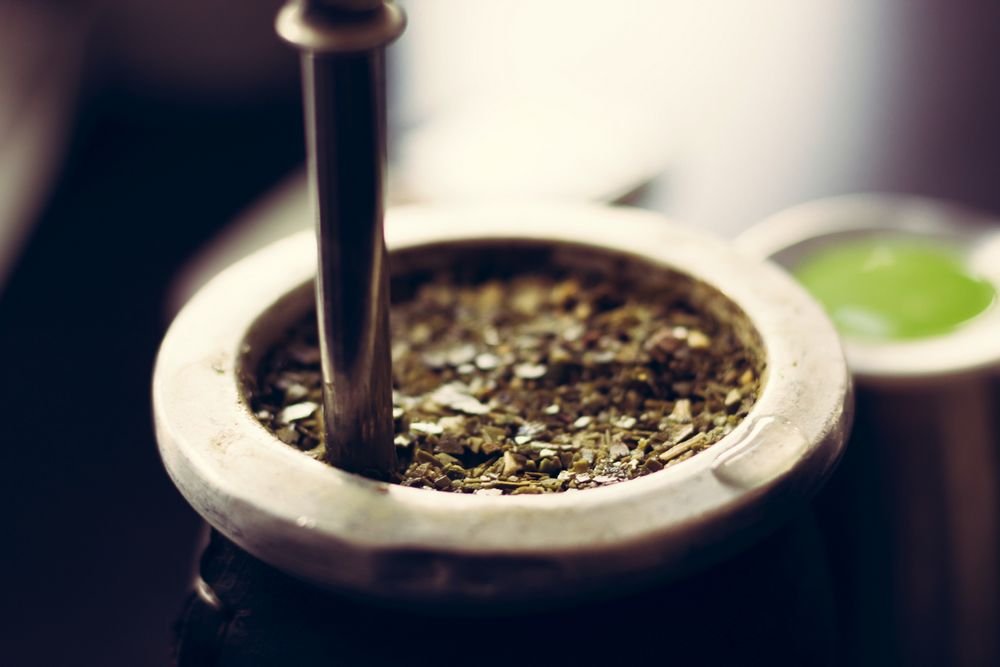 Yerba mate has a bitter taste thanks primarily to the tannins it contains. Many people enjoy this bitter taste, while others prefer to balance it out by adding mint, honey, sugar, milk, or citrus to their mate.
Depending on the brand of yerba you choose, you could have a strong bitter flavor, or a slightly milder taste.
Smokey
Some brands of Yerba mate can take on a smokey flavor, depending on how the leaves of the yerba mate plant are processed. If the leaves are kiln-dried or dried over an open fire, then the tea could acquire a smokey taste.
Other brands may not get the smokey taste, if they may use different methods of drying their yerba leaves.
Earthy Or Woodsy
The yerba mate plant has a naturally earthy, woodsy, or grassy taste. Many people describe this as the taste of green tea or Chinese pu-erh tea.
Some people enjoy this grassy taste, while others prefer adding some lemon, honey, or milk to tone it down.
Astringent
Astringency is the taste that makes the mouth feel dry or puckery. It is similar to bitter. Some people describe the taste of yerba mate as astringent, due to the tannins in it.
Many yerba aficionados find this astringent taste alluring, saying it warms them up on cold days. Others prefer adding milk, honey, or lemon to tone down the sharp taste and improve the flavor of yerba mate.
Strong And Pungent
Yerba mate is usually drunk through a straw from a gourd, a special container traditionally used for mate. The straw has a strainer that strains the leaves out.
Drinking it this way imparts a strong and pungent taste that instantly wakes you up! You can always choose to tone down the pungent taste of mate with some milk or sweetener.
Herb-Like
Some brands of Yerba Mate tea also have the flavor of camphor, eucalyptus, or mint. It depends on how the yerba mate leaves are processed or what flavors the manufacturer adds to the tea.
Flavor Of Yerba Mate: Related Questions
Next, we will answer some common questions related to the taste of yerba mate. If you have any additional questions, please feel free to ask them in the comments below.
Does Yerba Mate Give You A Buzz?
Yes, yerba mate can give you a buzz, since it contains caffeine. Quite a lot of it, in fact, compared to other types of tea.
The amount of caffeine in yerba mate can vary from brand to brand. Most brands of yerba mate contain between 25 and 175 mg of caffeine per gram of yerba mate.
This means that one cup or 8 ounces of yerba mate could contain between 30 and 50 mg of caffeine.
Moreover, yerba mate also contains theobromine and theophylline. These are stimulating compounds that, combined with the yerba mate's caffeine, give you instant energy and that 'wake-up' feeling.
Many people report feeling more energetic, alert, and focused after drinking yerba mate tea. They also report having an improved mood.
However, the effects of yerba mate can vary from person to person. People who are sensitive to caffeine could experience jitters or anxiety after consuming yerba mate.
How Does Yerba Mate Make You Feel?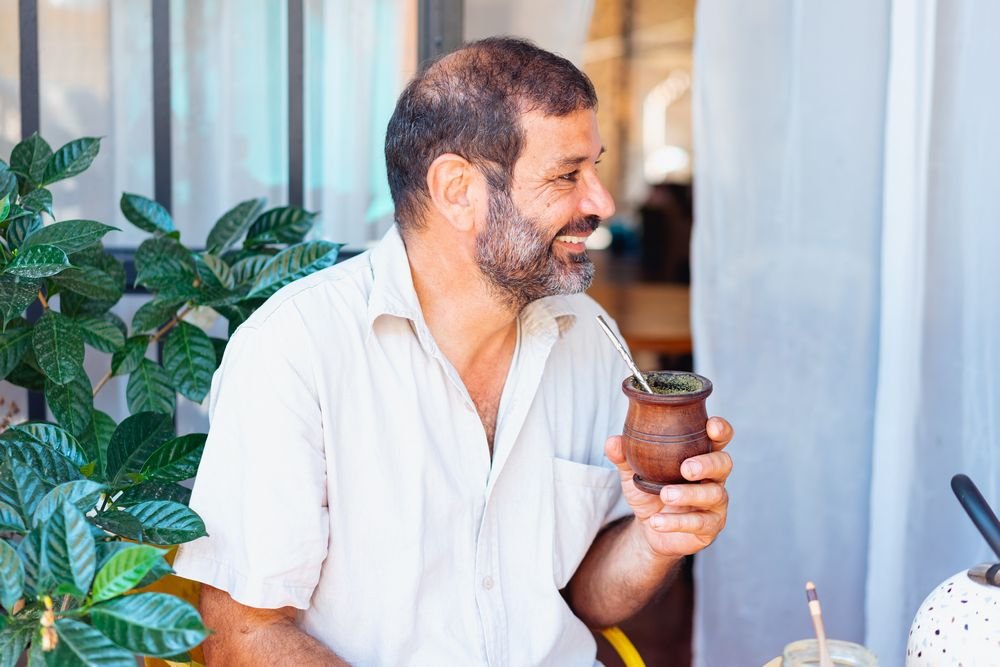 How yerba mate makes you feel varies from person to person. In general, most people report feeling instantly more awake after drinking mate early in the morning.
On cold days, a cup of yerba mate can warm you up. If you have to stay up late or start your day early, a cup of yerba is just what you need to feel instantly more alert, clearer, and more focused.
Most people sensitive to caffeine experience a buzz or an energized feeling after consuming just one cup of mate. Some may take longer to experience that buzz and may need several cups.
Yerba aficionados usually report feeling more cheerful and happier after drinking yerba. The improved mood may be due to the presence of theobromine, the same compound present in chocolate.
This compound, along with caffeine and other stimulants present in yerba, gets instantly absorbed into the bloodstream, which then carries them to the brain. This gives an energized feeling and an improved mood.
However, consuming too much yerba mate could result in jitteriness, anxiety, or even the post-caffeine crash in some people.
Is Yerba Mate Stronger Than Coffee?
Yerba mate is lighter than coffee. An 8-ounce cup of yerba mate contains between 30 to 50 mg of caffeine whereas an 8-ounce cup of coffee contains 90 to 95 mg of caffeine.
The caffeine content in both beverages can vary based on the method of preparation and the type of drink.
In general though, yerba mate is not stronger than coffee. However, it does contain other stimulants in addition to caffeine, such as theobromine and theophylline.
These stimulants provide a more balanced energy than coffee and might even reduce the jittery after-effects or the crash that follows caffeine withdrawal.
Is Yerba Mate Healthier Than Coffee?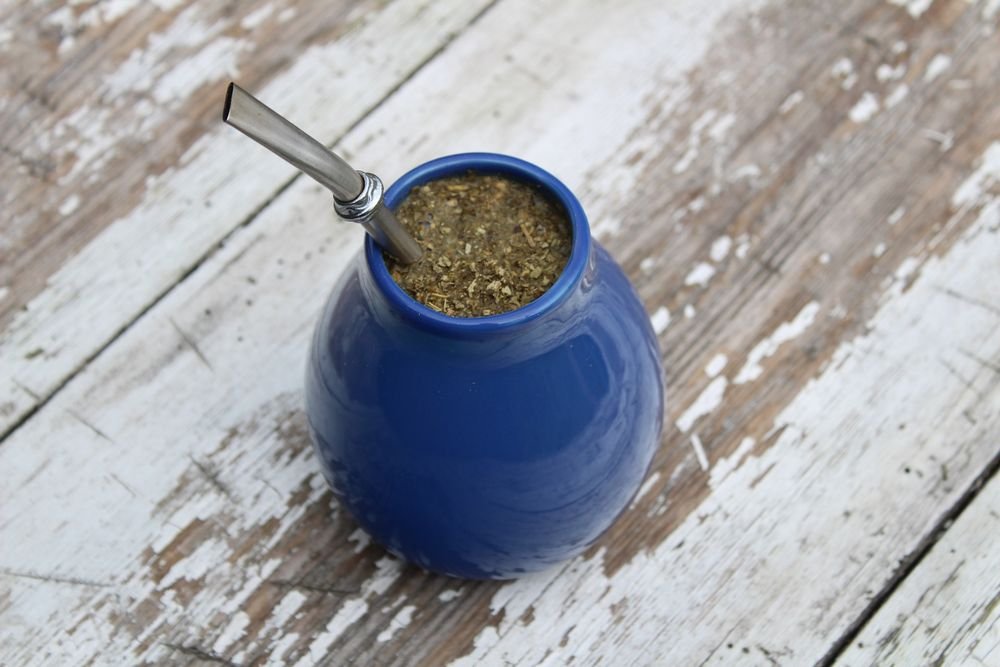 Yerba mate and coffee both contain caffeine. Caffeine is a natural stimulant that can help you stay awake. It also energizes you and provides mental clarity.
In general, yerba mate could be considered healthier than coffee, due to the presence of antioxidants and anti-inflammatory compounds in it.
More studies are needed on yerba mate, but preliminary ones show that the drink could boost immunity and may even have positive effects on cardiovascular health and weight management.
Coffee is also linked to reduced risk of certain inflammatory conditions. For example, studies conducted at John Hopkins University have shown that coffee could reduce the risk of coronary diseases and certain cancers.
It may even reduce the risk of type 2 diabetes. Moreover, caffeine is also associated with a lower risk of Parkinson's disease.
If you're looking for a lower-caffeine drink, then yerba mate could be a good choice. However, if you enjoy coffee and tolerate it well, then there is no reason to switch to yerba mate for health reasons alone.
Is Yerba Mate Healthier Than Tea?
Yerba mate aficionados describe the drink as having the strength of coffee, the health benefits of tea, and the joy of chocolate.
Some studies show that mate could contain even more antioxidants than green tea. Antioxidants fight inflammation which is the cause of various diseases as well as aging in humans.
Therefore, drinking yerba mate could be healthier than drinking tea. But both drinks are incredibly healthy, and certainly far better than sodas or other sugary beverages.
Can Kids Drink Yerba Mate?
Kids should not drink yerba mate because of its caffeine content. Caffeine can cause increased heart rate, insomnia, anxiety, and other health issues and kids are more likely to be sensitive to these effects.
Moreover, yerba mate consumption has been linked to certain cancers, especially in people who smoke and drink alcohol.
While more studies are needed on this, it is probably best not to give yerba mate to kids, in the same way as you wouldn't give coffee to kids.
What Does Yerba Mate Tea Taste Like: Final Thoughts
Yerba mate can have varying flavors, depending on how it the leaves are processed and on how you prepare the drink. And also on how individual people describe flavors.
In general, people describe the taste of yerba mate as being bitter, astringent, strong, pungent, earth, woody, and even smokey.
Some people love the flavor of mate, while others do not enjoy it at all. You can certainly add things to it to make it taste better to you, if you like. The most common additions are sweeteners or lemon.