Chamomile tea is not expensive.
Even organic chamomile blossoms do not cost all that much.
And those make for a far more flavorful (and benefit-laden) brew than tea bags.
But you know what is even better than inexpensive? Free!
If you know how to harvest chamomile for tea from the wild, you don't have to pay anything for your tea.
Plus, you get a much more flavorful cup of tea and you know there are no harmful chemicals in it.
Even better, harvesting chamomile for tea is easy!
Keep reading for a simple step by step guide that takes you through the entire process.
How To Harvest Chamomile For Tea
We will begin with a list of the materials you need to properly harvest chamomile. Then we will guide you through the simple process step by step.
Materials Required
Mature chamomile plants
Garden shears (optional)
Newspaper
Access to a cool, dry room
Airtight containers
Step 1: Check Chamomile Blossoms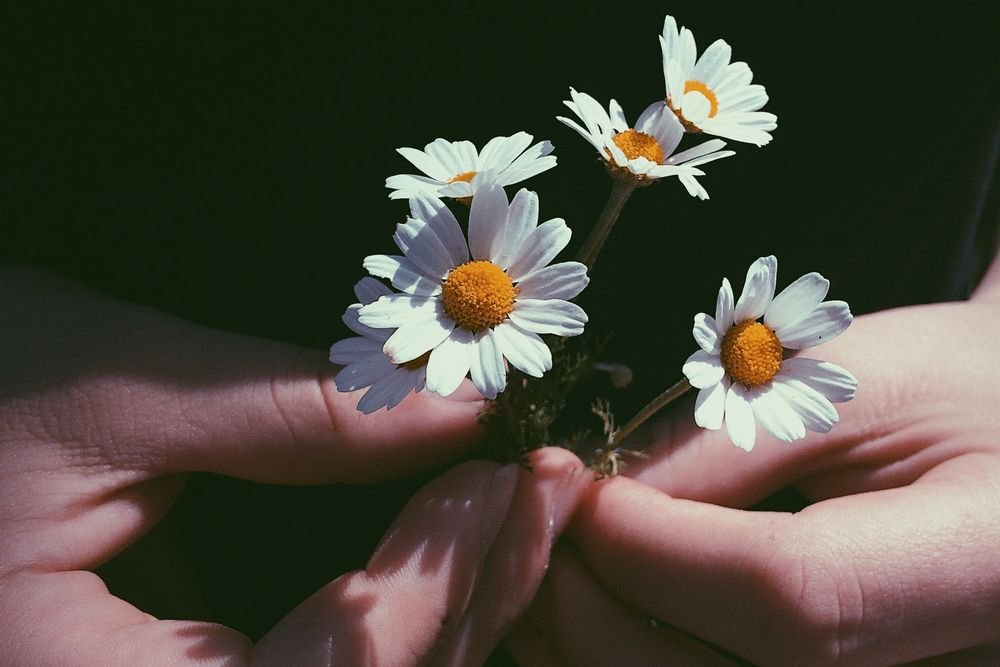 Chamomile flowers have white petals with a yellow center. Chamomile is ready to be harvested when the blossoms are in full bloom. The white petals should be fully extended.
Try to catch the flowers right before the petals begin to droop. That is when the flowers have the most oil.
Don't worry if you miss the prime harvesting time by a day. Chamomile that is harvested early or late is still safe to consume.
However, you may lose out on some of chamomile's amazing properties. Pick too early and the oils will be less potent. Pick too late and the flowers will begin to lose their efficacy.
Step 2: Remove The Heads Of The Flowers
Chamomile is harvested by removing the head off the plant. It is important to keep the stem of the plan intact, so that more flowers can blossom.
You can remove chamomile flowers with your fingers or with small garden shears. Regardless of the method you choose, handle the flowers as little as possible when harvesting the chamomile. This will preserve the oils, which are what make chamomile tea a great tea for sleep.
Harvesting Chamomile Flowers By Hand
Be very careful not to damage the flower or stem of the plant.
Use one hand to firmly hold the chamomile plant stem.
Take the thumb and pointer finger of your other hand and pinch behind the head of the flower.
Pull the flower off the stem.
Use Garden Shears To Remove Chamomile Flowers
Take care not to remove anything other than the flower from the chamomile plant.
Grasp the stem of the chamomile plant firmly.
Line the garden shears up on the back of the flower, as close to the head of the flower as possible.
Snip the flower off of the stem.
Step 3: Dry And Store Your Harvested Chamomile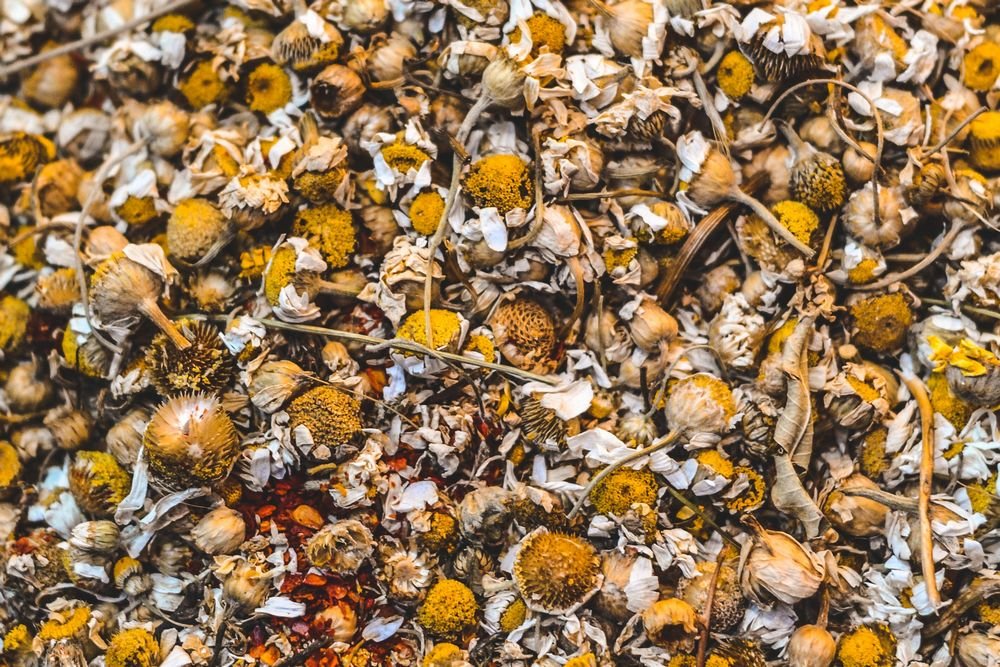 You need to dry chamomile immediately after harvesting. The healing properties of chamomile will fade if you do not treat it properly. We have an article on how to dry leaves for tea, if you need additional help, but the instructions below should be sufficient.
It is not necessary to wash the flower heads. Many harvesters warn against this, because the water can damage the chamomile. Instead, gently brush off any dirt or bugs.
The best way to preserve chamomile is to lay it flat on a newspaper. A good place to process chamomile is:
Cool and dry
The room's temperature stays between 70° and 80° Fahrenheit (21° and 27°Celsius)
No sunlight
Can be left untouched for two weeks
If you are eager for a cup of tea and aren't keen on waiting several weeks for your chamomile to dry, dehydrate it. Set the dehydrator to 95° Fahrenheit (30° Celsius) for 12 to 18 hours.
The fans in the dehydrator might blow the flowers around. Adding a thin mesh tray over the top will keep them in place.
Once your chamomile flowers are fully dried, you should store them in airtight containers. They will maintain their potency for one year, if you process and store them properly.
It is possible to freeze chamomile, but don't do this if you plan on using it for tea. Freezing chamomile severely affects the flavor once steeped.
The best containers to store dried chamomile tea in are mason jars. If you don't have one of those handy, any sealable glass, metal, or ceramic container will do. Stay away from bags or containers made from paper or plastic.
How To Make Chamomile Tea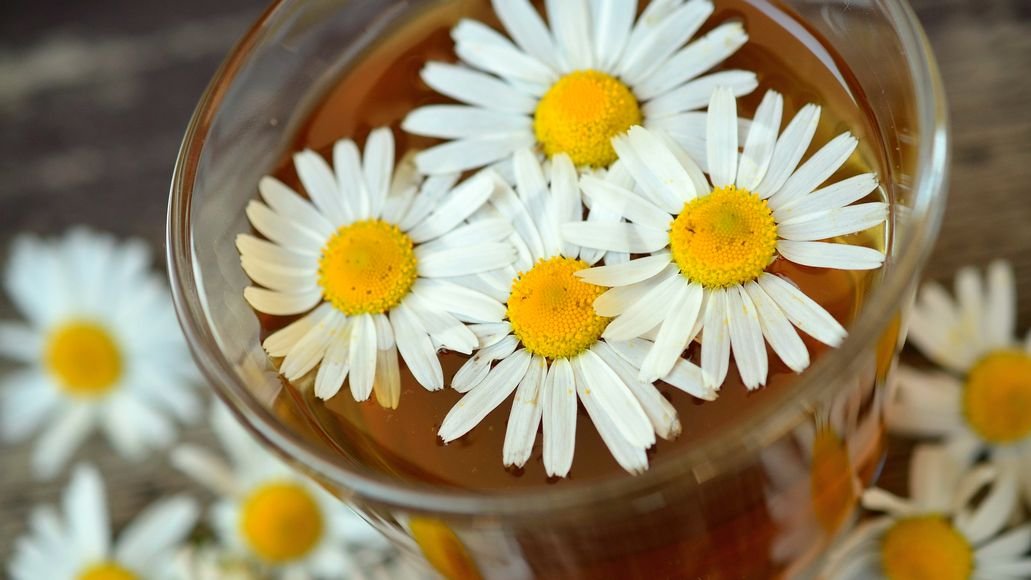 Technically, chamomile flowers are ready to drink immediately after being harvested. Add 6 to 8 flowers to 1 cup of boiling water. Test it as it steeps. The flavor from fresh chamomile is more potent than dried and may take less time to steep. It shouldn't take longer than 2 to 5 minutes.
However, chamomile plants blossom quickly. They will also self-seed if the flowers fall off. This means that once you start harvesting chamomile, your supply will continue to grow. That is why preparing a drying area is important.
To make chamomile tea from dried flowers, add 2 to 3 teaspoons to 1 cup of boiling water. Let it steep for up to 5 minutes and enjoy!
This article of herbal tea recipes includes one for chamomile in a blend with lemon balm. It's delicious!
Benefits Of Drinking Chamomile Tea
Chamomile tea is great for relaxation. It is naturally caffeine-free and contains an antioxidant called apigenin. Apigenin is a sedative, although its actual effects are still being studied.
The calming effect of a cup of chamomile tea can have long-term benefits to your health. There have been positive correlations between chamomile tea and the following benefits.
Reduced stress and anxiety
Better and longer sleep
Improved heart health
Chamomile tea has also been shown to help with digestion and cramps. Chamomile has anti-inflammatory properties which can aid with gassiness, indigestion, cramps, and acid reflux.
Those suffering from diabetes might want to consider a cup of chamomile tea at night. There is evidence that shows chamomile helps with your body's natural production of insulin. While it is not a replacement for medication, the effects of chamomile over time have proven to be helpful for those with diabetes.
Finally, chamomile is packed with antioxidants. Antioxidants boost your immune system. They are also thought to protect cells from irritants and free radicals. While there are not any conclusive studies yet, it is suspected that some of the antioxidants in chamomile may help fight certain types of cancers.
Chamomile tea is also one of the types of tea you can drink after having your wisdom teeth removed. But wait 48 hours or so after the extraction, because hot drinks can impede the healing process.
Where To Find Chamomile In The Wild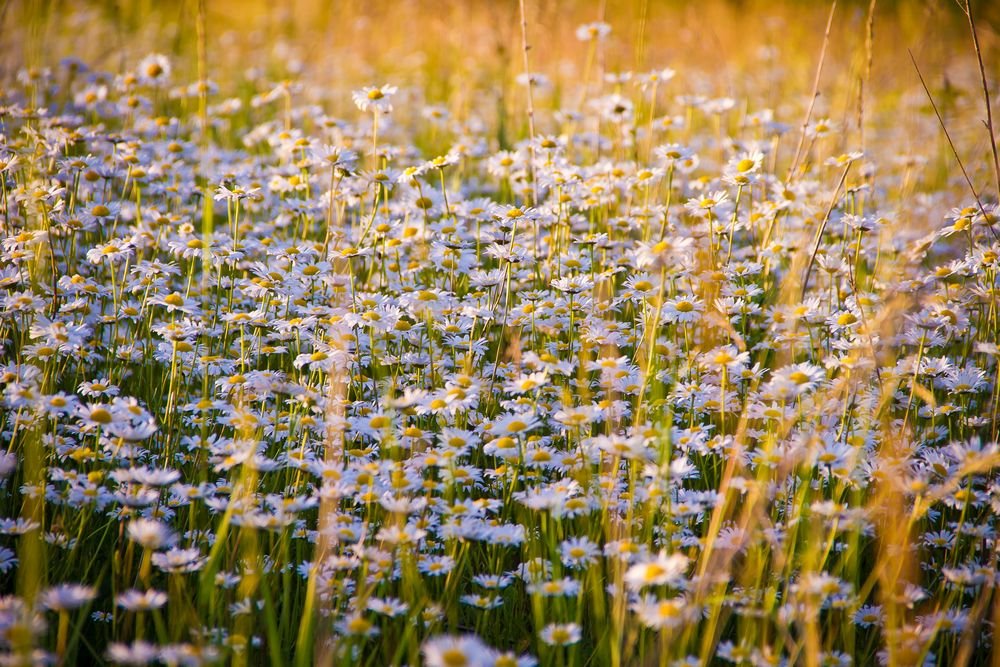 German chamomile is native to Europe and Asia. However, it is now found in several New England states as well.
Wild chamomile is safe to harvest and drink in tea. However, just double-check that what you are picking is chamomile.
Chamomile plants are usually at least 20 inches (50 cm) tall. Their stems are hollow so check to see if light shines through a stalk. Finally, do the smell test. Crush a flower in your hand. If it smells like chamomile, it is safe to harvest.
Harvesting Chamomile For Tea: Final Thoughts
See? Learning how to harvest chamomile for tea is easy. As long as you have wild chamomile growing near you, or you plant some in your garden, you can have access to free, high quality chamomile tea anytime you want.
If you decide that it is still too much effort, or if you just don't have any wild chamomile near you, that's fine too. As mentioned, chamomile tea is not expensive. Our article on the best brands making herbal teas will help you find a good online store that sells quality teas.