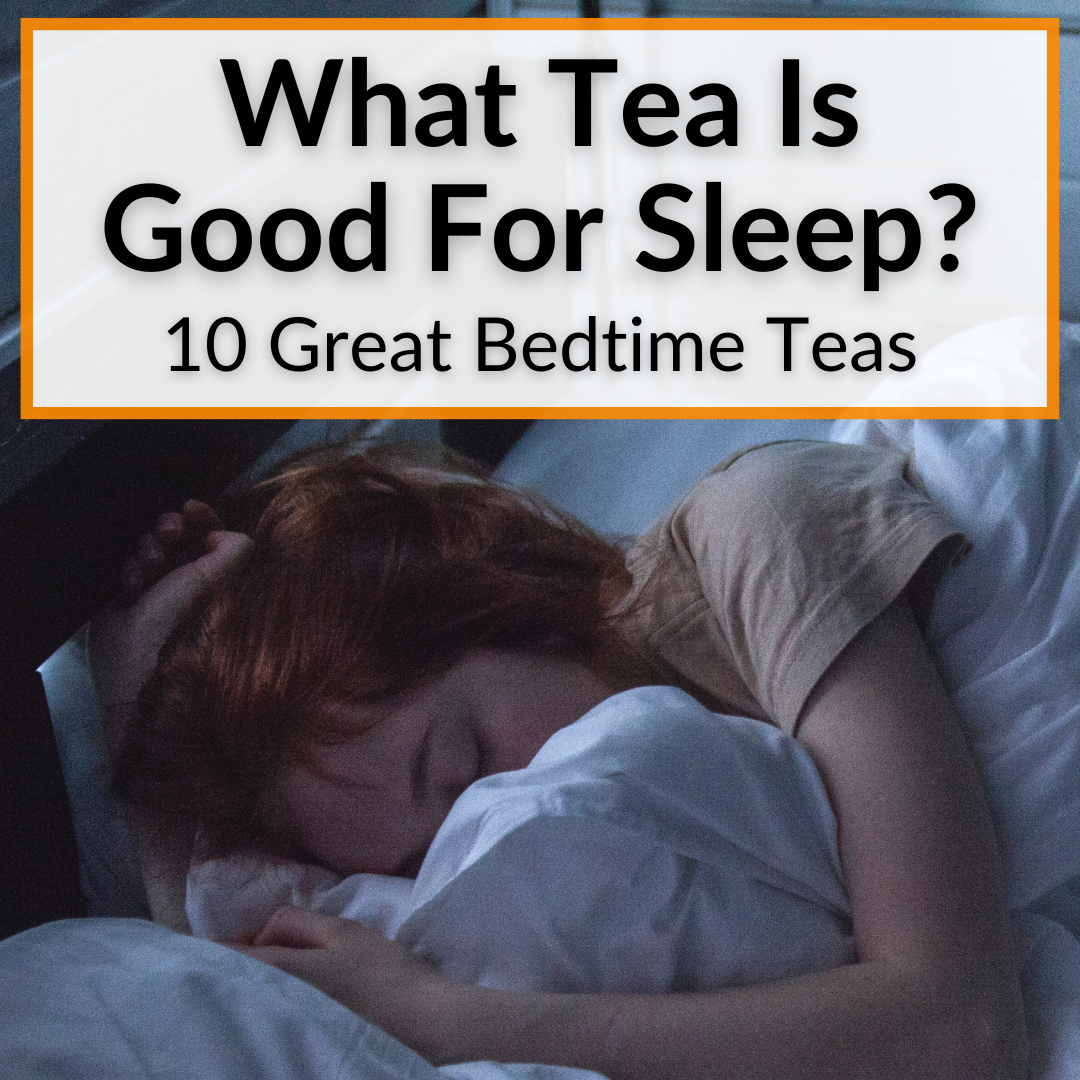 You've probably been told not to drink tea before bedtime.
That it can keep you awake.
That may be true for some teas. But not all.
Many teas contain no caffeine at all.
And some can actually help you go to sleep.
These teas are known to help us relax and drift off op sleep.
Keep reading to learn what tea is good for sleep. We'll also let you know exactly why these teas are good for helping you sleep.
What Tea Is Good For Sleep?
The following teas are all great for helping you sleep. And they all have additional health benefits as well. We go over those below, so that you know exactly what you are getting with each tea.
Try a few of them (or all!) and see which one works best for you. And tastes best to you! If you need some recommendations for actual brands, this article has some specific product recommendations (mostly from Amazon).
Chamomile Tea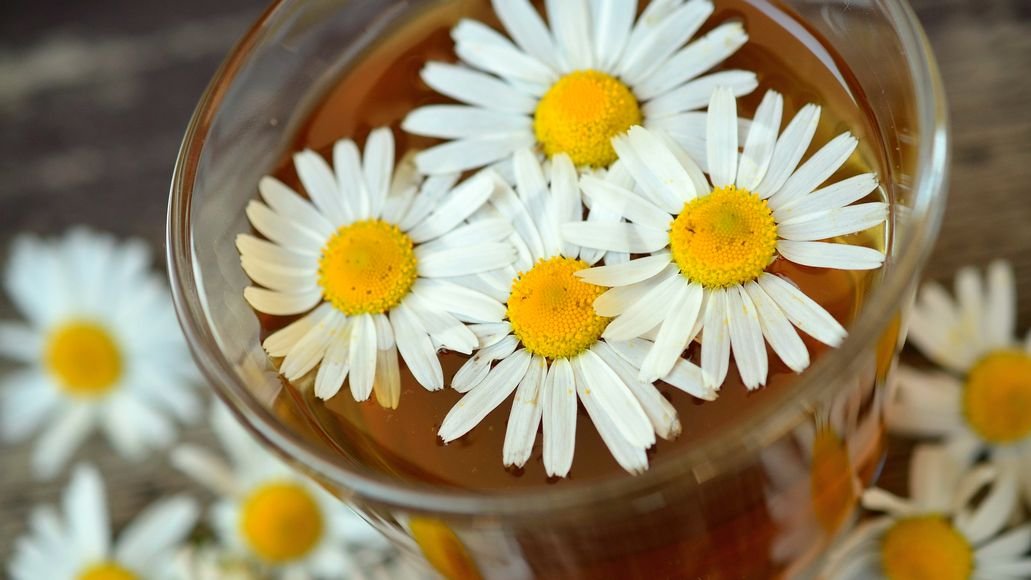 Chamomile tea is an infusion made from the flowers, twigs, stems, and leaves of the chamomile plant (a daisy-like plant in the Asteraceae family). It is one of the best teas for a sound sleep.
A cup of chamomile tea before bedtime can relax your mind and body. It is purported to heal you through the night and aids in restful sleep.
Additionally, chamomile tea is rich in antioxidants and anti-inflammatory compounds, which can help to reduce stress and promote a sense of calm. Some studies have also found that drinking chamomile tea can help to reduce symptoms of anxiety and depression.
t is also known to have a mild sedative effect, which can help to promote a deeper sleep and reduce insomnia providing tea lovers with a natural and safe way to improve sleep and promote overall wellness.
Why It Works
The tranquilizing and sedative effects of chamomile can be attributed to its flavonoid apigenin. Apigenin binds with certain brain neurotransmitters and benzodiazepine receptors to induce sedation and prevent insomnia.
Other Benefits
Chamomile tea also supports digestion and could ease gastrointestinal distress including diarrhea.
Women can drink chamomile tea during their monthly cycles to ease cramps.
Chamomile tea has anti-inflammatory and anti-aging benefits.
More studies are needed, but chamomile extracts could inhibit certain cancers.
The tea can work to lessen the duration of a bout of the common cold and the associated cough.
Skullcap Tea
Skullcap is known by several other names like blue pimpernel, helmetflower, and hood wort. It is an herb of the mint family. Herbalists use its leaf and tops to prepare an infusion that is known to reduce stress and induce sleep.
Why It Works
There are two variants of skullcap: American and Chinese. American skullcap is used for inducing a good night's sleep. It helps stimulate gamma-aminobutyric acid (GABA), a neurotransmitter that reduces anxiety and helps calm the nerves.
Other Benefits
American skullcap is known to decrease inflammation.
It may prevent the hardening of the arteries and guard against stroke.
Herbalists recommend skullcap tea for neuralgia, headaches, and convulsion.
Women can take this tea daily for a week before their monthly cycles to prevent symptoms of PMS.
Skullcap tea can bring down a fever.
Jasmine Tea
If you have eaten in Asian restaurants, you there is a good chance you have had jasmine tea after the meal. Jasmine tea is made from green tea leaves (sometimes also white tea, black tea, or oolong tea) that have been infused with jasmine blossoms.
They say that these blossoms smell the sweetest after sundown, which is why burning jasmine incense in the bedroom and having a cup of jasmine tea can help you sleep. But that's not the only reason.
Why It Works
Jasmine has aromatherapy benefits. Its tea and volatile oils contain the amino acid L-theanine which triggers the release of gamma-aminobutyric acid GABA. This reduces depression and anxiety and increases the general sense of well-being.
Other Benefits
Because it is made with green tea leaves, you can enjoy all the benefits of green tea.
Jasmine tea can aid in weight loss.
Its anti-oxidant properties can help prevent certain cancers.
Regular intake of jasmine tea, especially after meals, could regulate insulin and may aid in diabetes prevention.
Its anti-bacterial properties may help fight infections.
Lemon Verbena Tea
Lemon verbena is a small shrub with glossy pointed leaves that give off a lemony-minty aroma when rubbed. Lemon verbena tea has several therapeutic benefits.
It can get rid of depression and is a great beverage for the evening time. Many animal studies have shown the anti-anxiety and calming effects of lemon verbena.
Why It Works
More studies are needed to determine exactly why lemon verbena helps fight insomnia. However, preliminary research shows its GABAergic property. It also boosts serotonin levels which could help relieve feelings of sadness or nervousness.
Other Benefits
Medical studies have found that lemon verbena has a pronounced tonic effect on the nervous system. It is excellent for de-stressing and fighting depression.
It could help stop headaches, cramps, and colds. Lemon verbena is a remarkable expectorant.
It could help calm overactive, wound-up kids.
Use lemon verbena tea to curb nausea and indigestion.
Lavender Tea
A cup of lavender tea can fight headaches and help you unwind after a long day. It soothes the nerves and calms the body and mind. This de-stressing herbal tea has anti-inflammatory effects that soothe muscle tension and muscle pain.
Why It Works
Studies show that lavender tea can trigger certain chemical reactions in the brain. They help boost dopamine and reduce the stress hormone cortisol.
Other Benefits
Lavender tea curbs anxiety, eases headaches and uplifts your mood.
You can use it to treat stress-related hair loss and as a post-wash rinse to kill lice.
It may help cure respiratory issues.
Lavender tea relaxes muscle spasms due to its pain-killing and anti-inflammatory properties.
It may also aid digestion and soothe an upset tummy.
Passionflower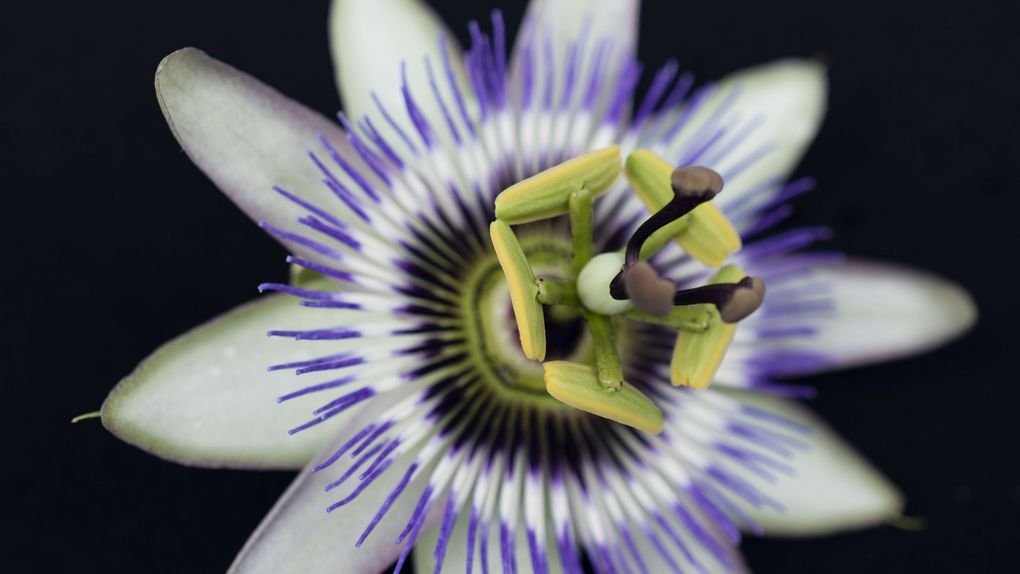 Passionflower is a wonderful tea to drink at bedtime. It is known to help many conditions which tend to interfere with sleep. These include hot flashes, anxiety, overthinking, muscle pain, etc.
Why It Works
Studies show that Passionflower extracts increase GABA currents which slow down brain activity by blocking certain signals in the central nervous system. This produces a calming effect that can fight insomnia.
Other Benefits
Reduces anxiety.
Could help with menopausal symptoms like hot flashes.
White Horehound Tea
Also known as Houndsbane or Bonhomme, Horehound herbal tea is beneficial for fighting insomnia and promoting a good night's sleep. It is especially useful when you are fighting a cold or are tired after a long day.
Why It Works
White horehound tea works by diluting mucus secretions, decreasing inflammation, and reducing muscle pain. Its analgesic and anti-inflammatory properties find use in pain relief medications as a substitute for NSAIDs (nonsteroidal anti-inflammatory drugs).
Other Benefits
Research suggests that drinking horehound tea before meals can help prevent diabetes.
It is an excellent remedy for edema/swelling.
Horehound tea can help treat flatulence and bloating.
It could prevent and treat constipation.
Magnolia Bark Tea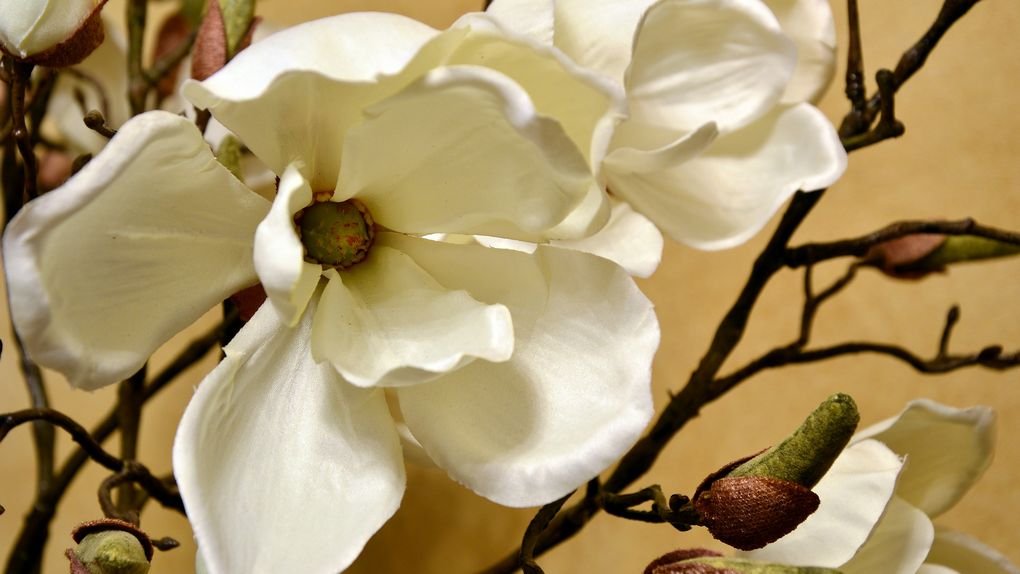 Magnolia bark is a flowering herb known for its anxiety-reducing and sedative effects.
Why It Works
Studies in mice showed that the polyphenols and neolignans in magnolia bark (particularly magnolol and honokiol) help decrease sleep latency or the amount of time to fall asleep. These effects can be attributed to magnolia bark's GABA-secreting properties.
Other Benefits
Magnolia bark tea is recommended for women suffering from menopausal symptoms.
Its extracts may be useful in preventing many neurological conditions including Alzheimer's disease. This is due to lowered cortisol stress hormone.
Valerian Root Tea
This herbal tea has been used for centuries as a natural sleep aid and anxiety reducer.
Why It Works
Valerian root contains compounds called iridoid glycosides which stimulate opioid receptors in the brain. They also boost serotonin levels, which reduces anxiety and stress and helps you sleep. Furthermore, valerian root boosts GABA activity to provide a calming effect on the mind and body.
Other Benefits
Valerian root tea has been beneficial in preventing headaches.
It may help prevent menstrual and menopausal issues.
Valerian tea is a great remedy for digestive issues.
It has anti-inflammatory properties.
Decaffeinated Green Tea
Decaffeinated green teas, and certain Japanese green teas like Houjicha and Genmaicha that are low in caffeine, can also be great for sleep. But even regular green tea is unlikely to keep you awake.
They are ideal to drink post-dinner, because they aid digestion, burn fat, and relax the senses. This could result in better sleep quality.
Why It Works
The L-theanine and catechins in decaffeinated green tea, combined with the reduced caffeine, could curb stress and anxiety. This, in turn, promotes better sleep.
Other Benefits
Studies show that green tea may help combat weight gain and obesity by promoting fat burning.
Its high-antioxidant content may help fight inflammation and slow down aging.
Green tea is known to reduce the risk of certain cancers, especially esophageal cancer.
What Tea Helps You Sleep: Final Thoughts
Now you have a long list of some great teas with zero caffeine to try. None will keep you awake and many should help you go to sleep. I say many, because not all of them will have a noticeable effect for everyone.
But even if they don't work as strongly as you would like, they will all help you relax at the very least. And (to me at least) they all taste great, too!