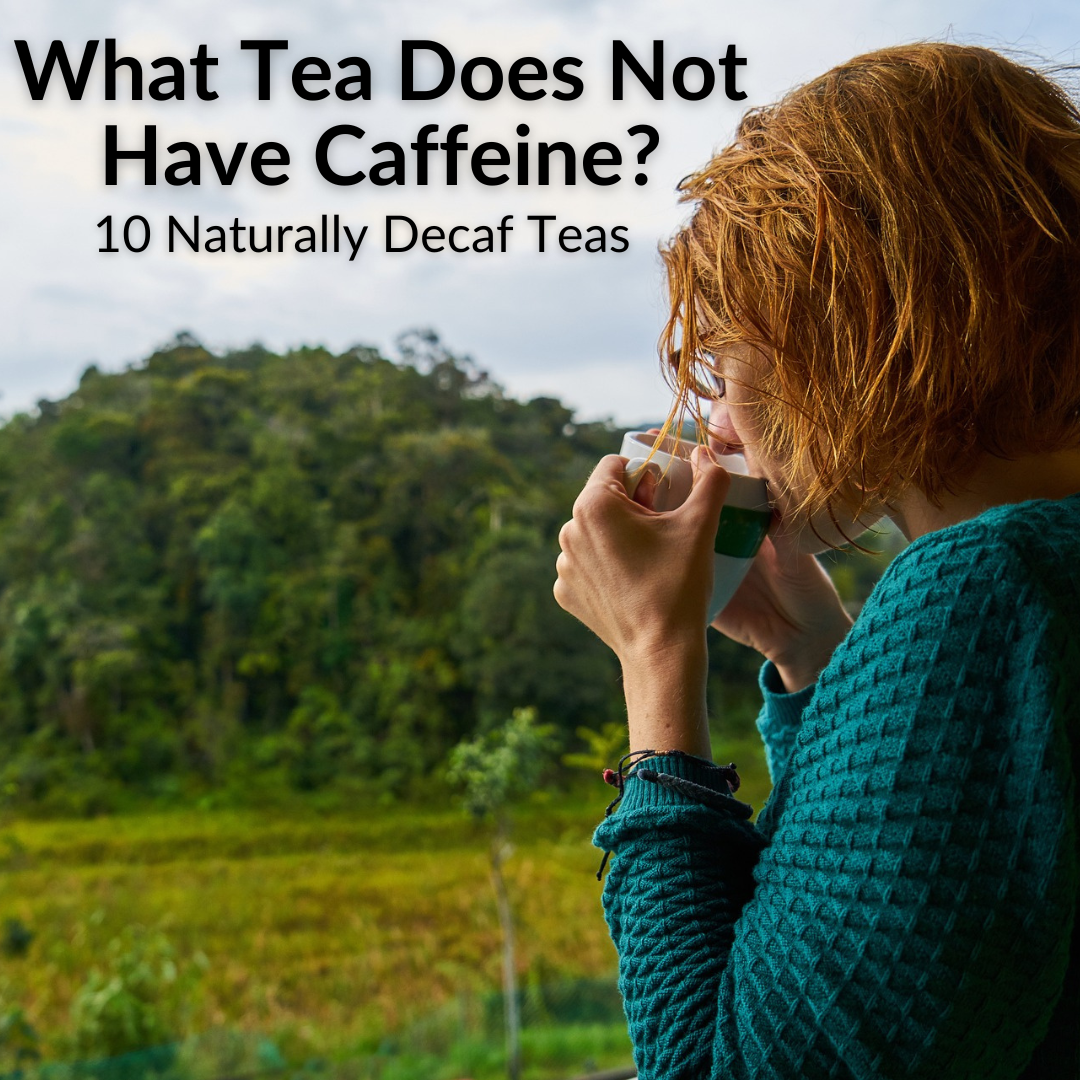 The word tea can mean many things.
Traditionally, it refers to an infusion of the Camellia sinensis plant like green tea, black tea, white tea and others.
But we also use the word to refer to any number of tisanes made with various herbs.
One major difference is that true tea contains caffeine, while many herbal teas do not.
If you are looking for a tea that does not have caffeine, none of the traditional teas are an option (ignoring decaf versions, for now).
So which tea does not have any caffeine?
Keep reading for a list of 10 delicious teas that do not contain any caffeine. We will give you all the information you might want to know about each one.
What Tea Does Not Have Caffeine?
The following ten teas are all naturally devoid of caffeine. That makes them great teas for helping you sleep. They will not keep you awake like green tea, black tea, white tea or oolong tea can (although a cup or two won't affect most people).
Chamomile Tea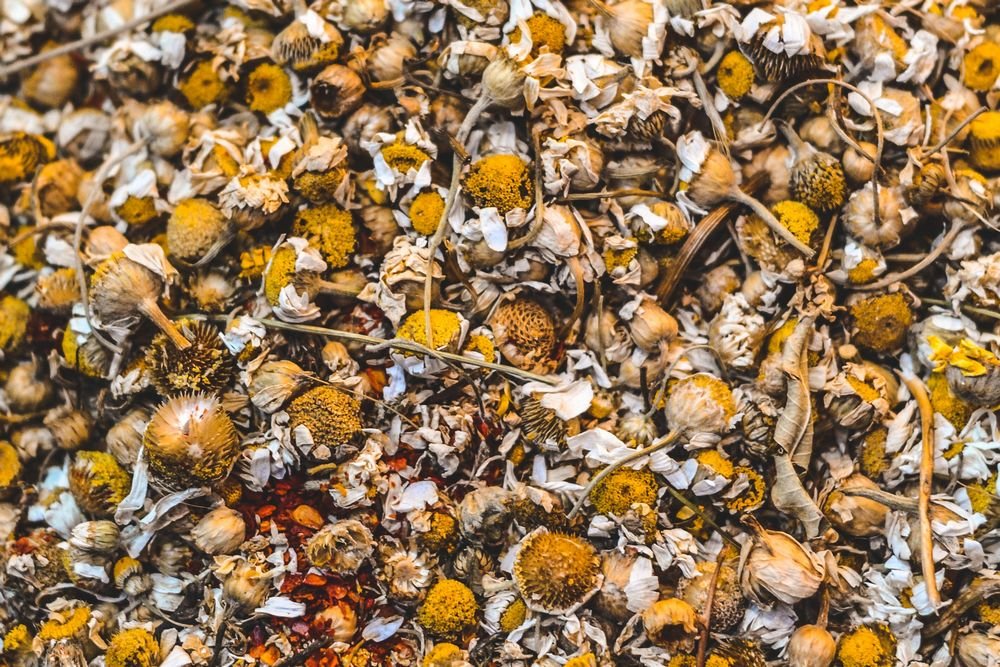 You can use chamomile flowers, leaves, twigs, and stems to make an excellent nighttime tea that is completely free from caffeine. It is the perfect relaxer before bedtime.
Teas (more accurately: tisanes) made from dried chamomile flowers have been used as medicine for centuries. The caffeine content of pure chamomile tea is nil, because it is not made from the Camellia Sinensis plant, like traditional teas.
What It Looks Like
Chamomile flowers are white in color with a cone-shaped yellow center. The flowers look like daisies. Brewed chamomile tea is yellowish in color.
Flavor Profile
Sweet, floral.
Health Benefits
Reduces anxiety and stress
Calms an overactive mind
Lowers blood sugar
Fights inflammation
Reduces cold symptoms
Cinnamon Tea
Cinnamon is a popular ingredient in masala chai. Its wonderful scent also finds use in baking, candle-making, and incenses. You can also add cinnamon to coffee, chocolate, drinks, etc.
Pure cinnamon tea is made by boiling a few cinnamon sticks or cinnamon powder in water. It is completely free from caffeine.
What It Looks Like
Cinnamon is available as bark or sticks or in powdered form. Its tea is dark brown.
Flavor Profile
Sweet, woody with a spicy kick.
Health Benefits
Lowers blood sugar
Can aid in weight loss
Treats wounds
Beneficial for heart health
Lowers blood pressure
Treats digestive issues
Improves memory
Ginger Tea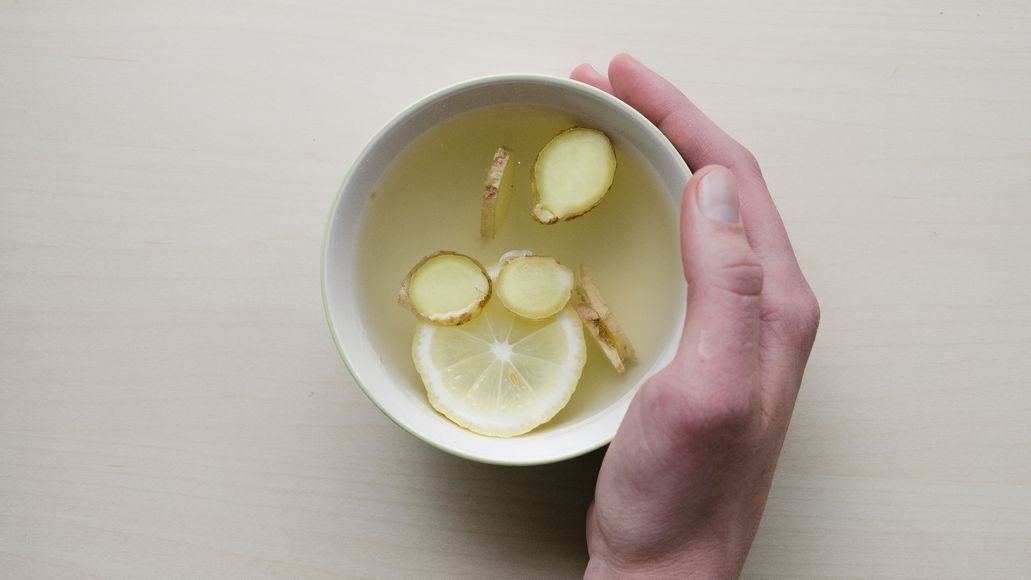 Ginger root is a great spice to add to tea. It has been used in medicinal recipes for centuries. Chinese writings from as far back as 400 BC mention ginger tea for various ailments. Ginger is available in the form of fresh or dried root, powder, infusions, tisanes, and extracts.
Pure ginger tea is devoid of caffeine but varieties made using green, white, or black teas as the base do contain a bit of caffeine.
What It Looks Like
Ginger root has a dried gnarly, finger-like appearance with a light brown outer cover and a yellow-white inner flesh. Tea made by boiling ginger root or ginger powder in water is yellowish in color.
Flavor Profile
Warm, peppery, and spicy.
Health Benefits
Curbs nausea
Improves digestion
Lowers cholesterol
Soothes sore throat
Anti-inflammatory and anti-viral
Hibiscus Tea
Hibiscus is a beautiful flower and the tea made by boiling the petals, leaves, and twigs of the hibiscus plant is completely decaf. You can drink hibiscus tea hot or cold – both are equally refreshing.
What It Looks Like
Hibiscus flowers are available in various hues, but the red one is the one to use for its medicinal properties. Fresh hibiscus petals are bright red whereas dried hibiscus petals are brownish-pink in color. The tea is usually red.
Flavor Profile
Tangy, floral.
Health Benefits
Prevent menstrual cramps
Lowers blood pressure
Could benefit liver health
Reduces depression and anxiety and uplifts the mood
Helps digestion
Lavender Tea
Lavender tea is a spa-day essential! Pure lavender tea made from lavender flowers and leaves is completely free from caffeine. The lovely herb has been around for nearly 2500 years and is used extensively in aromatherapy. This is a great tea to take before bedtime.
What It Looks Like
Lavender flowers are bluish-purple in color. The tea is orangish-yellow in color.
Flavor Profile
Sweet and earthy.
Health Benefits
Relaxes mind and body
Anti-inflammatory, analgesic, pain relieving, cures headaches
Helps with insomnia
Could help with acne and skin issues
You can also use the tea as a post-shampoo hair rinse to impart shine to the hair and also relieve dandruff, lice, etc.
Lemon Balm
Lemon Balm is also known as Melissa. Its tea is made by boiling lemon balm leaves. In Medieval Europe, Lemon Balm tea was known as the elixir of youth. It is completely free from caffeine.
What It Looks Like
Lemon Balm has heart-shaped leaves that grow opposite to each other on a square stem. They resemble mint leaves. The tea is beautiful golden yellow in color.
Flavor Profile
Minty and lemony with citrusy notes. It tastes best with a bit of honey.
Health Benefits
Heals cold, flu, fever, sore throat, and coughs
Relieves stress
Reduces anxiety
Promotes calmness and can help prevent insomnia
Relieves nausea and indigestion
Can minimize menstrual cramps
Treats headaches and toothaches
Peppermint Tea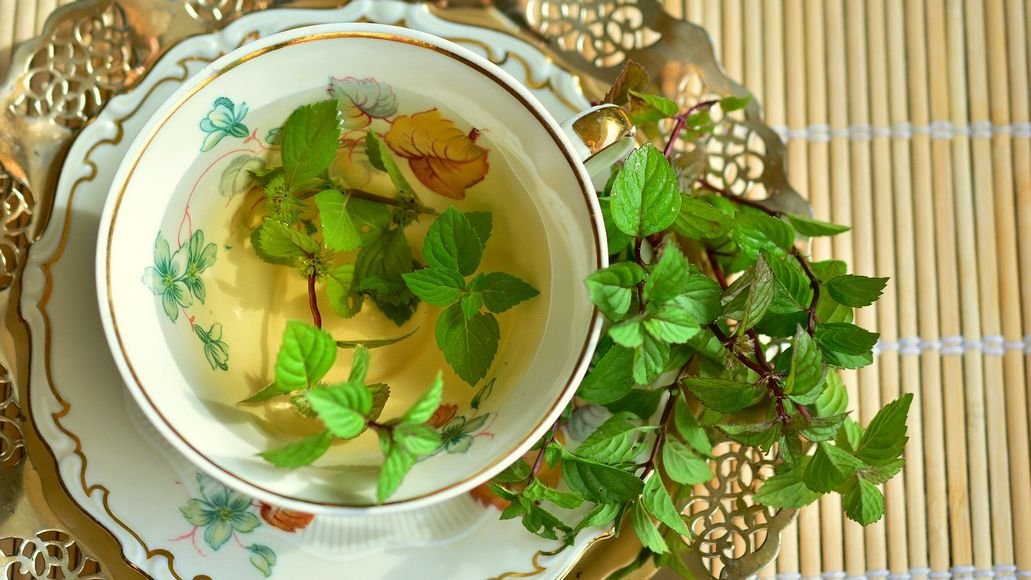 Peppermint tea made by boiling the leaves and twigs of the mint plant is completely decaf. However, many commercial peppermint teas are made with white, green, or black teas as a base and these do contain some caffeine.
Peppermint tea is a wonderful wintertime tea. It contains menthol which has many healing benefits.
What It Looks Like
The peppermint plant has small dark or light green leaves. In late summer, the plant also develops tiny violet-colored flowers. Both the leaves and the flowers can be used to make the tea.
Flavor Profile
Fresh, minty. If you do not like strong minty flavor, go for spearmint tea. It is like peppermint but with a little less menthol and the same healing benefits.
Health Benefits
Freshens bad breath
Eases headaches
Reduces nasal congestion and soothes a sore throat
Helps ease upper respiratory tract infections
Curbs gas, bloating, and digestive issues
Boosts energy
Uplifts mood
Raspberry Leaf Tea
If you enjoy picking raspberries, do not throw away their leaves. They make an excellent decaf tea that has many medicinal benefits. Apart from the leaves, you can also make raspberry tea from raspberries (dried, fresh, or infused in syrup).
What It Looks Like
Raspberry leaves are pale green in color and brewed red raspberry leaf tea is red in color.
Flavor Profile
Earthy, grassy, tangy, fruity.
Health Benefits
Relieves labor pain
Eases menstrual cramps
Increases milk production
Boosts metabolism
Rooibos Tea
Rooibos tea is naturally caffeine-free because the plant it is made from is not like the traditional Camellia Sinensis plant used for making black and other traditional teas. The word rooibos translates into "red bush." It is a plant that grows in South Africa.
There are two types of rooibos: red and green. The main difference between green and red rooibos is that the green variety is not oxidized, in the same way green tea is not oxidized, while black tea is.
What It Looks Like
Once brewed, rooibos tea appears reddish brown in color. The Rooibos plant has needle-like leaves and tiny yellow flowers.
Flavor Profile
The rooibos tea flavor is sweet and slightly nutty.
Health Benefits
Can be useful in diabetes management
Could aid in weight loss
Low in tannins and high in antioxidants
Beneficial for heart health
We also have an entire article covering the advantages and disadvantages of rooibos tea.
Decaffeinated Green Tea
Camellia Sinensis plant by harvesting its leaves when they are slightly withered. The leaves are also cooked immediately before they oxidize. This preserves their green color.
Green tea does have caffeine so it is not a natural decaf tea. However, I wanted to include it here as an option for those looking for a caffeine-free tea.
But it is important to understand that decaffeinated green tea does contain some caffeine albeit less than 0.3% of the regular amount in green tea. So almost nothing.
What It Looks Like
Commercial green tea, once brewed, appears greenish-yellow or light brown in color.
Flavor Profile
Green tea has varying flavor profiles, depending on the processing it undergoes. It can be described as grassy, earthy, vegetal, or flowery.
Health Benefits
Boosts metabolism; may aid in fat burning and weight loss
Improves brain function
Anti-inflammatory and anti-oxidative
Could slow down the progress of aging
Could improve heart health
Cancer preventive
What Tea Has No Caffeine: Final Thoughts
If you want a traditional tea (i.e. one brewed from the leaves of the Camellia sinensis plant) without caffeine, your only option is a decaffeinated version. These teas all contain caffeine naturally.
But if you are looking for any type of tea (meaning ones that are technically not teas, but tisanes) then your options grow considerably. There are many delicious herbal teas that contain absolutely no caffeine. Even better, most provide a number of great health benefits, too!