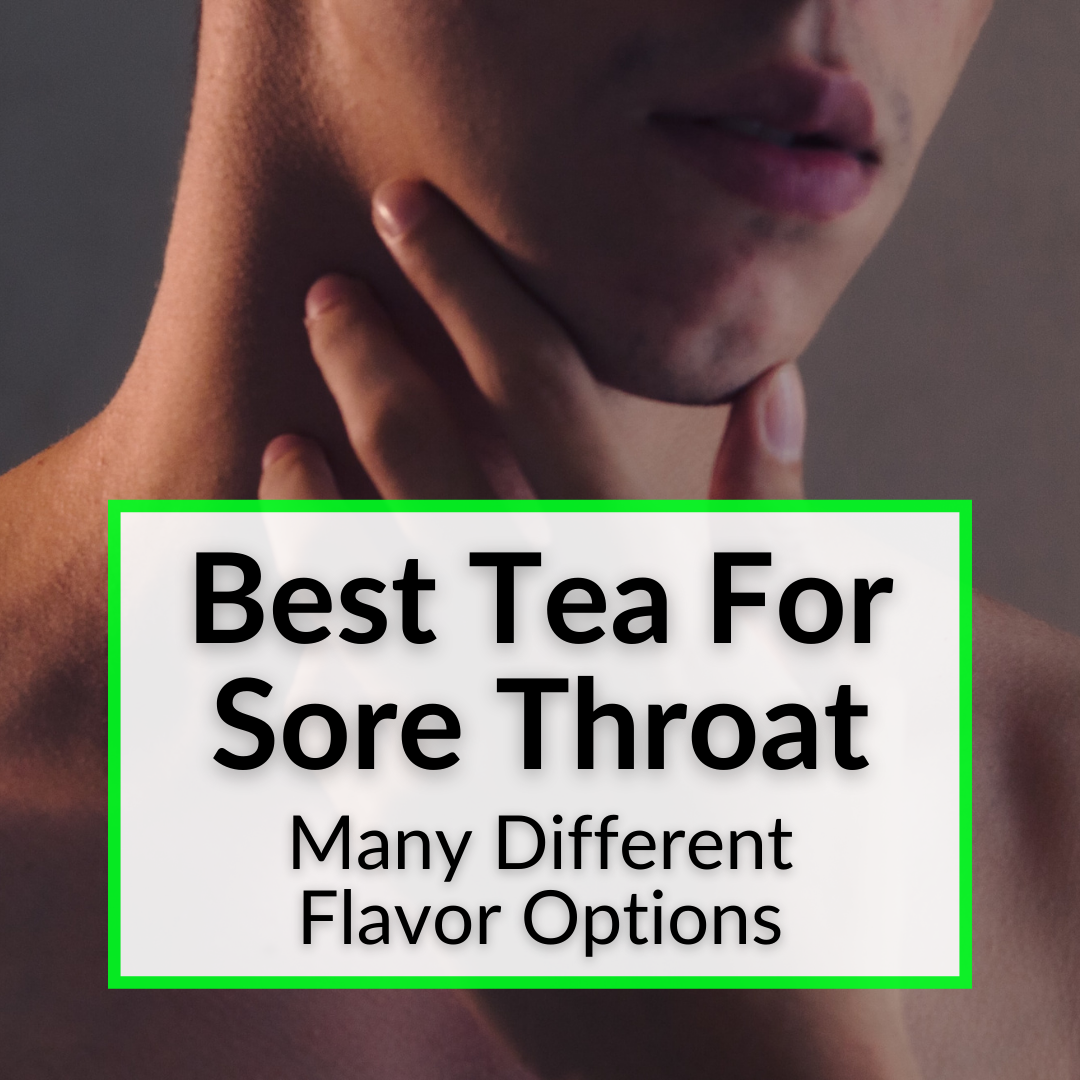 Sore throats suck.
For me, they're always the first sign I'm getting sick.
Cold or flu (and probably covid), everything starts with a sore throat.
While there isn't much you can do to stop the progression of your illness, it is possible to lessen the annoyance of your sore throat.
There are a bunch of home remedies out there. My favorite is tea.
In my experience, just about any tea can soothe a sore throat, simply because it is a hot liquid.
But the best teas for sore throat contain herbs that specifically lessen the symptoms.
Keep reading for brief reviews of my favorite sore throat teas.
Best Tea For Sore Throat Compared
$7.15

$6.50 ($6.50 / Count)
09/24/2023 01:57 pm GMT
Top Teas For Sore Throat Reviewed
You'll notice that most good teas for sore throat contain licorice, but not everybody enjoys that flavor. That's why we made sure to include two options that do not have any licorice. No matter your preference, you should be able to find a good tea for you among the options below.
Traditional Medicinals Organic Throat Coat Seasonal Tea
This is my favorite sore throat tea, and I am not the only one. Currently, it has nearly 9k positive reviews. Traditional Medicinals Throat Coat is based on Slippery Elm which has been a well-known remedy for sore throats for hundreds of years.
Non-GMO
It is a non-GMO verified product, which means it is made without genetically engineered organisms. Genetically modified organisms can potentially have bad long-term effects on your body. It is a generally good idea to avoid any food that is made using genetically modified organisms.
Organic
In addition to being non-GMO, it is also certified organic. Organic tea leaves are important because unlike some other vegetables like oranges or bananas, tea leaves are used whole.
The reason this is important is that any pesticides used will go directly into the tea you are drinking. Things like oranges or bananas are protected by skin that does not go into your body, so it is less important to get organic versions of those.
Tastes Great
It has a very distinctive licorice taste, and it goes down very smoothly. It is quite sweet as well, so there is no need to add sugar or honey unless you have an extremely sweet tooth.
Works
It acts very quickly to make your throat feel better as the slippery elm begins to coat your throat and mouth. Because of the effectiveness of the tea, it makes the top spot for the best sore throat tea.
Pros
Non-GMO and certified organic
Uses slippery elm, an age-old sore throat remedy
Acts quickly
Sweet with a licorice taste (depends on how you feel about licorice)
Cons
Sweet with a licorice taste (depends on how you feel about licorice)
Has some warnings on the box (make sure to read them if you have any health issues)
Celestial Seasonings Wellness Tea Sleepytime Throat Tamer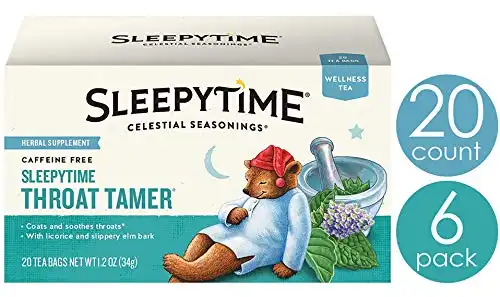 This is a tasty proprietary blend of different herbs that is not only a sore throat tea but also a sleep aid. It is helpful if you need to calm a sore throat and need some help falling asleep at the same time. It is certainly unique in its flavor, so it won't appeal to everyone.
What Is In It?
This blend includes the following ingredients:
Chamomile: This is well known to help you relax and get ready for sleep. It has a sweet floral smell and taste (because it is actually flowers, duh). It sits perfectly with the other ingredients in the blend.
Licorice: You are going to see licorice all over these sore throat teas. It is one of the most effective ingredients to soothe and coat a sore throat. It has a unique taste and smell that I personally really enjoy.
Ginger: Ginger is a spicy and pungent root that when added to tea or eaten raw will definitely open up your sinuses and give you a little rush. I love ginger in my morning tea, and it is well known to help you soothe your stomach, but it also helps calm a sore throat.
Tilia Estrella: This is just a fancy word for linden flowers. Linden flowers are one of the main ingredients in Celestial Seasonings Sleepytime Tea, which almost everyone is familiar with. Linden flowers are known to help calm anxiety and relax the muscles including the muscles in your throat.
Slippery Elm: Another popular ingredient in wellness teas and teas in general, slippery elm is used to help aid inflammation, boils, ulcers, and other skin issues. It is also good at helping to calm down flare-ups in your throat and mouth. Combined with the other ingredients it is quite effective.
They added some spearmint, lemongrass, and some other natural flavors to round out the ensemble.
What's Not In It
Caffeine: None of the ingredients in this blend contain caffeine, so it is safe to take it before bed without getting any jitters or a burst of energy.
Gluten: Most teas do not contain gluten as there is no need for wheat in a tea, but manufacturers like to remind people that there is not any wheat in their tea, because some people have serious side effects when they ingest gluten.
Artificial Flavors: There is no need for any additional flavoring in this tea. With ginger and licorice alone, you would have a strong tasty tea that needs nothing else. However, with slippery elm as well as linden flower, this tea is strong and fragrant with no additional flavor needed. Of course, if you still want to put sugar or honey in it, go for it.
Preservatives: As long as you drink the tea in the allowed time window there is no need for preservatives. This is true with most teas and not something you need to mention, but manufacturers like to toss this around to make their products sound more natural.
Why It's Good
The tea is effective at calming a sore throat and helping to relax you. I like the way it tastes as is, without any additional sweeteners or nonsense.
The fragrance and taste would be enough to make me like it, but the fact that it is more like a medicinal tea that helps calm a sore throat is a surprise bonus. Many medicinal-style teas are weird-tasting or just not something you would normally drink, but this blend is quite nice no matter what the occasion.
Earth Mama Organic Throat Smoothie Tea
I generally prefer buying organic foods. This is especially true when it comes to tea and herbal tea. Once you do some research and find out what large companies are spraying on the fields where their tea grows you may start buying organic tea too.
Earth Mama Organic Throat Smoothie tea is organic and one of its main selling points is that it has no licorice, which may be bad for pregnant women and small children. I like licorice and as far as I know, I will not ever be pregnant, or a small child, so not having licorice is not a selling point for me, personally.
Proprietary Blend
This is another one of those proprietary blends containing many different herbs. I won't list them all this time, but here are the ones that have the biggest impact on the taste and effectiveness of this blend.
NOTE: Everything is organic, so I am going to omit the word 'organic' to avoid typing it over and over.
Elderflower
Lemon peel
Orange peel
Raspberry leaf
Marshmallow root
These are all familiar to me and probably to you as well. But, while I've heard of them, there are 3 I don't know too much about.
Elderflower is used for sinus issues, bronchitis, and other inflammatory issues. It is a diuretic so it will make you pee.
Raspberry leaf is used to encourage weight loss and has a detoxifying effect. I am sure it is used here for the detox effect.
Marshmallow root is used for swelling and pain of the respiratory tract and mucous membranes.
Why It's Good
If you are pregnant or a very small child (congratulations to you if you are a small child and researching sore throat teas!) this tea is safe, because it contains no licorice.
It is also not too bad tasting, but not as nice as the previous tea on the list (since like licorice). It is good at what it is supposed to do. It calms your sore throat. But it is the most expensive option on this list. That said, none of these teas cost more than 50 cents per serving.
Pros
Non-GMO, USDA certified 100% organic, and kosher
No licorice (great for small children, pregnant women, and those who hate licorice)
Uses slippery elm, an age-old sore throat remedy
Mild citrusy, floral taste
Cons
No licorice (depends on how you feel about licorice)
Some people find it bland
Yogi Tea Honey Lemon Throat Comfort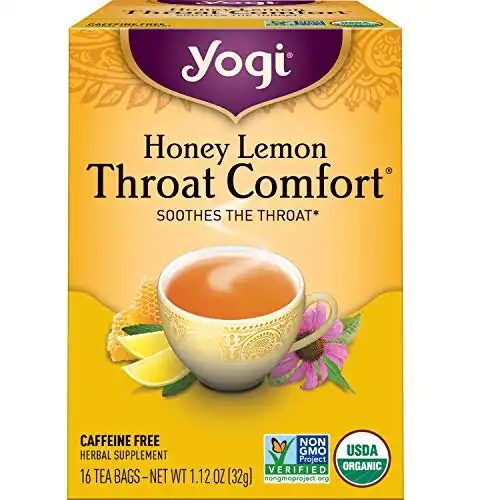 Yogi makes a lot of different herbal teas. They have an established brand and a long history of making good teas that are tasty and can help with some health conditions. This is organic and vegan tea, as well as non-GMO, but you have to look hard at the packaging to find the seals.
What Is In It
The Honey Lemon Throat Comfort tea uses traditional herbs and slippery elm to calm an irritated throat. As with the other teas on this list, it uses a unique blend of different herbs to achieve a unique flavor and scent.
This is not a complete list of the ingredients, but these are the most important unique herbs that are included in this blend.
Honeybush leaf
Licorice root
Wild cherry bark
Black pepper
Slippery elm bark
Stevia leaf
What It Tastes Like
It has a citrusy sweet taste with a hint of peppermint, which is a unique flavor. You would not expect the citrusy flavor judging by the name of the tea, but it is definitely there. It reminds me of a citrusy sleepytime tea, with a bit of a spicy aftertaste.
It is not expensive if you buy a four-pack, and it will last a long time unless you have sore throats often.
The Republic Of Tea Organic Green Tea With Lemon And Honey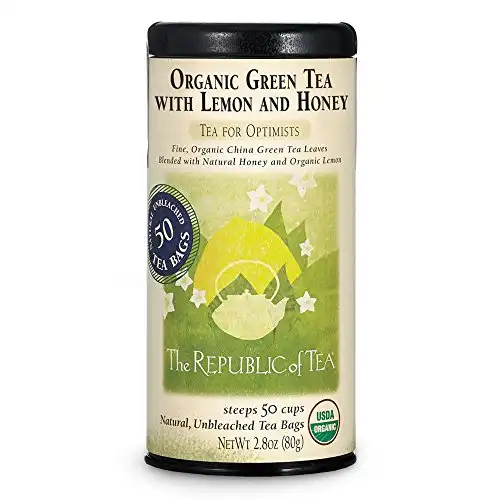 Even though this is not marketed as a sore throat remedy, it is quite popular for that purpose. It is a simple blend of organic green tea with some lemon and honey added to make an easy-to-drink blended tea.
It is based on green tea, so it does contain some caffeine unlike many of the other teas on this list. Naturally, you could just get regular green tea and add honey and lemon on your own. But this is easier and it doesn't cost any more.
It comes in a tin, but it is not loose leaf tea. It only looks like it. It contains 50 tea bags inside and uses natural tea bags that are not bleached.
How Effective Is It?
Admittedly, this tea blend may not be as effective as some of the others for specifically soothing a sore throat, but the taste and the small amount of caffeine help to relax an upset throat. It contains lemon which seems to help calm down irritated mucous membranes and you can add some extra honey as well to get a sweet extra coating on the throat.
Iced Tea?
This blend does quite well over ice, too. Personally, I sometimes find an ice-cold drink to feel good on a sore angry throat. A good, iced glass of green tea with some lemon and honey will do a great job to soothe your upset throat.
Packaging
The fancy tin packaging does not seem to make it much more expensive than the other options, and there is always something you can do with the tin after you drink all the tea. I find they are great to hold pens, pencils, and paintbrushes too.
Hey Girl Feel Better Herbal Tea
Despite the silly packaging and marketing to young women exclusively, this is a great instant tea that really can help with an aggravated and sore throat. The bag says 'Hey girl you need to feel better and live your life' which is pretty funny and silly to me, but it works because this stuff sells pretty fast.
What Is In It
The blend here is focused on fighting cold and flu symptoms which of course include sore throat issues. It has an impressive list of ingredients that when combined can make a difference in how you feel if you are under the weather.
It contains:
Ginger root
Panax ginseng root
Elderberry
Goldenseal herb
Decaffeinated green tea
Echinacea purpurea herb
Lemongrass herb
Also, not on the official ingredients list but added as an aside are dehydrated honey, lemon peel, citric acid, and natural flavors.
There is no mention of being organic or non-GMO like the other options here, so be aware of that.
Flavor?
It tastes like green tea with lemon and some other medicine-y stuff thrown in there. Not my favorite taste of all the options here, but it is actually one of the most effective at helping you feel better in general when you are sick.
Is It Good?
It is a bit more expensive than the other options here, but something has to pay for all the silly "HEY GIRL!!" marketing nonsense. This is a good tea that will help soothe your throat and make you feel better, but it is not my favorite on the list.
However, if you need something, not just for your throat, that can help you feel better overall when you are sick, you may want to give this a try. Many people love it.
Best Sore Throat Tea: Final Thoughts
As you can see, many of the best teas for sore throat contain similar ingredients, though they all use their own proprietary blends to create different flavor profiles. Hopefully there is a tea in the list above that will appeal to everyone.
I actually enjoy the flavor of all of them, though I definitely prefer the first two. My advice is to simply try the one that sounds best to you. If it is not to your liking, then try the next one.
The good thing is that none of them are overly expensive, and if you end up not wanting to use all of the bags, you can always give them to a sick friend or family member. They will love the gesture and chances are, they will love the tea too!
You may have noticed a lack of any tea with eucalyptus. That's because it is actually toxic. The tea is generally fine to drink, but there is a definite risk for some people, so we decided to leave it off this list.
And if you fear you may be coming down with a full-blown cold, or even the flu, we also have an article covering the best teas for flu and cold season.