Green tea is hugely beneficial.
We all know that already.
And it is no different during your period.
Green tea has some amazing benefits to help you through this difficult time.
But it also has some negative side effects that can make your period worse.
The good news is that you can easily minimize (or avoid altogether) those bad effects.
Keep reading to learn all the green tea side effects on periods and how you can ensure you only enjoy the positive ones and don't suffer from the negative.
Green Tea Side Effects On Periods
Green tea has both positive and negative side effects on periods. We'll begin with the negative effects, since those are likely the reason you're reading this article.
Negative Side Effects
There are some negative side effects of drinking green tea while on your period, but almost all of them result from overconsumption.
If you are particularly sensitive to caffeine, it may be a good idea to keep your green tea consumption a bit lower than normal during this time.
Most of these negative side effects are based on people reporting them to their doctors and friends, and there are few to no detailed or convincing scientific studies I could find to qualify these as fact.
Still, these are some possible negative effects green tea may have on menstruation.
Increased Cramping Discomfort When Too Much Tea is Consumed
Green tea is known to effect estrogen levels. But to what extent is unknown.
There is one study that tested this on rats you can see the study results here. It lowered the estrogen levels in the study, which can affect the menstruation experience to some extent.
This is only relevant if you consume more than 4 cups a day while you are on your period.
Most people don't drink more than 4 cups of any kind of tea per day anyway, so this side effect is moot unless you are a heavy green tea drinker.
Although green tea does slightly influence hormone levels, if its consumed moderately, there is no scientific proof that it causes increased cramping in menstruating women. The key is moderation.
Increased Headaches
Some women get headaches when they are on their period. This can be intensified when you add caffeine into the mix.
Many OBGYNs urge patients who have particularly miserable periods to lay off caffeine during the worst part of the process. Too much tea can contribute to giving you headaches, or making them worse.
Green tea is a lot milder when it comes to caffeine levels than coffee. But if you steep it for longer than you should, or drink too much while on your period, the headaches you experience could be worse due to the caffeine intake.
Headaches while menstruating will be worse when you consume too much caffeine from any source, including soda or coffee.
I don't think it is a fair statement to say that green tea itself can cause headaches during periods. Instead, I think it is better to say that high doses of caffeine while menstruating can make your period headaches worse.
Decreased Iron Levels
Tea, including green tea, can interfere with iron absorption in the body. When iron levels are too low you are considered anemic, which can cause fatigue and make you feel awful.
When your iron levels are excessively low it can also cause you to bleed more from cuts. During menstruation this can mean a heavier flow.
Like the other negative side effects already discussed, decreased iron levels are only relevant if you are consuming a high amount of green tea, or if you already struggle with iron absorption.
When your body does not have enough iron, a simple bloody nose can be life threatening. It should be mentioned that if you are already anemic, you should avoid drinking tea of any kind.
Jitters
When you are on your period you are particularly sensitive to caffeine, among other things. For some, almost anything can set you off on a rampage, since your mood is already sour and your hormones are going insane inside your body.
When you drink a large amount of green tea (or any other caffeinated drink) the caffeine will make you jittery and anxious.
This is bad enough on a regular day, but when you are on your period it is particularly uncomfortable to have the caffeine jitters.
Drinking a cup or two of tea during your period should not cause jitters or anxiety, unless you are already extra responsive to caffeine.
During menstruation you may react differently to caffeine, and it may take less to cause anxiety. It is best to keep it to a cup or two a day during menstruation, until you know your limits.
And if you like to consume tea leaves as food, perhaps don't do so at all while pregnant. Are tea leaves edible? Yes, they are. But eating them means you get far more of every nutrient than you do from simply drinking the essence, and this includes caffeine.
Positive Side Effects Of Green Tea On Periods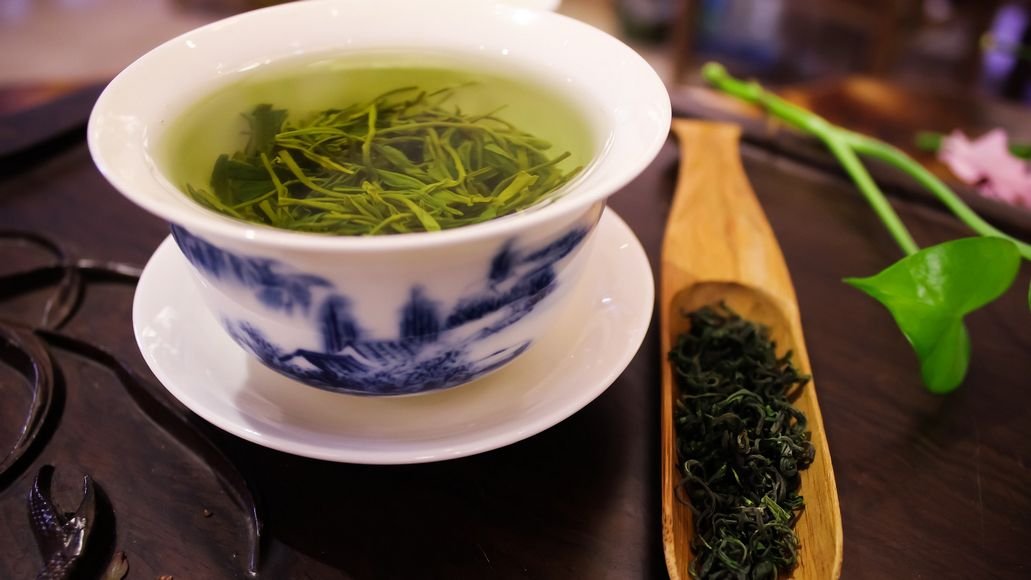 There seem to be more positive side effects than negative. And the negative ones tend to all be from drinking too much tea, or they tend to effect people that are already more sensitive to the effects of caffeine.
When you are in a terrible mood and feeling bloated with cramps, having a cup of hot green tea (perhaps with some honey) may be a good idea to soothe your mood and calm your mind.
Drinking more than a cup or two can be especially dangerous while on your period. Just pay attention to your body, because you may be more likely to react negatively to any stimulant during this time.
Lower Rate Of Dysmenorrhoea (Painful Menstruation)
Green tea can ease the pelvic and lower abdominal discomfort of menstruation. There are antioxidants and other healthy compounds in green tea that are known to aid in digestion.
This is not new information to most people.
The interesting part is that there was a study done in China specifically to find out if green tea can ease the abdominal and pelvic pain of women who are on their periods.
The study found that green tea and oolong tea did, in fact, lower the occurrence of dysmenorrhea of menstruating women.
It is not a particularly big study, but it is substantial. 1183 women participated in 2 separate medical settings. You can read more about this interesting study here.
Reduced Cramping
Many herbal teas can soothe abdominal cramping during your period. Regular teas are not widely seen as having the same effect. They do help, but not nearly as much.
That said green tea is one of the most popular teas in the world. As a result, there are more firsthand accounts of it helping women through the discomfort of period cramps than there are for less popular herbal teas.
Because of the healing properties of tea, when you consume it during abdominal cramping, it can expand the blood vessels in your organs.
This brings more oxygen to the tissue and brings some relief to your organs which can reduce the pain.
The fact that you are drinking a hot liquid may have more to do with the blood vessels expanding than the fact that it is green tea, but the compound effect of green tea and hot liquid is a winning combination.
Check out our review and comparison of the best teas for menstrual cramps, if you are looking for more relief than green tea can provide.
Can Reduce The Amount Of Flow
Because green tea is full of magnesium and vitamin K, it is helpful in the process of blood coagulation. This is a fancy way of saying it can reduce flow during your period.
I have not seen any scientific studies to prove this, but it does make logical sense. It is a fact that green tea contains high levels of vitamin K and magnesium.
It is also a fact that those two compounds help in blood coagulation. So it stands to reason that green tea will be helpful in reducing flow.
But without any studies, we can not take this as fact. Instead it is more of a possible good side effect.
Besides helping coagulate blood, the same compounds have positive effects on the rest of your body, too. So even if there is no proof that green tea can reduce flow, there is enough evidence that it is good for your body to urge you to have a cup on a bad day.
Helps Lessen Bloating
Bloating is just water retention and can sometimes mean you need to poop. When you have both at once, it can make for an uncomfortable feeling all over your body.
Because green tea is an effective diuretic, it will lower water retention in your body during menstruation. There are other diuretics out there, but green tea has a compound effect on bloating, not just for the diuretic properties.
Green tea can also help you poop! Any hot liquid may help you take a good poop, but green tea is especially effective at this job for some reason.
It is known that it relaxes your blood vessels, and in turn it can relax the muscles in your colon and lower intestine.
Because of its anti-water retention properties and its ability to help you poop, green tea can be helpful to have around during this annoying time of the month.
Can green tea make you gassy? If you are sensitive to caffeine and certain other components, any true tea, like green or black, can cause bloating and cas. But this will not happen to most people.
Helps Improve Mood
A hot cup of tea (almost any kind) can help chill you out and take the edge off, if you have a case of the grumpies.
Green tea is said to be good at leveling out your mood, especially if you are out of whack to begin with, like you are during your period.
Adding honey or another topping that you really love will also help in this regard. If you are a fan of lemon, add a wedge in your tea and let it calm you down.
Jasmine has additional calming prosperities. That makes green tea with jasmine an especially great option for you. It is also an especially tasty one (I LOVE jasmine tea!).
Green Tea During Period: Final Thoughts
On balance, drinking green tea during your period is more of a good idea than a bad idea. However, be careful how much you drink.
It is not going to get you drunk, but if you overdo it, you may end up jittery and anxious and that is not something you want to deal with when you are already feeling awful.