Did you accidentally swallow some tea leaves while drinking a cup made with loose leaf tea?
Or are you thinking of consuming tea leaves on their own or in a recipe?
Whatever your reason for asking this question, the answer is the same.
There is no harm in eating tea leaves.
That brings up another question.
Is there any benefit to eating tea leaves?
There is. You get the same benefits from eating tea as you do from drinking it. In fact, the benefits are more concentrated, which makes sense, right?
But that's mainly true for one type of tea. And there are some possible issues with consuming tea leaves, too. Keep reading for all the details.
Can You Eat Tea Leaves?
Yes, you can eat tea leaves. Eating a small number of tea leaves is completely safe. But it is unnecessary, since you do not get any greater benefit from eating leaves than you do from drinking tea.
And chances are, you've already eaten tea. Have you ever had matcha?
Then you've eaten tea. And it doesn't matter if you drank matcha tea or had it in food.
Matcha is just green tea leaves that are dried and ground into a powder. When you make matcha tea, you stir that powder into hot water using a whisk. Or a matcha whisk alternative.
This means that the ground up tea leaves stay in the cup and when you drink the tea, you also consume the leaves.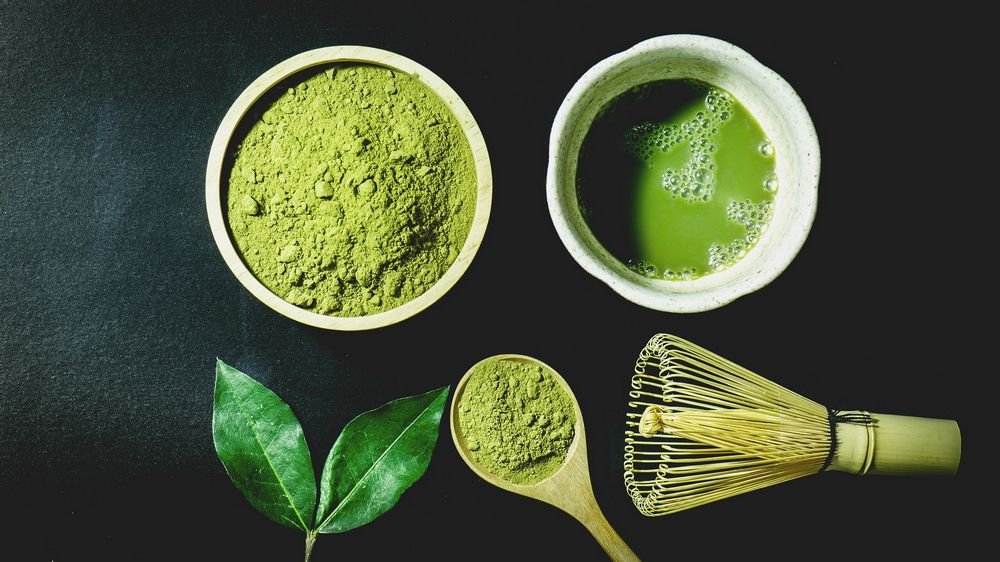 Many food recipes also use tea leaves as an ingredient. They are used for flavor or texture or both. Matcha is the most common tea used as an ingredient in food.
It has been used this way for a long time in Japan. And in the past 10 years or so, its use in food has become increasingly popular in the west as well. In fact, it is somewhat of a fad these days.
But eating whole tea leaves is not uncommon either. And certainly not as weird as you may think. There are some cultures where it is normal behavior to eat tea leaves. In Myanmar, for example, tea leaf salad is a popular, and delicious, dish that you can buy at may street food stalls for under $1. It is made from fermented tea leaves.
Can You Eat Tea Bags?
Technically, you can. But eating tea from a bag is probably not the best idea and could give you a stomachache. And this should go without saying, but don't eat the actual bag at all. We're just talking about the tea in the bag here.
Not all tea is created equally. The tea that is in bags is usually not pure tea leaves. It can include some other nasty things, like dust from the factory, debris or other nonsense.
Of course, not all tea bags contain things like these. More expensive tea bags are far less less likely to include floor sweepings or other nasty stuff. Eating tea from a high-quality tea bag is much different than ingesting tea from cheap tea bags you bought in the supermarket.
Basically, the higher quality the bagged tea you buy, the less likely there is to to be an issue eating some of it.
Can You Eat Green Tea Leaves Or Other Loose Leaf Tea?
Loose leaf tea is almost always a much higher quality level and consistency than bagged tea. Most tea makers use the best leaves for their loose leaf teas and then put whatever is left, including the sweepings from the factory floor, in their tea bags.
Of course there are exceptions, but this is usually the case. And it makes sense, if you think about it.
Consumers will see the loose tea leaves and even touch the end product. Manufacturers tend to use better stuff because of the interaction that happens between consumers and the loose-leaf tea.
This does not necessarily mean you should eat it, however. It just means that if you did, it would taste better and be less of a possible stomach issue than bagged tea.
Are Tea Leaves Edible When They Are Fresh?
Fresh tea leaves are a different experience when you eat them. If you want to try eating tea leaves, freshly picked ones are the way to go. Unlike processed tea, you get the full nutritional benefit when you consume fresh organic green tea leaves.
Fresh picked organic tea leaves contain over 13 times more antioxidants than tea drank in a cup. More and more people in the west are starting to eat fresh green tea leaves and using them in smoothies and other nutritional drinks. In some Asian countries, this is nothing new.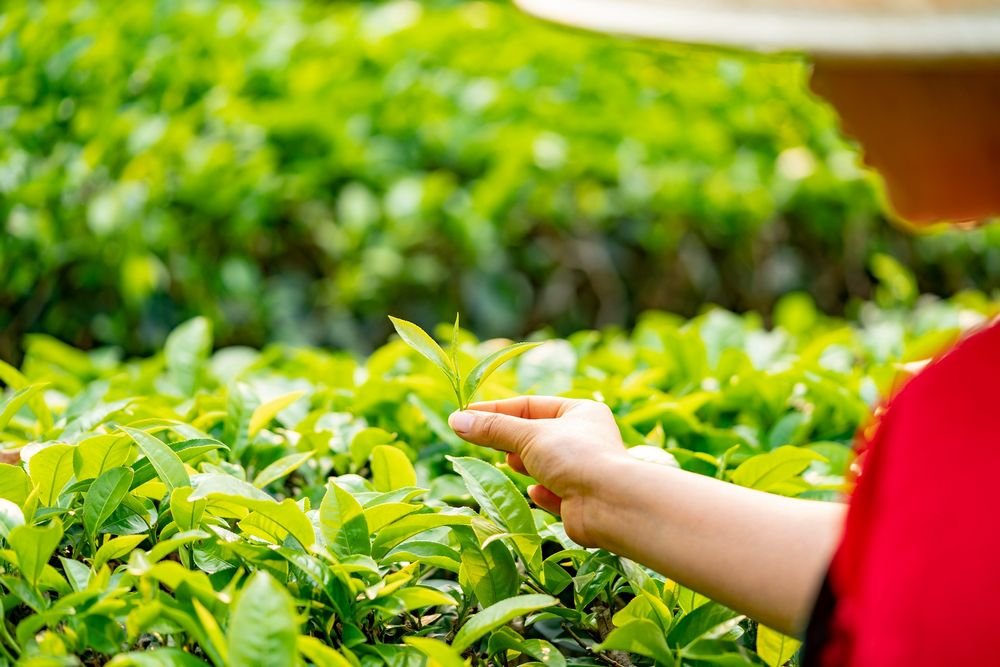 Some Nutritional Benefits Of Freshly Picked Green Tea Leaves
Tea leaves contain a ton of healthy compounds. These are the most important:
Theophylline
Vitamins E, B, and C
Phenolic Acids
Chlorophyll
Theanine
Selenium, Magnesium, Calcium
Caffeine
Vitamin A is present in fresh leaves but is not soluble in water
Is It Safe To Eat Tea Leaves In Every Case?
Tea leaves are safe, but they can cause certain issues in some people. This is something you need to be aware of, so let's take a look at some of the possible problems you might have when consuming tea leaves.
Can Cause Digestive Issues
Tea leaves can be hard to digest, especially in large sizes or high volumes of smaller sizes. The more tea leaves that enter the digestive tract, the harder it will be for your stomach to digest them.
Tea leaves contain a lot of fiber. Fiber is good for you in general, but the type of fiber tea leaves contain could cause an issue for your stomach.
The fiber in tea leaves is very coarse, similar to the fiber in tree leaves. Giraffes and other herbivores eat these without problems, but they have special stomachs and digestive tracts that are adapted to cutting through and digesting the hard grainy fiber that leaves contain.
You do not have such a stomach.
When you eat fresh tea leaves, cut up and dried loose leaf tea leaves, or even bagged tea leaves, you are digesting leaf fiber. That can sometimes lead to constipation, as your body struggles to break down the hard, sinewy fiber in the tea leaves.
Much Higher Caffeine Content
In addition to possibly becoming constipated, eating raw tea leaves could give you quite a jolt, too. As you probably know, drinking coffee gives you significantly more caffeine than drinking tea.
However, when you eat tea, you get far more caffeine than when you just drink the essence. That makes sense, right?
You are consuming the entire leaf, not just the parts that dissolved in water. This is also the reason a cup of matcha contains so much more caffeine than a cup of any other type of tea.
Fresh tea leaves actually contain more caffeine than coffee beans do. If you eat a handful of fresh tea leaves you could be bouncing off the walls with energy.
That said, it is a different kind of energy than the caffeine from coffee, because tea contains other components that make the energy boost smoother. Still, you will get a boost, so you should be careful when eating tea. Don't overdo it.
Cheap Teas Can Contain Toxins
When you eat bagged tea to excess, you could be ingesting a small number of toxins from each bag. And again, we're obviously talking about the leaves in the bag, not the bag itself. Don't eat that.
As mentioned above, the cheaper the tea you buy, the higher the chances of it containing toxins. This can go for loose leaf tea as well, but very few loose teas are made with sweepings and other debris, so this is not much of an issue.
Best Types Of Tea To Eat
It should be obvious, especially if you've read everything up to this point, but the best type of tea to eat are fresh green tea leaves. And, of course, there is no need to say "green", since all tea starts out as green tea leaves.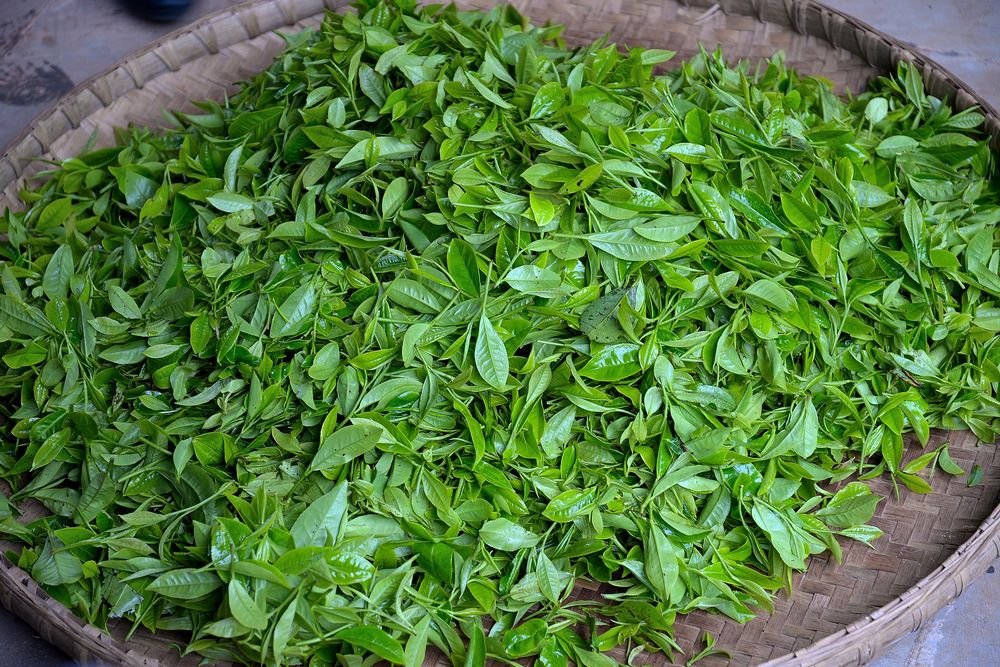 Fresh Green Tea Leaves
If you are going to eat tea, the best tea to eat is fresh-picked green tea leaves. You will get the most benefit and it has the smallest chance to cause a stomachache. If you don't want to have to keep buying fresh leaves, you can freeze the tea leaves just like any type of fresh herbs.
Dried Green Tea Leaves
Dried green tea is similar to fresh, except it has been heated to stop the oxidation process and then dried. You can eat it, but fresh leaves are better. That probably goes without saying.
Black Tea
Black tea is dried and oxidized tea leaves. Eating loose leaf black tea will give you a unique flavor. It is strong and bitter. Some people dislike the flavor of black tea leaves, while others enjoy it. I have tasted black tea leaves and I definitely prefer fresh leaves to oxidized ones.
Oolong Tea
Some consider oolong tea to be a mix between green tea and black tea. Basically, oolong tea is partially oxidized. But the level of oxidation varies greatly.
Some oolong leaves are barely oxidized at all, making them very similar to green tea. Others are more heavily oxidized and thus much closer to black tea.
You can eat oolong tea, just like you can eat other types of tea. The experience of eating it depends on the level of oxidation. But it will always fall somewhere in between green tea and black tea.
It can taste sweet and fruity or earthy and somewhat nutty, all depending on the type of oolong you have and where it comes from.
White Tea
White tea is also unoxidized, just like green tea. The main difference is that white tea is made from young shoots. These contain even more caffeine than more mature leaves, so eating white tea will give you more of that. It also gives you more of other nutrients.
Eating fresh white tea means simply eating the new buds and nothing else. Eating it dried is very similar to eating green tea leaves that have been dried.
Can You Drink Tea Leaves?
I will go ahead and answer this question here for completeness sake, but the answer should be obvious by now. If you can eat tea leaves, there is certainly no harm in swallowing some while you are drinking tea.
Tea houses in China often prepare green tea by simply putting the leaves in a glass of water and serving it to you that way. When you drink it, it is common for some of the leaves to find the way into your stomach.
Or onto your teeth.
Yes, I've walked around with a tea leaf stuck to my teeth and yes, you get the same reaction as you do walking around with spinach or something similar stuck to your teeth.
Eating Tea Leaves: Final Thoughts
In the west, consuming tea leaves as food is somewhat of a novel idea. But in some Asian countries, it is a common occurrence.
I already mentioned the tea leaf salad I ate in Myanmar above. I mention it specifically, because it was amazing. And really cheap. I ate a ton of it when I was in Myanmar.
But matcha is also tea leaves and that has become much more common in the west over the past 10 years or so. If you've ever eaten anything containing matcha, you've already eaten green tea leaves. And you're still around to talk about it, right?