This whistling tea kettle from Amfocus is the best value model that we recommend.
But it is not our top budget pick.
Why is that? Is it not any good?
Let's make this clear right away: this is a great option. We would not recommend it, if it wasn't.
But it costs quite a bit more than our top budget pick.
And while it is the better overall value, if you are on a budget, you may not want to pay this much more, when a cheaper kettle available that is also very good.
Read on to learn why we highly recommend this kettle if you are trying spend less, but still get as much kettle as possible for your money, but also why we don't consider it the best budget choice, and which competing kettle is our top budget pick.
Review Of The Amfocus Whistling Tea Kettle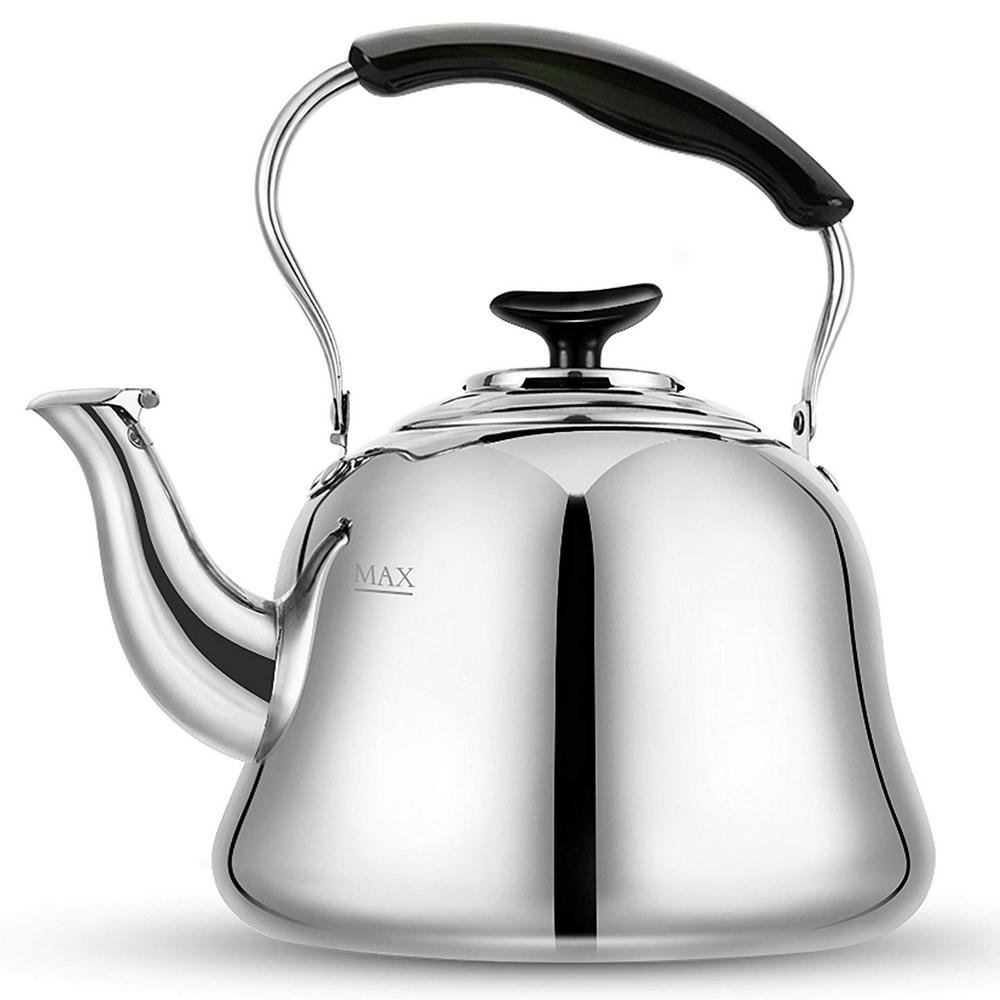 Overview And Features
It's not every day that you can find a vintage style kettle that comes with many modern design elements that make it more heat efficient and easier to use. Not to mention that is sells at a very affordable price.
The latest model by Amfocus is fairly basic in design, but it has a cool vintage style, is made out of food-grade stainless steel and has a two-quart capacity. The base is thinner than most kettles, which promotes a faster boiling time and improved heating efficiency.
The basic, vintage design will not appeal to everyone. Many modern models come loaded with great safety features that make it easier to pour a full kettle or hold the handle, even when full of boiling water. You can't do that with the Amfocus.
That said, given the low price, some won't mind that they have to use a potholder to safely pour a cup of hot water. At this price, you really can't complain, especially since you're getting an eye-catching stainless steel model complete with a satin finish and a rust-resistant design.
Key Features
Wide mouth design
Thin base for improved heating efficiency
Made out of food-grade stainless steel
Ergonomic handle
Water level indicator
Vintage-inspired design
Design
The model is made out of food-grade stainless steel. This type of steel is able to handle punishing temperatures and contains a protective oxide layer that prevents rust formation that can damage the kettle and potentially contaminate the water.
This type of steel is actually known for its natural resistance to corrosion thanks to its electropolished surface. Electropolishing works to strip away the steel's outer layer in order to reveal a surface that's microscopically smooth. This helps enhance the oxide layer's strength, removing any microscopic flaws found on the surface. These flaws must be removed because they can potentially harbor bacteria.
The base of the pot is very thin, which can help to boost boiling speed and heating efficiency, for even heating.
Maintenance And Care
Make sure to avoid using a metal scrub brush on the stainless steel. Particles found in the plain steel in the brush can become embedded in the kettle's surface, which would compromise the strength of the oxide layer. This allows the kettle to rust just like it would if it were made out of ordinary stainless steel.
You should also avoid using any type of cleaning tool that's used to clean ordinary steel. The particles picked up from cleaning regular steel can transfer to the kettle's surface, ruining the oxide layer.
In terms of ease of cleaning, the kettle's wide mouth design allows you to fit your hand inside for easier scrubbing and drying. You can leave the kettle to air dry, although I don't recommend it. Once the kettle has been cleaned, use a soft cloth and thoroughly dry out the inside and the exterior before storing.
I recommend deep-cleaning this kettle once a week, or twice a month, depending on how often you use it. Deep cleaning is simple and will keep this model working in perfect order while preventing rust and mineral deposit buildup.
Capacity
If you live in a home of tea drinkers, then you'll want a model that offers a higher water capacity, so you don't have to fill up the kettle again for everyone's second cup of tea.
This model features a two-quart capacity, which is more than enough to host afternoon tea, but for some, the smaller capacity may be a deal-breaker. In total, it can handle making eight cups of tea per pot.
Handle
The ergonomic handle is smooth and easy to hold and pour with, even if the kettle is full. However, it is not a stay-cool handle, like you get with many competing models. These handles stay cool to the touch, even while you're boiling water.
They are a nice safety feature to have, especially if you live in a home with small children. Unfortunately, the lack of a stay-cool handle may be a deal breaker.
It is one of the primary reasons we recommend the Mueller Austria kettle over this one, for those on a deep budget. That and the lower price.
Water Level Indicator
The water level indicator allows you to fill up the kettle with the precise amount of water you need to make up to eight cups of tea. The line is very easy to read and is a nice extra feature that many competing models lack.
Cap
The dust-proof cap design prevents dust and debris from entering the kettle when not in use. The cap is also leak-proof and airtight.
Lid
The large removable lid and wide mouth design of the kettle make it easier to clean and fill.
Use
If you don't know how to use a whistling tea kettle, the manufacturer has included some basic steps for use:
First, fill the kettle up and ensure you cover all the filter holes inside the kettle to ensure it whistles loudly once the water is ready for pouring. You will also need to make sure you close the spout lid when the water is boiling, otherwise, it can allow the pressure to escape and the steam to continuously flow out of the kettle as it boils, preventing it from whistling once the water is ready, or significantly muffling the sound so you're unable to hear it unless you're in the kitchen.
The flame should be kept at medium-high to prevent it from burning the sides of the kettle. The handle should also be placed in the up position to prevent it from getting too hot as the water boils. Considering the handle is not equipped with stay-cool technology, you will still need to use a potholder to take it off the stove, regardless.
Before removing it from the stove, the manufacturer recommends allowing it to cool down for a few minutes.
After three minutes, you can lift the handle using a potholder, and carefully pour the water into a teapot or a waiting teacup. You should always brew the tea in a teapot or cup, but if you can't here is how to make tea in a kettle.
Once it has cooled down completely, use a mild cleanser and soft sponge to clean, then towel dry it thoroughly before storing.
Advantages And Disadvantages
Pros
Ergonomic handle
Water level indicator
Made out of food-grade stainless steel
Thinner base for improved heating efficiency
Good Price
Rust-resistant
Cons
Does not have a stay-cool handle
Low capacity
Amfocus Versus Le Creuset Q9401-17
While this model can easily handle making up to two quarts of piping hot water, the competing model by Le Creuset only makes approximately one and a quarter quarts. So while the Le Creuset can't handle boiling enough water for an afternoon tea party, it's perfect for smaller families or for that lone tea drinker in the home.
The Le Creuset Q9401-17 outdoes this model by Amfocus in terms of handle design, which is heat-resistant, so it remains cool, even while boiling water.
Both models are compatible with all types of stove tops, and each one features a wide-mouth design that makes it easier to fill and clean.
In terms of cost, the competing model goes for over three times the price, despite the fact that it has a lower water capacity. The model by Amfocus is a better buy for hosting or if you have more tea drinkers in the home.
However, if you're looking for a higher quality, compact kettle that comes with stay-cool handle technology, then the Le Creuset is clearly the better option.
Amfocus Whistling Tea Kettle Review: Conclusion And Rating
Our Rating: 9 out of 10
Considering this vintage-inspired model is easy to clean, pour, and use, and is made out of food-grade stainless steel, I feel that this particular kettle is a steal for the price. But for those on a budget the Mueller Austria is a cheaper option.
The Amfocus Whistling Tea Kettle may not be as flashy as some of the other models I've reviewed, but it does offer some great features including the food-grade stainless steel design.
The thinner base allows the water to heat up evenly and quickly, so you can enjoy your tea in just a matter of minutes. The large, ergonomic handle makes pouring tea easy, even when the kettle is full. And the price is lower than any other top kettle.
The fact that it doesn't come with any free extras, such as infusers, and the lack of the stay-cool handle are both major drawbacks for me.
But if you're looking for a rust-resistant, compact model that can handle making up to eight cups of tea at a time and you're looking to spend as little as possible, then the Amfocus is a great, affordable option. I gave it a Let's Drink Tea rating of 9 out of 10, or 4.5 out of 5.