The Cuisinox satin-finish whistling tea kettle is the best choice on the market.
It has every feature you need and sells at a great price.
That said, it is not right for everyone.
While the price is great, it is higher than many competing models. Most of those are not very good, but there is one that is.
It costs much less than the Cuisinox and has all the same features. The only area it lags behind, is in quality. But it doesn't lag by much. We'll talk more about this competing model below.
For now, I'll just say: if you're on a budget, it is the better choice. We consider it the best value out there. But overall, the Cuisinox is the better kettle. If you have the money, this is the one to get.
Let's see exactly what it offers and why we rate it so highly.
Review Of The Cuisinox Whistling Tea Kettle
Overview And Features
Cuisinox is a popular brand that's known for their top-of-the-line cookware, coffeemakers, and kettles. Their latest model to hit the shelves offers a touch of the modern in terms of style, which makes it a perfect addition to your kitchen, if you have other stainless steel appliances.
If you're looking for the ideal whistling tea kettle that works with your budget, one that's designed with durability in mind, and a model that's easy to clean and use, then your search stops here.
The Cuisinox features a durable construction, combined with a beautiful satin finish, and stay-cool features for ultimate safety in the kitchen. It also offers a high capacity of three liters and has a flat bottom design.
If you're looking for a more modern kettle, one that will complement your existing stainless steel appliances, then look no further. This is the best kettle you can get.
Key Features
Stay-cool handle and lid
Three-ply design
Flat bottom
Great price, considering the features
Compatible with all types of stove tops
Satin finish
Handle And Lid
The handle is equipped with a thick plastic layer that ensures it remains cool to the touch, even when it's hard at work heating up water. This stay cool design is perfect for homes with small children. The lid is also made with stay-cool technology for a safer tea making experience all around.
Spout
The spout pops open for pouring when you hit the button located under the handle. It also opens up to whistle, which alerts you that the water has reached the boiling point. Push the trigger back in the opposite direction to shut the spout. Unfortunately, the spout doesn't close automatically, which is a minor design flaw.
However, the spout design also allows you to leave it open while you boil water, if you don't want to hear the whistle. You can also lock it in position to fill it, without having to remove the lid.
Make sure you firmly push the cap onto the spout before use, otherwise the steam can escape around the edges, which causes a delay in boiling and can also hinder the ability to whistle.
Design
When you're shopping for a kettle, durability usually trumps aesthetics. But with this model, you get both.
It's made out of a heavy-grade stainless steel that's corrosion and rust resistant. The flat bottom design improves its contact with the stove's surface, for even heat distribution and a faster boiling time.
It has a nice, lightweight design, despite the fact that it's made out of tough metal. The exterior is a mix of glossy and brushed steel, which gives it a modern look and a satin finish that screams quality. It also doesn't collect smudges and fingerprints like some models.
Base
The three-ply base design improves durability, and consists of iron and stainless steel. Some competing models offer four and five-ply designs, but this three-ply base is really all you need to boil water more efficiently.
Compatibility
The flat bottom design not only boosts boiling speed, it also allows you to use this model on any type of stove top. Finally, a tough, well-built model that's designed for ceramic ranges.
For this type of range you have to use a kettle that features a perfectly flat bottom, otherwise it will make poor contact with the stove's surface. This model can be used on ceramic, gas, and electric stoves, making it one of the most versatile models on the market.
Whistle
Unfortunately, this model doesn't really whistle loud enough for you to hear it across the house. Compared to much of the competition, it's fairly faint. Because of this, you'll need to stay near the kitchen and wait for it to boil.
If you have a large house and you need a loud whistle, this is not the right model for you. See the comparison with the Pykal below. It has a louder whistle and is also a great choice.
Dry Boiling Danger
Since this model is equipped with some plastic components, if you accidentally allow the pot to dry boil it can cause part of the kettle to melt. This could be a big drawback, but the truth is, dry boiling any kettle results in irreversible damage.
Plastic Components
The handle features a thick plastic layer that keeps it cool during use. The lid is also made of plastic, which means it also stays cool. You can remove it, even if you have just removed the kettle from heat.
Finish
If you're tired of cleaning the fingerprints off the surface of your other appliances, then you'll love the satin finish on this one. It is very low-maintenance and not a fingerprint magnet.
The finish does an excellent job of masking both fingerprints and water spots, so your kettle stays looking new, without having to constantly clean it. To keep the exterior looking shiny, simply use a microfiber cloth and polish it using a circular motion.
Use
The kettle should be filled based on how many cups of tea you're preparing. Avoid filling it above the spout level. instead, fill it two to three inches below it, otherwise the whistle will not be audible. Overall, it is very easy to use.
Care And Maintenance
Inside the pot, you'll find more stainless steel, which is a huge plus since this material is rust-resistant. However, if you have hard water in the home, then over time you may have a problem with mineral deposit buildup.
Proper kettle maintenance is important, otherwise mineral buildup can have a major impact on the taste and quality of your tea.
At least once a week, deep clean the kettle by boiling water mixed with a quarter cup of vinegar. If you're dealing with serious buildup, you can also add some lemon juice.
Boil the water and vinegar solution on the stove for three to five minutes. rinse out the kettle with warm water. If some mineral buildup is still present, repeat the process. If you brew tea directly in the kettle (you shouldn't), clean it after each use.
Heating Efficiency
There's some debate about whether the three-ply base design improves the boiling time or slows it down. It's true that a thinner base can equal a fast boiling time, but three-play designs are meant to promote even heating and also increase the pot's durability.
This model does a better than average job of quickly heating up the water to the perfect temperature for tea. However, if you're making a delicate tea such as green, white, or oolong, you will need to wait a few minutes for the kettle to cool down since delicate teas require a lower temperature.
If you enjoy English breakfast or black tea, then you can pour immediately after you've removed the kettle from the stove top. These teas can handle high temperatures, unlike delicate teas. If you use water that's too hot for green tea or white tea, it can actually cause the tea to taste bitter since the high temperature scorches the leaves.
The kettle doesn't come with a built-in thermometer, so you'll need to purchase one separately, to determine when the water reaches the right temperature for these delicate teas. This is an issue with all stove top models. If you make a lot of delicate teas, you may want to consider an electric water boiler with a variable temperature function.
Advantages And Disadvantages
Pros
Durable stainless steel construction
Rust-resistant
Flat bottom design
Compatible with all range types
Stay-cool handle and lid
Three-ply construction
Cons
Whistle isn't very loud
If allowed to dry boil the plastic components can melt
Cuisinox Versus Pykal Whistling Tea Kettle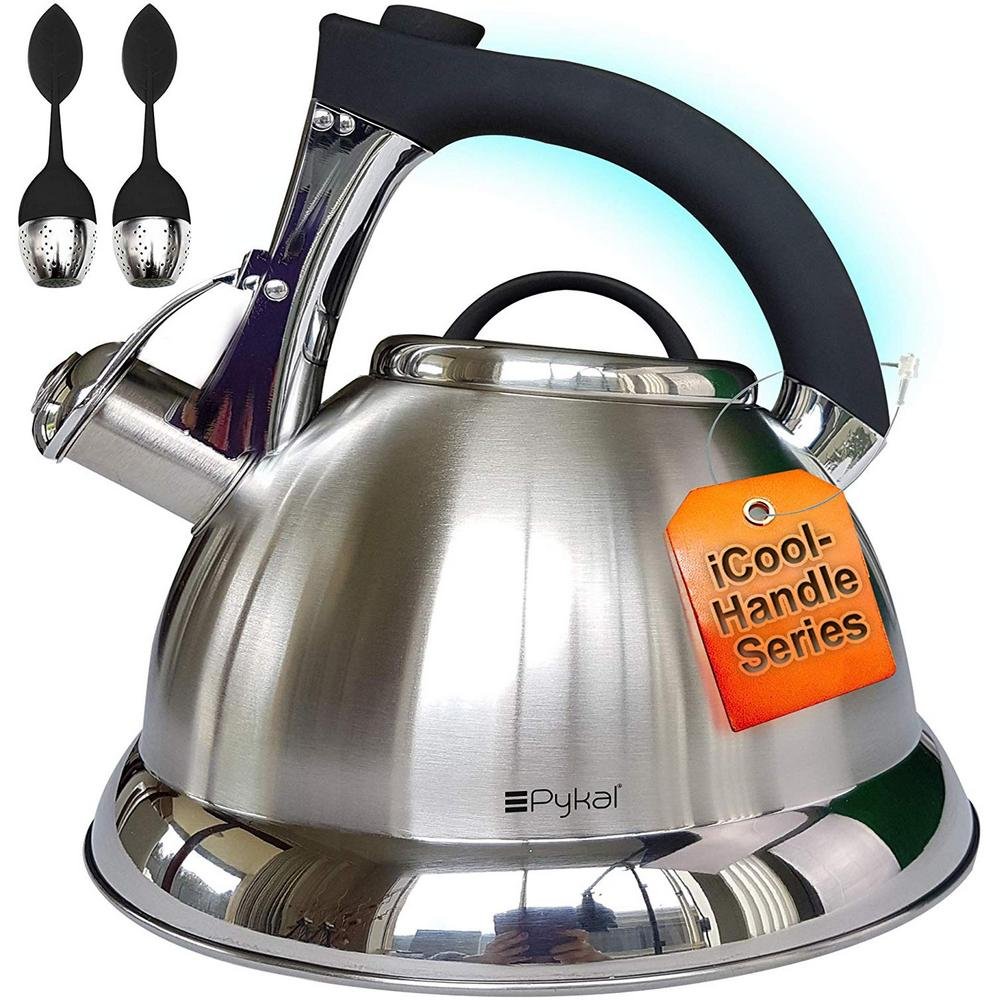 So, how does this model measure up to the competition? It is the best tea kettle on the market, in our opinion, but if you're on a budget, the Pykal whistling tea kettle is a better choice. We consider it the best value on the market.
The Pykal also comes equipped with a stay-cool handle and features thermal protection technology for a faster boil time. Instead of a three-ply design, it offers a five-ply encapsulated base, complete with a layer of iron sandwiched between two aluminum layers, which is wrapped inside surgical grade stainless steel.
It is also compatible with all types of stove tops, even induction, and it also boasts a beautiful satin finish that will mask water spots and fingerprints. Most importantly, it costs quite a bit less.
The Pykal scores well with users for its low maintenance design, durability, and overall quality. But the Cuisinox is better made overall.
It is more durable and reliable, which is why it is our top choice if you have the budget. If you don't have quite so much to spend, the Pykal is only slightly behind and also a great choice.
Cuisinox Kettle Review: Conclusion And Ratings
Our Rating: 10 out of 10
If you're looking for high quality construction, reliability and a modern look that seamlessly blends in with your existing kitchen decor, then the Cuisinox Whistling Tea Kettle delivers.
It features a durable build and gives you a reliable performance. It costs more than many kettles, but it delivers far more than most, too. It is definitely worth the price.
It's versatile and can work on all types of stove tops, comes with a stay-cool handle and lid for ultimate safety, and features a three-ply design for improved durability.
If you're looking to spend less, go with the Pykal. Otherwise, this is out top pick. We gave it a Let's Drink Tea rating of 10 out of 10, or 5 out of 5.