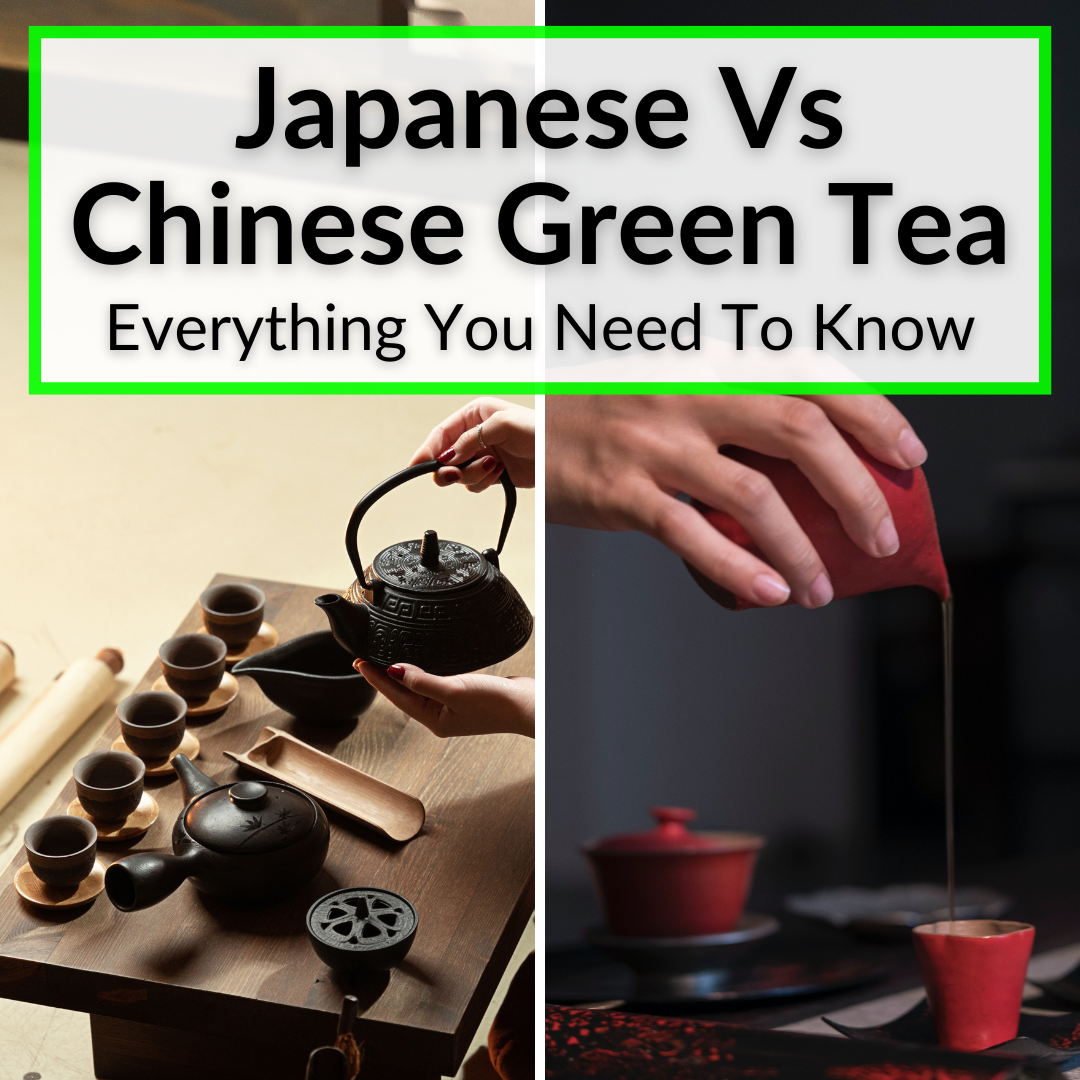 You can find green tea from a number of different countries.
China, Japan, Vietnam, Indonesia, India, Sri Lanka, South Korea and more al produce green tea.
But the countries that produce the most green tea, and the most famous green teas, are Japan and China.
In comparing Japanese vs Chinese green tea, we see a lot of similarities.
But there are also a lot of differences.
And it is those differences that matter when deciding between one of the other.
Keep reading for a detailed comparison of Chinese and Japanese green tea. This should help you decide which one you want to try. Better yet, do what I do and drink both!
Japanese Vs Chinese Green Tea
We will begin our comparison of Chinese vs Japanese green teas by looking at the tea from each country individually, before comparing them directly. We will finish with a look at the advantages of each country's green teas.
Japanese Green Tea
Japanese green tea is minimally processed. It is heated to stop oxidation, but not roasted. After being picked, the tea leaves are steamed at high heat.
The steaming process preserves the tea's catechins. Depending on the time and temperature of steaming, it may also reduce the grassy or vegetal taste of the tea and enhance the tea's aroma.
This is why, many Japanese green tea types are known for their sweet flavor and rich, lasting umami.
Also, some Japanese green teas are grown partially in the shade, which helps preserve their chlorophyll content and imparts a richer green color to the brewed teas.
Japanese green teas have several additional health benefits, because their catechin content not only reduces bad, or LDL, cholesterol but also increases the good, or HDL, cholesterol.
Chinese Green Tea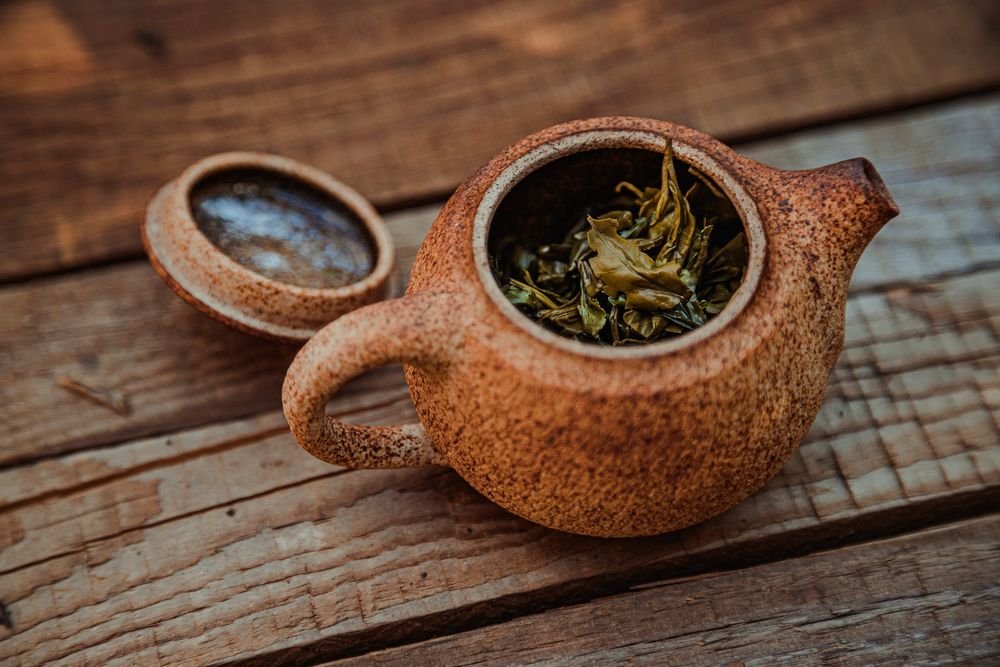 China is the birthplace of tea. That means that Chinese green teas are the oldest in the world, with a rich history of thousands of years.
They are characterized by a special processing technique that involves pan-frying the tea leaves in a heated rotating drum, a large wok, or a mechanized basket.
This roasting process halts the oxidation of the leaves and keeps them intact, similar to the steaming used in Japan. After pan-frying, the tea leaves are rolled, manually or mechanically, to impart an intense flavor to the tea.
Chinese green teas tend to have a slightly bitter, vegetal, nutty, or roasted flavor depending on the steps used in processing. Like Japanese green tea, Chinese green tea also has a lot of antioxidants and catechins which give you various health benefits.
Differences Between Japanese And Chinese Green Teas
There are a number of differences between Chinese and Japanese green teas. Let's take a closer look at each of the main ones in turn.
History
Green tea first originated in China. As a result, Chinese green tea has a richer history than Japanese green tea. The first documented mention of green tea in China appears in literature from the 8th century.
But the drinking of tea is thought to date back at least as far as the Shang Dynasty, which ran from 1500 BC to 1046 BC. And it is possible that people were drinking tea even before that. Green tea first made its way to Japan much later, in the early 9th century AD.
Tea Culture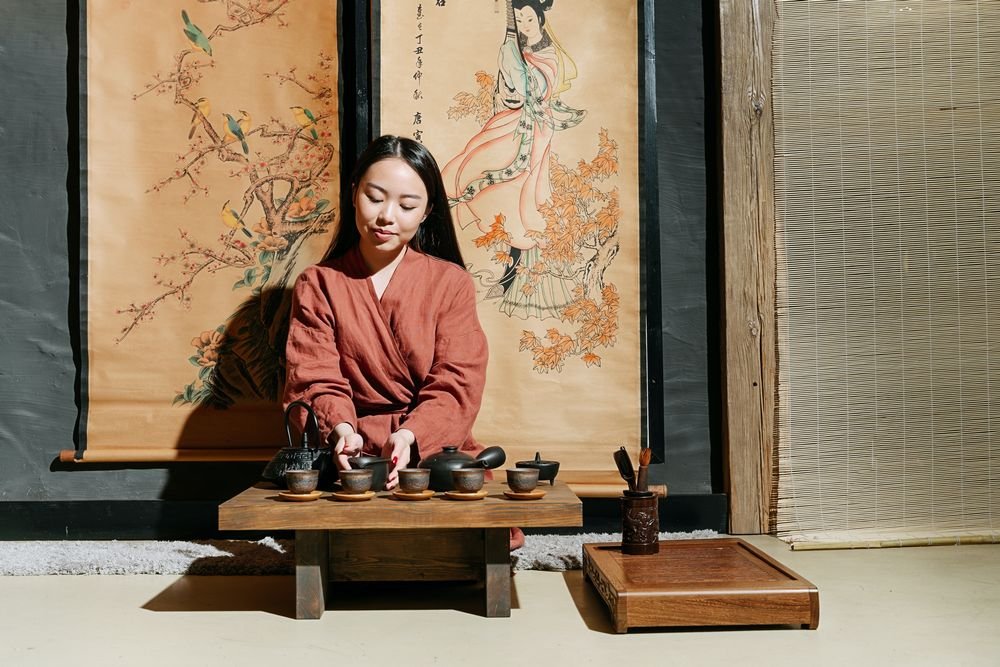 The Japanese have made tea drinking a culture. There are tea ceremonies in Japan that represent tea drinking as a symbol of tranquility, peace, and respect. In China, such formal tea ceremonies are not as common and are generally only performed before weddings.
Appearance
Some Chinese green teas are processed by hand and thus often takes on pretty shapes like spirals, spheres, and even sword-shaped! Since Japanese teas are mostly processed by machines, they may be pulverized into powders, like matcha, or rolled into needles like sencha.
After brewing, Chinese green tea tends to brew with golden brown tones, due to its lower chlorophyll content. On the other hand, brewed Japanese green teas have more chlorophyll and the brewed tea takes on a richer green color, especially in the case of Japanese matcha powder teas.
Some high-grade Japanese green teas (Gyokuro) are grown in the shade for about 20 days. This sunlight deprivation preserves the chlorophyll in the tea leaves, imparting a richer green color and unique flavor.
Method Of Processing
Japanese green tea is steamed, whereas Chinese green tea is pan-fried. Steaming preserves more antioxidants in the tea, while removing more of the grassy taste. The pan-frying method of Chinese green tea retains more of the tea's grassy or vegetal taste.
Of course, there are exceptions. One kind of Japanese green tea, Hojicha, is roasted and one kind of Chinese green tea, En Shi Yu Lu (En Shi Jade Dew), is steamed.
Flavors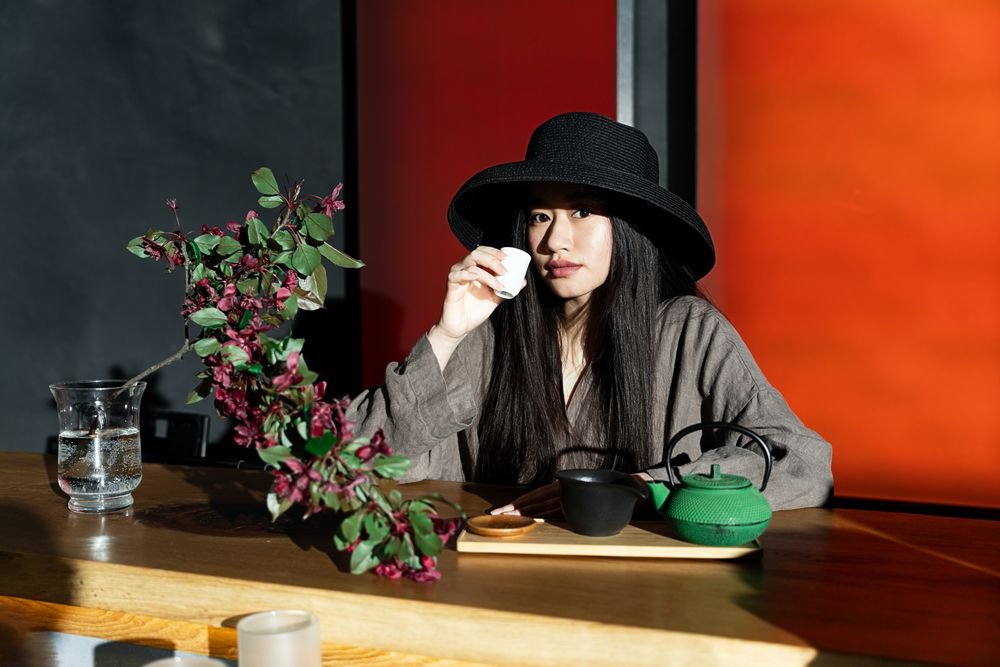 Japanese green teas generally have longer-lasting, richer umami. They are mostly sweet or savory. Chinese green teas tend to be bitter, vegetal, grassy, roasted, or nutty.
However, this could vary depending on the method, time, and temperature of processing. You could have vegetal-or nutty flavored Japanese green teas too.
Antioxidant Content
Japanese green teas can have an antioxidant content of over 60% (in the case of matcha), compared to the 12 to 16% of most Chinese green teas.
This is because Japanese matcha green tea is a powder made from the entire camellia sinensis leaf. When you drink matcha, you consume the leaves themselves. This is the reason matcha has so many health benefits.
The steaming process also helps preserves more antioxidants in Japanese green tea. That is why even regular green teas from Japan tend to contain more antioxidants than those from China, but the difference is largest with matcha.
Variety
There is more variety when it comes to Chinese green teas than Japanese ones. Since green tea first originated in China thousands of years ago, manufacturers have experimented with different growing conditions, horticulture, production methods, and harvesting times. All these have helped create thousands of varieties of green tea in China.
Price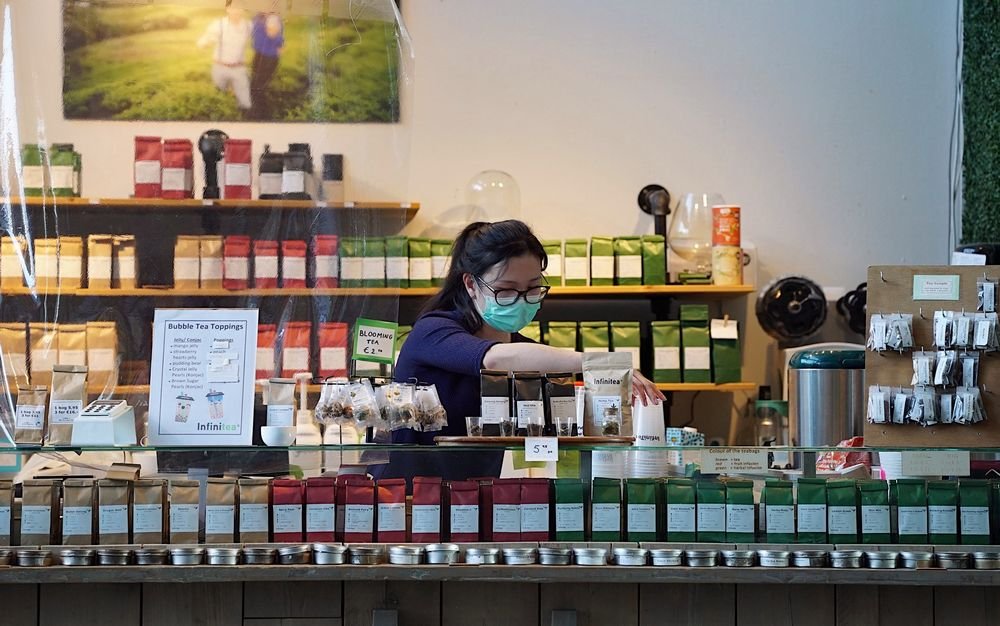 China is the biggest producer of tea. It produces almost 2 million tons of tea each year. Japan, on the other hand, produces just 90,000 tons of tea a year. Almost 98% of the tea grown in Japan is consumed domestically whereas Chinese tea is heavily exported all around the world.
This means that, along with variety and quality, you could have more options in inexpensive Chinese green teas. For the Japanese, it just makes more sense to import only premium and expensive teas to foreign nations.
This is why you will find premium ceremonial tea coming from Japan and lower-priced green tea from China. China has also mechanized the processing of its teas which has further reduced the price.
As always, there is also the question of quality with teas from China. They could be mislabeled and contain harmful pollutants. You simply can not trust their quality assurance.
That said, there are many wonderful premium green teas from China that it exports the world over. Some of my favorite teas are Chinese. But it is important to understand the higher risk when buying from China.
Similarities Between Chinese And Japanese Green Teas
Both Japanese and Chinese green teas are processed from the camellia sinensis plant. Also, both types of tea are traditionally brewed in special teapots.
Furthermore, you should brew both types of green tea with water that is below the boiling point. It should generally be should between 60 and 85° C (140 to 185° F), with most teas on the higher end of the range. Using cooler water reduces the bitterness and astringency of the teas.
Advantages Of Japanese Green Tea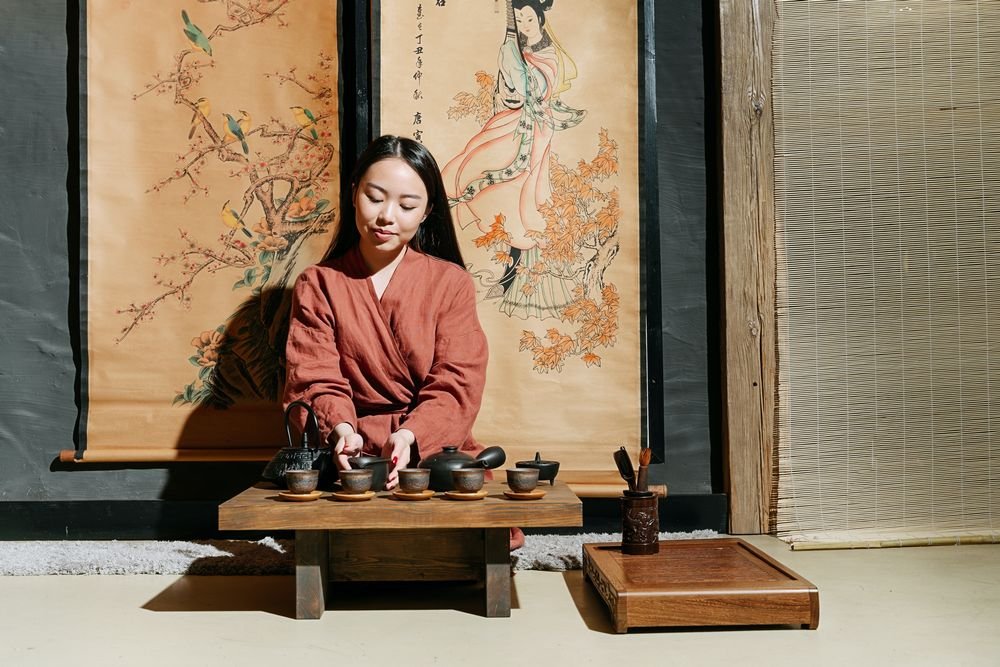 Matcha is the healthiest of all tea. When we talk of advantages of Japanese green tea, it is matcha that has the most advantages over Chinese teas in terms of health benefits. We will list a few of them here. Note that other teas give you these benefits as well, but they are more pronounced with matcha.
The concentrated antioxidant and catechin content in matcha green tea can protect the cells from oxidative damage and reduce signs of premature aging.
Test tube studies have shown that matcha green tea could prevent certain cancers and reduce the risk of developing chronic inflammatory conditions.
Quality assurance is better with Japanese teas. There is much less risk of your tea containing harmful additives or pollutants, or of being a cheap tea mislabeled as something higher quality.
Advantages Of Chinese Green Tea
Chinese green teas have the same health benefits as Japanese green teas, though the amount of benefits you receive from a cup are always going to be highest with matcha. The primary advantages of Chinese teas are variety and cost.
There is a huge variety of green tea in China. In Japan, there are only a few different types.
Chinese green teas tend to be much cheaper than Japanese ones, though you can find expensive Chinese teas, too.
China produces far more tea, so their teas are generally easier to procure. Of course, there are also incredibly rare teas from china that are almost impossible to find.
Japanese Or Chinese Green Tea?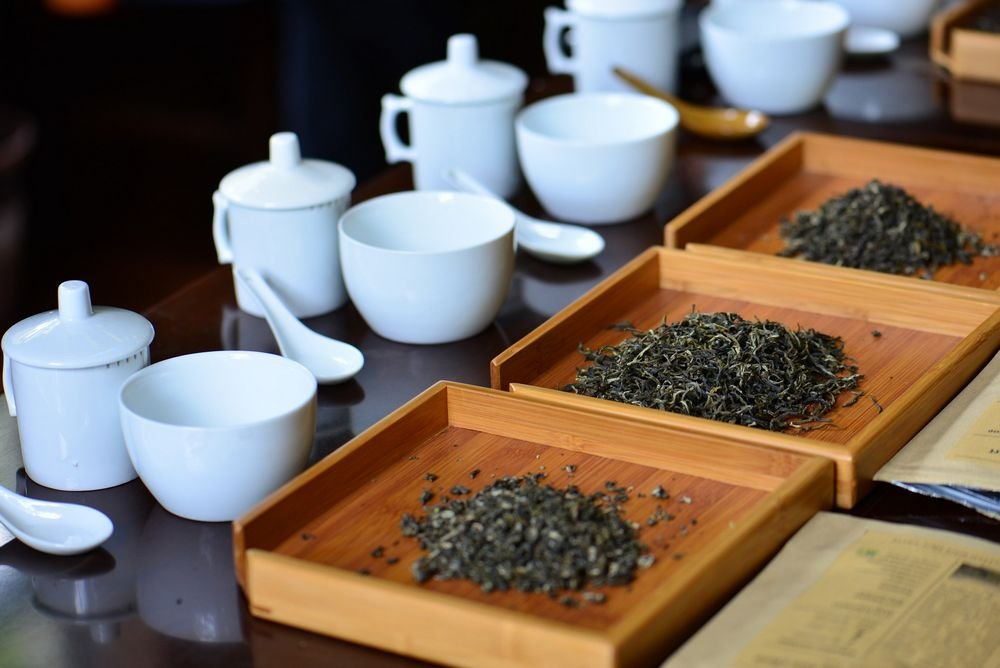 When deciding between the two varieties, you will need to consider the brand, method of production, the variety, and the price. These, in turn, will decide the flavor and antioxidant content of your green tea.
Some types of Japanese green tea have nutty, seaweed, edamame, or even spinach-like vegetal flavors. Likewise, some green teas from China have sweet, mild, bitter, nutty, grassy, floral, and even chocolate flavors!
It all boils down to your personal preferences.
If you want more variety in terms of price and flavors, Chinese green teas give you that. If you want richer green color with greater antioxidant content combined with the feel of drinking ceremonial green tea, then go for one of the higher-priced Japanese varieties.
For the most health benefits, go with matcha. It is also the easiest tea to use in recipes. You can find matcha made in China these days, but it is lower quality and there is always the issue of pollutants, usually lead, in the tea. Since you consume the whole leaf with matcha,y ou also consume the entire dose of contaminants.
Chinese Vs Japanese Green Tea: Final Thoughts
Hopefully, this comparison of Japanese vs Chinese green teas has helped you decide which type to get. Our green tea guide lists the most popular and famous green teas from each country. Check it out to help you find the best variety for you.
Personally, I love drinking both Chinese and Japanese green teas. If you are looking for a good place to start, sencha is by far the most popular Japanese green tea and Dragon Well is a good Chinese variety to start with. For the most health benefits, matcha is the way to go. This article comparing sencha vs matcha can help as well.