Green tea is not just green tea.
There actually are many different types of green tea.
And each green tea variety has a distinct flavor, aroma, and appearance.
But what, exactly, are the differences?
What makes matcha different from sencha and both different from Dragon Well and all of them different from kukicha, and so on?
More importantly, which ones should you try?
Keep reading to learn all about the differences between the various green tea varieties. This should help you figure out which types might appeal the most to your palate.
Types Of Green Tea
The vast majority of well-known green tea varieties come from Japan and China, so we will focus on teas from those two countries. We will also cover Indian green teas further below.
We will also go over some of the purported health benefits of the different types of green tea. It is important to understand that these are potential benefits and much more study is needed.
Chinese Green Teas
There are far too many varieties of Chinese green tea to go over them all here. But most are not available outside China anyway, so we'll only cover the most common types of Chinese green tea that you can get almost anywhere.
Longjing (Dragon Well) Tea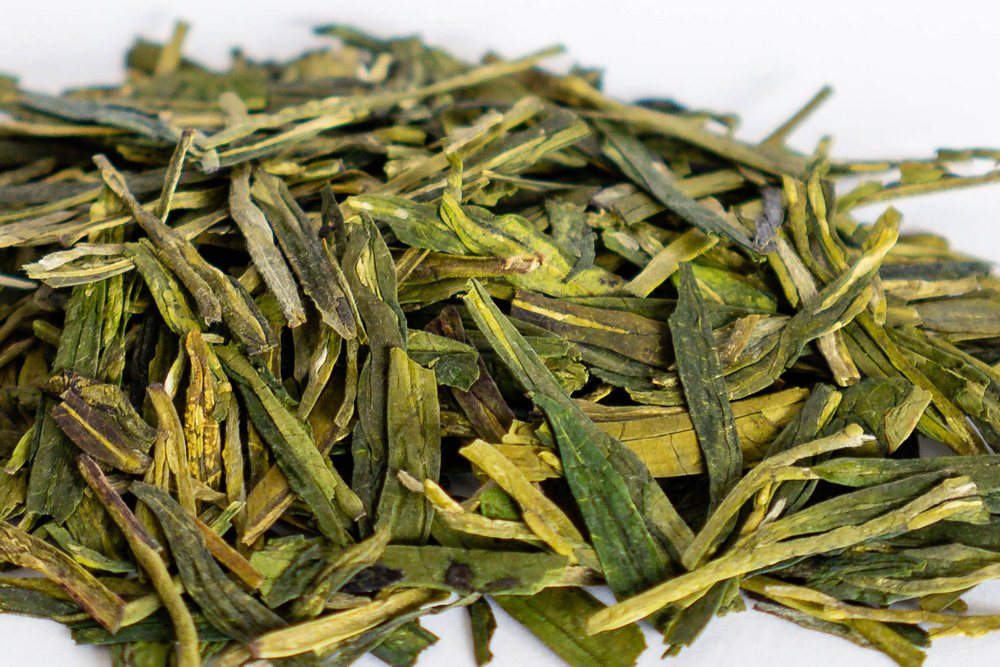 Longjing, or Dragon Well Tea, is a revered variety of Chinese green tea. It is popular for its delicate and nutty flavor. The tea's name, Dragon Well, comes from a legendary well where rainwater collects, symbolizing the tea's exceptional quality.
Longjing tea first originated in Hangzhou, in Zhejiang province, China. It is made using a unique pan-fried method of production that gives it a unique, delicate flavor that is different from other steamed green teas.
The pan-frying process retains the nutty aroma of the tea leaves while also imparting a slightly sweet taste to the tea. Longjing tea is also well-loved for its high antioxidant content and potential health benefits, such as boosting metabolism and reducing stress. For more, read our guide to Longjing tea.
Gunpowder Tea
Gunpowder tea is another popular Chinese green tea known for its distinctive appearance and flavor. It's primarily produced in the Zhejiang province of China.
The name gunpowder refers to the tightly rolled and pellet-like appearance of the tea leaves, which resemble gunpowder pellets. The shape of gunpowder tea pellets also inspired the Chinese name "pearl tea" due to their resemblance to pearls. There is also another theory as to the origins of the English name. We go over that in our guide to gunpowder tea.
To create gunpowder tea, tea leaves are withered, steamed, or pan-fired to prevent oxidation, and then rolled into small pellets. The rolling process helps preserve the tea's freshness and flavor.
When brewed, the pellets unfurl and release their flavor into the water. Gunpowder tea has a strong, slightly smoky flavor and an astringent taste. Its compact form allows it to be stored for longer periods while retaining its quality. You can read about all of the health benefits of gunpowder tea here.
Chun Mee
Chun Mee is a classic Chinese green tea known for its curled, eyebrow-like leaves. The word chun mee translates to precious eyebrows.
This tea has a slightly tart, fruity flavor. Unlike other delicate green teas, Chun Mee is pan-fired, resulting in a stronger, more acidic taste. Chun Mee tea has several health benefits, including weight loss, reducing cholesterol, preventing certain cancers, and regulating blood sugar levels.
Mao Feng
Mao Feng is a premium Chinese green tea known for its delicate, slender leaves that resemble furry buds. The Chinese words Mao Feng translate to fur peak, with reference to the fine white hairs on the tea leaves.
The leaves are hand-picked and carefully processed to retain their light, floral taste. Its minimal processing preserves the tea's natural character. Mao Feng tea is known to be beneficial in fighting inflammation, reducing aging activity, and lowering cholesterol.
Japanese Green Teas
Green tea is by far the most popular type of tea in Japan and there are several varieties of Japanese green tea. We will begin with the most unique.
Matcha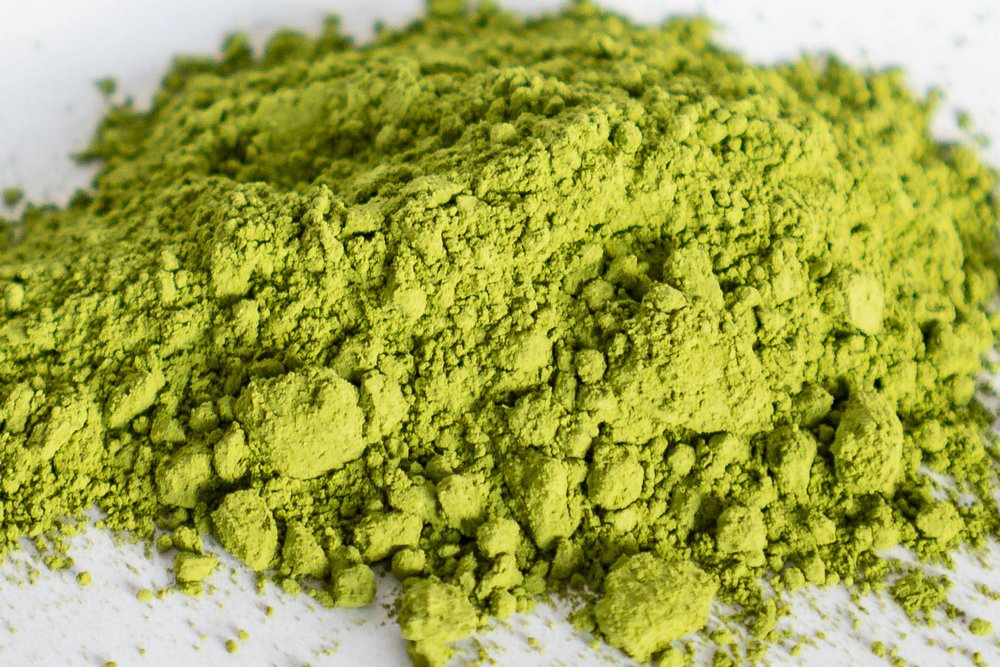 Matcha green tea is a vibrant powdered green tea made from shade-grown tea leaves. Unlike traditional steeped teas, matcha gives you the whole leaf's nutrients and provides a concentrated energy boost due to its L-theanine amino acid content.
Matcha's unique cultivation and preparation involve shading the plants before harvesting the leaves and then grinding them into a fine powder. This process results in a rich flavor and a vibrant green color.
Matcha is not just a beverage but also a central element in Japanese tea ceremonies. The antioxidant-rich powdered green tea is also extensively used in making desserts and baked goods.
Matcha tea has many health benefits, such as preventing premature aging, fighting inflammatory health issues, and improving heart and dental health. Our complete guide to matcha has more.
Sencha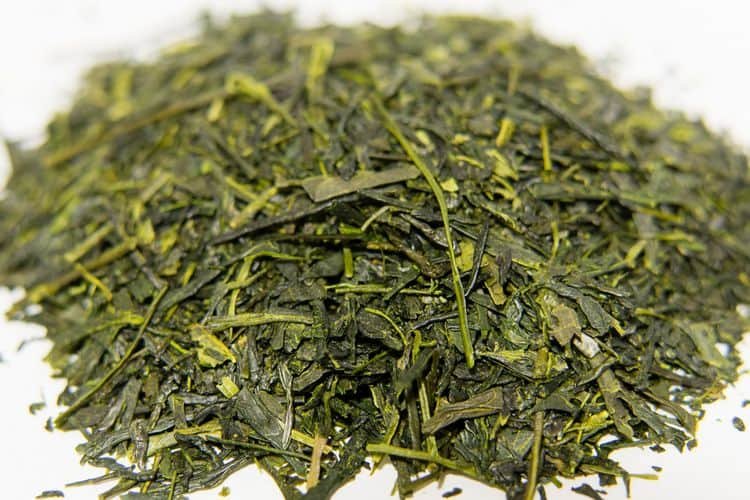 Sencha is the most popular Japanese green tea known for its refreshing taste and vibrant green leaves. Sencha green tea is made by harvesting the leaves from the tops of tea bushes. The leaves are then steamed to preserve their color and nutrients before being rolled and dried.
Unlike matcha, sencha is not ground into powder. Its production method of steaming sets it apart from Chinese pan-fired green teas while also imparting a distinctive taste.
Sencha has a grassy flavor and an invigorating aroma. It is a staple in the rich Japanese culture and has many health benefits, including fighting inflammation, lowering cholesterol, and boosting immunity. See our guide to sencha for more.
Gyokuro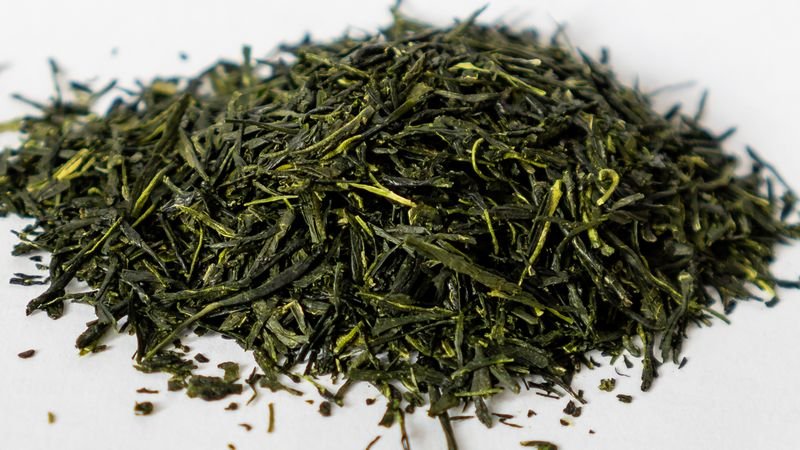 Gyokuro is another prized Japanese green tea that is grown in the shade. This imparts a distinct, sweet flavor to the tea. Like matcha, the tea has a vibrant green hue. In fact, the name Gyokuro translates to jade dew.
Gyokuro has a high level of L-theanine and chlorophyll due to its shading process of cultivation. It is a relaxing tea that is known to boost the alpha waves in the brain. It is also one of the most expensive green teas. Learn more about gyokuro in our complete guide.
Hojicha (Houjicha)
Hojicha is a distinctive, roasted Japanese green tea made from Bancha tea leaves. Due to the roasting process (which is done at extremely high temperatures), the brewed Hojicha acquires a reddish-brown color.
Hojicha is well-loved for its rich, caramel-like flavor profile. If you dislike the bitter taste of green teas, then you will love Hojicha, which has virtually no bitterness. The roasting process also reduces the tea's caffeine content, making Hojicha an ideal bedtime beverage.
Drinking Hojicha regularly can provide many benefits such as boosting immunity, lowering stress, and promoting youthful skin. Learn more in our comprehensive guide to houjicha and also in our article on the difference between hojicha and matcha.
Genmaicha
Genmaicha is a unique Japanese green tea made by blending high-grade Sencha or Gyokuro tea leaves with fire-toasted brown rice.
This combination of rice and tea leaves imparts a distinct nutty flavor and aroma to Genmaicha. The tea has an interesting nickname–popcorn tea–because of the popping of the rice grains during the roasting process.
Drinking genmaicha regularly can detoxify your body and boost your immunity. Also, its lower caffeine content means you can drink it in the evening before bed. Learn more in our guide to genmaicha.
Kukicha
Kukicha tea, also known as twig tea or bocha is made from the stems, stalks, and twigs of sencha or gyokuro. The use of twigs and stems imparts a slightly nutty, creamy, and sweet flavor to the green tea.
Unlike traditional green teas that use leaves, Kukicha has a lower caffeine content and a milder taste. Its sweet taste profile and minimal bitterness make it an excellent choice for tea lovers seeking a distinct and calming tea experience. Kukicha is an excellent digestive aid and a natural astringent as well.
Kabusecha (Kabuse)
Kabusecha means shaded tea. The Japanese word kabuseru means 'to cover or place on top'. This green tea is mainly grown in Kagoshima, Japan.
Like matcha and gyokuro, kabusecha is grown in the shade. During harvesting (which is done before the main spring harvest), the leaves and stems are both used. This results in a vibrant flavor and color profile. This type of tea is considered high-grade because of its difficult cultivation process.
Kabusecha has higher levels of L-theanine and caffeine than other green teas. Its high catechin content is also known to boost metabolism, making it ideal for those looking to lose weight.
Tencha
Tencha is the precursor to matcha. It is the tea before the leaves are ground into a fine powder. The Japanese word ten also stands for stone grinding, since the tea leaves are ground using a stone mortar.
Tencha green tea is popular for its vibrant green color and rich, delicate umami. It does not whisk into a frothy beverage like matcha, but people still love its deep, mellow aroma. Mostly, tencha is used for making matcha or in Japanese culinary applications.
Bancha
Bancha tea is made from late harvested-tea leaves of varying sizes. It has a robust, earthy flavor and is often considered an everyday loose-leaf tea. Bancha tea has a low-caffeine content, and it sells for a lower price than other types of green tea.
The tea is great for fighting colds and coughs, reducing inflammation, and improving digestion. You can learn more in our complete guide to bancha.
Konacha
Konacha is a unique Japanese green tea consisting of small tea leaf fragments and dust created during the tea processing. This tea variety is often used in Japanese sushi restaurants due to its robust flavor, which pairs well with food.
Unlike traditional whole-leaf teas, Konacha's fine particles infuse quickly, yielding a strong taste and intense green color. Konacha is also an economical tea because it is made using leftover tea leaves and buds.
The nutrients, catechins, and minerals in Konacha help open up clogged arteries, improve cardiac function, and detoxify the kidneys.
Fukamushicha
Fukamushicha is a type of sencha tea characterized by its deep steaming process, which results in finely fragmented leaves. The Japanese word fukamushi means deep steamed, since the tea leaves are steamed 2 to 3 times longer than sencha.
Fukamushicha has a bolder, sweeter, and richer taste compared to regular sencha.
Also, despite its lower cost, the tea has a host of health benefits due to its higher catechin content. These include lowering cholesterol, reducing body fat, lowering blood pressure, and preventing tooth decay.
Shincha
The Japanese word shincha means new tea. This type of Japanese green tea is made from the first harvest of sencha leaves in the spring. This makes it a high-grade, prized tea, as it is only available in limited quantities during the spring.
Shincha is made from the best-quality leaves and is the freshest green tea you can enjoy. It has all the benefits of sencha and matcha, such as supporting cardiovascular health, boosting antioxidants, enhancing mental alertness, improving dental health, etc.
Indian Green Tea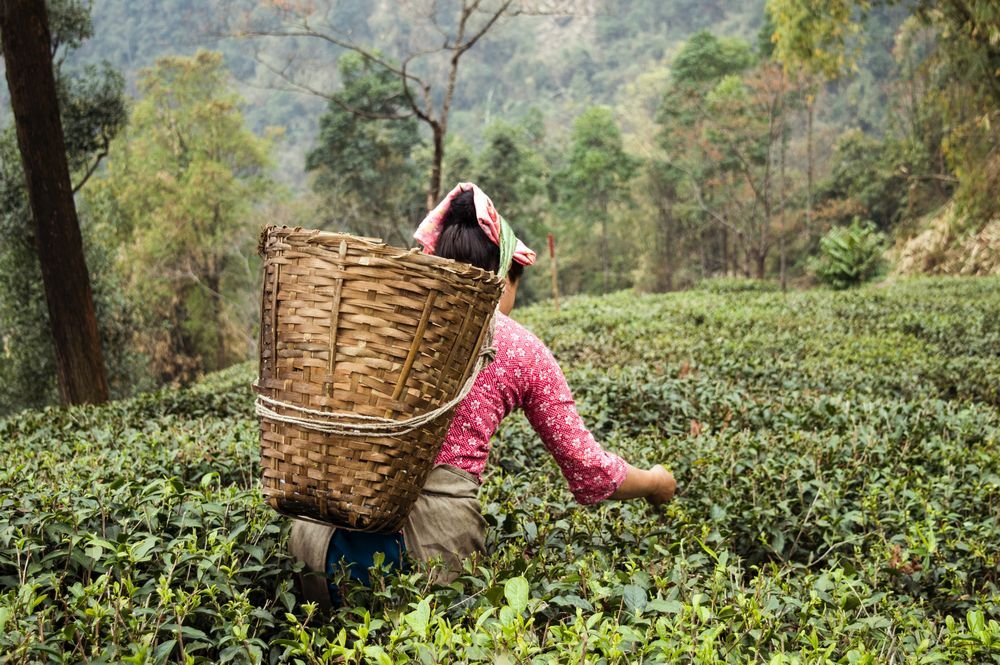 India does not have nearly as many different green tea varieties as Japan and China. It really just has one important one. The main variety of Indian green tea is Darjeeling green tea.
Darjeeling Green Tea
Darjeeling green tea is made from the tea leaves grown in India's Darjeeling region. It is renowned for its distinctive muscatel notes. Unlike other green teas, Darjeeling green tea leaves are minimally oxidized, preserving their delicate taste.
This means it is technically an oolong tea, but a very lightly oxidized one that is almost a green tea. That is interesting, because the famous Darjeeling black tea is also technically an oolong, just a more oxidized one.
Known as the champagne of teas, Darjeeling tea has a prized status due to its limited production. The tea also has many health benefits, including reducing stress, boosting cardiovascular health, and lowering the risk of certain cancers.
Green Tea Names And Varieties: Final Thoughts
There are too many different types of green tea to list them all here, but the ones above are the most popular and most common. Most of them should be easy to find in any big city and you can get them shipped to most countries from online tea shops, or even Amazon.
As for which is best, that is an impossible question to answer. It depends on what you want (more caffeine, the most health benefits, sweeter or more bitter flavor, etc.) nd your personal taste.
If you're looking for the healthiest green tea or the one with the most caffeine, those are both matcha. If you're looking for a regular green tea (i.e. not a powder) and just want a recommendation, give sencha or dragon well a try.