Hojicha and matcha have one major commonality.
They are both types of green tea.
But as such, they couldn't be more different.
And the differences really stand out when you compare hojicha vs matcha.
It starts with the appearance, but it certainly doesn't end there.
Thanks to the difference between hojicha and matcha, it is likely that one of these teas will be a better matcha for you than the other.
Keep reading for a full comparison of matcha and hojicha that will help you figure out which of these teas is right for you. And it may be both. It is for me. I simply enjoy them at different times.
Hojicha Vs Matcha
We will begin our comparison of hojicha and matcha by looking at each type of green tea individually, before comparing them directly. Then we will get into the advantages of each, which is what will determine which type of tea is right for you.
Hojicha
Hojicha (also written houjicha) is a type of Japanese green tea made by slow-roasting tightly rolled leaves of the Camellia sinensis plant. The plant's twigs, leaves, stalks, and stems may be used in preparing houjicha.
Hojicha was first discovered in Kyoto in the 1920s. To cultivate houjicha, the tea is fully grown in the sun, where the leaves absorb nutrients from the soil and develop a robust flavor.
After harvesting, the leaves are slow-roasted at high temperatures, due to which they develop a reddish-brown hue and a smoky aroma. The roasting process also decreases the tea's caffeine content, making it a great choice for people who want a milder tea.
Hojicha stands out from other Japanese green teas due to this roasting process. In general, Japanese green teas are steamed to halt oxidation, while Chinese teas are most commonly roasted.
Hojicha is known for its nutty, earthy, and smoky flavor. Like any green tea, houjicha contains plenty of antioxidants without too much caffeine. This makes it ideal for energizing without the aftereffects of caffeine.
Matcha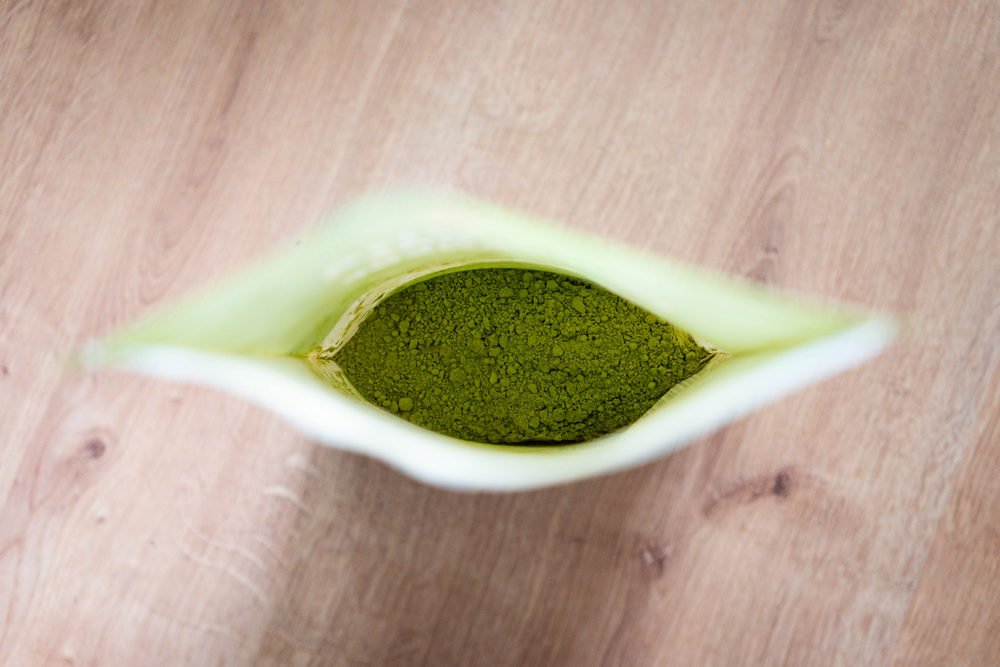 Matcha is also a type of Japanese green tea with a rich history. It is central to Japan's famous tea ceremony and there is evidence it has existed since the 12th century.
Compared to other green teas, matcha tea undergoes a unique cultivation process. The Camellia sinensis plant is shade-grown for weeks underneath bamboo plants. The shading process helps the tea retain its vibrant green color. It also increases the tea's antioxidant and caffeine content.
After harvesting, the entire tea leaf is steamed before being ground into a fine powder. When brewing matcha, you whisk it in hot water and drink it without filtering it.
This means you consume the entire leaf, so you can reap many health benefits. Matcha has high levels of polyphenols, catechins, and antioxidants. It also has higher caffeine levels than other green teas.
Today, this versatile tea is not only used in tea ceremonies but also in culinary preparations and cosmetics. Matcha is loved for its unique, rich umami flavor, which can be described as slightly grassy, vegetal, nutty, earthy, and pleasantly bitter.
Difference Between Houjicha And Matcha
There are many differences between hojicha and matcha:
Method Of Cultivation And Processing
Hojicha is grown in the sun. The leaves are usually harvested in the fall and dried to reduce their moisture content. For the drying process, manufacturers use fans and also roast the leaves at high temperatures.
Matcha is grown in the shade. The tea plant (Camelia sinensis) is shaded along with bamboo plants for three to four weeks. It is then harvested in April and mid-May.
The first flush yields the highest quality matcha. After harvesting (by hand), the leaves are steamed, deveined, and ground into a fine powder. When you brew matcha, the powder is dissolved in water. This means you consume the entire tea leaf, not just the steeped essence as with hojicha (and other teas).
Color And Flavor Profile
Since hojicha is roasted at high temperatures, the tea acquires a reddish-brown hue. The brewed tea is also brown in color.
Houjicha is known for its nutty, smoky, and cocoa-like flavor. The roasting process also reduces its bitterness greatly. Houjicha's flavor can be described as refreshing, aromatic, sweet, and relaxing.
Matcha is known for its vibrant green color. The fine powder retains the tea leaves' green color, because they are steamed and not roasted. Matcha has a vegetal or grassy umami flavor.
It might be bitter for some people but many people describe matcha's flavor as "oceanic and earthy". If you do not like the flavor, there are many ways to make matcha taste good.
Caffeine Content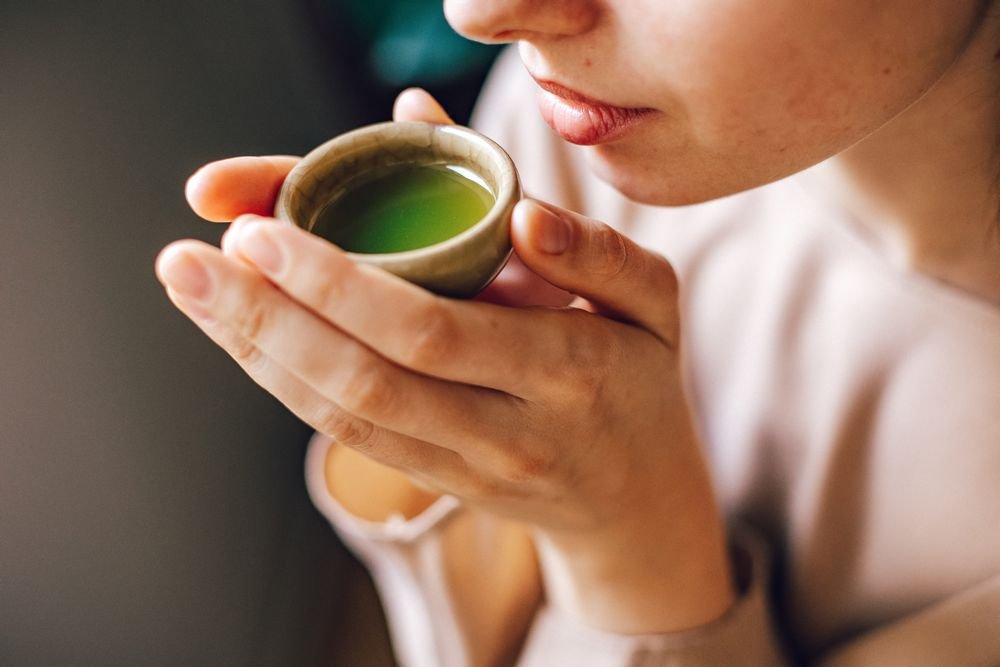 The caffeine content of hojicha varies based on how it is processed. If the twigs are used in the making of the tea, then you will get the lowest amount of caffeine.
Houjicha contains only around 7.7 mg of caffeine per 250 ml, or one cup of brewed tea. Thanks to its low caffeine and high l-theanine content, houjicha is a wonderful tea for relaxation in the evening.
Matcha contains much more caffeine than houjicha. A single cup of matcha can have between 35 and 130 mg of caffeine. The average cup has around 70 mg. That is almost 10 times more caffeine than hojicha. This makes matcha more stimulating and energizing than houjicha.
Antioxidant Content
Houjicha contains fewer catechins than matcha. However, the roasting process of houjicha also releases pyrazine, which is known to boost blood circulation. Matcha does not have pyrazine, but it is significantly higher in antioxidants than hojicha.
Uses
You can enjoy matcha tea hot or cold. You can have it in summer and winter. You can also use it in culinary preparations like baked goods, smoothies, etc.
Drinking matcha gives you focused energy due to its l-theanine and caffeine, making it ideal for daytime use. It is also great for making pre and post-workout shakes.
Houjicha is best enjoyed in the evenings after dinner. Its l-theanine helps provide a calming and relaxing feeling which can promote sleep. You can also use it in dessert and drink recipes.
Similarities Between Houjicha And Matcha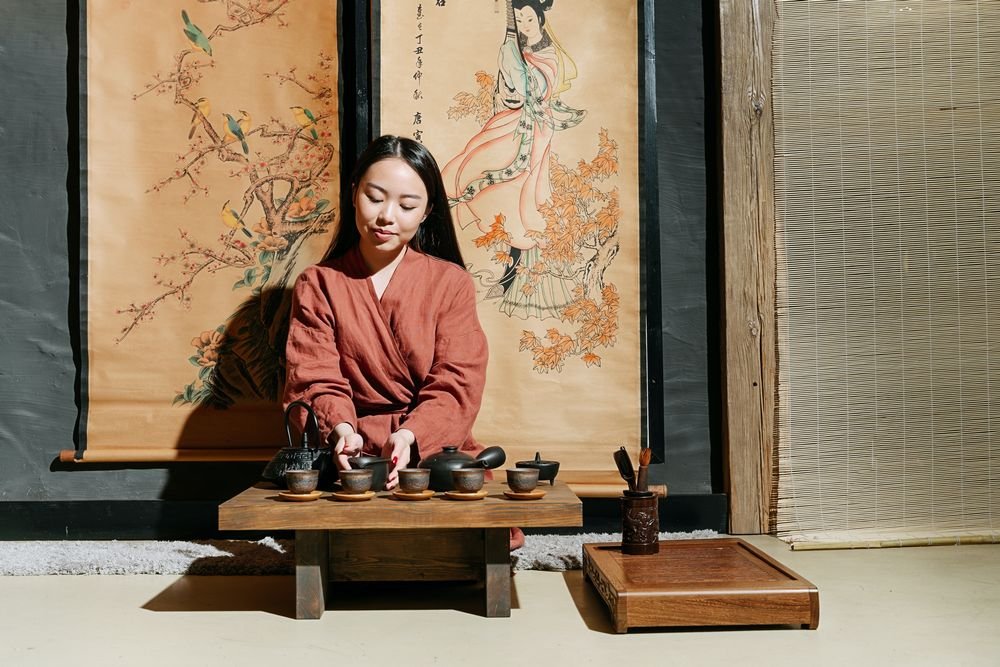 Matcha and hojicha are both green teas made from the tea leaves of the same plant: camellia sinensis. Both varieties originated in Japan.
Houjicha and matcha both contain l-theanine, an amino acid that promotes a feeling of calm relaxation. Both varieties of tea have a lower caffeine content than coffee (though matcha has far more than hojicha). This is why both teas give a calm energy without any anxious, jittery feelings.
You can also use matcha and hojicha in various culinary applications. Their unique umami taste adds a bold flavor to desserts, drinks, and baked goods.
Advantages Of Hojicha Over Matcha
Next, we will go over the main reasons you might want to choose hojicha instead of matcha.
Smoky Flavor
Hojicha has a less bitter taste than matcha. If you find matcha too bitter, you might appreciate hojicha's sweet, nutty, smoky flavor.
Lower Caffeine Content
This tea is ideal for people who are sensitive to caffeine. The roasting process burns away the tea's caffeine, which makes it ideal for drinking in the evening. In Japan, children and the elderly often enjoy this delicious and healthy tea.
Stress Reduction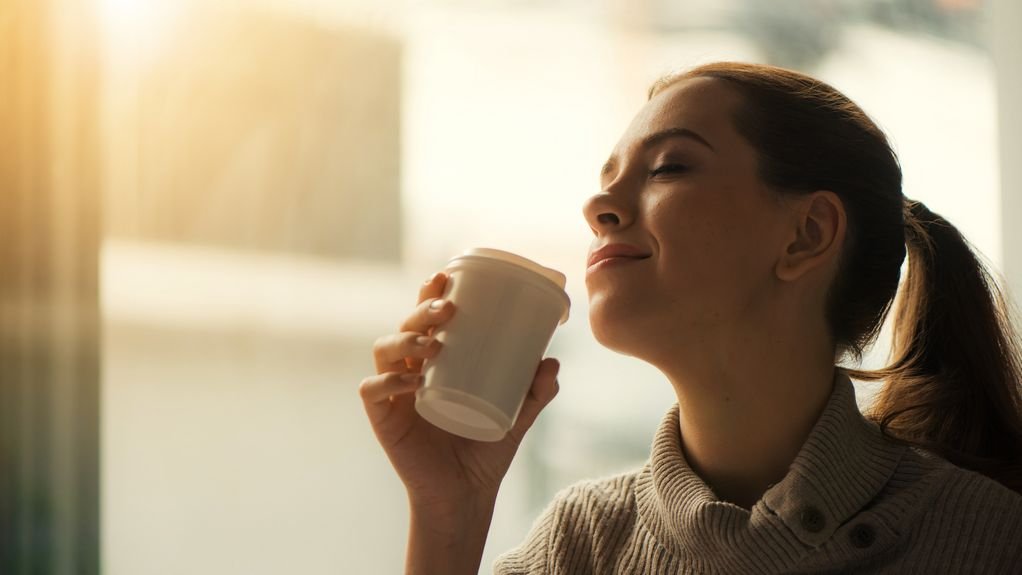 Houjicha contains l-theanine which promotes calm relaxation. L-theanine can also alleviate symptoms of depression, anxiety, and stress. This makes it a wonderful beverage to unwind with at the end of the day. Matcha also does this, but it contains more caffeine, which may make it less relaxing for some.
Pyrazine
The roasting process encourages the production of pyrazine, which benefits blood circulation. This is why hojicha can help improve heart health more than non-roasted teas. The tea also offers most of the same benefits as matcha (though in lesser amounts).
It contains vitamin C, which can boost immunity and reduce age spots to give you youthful skin. Vitamins A, C, and E in hojicha could also prevent infections, boost the metabolism, and aid in weight loss.
The polyphenols in this tea are known to improve oral health. Its antioxidants may help fight inflammation and reduce painful conditions like arthritis.
Lower Cost
Hojicha is far less expensive than matcha. In fact, it is among the cheapest green teas on the market, while matcha is the most expensive. If budget is a concern, then hojicha is the tea to pick.
Advantages Of Matcha Over Hojicha
Next, we will take a look at the main reasons to choose matcha over hojicha.
Flavor
The flavor of matcha is unique. Not everyone likes it, but if you do, it is a big reason to drink matcha. If you like a slightly earthy, vegetal, grassy, or bitter flavor, matcha is for you. And you can always use a lower matcha-to-water ratio while brewing the tea to make it less bitter, if you prefer.
Energy Boost
Matcha contains caffeine and l-theanine in far higher amounts than hojicha. These compounds work synergistically to give you relaxed energy without coffee's jittery after effects. You can even use matcha before and after workouts for repair and recovery.
High Antioxidant Content
Matcha has the highest number of antioxidants of all teas, especially epigallocatechin-3-gallate (EGCG). EGCG is known to fight tooth decay and even ward off certain cancers.
Numerous Health Benefits
Catechins in matcha outnumber those in houjicha. This makes matcha a lot healthier than houjicha. Regular consumption of matcha can benefit heart health, fight tooth decay, lower stress, aid digestion, fight obesity, ward off certain cancers, boost metabolism, improve skin health, etc.
Matcha Vs Houjicha: Final Thoughts
Matcha and hojicha are both types of Japanese green teas. As such, they have many similarities. At the same time, they are completely different, which becomes apparent when you compare hojicha vs matcha directly.
The differences come down to the cultivation, processing and brewing of each tea. They are completely different, which results in a teas that look different, taste different and have different benefits. The main differences that result from that are that matcha has far more health benefits, but also far more caffeine.
If you are looking for a third option that falls somewhere in between the two, check out sencha. I have an article comparing matcha vs sencha that can help.