Sencha and matcha are the two most famous teas from Japan.
They are both varieties of green tea.
As such, they obviously have a lot in common.
But they are also surprisingly different.
How different? Keep reading.
We are going to compare sencha vs matcha in detail.
You will learn all about the difference between matcha and sencha, as well as the things they have in common. This will help you figure out which green tea is the better choice for you.
Sencha Vs Matcha
We will begin our comparison of matcha vs sencha by looking at each type of green tea individually, before comparing them directly. We will finish by helping you figure out which one is right for you. And it may be both. I drink both, though usually not in the same day.
Sencha
Sencha is a special type of green tea that Japanese people drink daily. The medium-grade tea consists of younger-growth leaves of the tea plant Camelia sinensis. Sencha is the most popular tea in Japan and has inspired tea rituals and ceremonies.
Compared to other green tea varieties, sencha is shaded for a short time or not at all. It is fully grown in the sun all year round. This increases its vitamin C content, but reduces the amino acid theanine and caffeine.
The tea is then processed by steaming the harvested leaves. After steaming, the leaves are rolled, shaped, and dried. The twigs and stems of the plant are not used in making the final product.
To brew sencha, you need to infuse the whole tea leaf (not the powder) in hot water. In fact, the Japanese word Sencha can be translated to 'infused tea'.
Brewed Sencha has a beautiful green-gold color and contains around 20 to 30 mg of caffeine per cup. It is also extremely healthy due to its high catechin content.
Matcha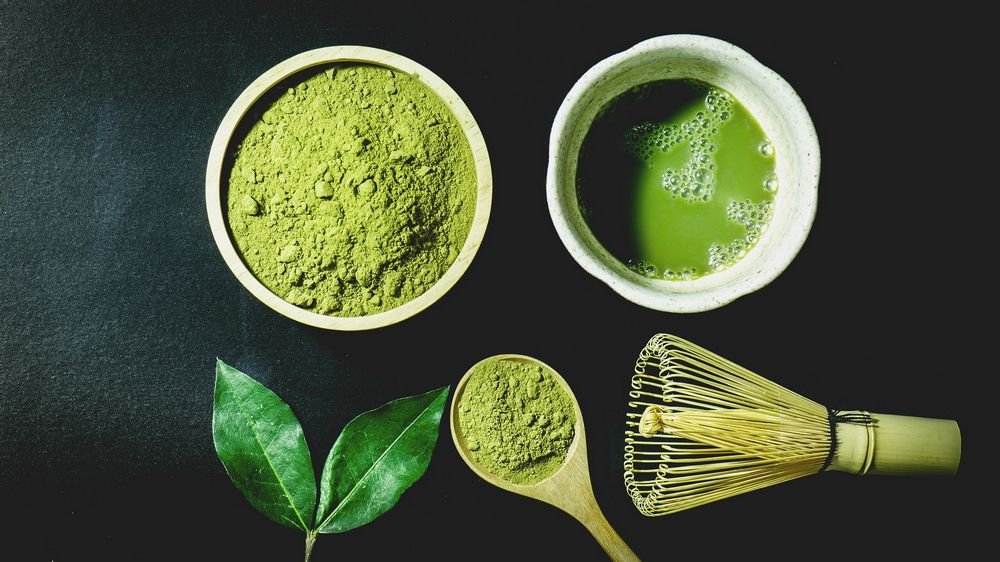 Matcha is a finely powdered green tea estimated to have originated in China during the Tang Dynasty. However, most matcha production takes place in Japan today, so people often refer to it as 'Japanese matcha'.
Matcha tea powder is made from Camelia sinensis plants that have been shade-grown for three to four weeks. The shading process produces more caffeine and L-theanine in the leaves.
The harvested leaves are then steamed and stone ground into a powder.
You can brew matcha in hot water or even drink it with milk. One serving of matcha contains around 20 to 40 mg of caffeine.
These days, matcha is also used in desserts, noodles, ice creams, etc. Matcha is known for its numerous health benefits, including improved liver and heart health, boosted metabolism, and immunity.
Difference Between Sencha And Matcha
While they are both different types of green tea, there are several key differences between matcha and sencha.
Method Of Growing
Sencha is grown in the sunlight all year round. It is hardly shaded or not shaded at all. On the other hand, matcha requires the tea plant to be protected from the sun. The highest grades of matcha are even grown in near-darkness.
Method Of Processing
Sencha tea leaves are steamed, rolled, dried, and shaped before being packaged. The steaming process retains the tea leaf's vibrant color and flavor. Matcha tea leaves are stone ground into a fine powder after being dried. High-quality matcha has a vibrant green color.
Method Of Brewing
To brew sencha, you infuse the whole tea leaves in hot water and discard them after steeping (or use them again for second, third, or more steepings; but you don't consume them). Sencha is usually not brewed with milk.
To brew matcha, you whisk the tea powder in hot water. This means you consume the whole leaves (in powder form). You can top it off with some more hot water or steamed milk to enjoy this beverage.
Caffeine Content
Matcha contains more caffeine per cup than Sencha, since you consume the whole leaf when you drink it. Also, the shading process increases matcha's caffeine content.
Sencha is generally a better choice for people sensitive to caffeine, although hojicha is a green tea with much less caffeine than other types and probably your best bet if you are trying to avoid consuming too much caffeine. I also have an article comparing hojicha with matcha.
Taste Profile And Color
Sencha has a beautiful greenish-golden color after being brewed. It has a grassy, vegetal flavor with a slightly astringent and bitter-sweet undertone. It is refreshing and light on the palate. High-quality matcha has a vibrant green color. Its taste can be described as creamy, rich, and nutty.
Health Benefits
Since you consume the entire tea leaf with matcha, you get more antioxidants, making it healthier than sencha. With sencha, you filter out the leaves after steeping them in hot water.
Matcha also inherently has more antioxidants than sencha and its theanine content is also a lot higher. On the other hand, sencha has less caffeine than matcha, which could be beneficial for people who are sensitive to caffeine.
Popularity
Sencha is the most drunk tea in Japan. Worldwide, though, its popularity isn't as high as that of Matcha's. Matcha tea has become extremely popular due to its numerous health benefits. Also, it is a versatile tea that you can use in a variety of culinary preparations.
Price
Because of the unique growing process, matcha is more expensive than other green tea varieties, including sencha. Sencha is slightly more affordable, which could be the reason behind its popularity.
Similarities Between Matcha And Sencha
As seen above, matcha and sencha teas differ in several aspects. However, they also have some similarities. Given that they are both green teas, yu would expect this. Let's take a look.
Same Botanical Origins
Sencha and matcha can be considered siblings, since they come from the same Camelia sinensis plant and have the same botanical origins. Both tea varieties are primarily grown in Japan.
Roots In Traditional Japanese Tea Culture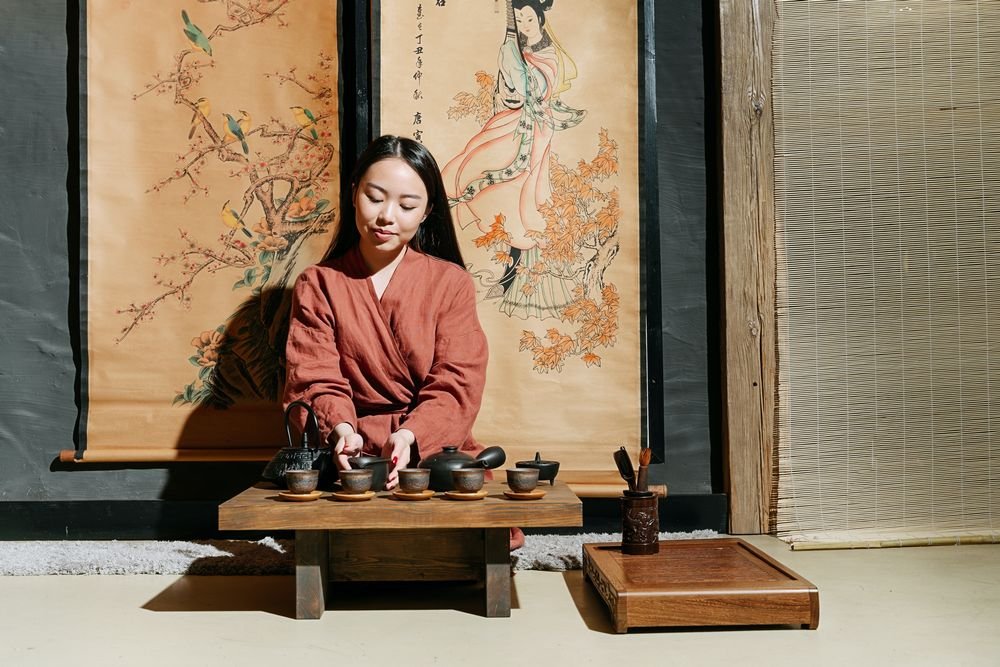 Sencha and matcha are both central to Japan's tea culture. Most Japanese people drink sencha and matcha daily and both teas are used in their traditional tea ceremonies as well.
Rich In Catechins And Antioxidants
Both types of teas are packed with antioxidants, particularly catechins, which have numerous health benefits. Matcha and sencha are extremely healthy beverages due to their high antioxidant content.
Both teas may aid in weight loss (more study is needed). The presence of L-theanine amino acids in both teas is known to boost mental alertness and provide calm energy.
Both Teas Have Other Culinary Uses
You can use matcha and sencha in a variety of baked goods like cakes, pancakes, etc. Sencha tea is often used to make delicious fried rice, while matcha is used for making ice creams, noodles, pancakes, cakes, and much more. There are so many ways to use matcha green tea powder.
Reasons To Drink Sencha
Sencha contains more catechins and less caffeine than matcha. So, if you are looking for a healthy tea with a lower caffeine content, sencha is a great choice.
Sencha tea is also slightly less expensive than matcha. If price is a concern, go for sencha.
Reasons To Drink Matcha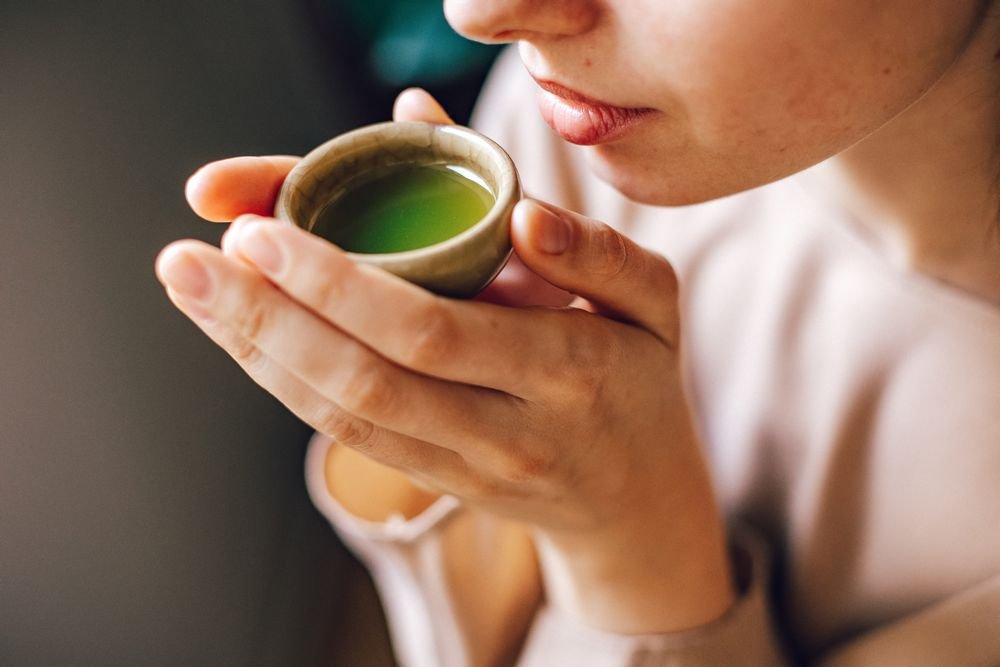 Matcha has more antioxidants and a greater quantity of L-theanine than sencha. If you want health benefits like reduced stress and improved heart health, then matcha is a better choice.
If you want to stay alert for work or study, drink matcha for its slightly higher caffeine content.
Matcha tastes nuttier and creamier than sencha. Sencha has a bitter, astringent, and grassy taste, which some people may not appreciate. That said, some feel matcha tastes fishy. Matcha also goes great with milk and can be whisked in creamy smoothies and lattes.
Matcha Vs Sencha Green Tea: Final Thoughts
When you compare sencha vs matcha, the obvious jumps out right away: they look completely different. One is a powder and ther other is leaves.
And the two teas do have a lot of differences. But they are both types of green tea, so they have a lot in common as well. However, it is the differences that will determine which one is right for you.
Want cheaper or less caffeine? Go with sencha. Want healthier or something you can add to various dishes? Go with matcha. Or do what I do and get both.
I always have at least 10 different types of tea on hand and rotate through them, going with whatever one grabs me any particular day. Sencha and matcha are almost always among my selection. I love them both.