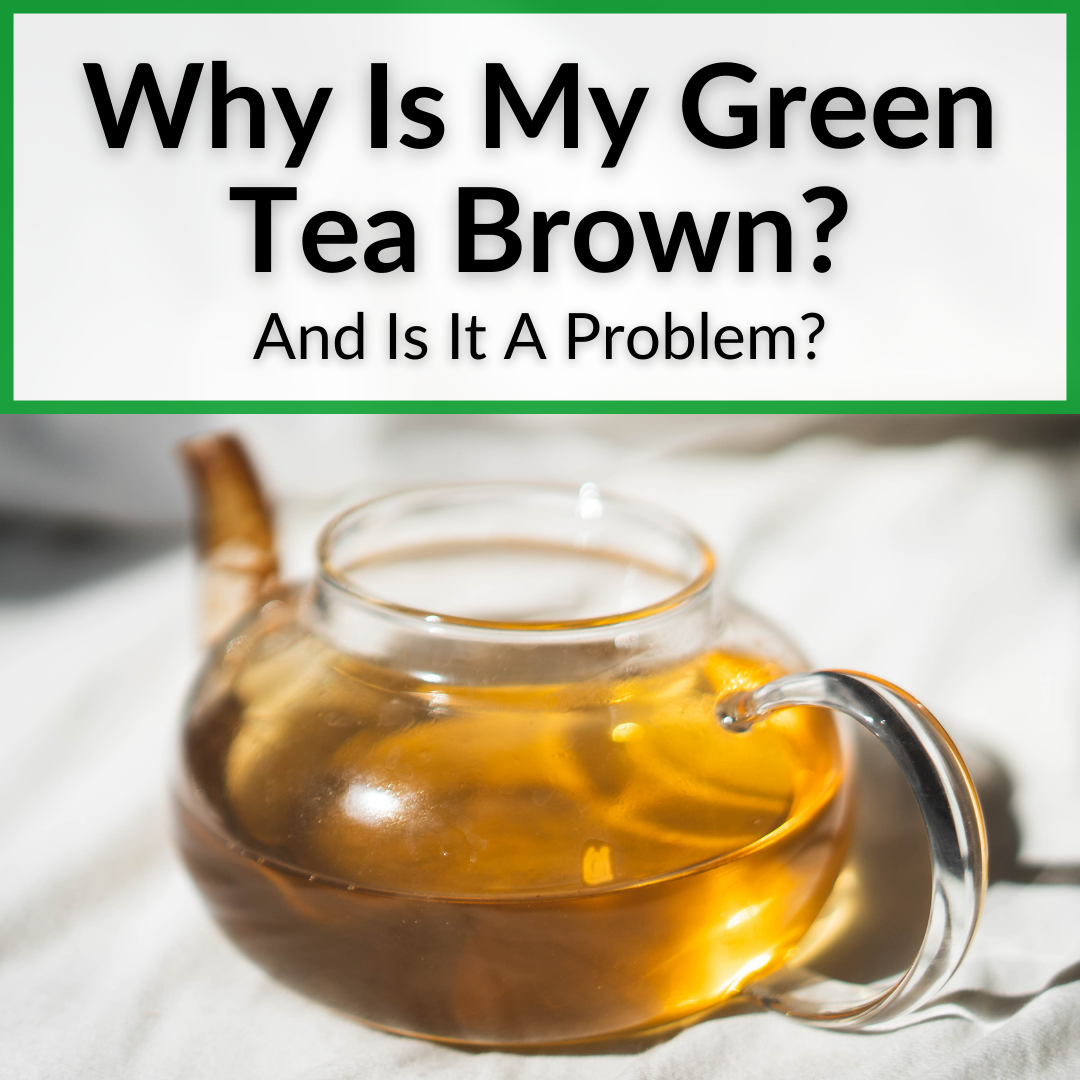 Green tea is called green tea for a reason.
It's supposed to be green.
Isn't it?
Well, not always.
Some types of green tea brew to a brownish color. The majority are actually more yellowish than green.
But green tea that is brown can also indicate that something is amiss.
Keep reading to learn why your tea might be brown and whether you have a case where it's supposed to be brown, or one where something is wrong.
Why Is My Green Tea Brown?
There are a few reasons green tea can end up looking brown when it is brewed, and sometimes it may look brown before it hits the water.
This does not always mean there is something wrong with your tea. But sometimes it means you have low quality green tea.
Reasons Green Tea Can Look Brown
The following are the most common reasons green tea can end up looking more brown than green.
Too Much Sun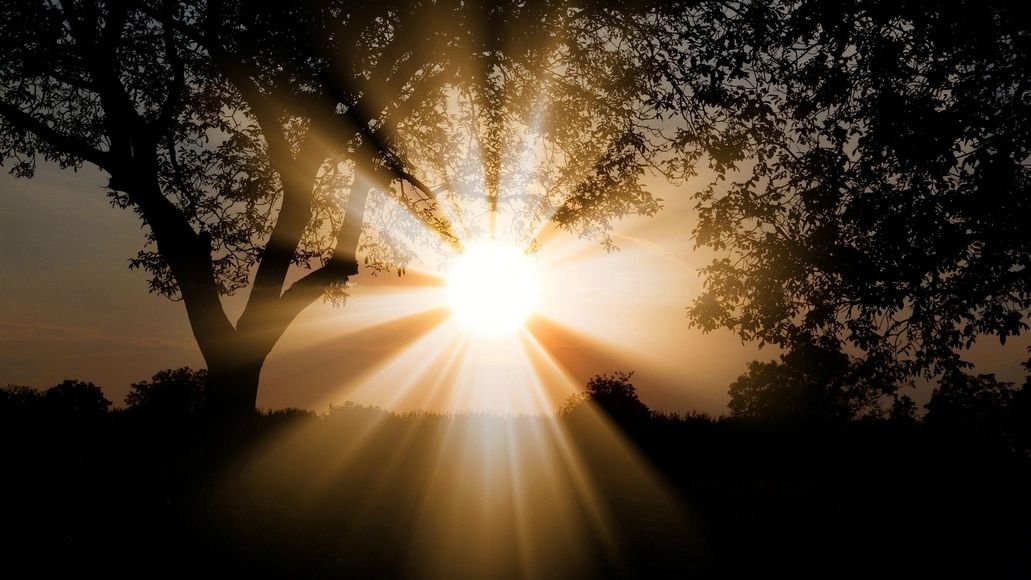 Most green tea variations are grown in the shade, which helps the leaves maintain the bright green color. However, when the leaves are exposed to too much direct sunlight, they can lose the green color and begin to turn brown.
This leads me to believe that when your green tea is brown before it is brewed, it is of lower quality. Growing tea in the sun is easier and cheaper.
Brewing Process
When tea hits hot water, it always changes color. It is the nature of tea. Almost all green tea will end up brewing a sort of yellowish green, or a light amber, or even a light brown color.
This does not necessarily mean there is anything wrong with the tea, it is just how the reaction of extracting the good stuff from the tea leaves and diluting it in water works.
If you want your green tea to be truly green when brewed, you can purchase a first harvest green tea grown in the shade at high altitudes. It will cost a little more money, but it will be pure green tea that brews with a nice green tint to it.
Oxidation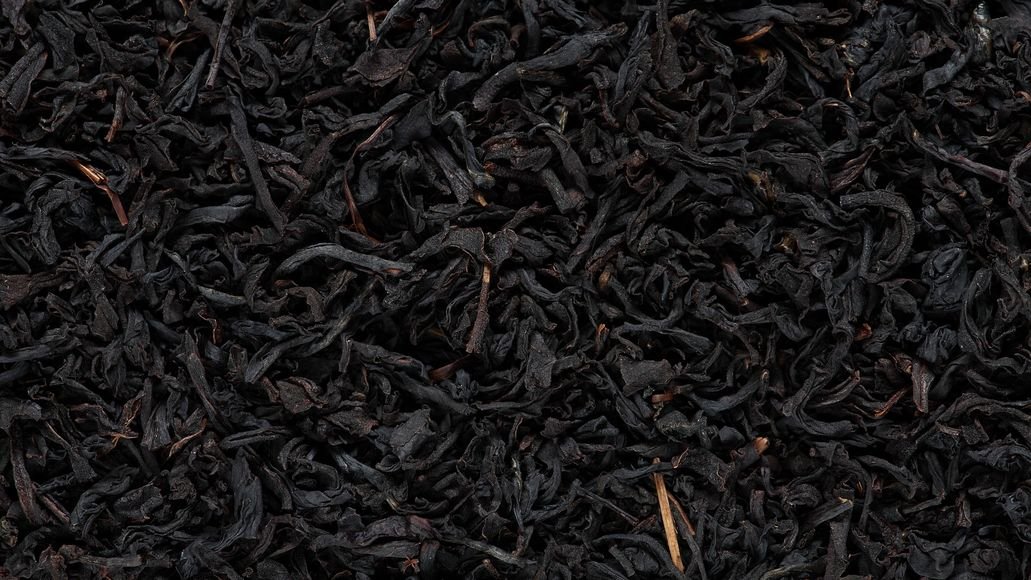 Good green tea is not supposed to be oxidized. Black tea is oxidized to give it the dark color. Oolong tea is partially oxidized. Read our article on green tea versus oolong tea for more.
High quality green tea should look green before it is brewed, because it should not have undergone the oxidation process. This process is intentional with black teas, but it is a side effect of bad production with lower quality green teas. There are exceptions which we will go over below.
Poor Water Quality
A lot of municipal water supplies have hard water, i.e. water with a lot of calcium. That calcium reacts with the tannins in tea and the result is not pretty.
Once the tea cools, it takes on a brownish color and a oily-looking film forms on top. This film ends up sticking to your pot and cup and makes them much dirtier than normal.
This also effects the taste. I always use loose leaves for my tea, but when this happens, I feel it loses it's unique taste and whatever type of tea I have ends up tasting like it came from low quality tea bags.
I always use filtered water to make my tea for this very reason.
Colors Of Different Green Tea Varieties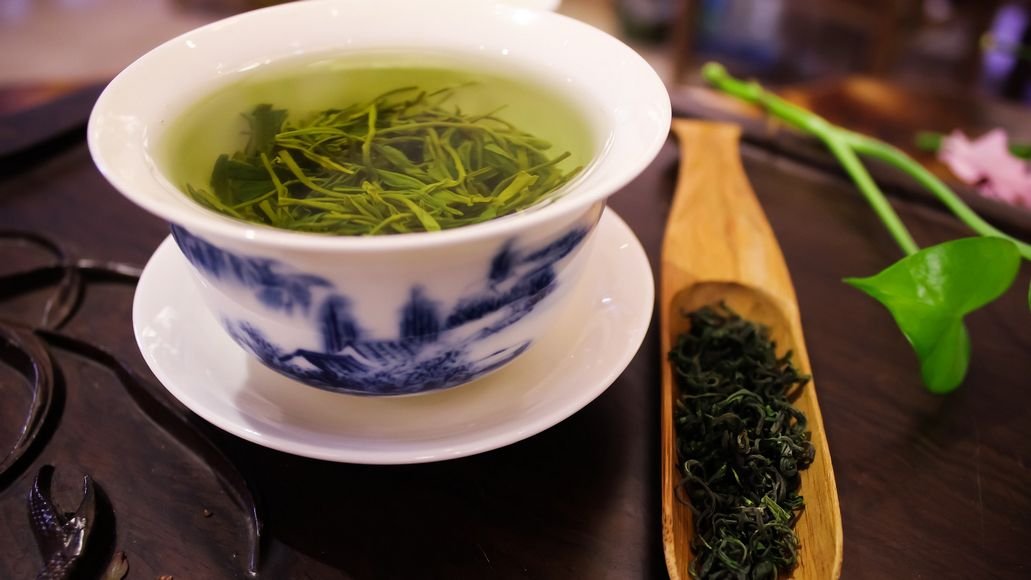 Let's take a look at some common varieties of green tea and see what color they are. You'll see that some of them are actually supposed to be brown. If you have one of these, brown tea is no cause for concern.
Houjicha
Houjicha is a Japanese green tea that always turns brown when it is added to water and steeped. It is known to be good for digestion and helps with stomach aches. This tea is a perfect example of a green tea that is supposed to be brown when it is brewed. See our comparison of hojicha and matcha for more.
Konacha
This is a great example of a green tea that brews bright green. It is a common tea to find in Japanese restaurants. It is a bitter tasting tea, but not unpleasant.
Some people compare it to matcha, but it is very different. Matcha is a powder that you stir into the water making a powder water mix, while Konacha is more like a traditional tea where the leaves are not left in the water after steeping.
Sencha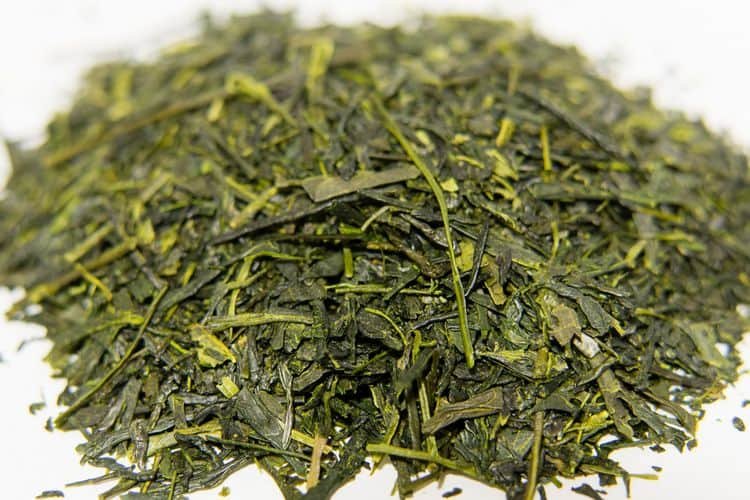 Sencha is the most popular green tea in Japan, and it brews to a yellow color, with a hint of green. It is also popular in the west and is the most common type of green tea you'll find.
Most green tea you purchase will be sencha, and you may not even know it. Yellow is a normal color for green tea to be when you brew it, especially if it is sencha.
Matcha
Matcha is different than all the other green teas and will brew bright green every time. If your matcha is not green, it is not good.
As mentioned before, it is a powder that you stir into your hot water like you do with powdered hot cocoa. It will turn the tea bright green and you will not be able to see through it. Matcha is supposed to be green when powdered, and when made into tea.
Gyokuro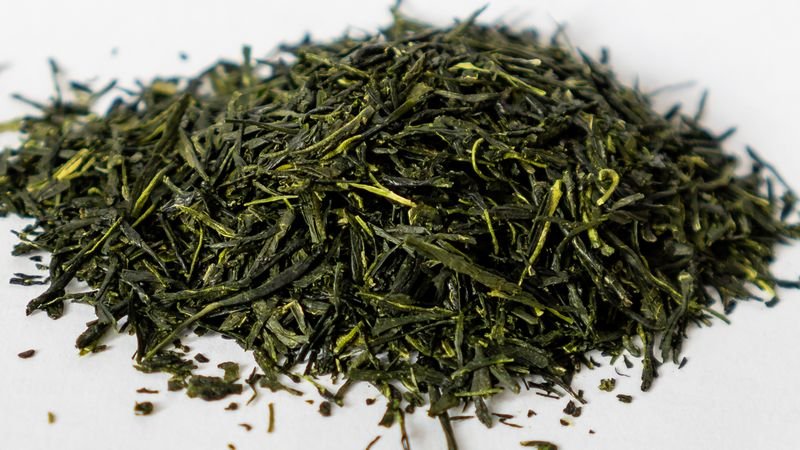 Another green tea that is yellow when it is brewed is gyokuro. It is an expensive tea because harder to produce.
Gyokuro is not going to taste like the green tea you are used to, so if you decide to try it, be aware it will taste a bit like seaweed. It is also said to have a spinach-like after taste. It is an acquired taste for sure, but one of the healthiest green tea varieties out there.
Why Teas Are Different Colors In The First Place
The following are the reasons different types of teas take on different colors when they are brewed.
The Oxidation Process
The oxidation process has the most direct impact on how tea gets its color. The oxidation process changes the chemical composition of the tea leaves, which of course, changes their color.
When oxidation occurs, whether intentional or not intentional, the polyphenols in the leaves change into different chemicals. For the nerds out there, the new chemicals produced during this process are called thearubigins, and theaflavins.
As mentioned, this changes the color of the leaves themselves. And it has an even bigger impact on the color of the resulting tea. In general, the more oxidation the leaves undergo, the darker the resulting brew.
The Color Of The Leaves Before Harvest
There are many shades of green, and most tea leaves are basically green before harvest. But some tea leaves are dark green and they look borderline brown when brewed.
Some leaves are a very light green and they result in a yellowish brew. Others may have a little bit of a red or orange color to them.
The color of the leaves before they are processed has a large impact on what the leaves look like after processing or oxidation.
Additives
Many teas have unique flowers and other plants and flavors included in them to make them taste a certain way, which changes the color of the tea.
For example, jasmine is added to some teas. This give a slight blue tint. Hibiscus flowers are also common in certain teas. These make the tea appear orange and red.
Even if the base of the tea is green tea, when you add these elements, the color is drastically changed when the tea is brewed. Confusingly, no matter what herbs you add to green tea, it is never considered herbal tea. Is green tea an herbal tea in any form? No. But also yes. Just read that post if you are interested.
Exposure To Air After Opening
Oxidation during tea processing is something that is intentional, if the maker of the tea is trying to produce a darker color.
However, if you buy some green tea and it is exposed to oxygen for too long, it can oxidize right there in the container. This will make it an even darker color and alter the flavor in a negative way.
Freezing the tea might help a bit, but to really make sure you are not causing your green tea to turn brown, keep it in a sealed airtight container, and drink it soon after you purchase it to get the best tasting and greenest tea.
Green Tea Turns Brown: Final Thoughts
In many cases, a green tea that turns brown when brewed is no cause for concern. It is, in fact, exactly what is supposed to happen.
But in other cases, it can indicate a problem. The most common culprits are low quality tea and low quality water. Try using filtered water to brew your tea first. If that does not help, you probably have low quality tea.