Acidic food and drinks can cause us problems.
They can cause kidney stones, bone and muscle deterioration, can damage our teeth, and much more.
But that's only if they are consumed in excess.
Even the most acidic teas won't cause you any problems.
Unless you consume more than a few cups a day or your body is especially acidic already.
Despite that, it makes sense to wonder: "Is green tea acidic?" It is always best to know exactly what you are consuming, after all.
Keep reading to get all the answers about the acidity of green tea, as well as other types of tea, like black and herbal.
Is Green Tea Acidic?
Green tea is not acidic in nature. There are certain brews that have a lower PH level, making them more acidic. These include green tea with jasmine or green tea with blackberry.
Green tea in its pure form has a pH level of above 7.2 making it non-acidic, or alkaline.
Which Teas Are Acidic?
Black teas tend to be more acidic than green teas. There are many different types of black teas, and they all have different PH levels, but in general black teas have an average PH level between 5 and 6.
The lower then number the more acidic the tea.
In addition to black teas, there are several herbal teas that are acidic. Lemon tea, for example is extremely acidic with a PH level of only 3.
This makes sense when you consider that lemons are a citrus fruit and citrus fruits are so acidic, they are used in household cleaners to cut through grime and grease.
Blackberry tea is another herbal tea that is extra acidic with a PH of between 2 and 3. In addition to blackberry, rosehip is also a very acidic tea with a similar PH to that of blackberry or lemon tea.
Popular Acidic Teas
Earl Gray
Breakfast Tea (English, Irish, Scottish)
Lemon Tea
Blackberry Tea
Rosehip Tea
There are many other types of tea that are acidic, but the list above covers the most popular. They are all teas you may have already heard of.
A good rule of thumb when wondering if a tea is acidic is to ask yourself if it is a black tea, or if it is made with a fruit that is acidic.
If the tea is a black tea or derived from a fruit that tastes tart when eaten fresh, it is most likely acidic or at least semi-acidic.
Is Acidic Tea Bad For You?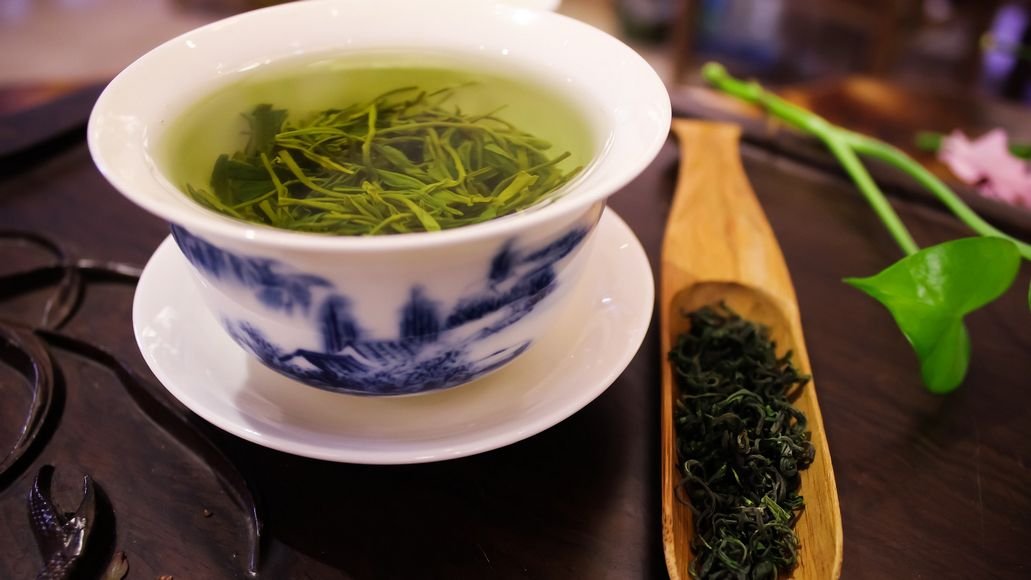 Acid is bad for your body. However, most people that consume black and herbal teas that are acidic do not drink enough to cause any serious damage.
If tea is brewed correctly and not consumed in excess, any negative effects are going to be minimal, except for lightly stained teeth or the occasional stomach ache.
Can tea cause constipation? Theoretically, it can cause constipation, in part due to the acidity. But you would have to drink large amounts, unless you are already predisposed to constipation.
In comparison to other acidic drinks like coffee or soda, herbal and black teas are mildly acidic. That is true even if you eat the tea leaves directly. And when you consider the health benefits they provide, the acidity may not come into the equation as a strong contributing factor.
However, if you already have a low PH in your body (making you acidic) you may want to avoid drinking teas that are known to be acidic. White tea is a great option for people suffering from acid reflux, GERD, or those who are generally acidic people.
What Is The Difference Between Alkaline And Acidic?
You have heard me mention PH levels and alkalinity and you may not fully understand what this means, so I thought it was important to explain this as we discuss acidity or alkalinity in tea.
The PH Scale
The PH scale is the measurement scale used to determine the acidity level of compounds, liquids, or anything else. The scale is laid out from left to right with the lower numbers starting on the left.
On the lower end of the scale which is colored red, you have 1,2,3 and 4, which are all used to signify very acidic. These are all red and orange. The lower the number, the more acidic.
Toward the middle you have 5,6 and 7 which are green and getting less acidic as you go up.
Right in the middle of the scale is 7 which is the only reading that is considered neutral. Anything below 7 is on the acidic side of the scale with 7 being neither acidic nor alkaline.
Heading to the right of the scale you have 8-14 which are more alkaline as you go up the scale to the right.
It can be confusing because you might think that higher the number, the more acidic. That seems more logical to most. In fact, the opposite is true.
What Does Alkaline Mean
Alkaline is the opposite of acidic, but not the same as neutral. A compound or liquid that has more hydrogen ions than pure water (which is what the 7 on the scale is based on) is considered alkaline. Another word for alkaline is a base.
Why Is Green Tea Not Acidic?
Green tea is made of young tea leaves that are harvested in their prime and dried and made into loose leaf tea or teabags. They are not allowed to oxidize, which is what makes black tea more acidic.
The leaves used in green tea are grown in healthy soil, usually grown in a temperate climate, in non-acidic soil. It is nonacidic by nature of what it is.
For the same reason that fresh spinach is not acidic, and broccoli is not acidic, green tea is using fresh (but dried) green vegetation to make its brew. I suppose a better question would be why black tea is acidic.
Why Is Black Tea Acidic?
Black tea is allowed to oxidize fully and contains more tannic acid than green teas do. If it is also processed with other plants and flavorings, that makes it more acidic.
A good example of this is Earl Gray. This is black tea that is infused with bergamot which is a pure citrus oil and is very acidic because it comes from oranges.
Is Drinking Green Tea Better Than Drinking Black Tea?
Both types of tea have amazing health benefits and I personally urge everyone I know to drink tea, whether it is black or green. However, technically speaking, green tea contains more antioxidants and is much less acidic than black tea.
I prefer green tea for a few reasons.
It has less caffeine than black tea (assuming you brew it for less time, since the actual leaves tend to have more caffeine, not less)
It has more antioxidants than black tea
It calms me down more
Just because green tea has more antioxidants and is less acidic, it is not fair to say it is better for you than black tea based only on those 2 points.
Black tea, although it has more caffeine and is more acidic, may have other healthy benefits depending on the type of black tea we are talking about.
However, if I was forced to drink only one type of tea based solely on the health benefits, it would be green tea all day long, no question about it!
Green Tea Acidity: Final Thoughts
Green tea is not acidic, but some other types of tea are. However, even the most acidic tea will not cause you any problems, as long as you don't consume it in excess.
That could change if you are already acidic, or if you are especially sensitive to acidic foods and drinks. Even then, simple taking care to not drink green tea on an empty stomach will help a lot.
Most of us, however, do not need to worry about the pH levels in tea at all. They are always going to be lower than coffee or soda anyway.