Hot tea in summer may sound crazy to us, but it's common in Asia.
And they invented tea, so you have to figure they know what they are doing.
In fact, hot tea actually cools you down. It makes you sweat, which cools your skin when it evaporates.
Not only that, but hot tea has tons of health benefits, too.
Of course, there's nothing wrong with a refreshing cup of iced tea either.
Below we'll look at the best teas to drink in the summer, both hot and cold. Try them all and see which is your favorite!
Hot Tea In Summer? Best Teas To Drink In Summer
Depending on where you live, you may have grown up drinking hot tea or iced tea. Some people enjoy their tea unsweetened, whereas others love adding sugar to sweeten it up. Other people like to add fruit in or even mix it with lemonade.
Fortunately, there are tons of different teas that make great summer drinks, so you'll find something no matter your preference. They are all refreshing, even the hot ones, and can help quench your thirst on a hot summer day. Even better, most teas not only taste good, but also have health benefits.
Drinking Hot Tea In Summer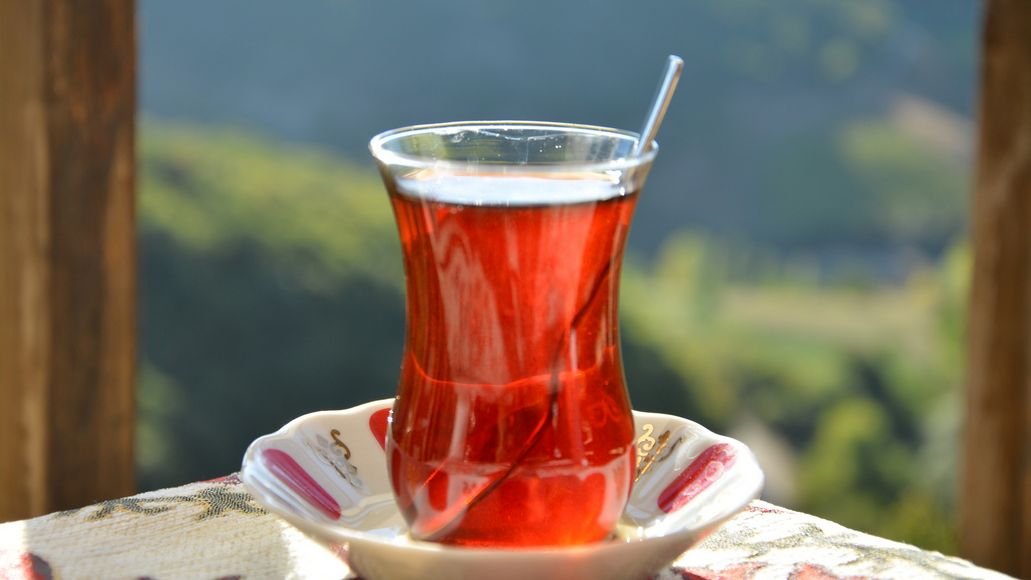 In many Asian countries, drinking hot tea in summer, even on really hot days, is common. The hot tea actually makes you sweat more and the sweat then evaporates, which helps keep you cool.
In that way, drinking hot tea in summer helps you maintain the right body temperature. Just make sure not to drink hot tea after wisdom tooth extraction.
Benefits Of Drinking Tea In The Summer
Drinking tea does much more than quench your thirst during summer. In fact, tea can be one of the best drinks to drink during summertime. It can be especially beneficial on really hot days, where overheating is a risk.
If you are dehydrated, ice tea is a great drink. It can help hydrate you while being refreshing and cooling to drink. It can even help prevent nausea and heat stroke, which can be big issues in the summertime.
After a day of eating BBQ and ice cream, you may be prone to a stomach ache. A cup of warm tea can help soothe an upset stomach and improve digestion. In many countries, it is customary to have a cup of hot tea after your meal.
Tea is also a great way to give you a boost of energy thanks to its caffeine. It is a safe and effective way to drink caffeine. Not only can caffeine boost your energy, but it can also boost your mood.
Best Teas To Drink In Summer (Hot And Cold)
Some teas just really hit the spot and are the perfect poolside drink. Whether you're an avid hot tea drinker or someone who loves iced tea, there is something perfect for you.
Any tea is a great alternative to sugary sodas, which are actually a terrible choice to drink on hot summer days (or any other time). Not only are they unhealthy, but they actually don't quench your thirst at all. They feel refreshing, because they are cold and liquid, but the sugar ends up making you more thirsty shortly after drinking them.
Not only is tea the healthier option, but it is also delicious. Whether you make it yourself, buy it from a store, or go to a cafe, a refreshing cup of tea really hits the spot on a hot summer day. You can enjoy it by itself, with a snack, or with a meal.
Hot Green Tea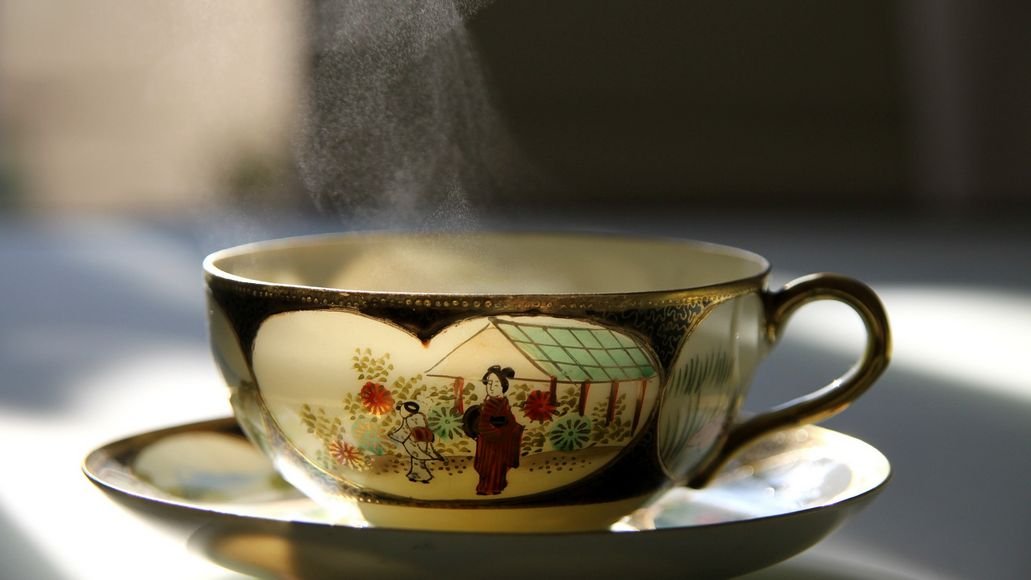 It is hard to beat a cup of hot green tea at any time of the year. Some people enjoy it plain or with the addition of lemon or ginger, as it helps with the subtle bitter flavor. Green tea is a wonderful source of antioxidants.
A cup of hot green tea is great to drink before a workout to help boost your metabolism or after a meal to help your digestion. Though it is a hot tea, it can help you cool down during summer. You can also cold brew green tea for a completely different flavor.
Hot Masala Tea
A traditional drink in India, masala tea is a great way to start off your day. It is a type of chai (the Hindi word for tea) made from black tea, with the addition of milk and spices. Common spices used are cinnamon, cloves, and nutmegs, though other spices may also be used.
This popular drink has a delicious flavor and is easy to make just to your liking. Add as much milk and your choice of spices to get just the taste you want.
Hot Mint Lemon Tea
Lemon is one of the most delicious and refreshing flavors. The addition of mint to the tea compliments the lemon and tea flavor. Lemon and mint pair best with a steaming hot cup of black tea that has been freshly brewed.
Freshly squeezed lemon juice and freshly picked mint leaves are the way to go for this relaxing drink. You can even add a bit of honey if you desire. The honey adds health benefits to the tea, along with sweetness.
Hot Ginger Tea
Ginger is a great addition to a lovely cup of hot tea. It has a slight kick to it, but it is a nice flavor. It has become one of the most loved hot teas to drink.
Not only does ginger tea taste great, but it has several health benefits. It's great for soothing upset stomachs and fighting the cold or flu. You can even add a bit of honey or lemon to add some more flavor.
Hot Peppermint Tea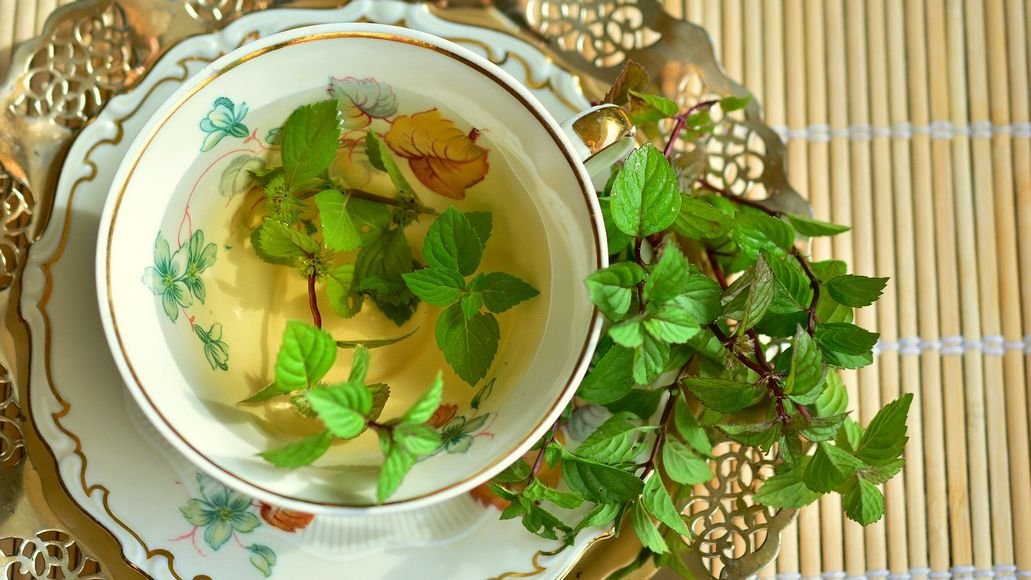 Peppermint is a flavor that pairs wonderfully with tea. Not only does it taste amazing, but it also has several benefits thanks to the combination of tea and peppermint. Peppermint tea can help with sinus pain, cramps and can even help you sleep better.
This delicious tea can also boost your focus and improve your immune system. Hot peppermint tea can easily be made by adding some fresh or dried peppermint leaves to your tea brewing process. It also tastes great with a dash of honey or a hint of lemon added to it.
Hot Citrus Tea
Citrus fruits bring wonderful flavors to any tea. Adding your favorite citrus fruits to a cup of hot black tea adds a lovely refreshing flavor. This simple addition can really step up the flavor in your tea.
Simply make your favorite black tea and brew it either weak or normal. Then add citrus fruits like oranges and lemons to your tea for a great summer drink.
Unsweetened Black Iced Tea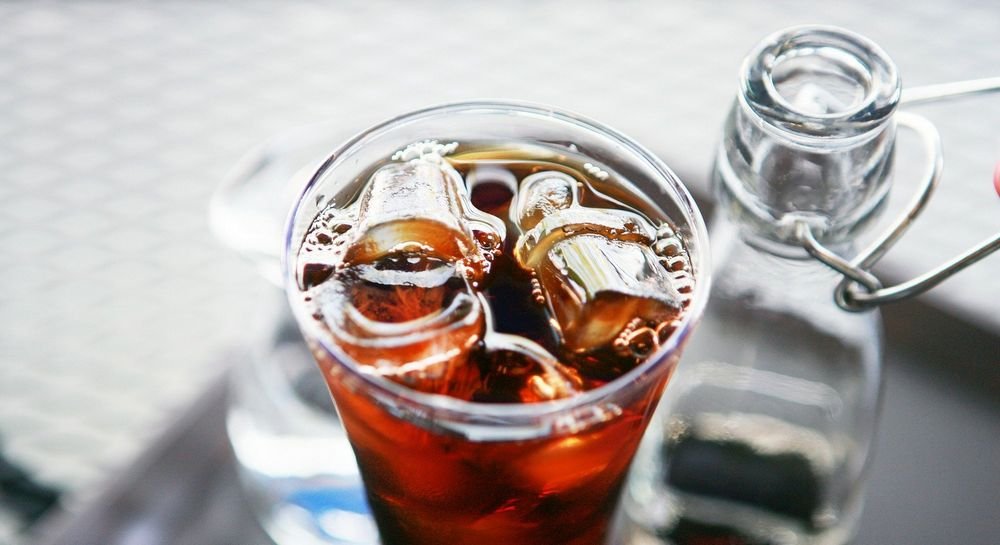 One of the most refreshing and quenching drinks, unsweetened black iced tea is perfect on a sweltering summer day. Simple, yet delicious, it is a great drink to have on a hot day and is the perfect addition to any BBQ.
Adding lemon is a great way to naturally sweeten up your unsweetened black iced tea. Many people love adding sugar to their iced tea to create sweet tea, which is also a popular summer drink.
Is sweet tea better than soda? Usually not by much, if at all. But it does depend on how much sugar you add to it.
If you are drinking to to be more healthy, I recommend leaving out the sugar. You could try blending your black tea with green tea, to give it a unique flavor boost.
Iced tea can sometimes be a bit cloudy. This does not affect the flavor at all, but you might not like the way it looks. Our article on why tea clouds up has some tips for avoiding it.
Peach Iced Tea
One of the best things about summer is freshly picked juicy peaches. Pair that with some refreshing iced tea and you have a perfect summer drink. It is a drink that both kids and adults will love.
Whether you make it yourself or buy it premade, you love this signature summer drink. It has the perfect balance of sweetness with the great taste of tea.
Hibiscus Iced Tea
Hibiscus iced tea is a great choice for hot, sweltering days in the sun. This lovely floral tea is bright in both color and taste. It is one of the most popular teas people drink in summer.
Hibiscus iced tea is a popular drink sold at most cafes. However, you can also make your own at home. Hot hibiscus tea is also a popular type of herbal tea that you can enjoy no matter the weather.
Raspberry Iced Tea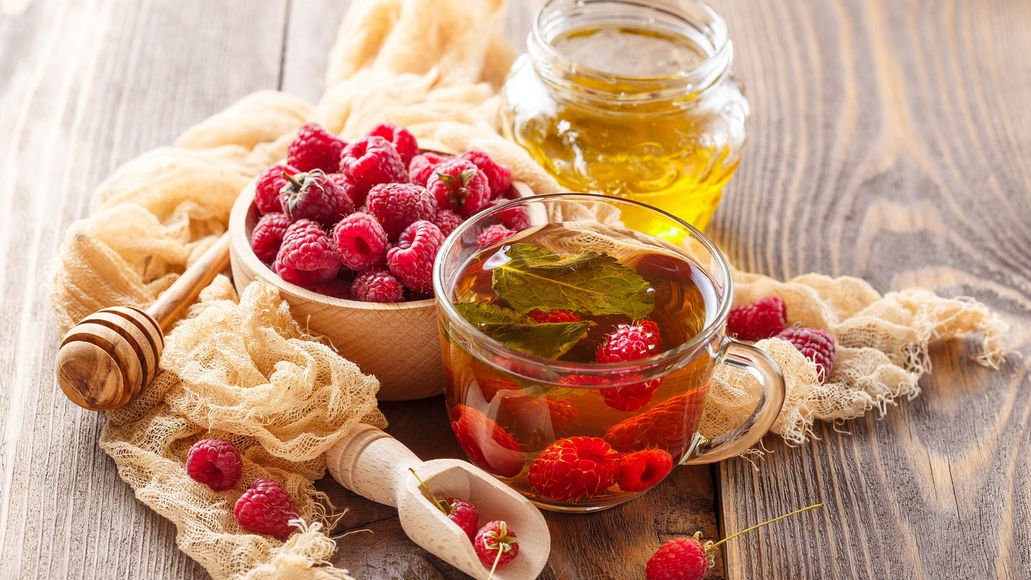 Another great summer fruit, raspberries pair lovely with iced tea. This delicious combination is the perfect beverage for any summer party and is a favorite drink among people of all ages.
Raspberry tea even has some great health benefits. It can help with inflammatory issues and can help boost your immune system.
Watermelon Iced Tea
Watermelon is one of the most thirst-quenching summer fruits. Its delicious flavor and juicy texture makes a great addition to your favorite iced tea. Kids and adults alike love this wonderful combination.
Watermelon iced tea pairs great with other flavors as well. You can add mint, lime or even basil to change it up a little. You can make it with green tea or black tea, depending on your preference.
Lemonade Iced Tea
The best of both worlds, lemonade iced tea combines two of the best summer drinks. It has become a popular refreshment for people of all ages thanks to its delicious flavor mashup. Whether you make it yourself or buy it from the store, you can't go wrong with this great beverage.
When making it at home, simply combine one part unsweetened black iced tea with one part lemonade. It also tastes amazing if you add in some strawberries, as they compliment the flavor of the tea and lemonade.
Lavender Iced Tea
Lavender not only smells lovely, but it also tastes amazing when added into iced tea. It goes great with different teas such as earl gray, other black teas, green, oolong, or even white. Refreshing and tasty, it is a great tea to drink at a summer grill out.
Lavender also has many great health benefits. It can help calm anxiety while also working as a painkiller. It also has anti-inflammatory and antibacterial properties, and can even help soothe headaches.
Iced Tea With Alcohol
Mixing alcohol with your iced tea makes for an incredibly refreshing summer drink. What alcohol goes with iced tea? Many different types of alcohol go well with iced tea and there are a number of great drinks you can make. That article I just linked to has 9 delicious recipes.
Foods to Enjoy With Tea
Though tea is great to drink by itself or after a meal, there are also several foods that pair great with tea. Foods both sweet and savory can be enjoyed with hot or cold tea.
The great thing about tea is it often has no calories or only very few, if you add in fruit. Unlike sodas and juices, it is not packed full of sugar and calories. It is a much healthier option, which also makes it a much better mealtime drink.
Sweet Food You Can Serve With Hot Tea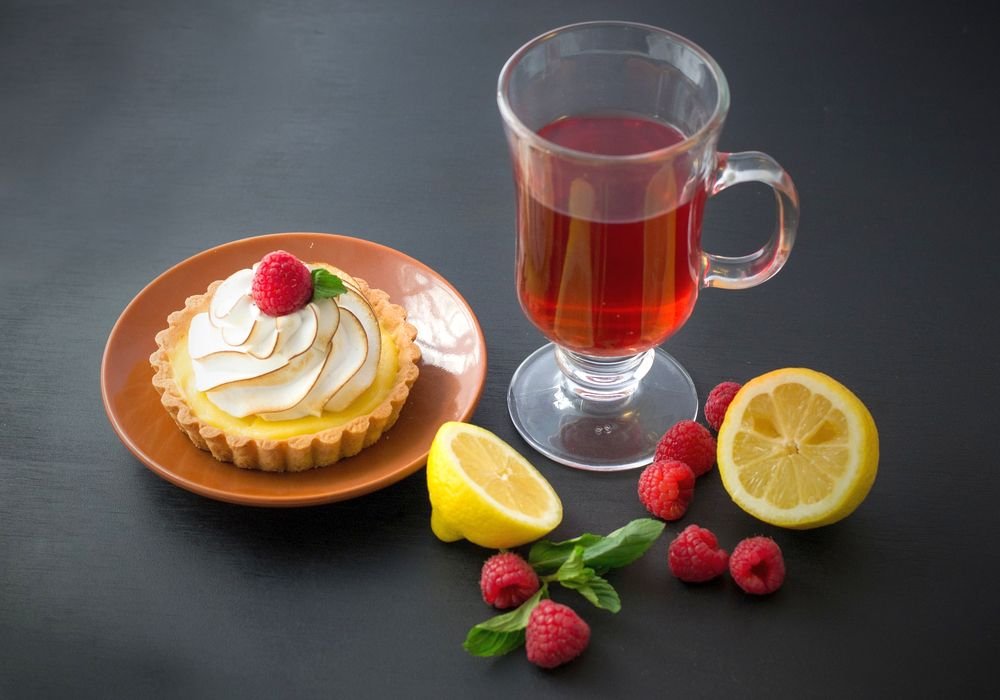 If you've ever been to a tea party, you know that sweet foods pair delightfully with hot tea. Scones are one of the best sweet foods to have with your cup of black tea. However, you can't go wrong with cupcakes decorated with fudgy frosting.
If you are planning an afternoon summer tea party, hot green tea, hot mint lemon tea, and hot citrus tea are great beverages to serve. Matcha goes especially well with sweet foods. For food, a variety of cupcakes, scones, petit fours, cookies, and muffins are great to serve.
Savory Foods You Can Serve With Iced Tea
Many delicious iced teas are made with tasty summer fruits. This makes them a great drink to serve at your summer cookouts or BBQs. Whether black tea, sweet tea, or any fruity tea, you will want to serve ice tea at your next summer grill out.
Eating Tea Itself
Can you eat tea leaves for real? Yes! In some Asian countries, it is common to do so, but in the west it is still pretty unusual. With one exception.
In the past 10 years or so, matcha has become a bit of a fad. It is being added to more and more foods. And matcha is simply made from ground up dried tea leaves, so you are essentially consuming tea leaves when you eat, or even just drink, matcha.
Tea As A Great Summer Drink: Final Thoughts
No matter how you like it, hot or cold, sweet or unsweet, tea is a staple in many people's homes. For thousands of years, people have enjoyed this beverage and the health benefits that come with it.
But in the western world, hot tea is viewed more as a cold weather drink. But it doesn't have to be! Hot tea is a great refreshment to enjoy during the summer months, just like ice tea. Try them both and see which one you prefer!