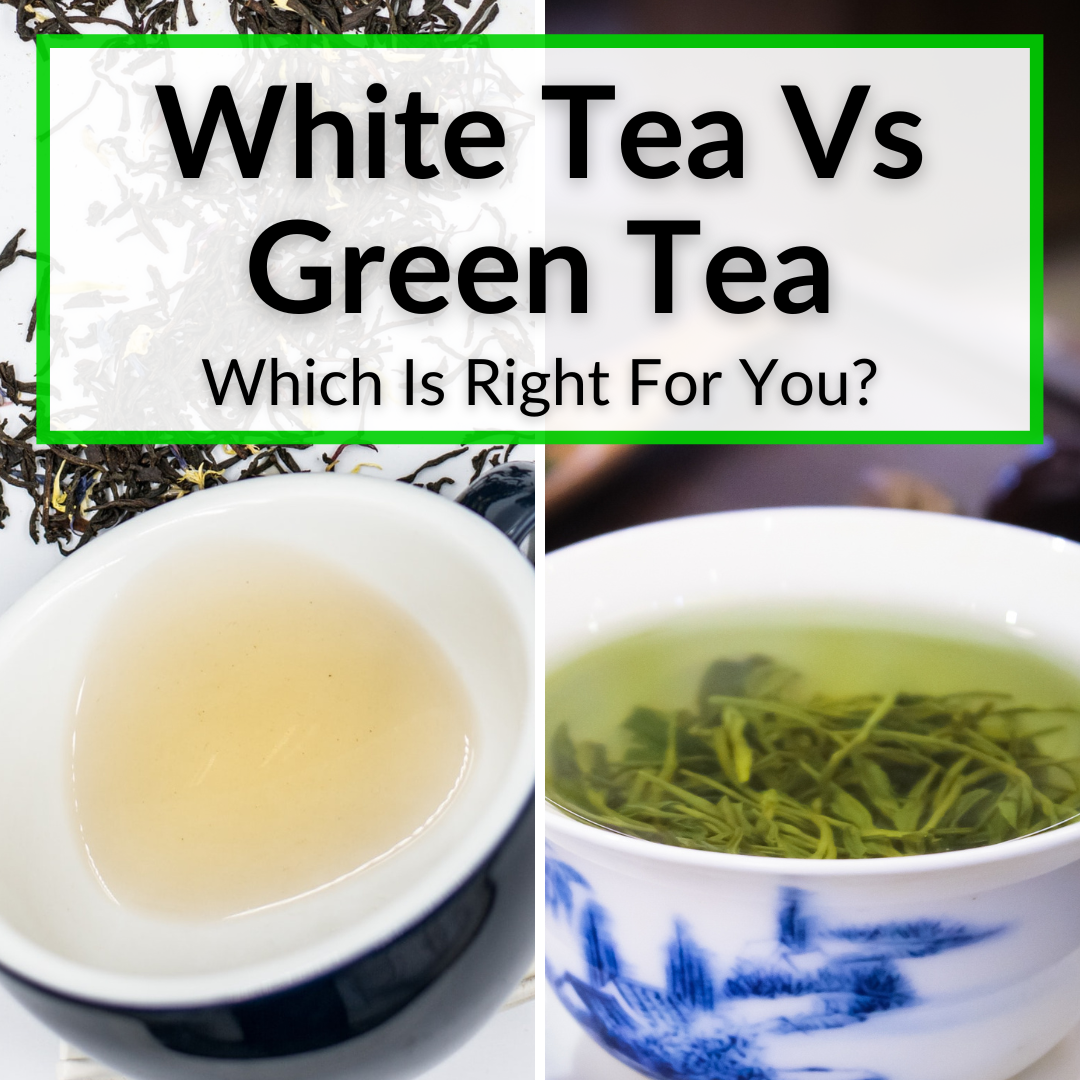 Green tea is the healthiest drink on earth!
Except for white tea! Nothing beats white tea!
I can't tell you how many times I've read that one of these teas is healthier than the other, or superior in some other way.
But the truth is: when it comes to white tea vs green tea, there is not much difference in terms of health benefits.
The same goes for oolong, black, yellow and pu'er teas, too. They are all great for us.
But that is not to say there aren't differences between white tea and green tea.
There are quite a few, especially when it comes to flavor and price.
Keep reading to learn all about the differences between green tea and white tea. By the time you get to the end of this article, you should have a clear idea which one is better for you.
And then you should try them both. Multiple types of each. Because the all taste great in their own way. And they are all healthy, too!
White Tea Vs Green Tea
Both green and white teas are very popular with tea drinkers around the world. However, the flavors are different.
Green tea is generally a bit more pungent and bitter, whereas white tea is milder in taste. Green tea is less expensive than white tea on average, but it does depend on the quality of the tea.
Both types of tea are made from the leaves of the Camellia Sinensis plant, but they are processed differently. White tea is a more delicate tea and its production methods are more refined.
White tea is typically produced in the Fujian region of China. Green tea, on the other hand, is produced in almost all tea growing regions of China, in many areas of Japan, and also in countries like India, Sri Lanka and Kenya.
White Tea
White tea is made from the buds and young leaves of the tea plant, which results in a much higher caffeine content. The taste of white tea is often described as sweet, floral, smooth, and delicate.
The two most popular types of white tea are white peony and white hair silver needle. The latter is more expensive and higher quality.
According to Healthline, white tea is often used for its soothing effect on the body. It is also considered a superfood because of its high levels of antioxidants and vitamins. Here is a list of some of the pros and cons of white tea.
Advantages of White Tea
White tea has lower amounts of oxalates than black tea and doesn't have as many tannins as green or black; less oxalate means this tea is less likely to cause kidney stones
The taste is very delicate and mild
It has a slightly more floral aroma than green or black tea
Disadvantages
White tea tends to be more expensive
Good white tea can be more difficult to find
White tea usually takes longer to fully brew
Generally contains more caffeine (apart from matcha green tea)
Green Tea
Green tea is made from older leaves than those used for white tea. The leaves are heated right after picking to stop the oxidation process. They are either heated by steaming or roasting.
The flavor of green tea is often described as refreshing, earthy, and vegetal. That said, it can vary a lot depending on where and how the tea was grown, the leaves used to make the tea, and how those leaves are heated and dried.
There's no denying that green tea is extremely healthy for you. It has high levels of antioxidants, magnesium, and B-vitamins.
However, there are some downsides to drinking green tea as well. It is full of tannins that can cause stomach issues in some people.
Also, green tea can keep you awake, if you are sensitive to caffeine. But for most people, a cup or two near bedtime won't have much of an effect (unless it is matcha, of course).
Let's look at the main pros and cons of green tea.
Advantages of Green Tea
Stronger taste than white tea
Contains more tannins (which can also be a drawback)
Cheaper than white tea
More readily available than white tea
Many different varieties
Disadvantages
Some people do not like the grassy flavor
If you drink green tea on an empty stomach it can irritate your stomach
Difference Between Green Tea And White Tea
The main differences between green tea and white tea are in the age of the leaves used and the processing methods. As a result of those differences, there are also differences in the appearance, flavor, and the best way to prepare each tea.
Tea Leaves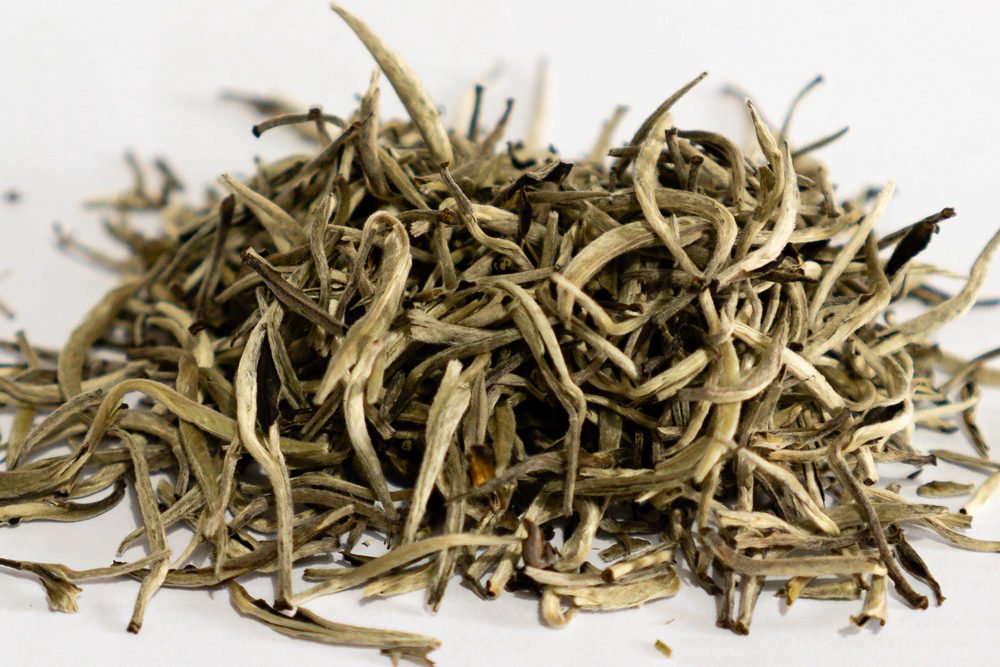 White tea is made from the buds and young leaves of the tea plant. White hair silver needle tea is made exclusively with the buds, while the leaves picked for white peony tea are always one bud with two young leaves.
Processing
White tea leaves do not undergo a heating process to halt oxidation. Instead they are withered and then dried in the sun. As a result, white leaves actually undergo more oxidation than green tea leaves, despite what you have probably read elsewhere. However, the amount of oxidation is minimal.
Green tea leaves are either steamed or pan-fried to stop the oxidation process. This heating halts oxidation immediately, while the sun-drying of white tea allows for minimal oxidation to happen before it is halted.
Physical Appearance
White tea leaves are not shaped in any way, so they retain their natural shape. White hair silver needle tea is covered in tiny white hairs, due to the way it is processed.
Green tea leaves are usually shaped in some way, either rolled into balls or pressed into strips. They rarely appear as complete leaves in the way that white tea leaves do.
When brewed, green tea has a darker color. It is a deep yellow or light green. White tea is lighter in color. It is not white or clear, but a light yellow color. For both, there is a lot of variation depending on the type and the way you brew it.
Flavor
Green tea has a stronger flavor. It is often described as grassy or vegetal. White tea tastes milder and is often described as sweet, fruity or floral. Note that the flavors of both vary quite a bit, depending on the type in question.
For example, white peony has a much stronger taste than white hair silver needle. Similarly, a roasted green tea like hojicha tastes much sweeter and milder than a steamed one like sencha.
Some people like to combine the two teas to get a combination of flavors. If you want to make your own blend, you can put together a mixture of half of a cup of white tea with half of a cup of green tea.
Mixing different types of tea is a great way to experience the full range of flavors that are possible. If you do this, it is best to brew the two teas separately and then combine them, since the ideal brewing times and temperatures vary.
Preparation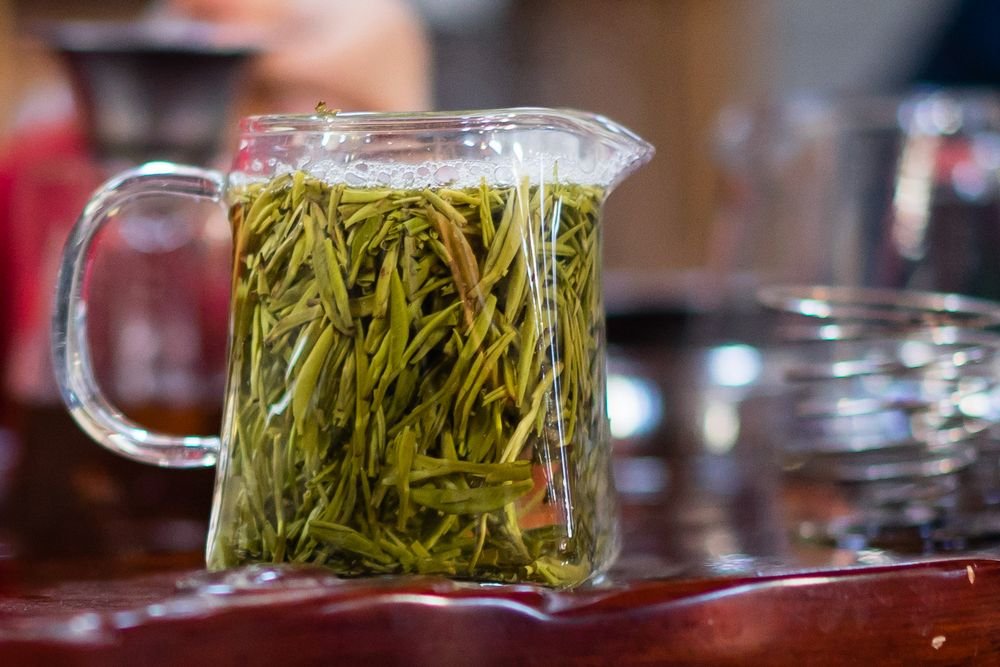 The ideal preparation for each tea varies on the type. Usually tea packages will have recommended brewing temperature and times and the amount of leaves to use. That is a good place to start, but you'll want to adjust from there to suit your personal taste.
If you do not have any such instructions, start with a steeping time of 1 to 3 minutes for either white or green leaves. Use one teaspoon of tea leaves per cup of tea you want to brew.
Use water that is between 158° and 167° F (70° – 75° C) for white tea and aim for water temperature of 176° to 185° F (80° – 85° C) for green tea.
Storage
Storing green tea and white tea correctly is important to keep them fresh for longer periods of time. The trick is keeping them sealed tightly, without letting air get in. It is also best to keep it is a cool, dark place. Read more about correctly storing tea here.
This ensures that their moisture remains intact, and prevents them from turning rancid. When buying a large supply of white or green tea, put it in resealable plastic bags. If you don't want to buy these bags, use sandwich bags and seal them up as tightly as possible.
Food Pairing
When you're having tea, fruit always makes for a good pairing. The most common types of fruits are apples, pears, bananas, grapes, melon slices, strawberries, kiwi, oranges, etc. A lot of people add a little honey to the tea, but I prefer it plain. That said, there are additional benefits of honey in tea.
Simple finger sandwiches with fresh bread, light creamy cheese, or avocado and salmon are also a fantastic match for green tea. Lighter white tea works nicely with fruit and vegetable salads and some types of cakes, like the french genoise cake.
Why You Should Drink Green Or White Tea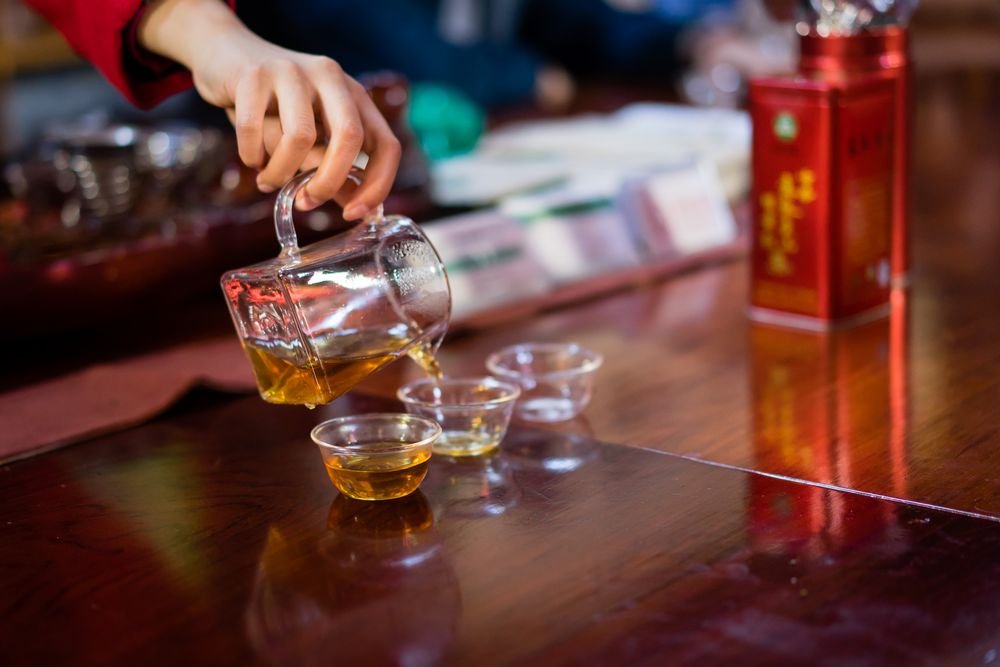 Drinking tea is a ritual in many cultures around the world. If you live in a location where tea is not common, that does not mean you can't have it, though.
There are several reasons to start drinking tea. Some people like the taste and others like the way it makes them feel.
Many believe that drinking tea calms nerves and promotes a state of well-being. According to Ayurveda, tea is a cooling agent and an excellent purifier. It is said to enhance digestion and help the liver and gallbladder function properly.
Another thing about drinking tea is that it's a great way to relieve stress. After a stressful day at work, it's always nice to drink some tea to help relieve stress calm down.
Tea Has A Long History
The earliest record of tea can be found in ancient China, Egypt, and India. The first documented use of tea was in 2737 BC.
In ancient China, tea was used as a social and medicinal herb; tea was widely used as an antidote to poisonous herbs and insects
In Ancient Egypt, the use of tea was part of the religion; Egyptians used tea to aid in meditation and to heal them from illness
In India, people drank tea because they believed it helped them remember the past and live in the present
Drinking tea is something that began in the distant past of many cultures and is nurtured until this day. Drinking tea has many benefits and every person should consume it regularly. In the next section, we are going to talk more in-depth about the benefits of drinking tea.
Benefits Of Drinking Tea
People often wonder why they should drink tea. The answer to this question has three parts.
Drinking tea can help you stay healthy because it has lots of antioxidants. Antioxidants are chemicals that can help protect cells against free radicals and help prevent cell damage. Free radicals are chemicals that can cause damage to our bodies.
It is good for the body. A cup of tea can help you relax and take your mind off the stresses in your life.
You can enjoy tea as part of the daily ritual — a quiet moment of reflection or contemplation, which can be relaxing and even therapeutic.
Green Tea Versus White Tea: Final Thoughts
Both white tea and green tea are packed with polyphenols and antioxidants that are beneficial to the human body. Polyphenols are known to have anti-inflammatory properties and antioxidants are known to reduce bad cholesterol levels and prevent heart disease.
Some types of each might have slightly more or less of these compounds, but the difference is not large. All types of tea are incredibly healthy.
White tea, in general, is less bitter than green tea, with a milder flavor. Green tea is more vegetal. At the end of the day, it all comes to your preference when it comes to aroma and taste.
Of course, there are also other options. We compare green tea and oolong tea in this article and green tea vs black tea in this article.