If you're looking for me to tell you which of these teas is better, you will be disappointed.
I love them both and simply can't choose.
Of course, that assumes good quality teas.
The black tea we tend to drink in the west is usually pretty unexciting in terms of flavor. That's probably why it has become normal to add milk and sugar to it.
Good black teas are much more complex, similar to good oolong teas. There is no need to add anything.
So now we know one thing these two types of tea have in common. But there's more.
There are also some key differences.
Keep reading for an in-depth comparison of oolong tea vs black tea. By the end you should know which one is right for you. Most likely, you'll end up wanting to try good varieties of both!
Oolong Tea Vs Black Tea
We'll begin this comparison of black tea vs oolong tea with a look at each type individually, before diving into the differences and similarities. To finish, we'll cover the advantages of each and give you good reasons you might want to try each one.
What Is Oolong Tea?
Oolong tea is a traditional Chinese tea that originated either in China or Taiwan. Both countries claim to be the first to make oolong tea. We may never know the real truth.
Taiwanese oolongs tend to be less oxidized than Chinese oolongs. This is the main difference between the two nations' oolong teas.
This type of tea has a range of flavors from sweet and floral to full-bodied or grassy and toasty. It all comes down to how the tea is made.
Oolong tea, like green tea, or black tea, is made from the Camellia sinensis plant. You may wonder how all these teas could be so different from one another when they are all made from the same plant.
This is a logical question to ask yourself. The answer is in the way these teas are processed. Specifically, it has to do with how much the leaves are allowed to oxidize. We'll get into this much more below.
But basically oolong is a bit of a mix between green and black teas, while being neither. This makes it a unique tasting and looking tea. It has a complex taste and is a favorite tea of tea lovers. There are Oolong tea tastings and contests, much like wine tastings here in the west.
What Is Black Tea?
Black tea is a blanket term for a family of teas that all come from the same Camellia sinensis plant otherwise known as the tea plant, or tea bush. It is made much like oolong or green tea.
The difference is that it is more oxidized, giving it a darker taste and darker appearance. The oxidation process and how long tea leaves are left to oxidize has a big impact on the flavor and appearance of the tea.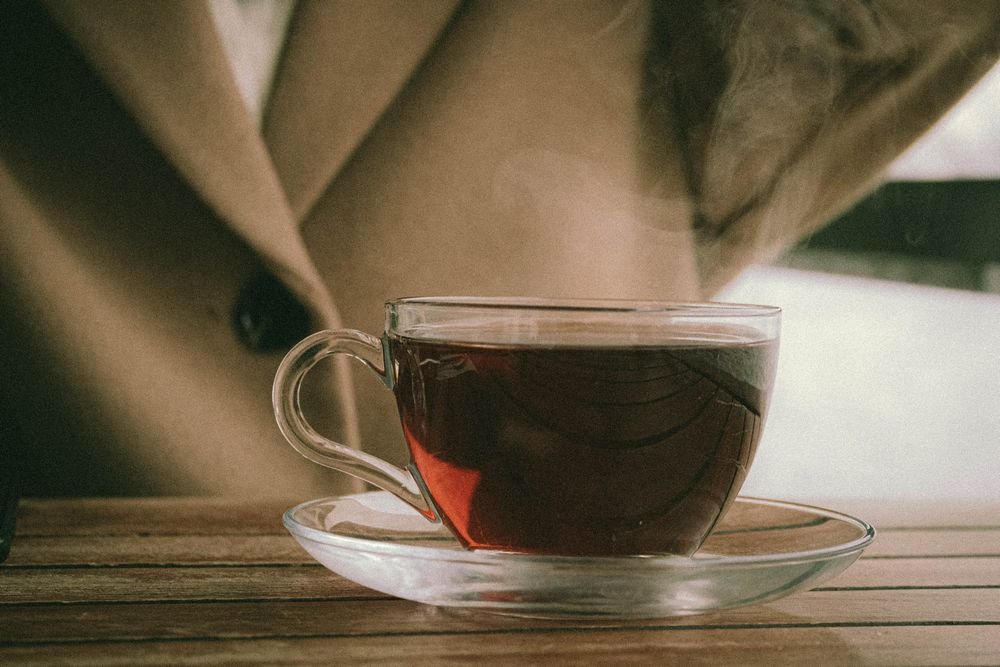 Earl Gray and English breakfast tea are both very famous versions of black tea. Irish breakfast tea, iced tea, sweet tea, and sun tea are also made from black tea leaves.
In the west, black tea is much more common than green tea. But in the east, it is a green tea that is the most common and popular.
Leaves meant for black tea are dried out and left to oxidize, and then heat processed and fully dried. When the tea is oxidizing, oxygen causes the cells to change to a dark brown color. It is not truly black as the name suggests, but more of a dark burned brown color.
When steeped, it is red, not black. That's why black tea is actually called red tea in Asian languages.
Differences Between Oolong And Black Tea
There are a number of key differences between the two teas. Let's take a look at each in turn.
Flavor
It is difficult to nail down the taste of black tea, since different black teas have very different tastes. If you buy a tea labeled simply as "black tea", it is usually a mix of various (generally cheaper) types. Good black teas have the specific type, like Golden Monkey for example, written on the package.
Generally speaking, black tea can have a bit of a bitter, earthy taste which is why it is common to add honey or sugar to it. But it tastes great on its own, too, and I never add anything to my tea.
Oolong, on the other hand, can have sweet notes, be full-bodied, or taste floral and even citrusy with certain varieties. Like black tea, oolong has many varieties so you can't define just one taste. But it is safe to say that oolong has a more complex flavor than black tea, as a whole.
In fact, we included oolong tea as one of the recommendations in our list of tea for people who don't like tea. Most other recommendations are herbal teas, but we felt oolong was different enough from black and green tea that some people who don't like those two might still like oolong.
Appearance
Oolong tea can have more of a detailed, multicolored look to it than most black teas. Of course, there are exceptions to this.
Most oolong tea has specks of green or red, with some brown and dark brown leaves in there, too. Black tea is usually more of a uniform color, with some different shades of dark brown showing up in some varieties.
Composition
Black tea is usually made from leaves that have all been processed the same way in the same batch. The leaves are picked, oxidized, heated, rolled, and finally batched together. This means that each package contains fairly uniform leaves of the same color and flavor.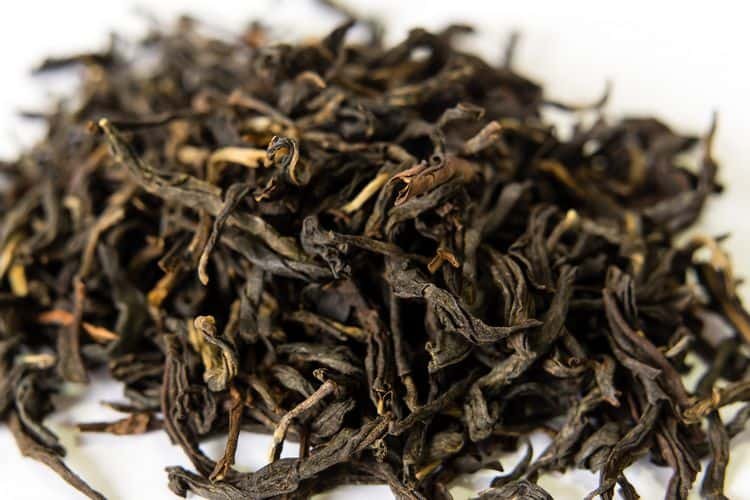 Of course, this is only true of better black teas. Cheap versions are often a mix of various different leaves. And cheap tea bags are usually just dust and scraping from the factory floor, so to speak.
Oolong tea can have leaves with different levels of oxidation in each batch. Some leaves in a bag of Oolong will look like young green tea leaves and some may be partially oxidized and brownish red, while others may be dark brown and fully oxidized.
As with black tea, this is usually the case with cheaper oolongs that are simply labeled as "oolong tea". Better teas tell you where they came from and have uniform leaves.
Caffeine Level
Oolong tea has slightly less caffeine than black tea on average. This is due to the processing. The longer the tea leaves are left to oxidize, the more caffeine they tend to have.
Of course, if you brew a very strong cup of Oolong, it can have more caffeine than a normal cup of black tea. And different varieties have different caffeine levels, too.
Caffeine is not the only thing in tea that has an impact on how you feel, though. It seems one-dimensional to judge the usefulness of a tea on how much caffeine it has. Oolong has many different compounds in it that affect mental clarity, mood, and stress level as well.
Oxalates
Both oolong and black tea contain oxalates, but black tea has a lot more of them. This means that black tea can cause kidney stones in people who are prone to developing them. Oolong can too, but it is far less likely to do so.
Processing
Black tea is processed by oxidizing the leaves completely. Black tea can be left to oxidize for up to 3 hours before it is heated and finished. No oolong tea is allowed to oxidize for that long. But some come close.
Oolong tea is any tea that is partially oxidized. As mentioned before, that is why it falls between green tea (which is not oxidized at all) and black tea (which is fully oxidized. But the actual level of oxidation can vary greatly from one oolong the the next.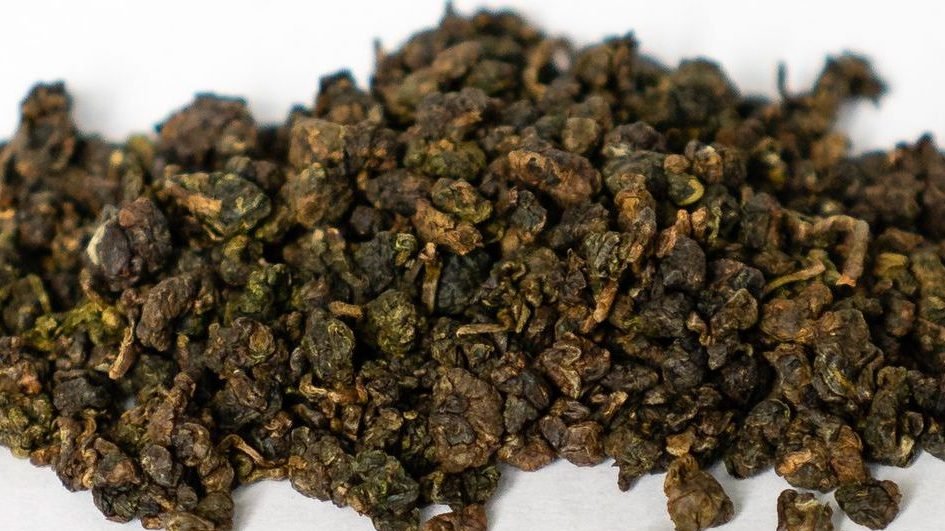 Other than the oxidation part of processing, the rest of the process is quite similar with each tea. Oolong may not be heated as much as black tea in some cases, though.
Similarities
Black tea and oolong tea also have a number of similarities, so let's take a look at those now.
Origin
Both teas come from the same tea plant, while there can be variations in each one. The Camellia sinensis plant is the source of both teas as well as green tea and some other varieties of teas. Both usually come from China (or Taiwan in the case of oolong). But their production is spreading, with Hawaii even producing some oolong tea these days.
Function
Both teas are used as a hot drink to give you a boost and get the day going. In some places, they are used as a relaxation tool or a calming drink to relax the nerves. In the east they are used more like coffee is used in the west, with the addition of being an afternoon ritual in the UK and other European countries.
Appearance
To the untrained eye, Oolong can look a lot like black tea when it is in a teabag. The leaves are obscured by the mesh of the bag, and when you place an Oolong bag right next to a black tea bag, you could glance and say they look similar.
However, when you look at them in loose-leaf form, there is a much more noticeable difference in the way these two teas look. Of course, that depends o the level of oxidation of the oolong. Darker oolong teas like Big Red Robe tea look similar to black tea.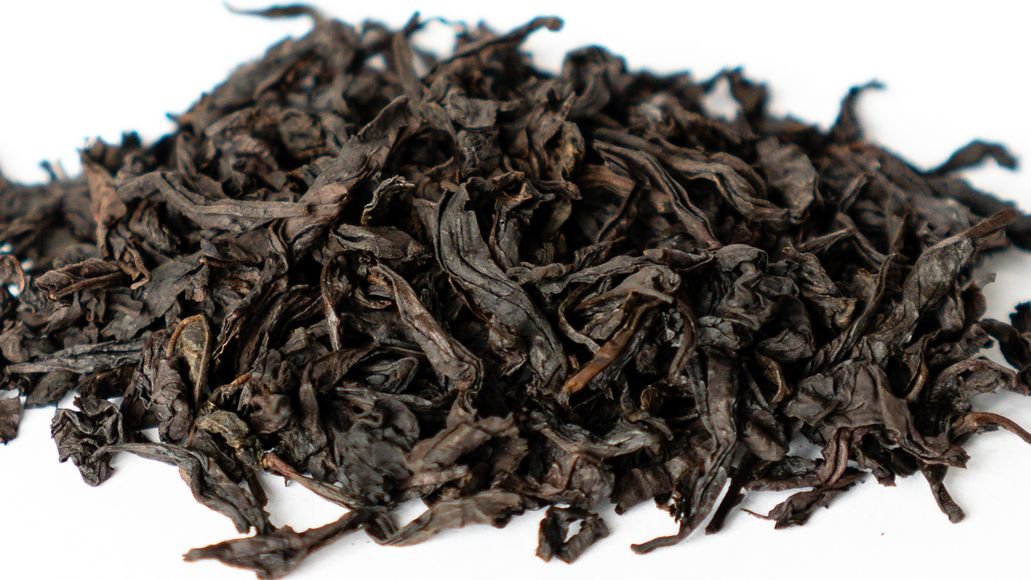 Advantages Of Oolong Tea
Oolong is a more complex and detailed tea drinking experience. There are just more flavors in a cup of Oolong than a standard black tea. Because of the variety of oxidation levels, the different flavors really come out when it is brewed properly.
Because it contains less-oxidized leaves, and some varieties are almost green still, people believe it has more health benefits than black tea does. But that hasn't ben proven and when it comes down to it, all tyopes of tea made from the actual tea plant (which included black and oolong) are healthy.
It has many varieties as well that have a big impact on the flavor and smell. Depending on where the tea is grown and processed it may taste floral, sweet, or full-bodied.
Black tea, although it has many varieties, does not taste much different from one variety to the other, at least when it comes to the types widely available in the west. English breakfast tea tastes much like iced tea which tastes a lot like Irish breakfast tea to me. But there is a considerable variation among Chinese and Indian black teas.
Advantages Of Black Tea
Black tea has more of a kick to it than oolong. It has more caffeine on average and if you like a dark, earthy, bitter taste more like coffee, certain varieties black tea, like the smokey Lapsang Souchong, may be more your speed.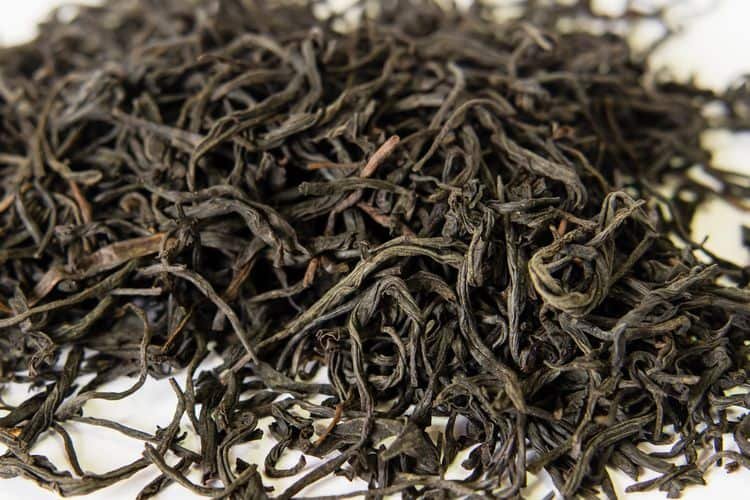 Black tea is also abundant and tends to be less expensive, especially when you get the mass-produced stuff. It is no coincidence that the most expensive tea in the world is an oolong.
The black tea we get in the west is not as complex, so it goes with just about anything. Iced tea, for example, goes with just about any meal, and iced tea is just black tea.
Irish breakfast tea goes well with any breakfast like oatmeal, eggs, or even cereal. Black tea is not as complex, so it is not as hard to pair it with foods since there are fewer flavors to consider in the equation.
Why You Should Drink Oolong Tea
If you prefer weird wines and adventurous tasting teas and coffees, oolong is going to be more fun for you. It just has more complexity and more flavor notes going for it.
In one cup you may taste citrusy floral notes and some earthy spice notes. It may also be a better choice If you tend to be an anxious person, since it has less caffeine on average and is said to have a calming effect on the nervous system.
Why You Should Drink Black Tea
Black tea is the coffee of tea. It is the standard go-to tea for most people when they think of breakfast or afternoon tea. There can be complex and interesting black teas, like a good Ceylon, which has some citrus tastes in it, but generally, black tea is a dark earthy flavor.
It goes with everything and tastes quite good if you sweeten it with some honey or sugar. You could add cream as the English do, but that really only makes sense if you buy cheap, mass produced black tea (which is what the English tend to drink, to be honest).
Black Tea Vs Oolong Tea: Final Thoughts
Both black tea and oolong tea are wonderful drinks. They are healthy and offer complex and interesting flavors. But those flavors are quite different, making each a unique experience.
That is why I strongly recommend trying both. And not just trying one variety of each, but trying a number of different varieties. But avoid the cheap blended black teas so common in the west. They all taste basically the same, which is to say pretty bland
The nice thing is that even good quality teas are quite inexpensive, when you consider how many cups you get out of a package of loose leaf tea (remember, you can, and should, brew the same leaves multiple times: usually 3 to 6 times).
If you want some recommendations, here you go. Try:
Finally, we also have a comparison of green and black teas, because green tea is another great option.