You may have heard that tea causes kidney stones.
But it is not quite so simply.
For one, there are many different types of tea.
They all contain different nutrients and other compounds.
Furthermore, some people are more predisposed to developing kidney stones than others.
So can tea cause kidney stones, then?
It depends on a combination of the two abovementioned factors. And bit of luck. Or bad luck. Keep reading to learn everything you need to know.
Can Tea Cause Kidney Stones?
Tea can cause kidney stones. But for most people, there is little risk of it doing so. Tea does contain oxalates, and doctors recommend that people who are prone to developing kidney stones avoid oxalate-rich foods.
If you are prone to getting kidney stones, you may want to limit your tea intake. But you would have to drink a ton of tea, for it to cause kidney stones. You get far more oxalates from many common foods.
You could also drink teas that do not contain oxalates, or that contain fewer of them. The amount of oxalates in tea varies according to the type of tea. Let's take a closer look at this compound and which teas contain the most and least of it.
What Are Oxalates?
Oxalate, or oxalic acid, is a naturally occurring compound that is present in many plants. Several plant foods, including the root and/or leaves of spinach, rhubarb, and buckwheat, are high in oxalic acid. These foods can all contribute to the formation of kidney stones in some individuals.
Oxalates have a negative effect on the amount of minerals your body can absorb. When ingested, it can bind with minerals in your body to form composites.
This process can take place in the kidneys as well as other parts of the body, including the colon. People who are sensitive to oxalates may not excrete the excess through the urine or stool, and this can lead to health issues, including kidney stones.
Oxalates In Tea
Leaves of the tea plant (Camellia sinensis) contain some of the highest measured concentrations of oxalic acid among plants.
However, the tea beverage derived by infusing Camelia sinensis leaves in hot water typically contains only low to moderate amounts of oxalic acid, since you only brew the essence out of the leaves and do not actually consume them.
In general, if you are oxalate intolerant, you should avoid oxalate consumption. But many people may be unaware that they are sensitive to oxalates. To play it safe, it could help to know which teas can cause problems and could lead to the formation of kidney stones.
What Kind Of Tea Causes Kidney Stones?
Since oxalates can lead to kidney stones forming, it makes sense that teas with a higher oxalate content are more likely to cause stones, and those with a lower oxalate content are less likely to do so.
Teas With High Levels Of Oxalates
The general rule is that true teas, those brewed using leaves from the Camellia sinensis plant, have higher levels of oxalates than herbal teas.
Herbal teas have oxalate levels ranging from non-detectable levels up to 3.00 mg per serving. Even the high end of this range is still a low level of oxalate. That is why herbal teas are better for people who are sensitive to oxalic acid.
Black tea has the highest levels of oxalate and is considered the biggest culprit in causing kidney stones in people who are sensitive to oxalic acid. This is one area where a green tea vs black tea comparison definitely comes out on the side of green.
People who consume six cups of loose black tea on a daily basis can expect to have an intake of between 25 and 100 mg of oxalates per day. The use of tea bags can reduce these levels slightly. Drinking the same quantity of herbal tea would reduce this intake down to 18 mg per day.
Iced tea, which is usually prepared using black tea leaves, can be especially problematic for people with oxalate sensitivity. The problem with iced tea is that it is consumed differently than hot tea.
Iced tea is often consumed as a refreshing cold drink on a hot day, and this can lead to people drinking too much, too quickly. Hot tea is imbibed more slowly and people are less likely to consume large quantities.
Teas With Low Levels Of Oxalates
While the general rule that "black tea is bad and herbal teas are good" holds true much of the time, it doesn't tell the whole story. Some herbal teas contain a lot more oxalates than others.
Here are a few different teas that have low levels of oxalates and should cause no problems for people with sensitivities.
Azul Tea
Azul tea is made from the bark of a small tree that grows primarily in Mexico, and also in some areas of Texas and Arizona
Azul tea is a natural diuretic that increases the production of urine. Increasing the amount of urine that your body expels can help flush out your kidneys and keep them healthy.
Can this herbal tea dehydrate you, if it causes you to urinate more? No. Since it is mostly water, you end up taking in more liquid than you urinate out.
Azul tea also naturally modulates acid levels in the urine. This helps with urinary tract sediments and other kidney stone issues, which leads to the oxalate acid dissolving into the urine and passing from the body, instead of forming painful deposits, like kidney stones.
Green Tea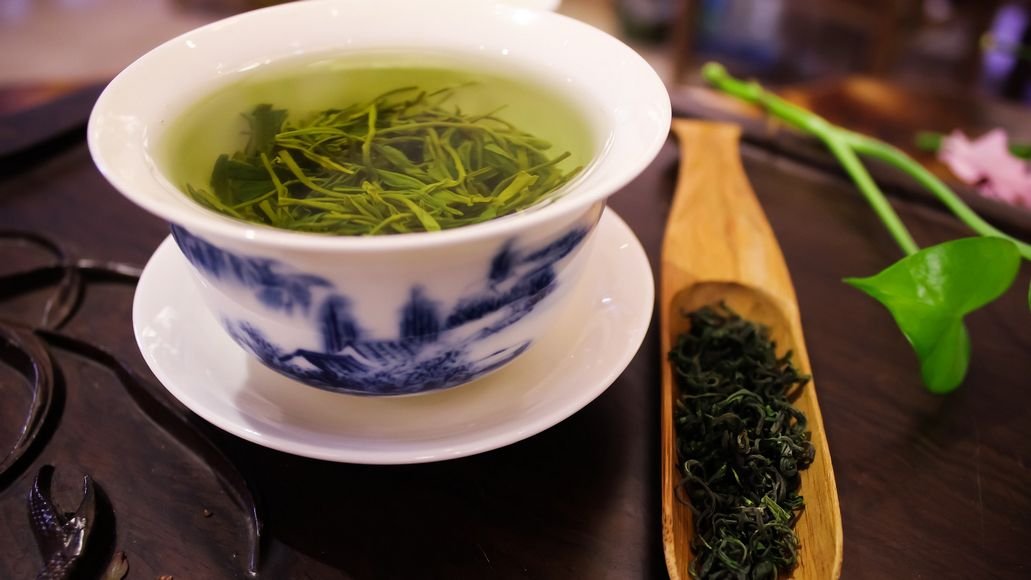 Green tea is a true tea, but is has a much lower oxalate than black tea. Not only that, but it can help prevent kidney stones from forming.
Calcium oxalate crystals are the most common cause of kidney stones, and green tea can help prevent these crystals from binding together, potentially preventing the formation of the kidney stones. Plus it is considered one of the healthiest teas available.
Citrus Tea
Citrus tea infusions, made using lemon or orange, may be beneficial for people who are susceptible to developing kidney stones. In addition to having a very low oxalate content, they also contain citrate.
Citrate, also known as citric acid, is believed to help prevent kidney stones from forming. It is also reputed to help break down smaller kidney stones that may already be present in your kidneys. Breaking down existing stones makes it easier and less painful to pass these stones through your urine.
Dandelion Tea
Dandelions have been commonly used in folk medicine for quite some time. In addition to possessing properties that can help prevent urinary tract infections, they are also believed to aid digestive ailments.
Dandelion tea can also act as a diuretic, increasing how often you need to urinate. This helps flush out the kidneys, which contributes to keeping them stone-free and healthy. Dandelion tea also has a low oxalate content.
Oolong Tea
Despite being prepared with leaves from the same plant as black tea, the levels of oxalates in oolong tea are relatively low. This is due to a different method of processing the leaves.
Oolong tea is partially oxidized, which means a lower amount of oxalates in the finished product. While black tea leaves (which are fully oxidized) contain around 5 mg of soluble oxalates per gram of tea leaves, oolong tea contains between 0.25 and 1.15 mg per gram.
As a true tea, made with leaves from the Camelia sinensis plant, oolong tea does still contain caffeine, unlike most herbal teas. This makes it a good choice if you need a little pick-me-up in the mornings.
Rooibos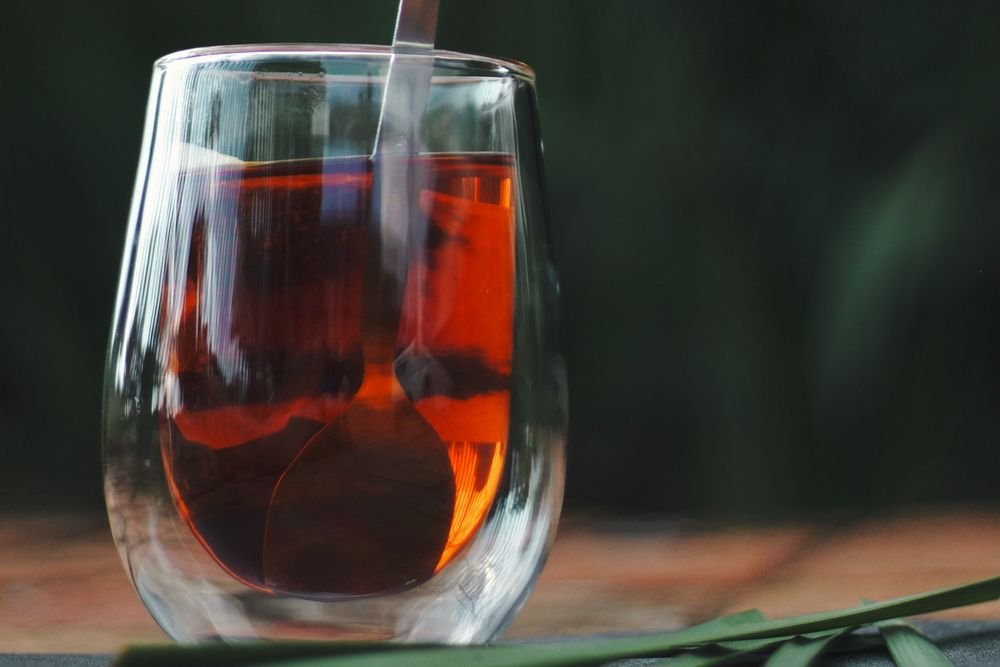 Rooibos is a South African tea that is often touted as a great alternative to coffee and black tea. The reason for that is no caffeine and a much lower concentration of tannins and oxalates.
Rooibos even tastes like black tea. But it has some drawbacks you need to be aware of too. Learn all about the pros and cons of rooibos tea here.
Does Iced Tea Cause Kidney Stones?
You can make iced tea with a number of different teas. The most common are black and green tea (with black being the most common by far). The tea you use determined the chances of the iced tea causing kidney stones.
See the next two questions for iced tea made with black or green tea. In addition to this, iced tea actually has a higher chance of causing issues than hot tea, for the reason already mentioned previously in this article: you tend to drink much more of it that you do hot tea.
Can Green Tea Cause Kidney Stones?
Green tea can cause kidney stones, but the chances of it doing so are far lower than black tea. If you are predisposed to developing kidney stones, you might want to limit your green tea intake. Otherwise, you need not worry.
Does Black Tea Cause Kidney Stones?
Black tea has the highest chance of causing kidney stones, because it has the highest amount of oxalates.
Does Tea Cause Kidney Stones: Final Thoughts
Tea can cause kidney stones, but most people have nothing to worry about. Brewed tea contains far smaller amounts of oxalate that many common vegetables.
As a result, only people who are predisposed to developing kidney stones need to worry about tea causing them. If that is you, stick to teas with little (or no) oxalate, like most herbal teas.