I drink more than 10 cups of tea throughout the day, almost every single day.
And I've been doing this for 20 years.
I don't only drink green tea, but the truth is, all teas have a similar effect on your teeth.
Keep reading to learn exactly what tea can do to your teeth. You will also learn what you can do about it.
In the end, that is the most important question, since few of us want to give up drinking tea.
Does Green Tea Stain Your Teeth?
Yes, green tea can stain your teeth. Black tea and any other kind of tea can also stain your teeth. Tea contains something called tannins which are particularly good at staining teeth and skin over time.
Why Does Green Tea Stain Your Teeth?
Green tea (as well as any other tea or other drinks like coffee) can stain teeth, gums, and skin. The reason for this is mainly the tannins, as mentioned earlier.
Tannins cause the coloration compounds in tea to stick to your teeth and skin. This leaves behind a gray color in the case of green tea and a yellow color in the case of black tea.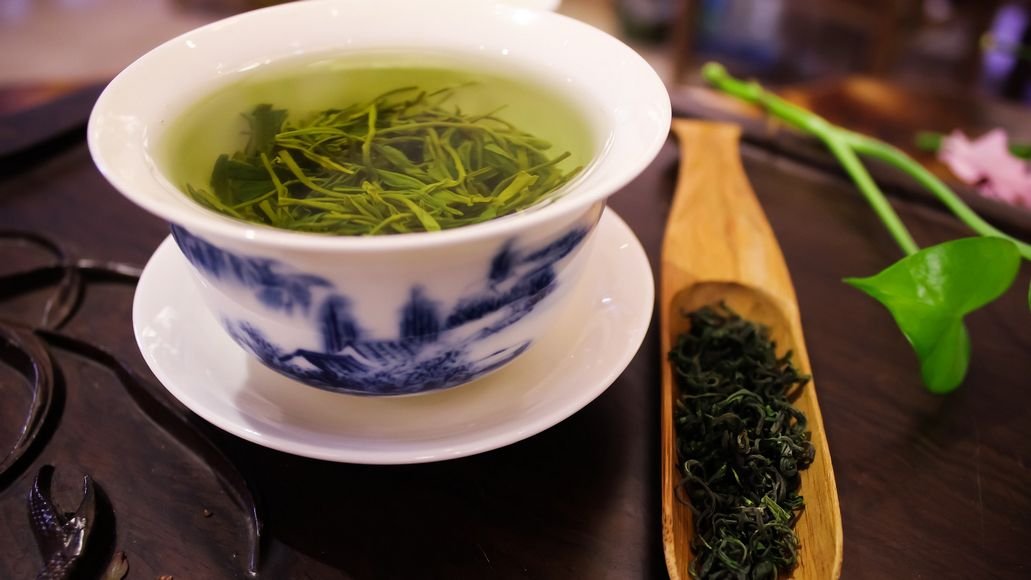 More About Tannins
Tannins are present in all kinds of plants in nature. A good example are grapes, which means they are also present in wine. And of course the tea plant, as well as many other plants.
The purpose of these tannins is to make the plant taste bad to animals, so they are not eaten. The tannins are a self-preservation strategy that nature employs to keep plants multiplying to preserve the species.
The Difference Between Black Tea And Green Tea for Your Teeth
Both popular teas can cause tooth staining, is there any difference in how they do it? Is one worse than the other?
There is no detailed study that I could find covering these questions. What is clear is that green tea leaves a gray type of stain while black teas leave a yellow stain.
It may be easier to notice yellow stains than gray stains. Because gray is essentially white with a bit of black in it, it may be harder to detect at quick glance than yellow, which can be more obvious.
Some green teas brew brown. This generally indicates more tannins. These teas usually stain your teeth more than lighter green teas.
How Much Tea Do You Need To Drink To Cause Staining?
Just one cup of tea a day can cause some staining, if done habitually over a long period of time. Many of us have been drinking tea for years and already have some level of tooth staining.
Of course, the more tea you drink the more staining you can potentially have on your teeth and gums. How much staining you get depends on the strength of the tea and how well you take care of your oral hygiene.
Does Coffee Stain Worse Than Tea?
Fun Fact: Tea causes more teeth staining than coffee! (This surprises a lot of tea enthusiasts!)
Coffee contains the same tannins as tea and will cause tooth and gum stains over time when consumed habitually. But because of the type of tannins and the other compounds present in tea, tea is actually more of a tooth staining hazard than coffee is.
Coffee stains tend to be more noticeable due to the dark brown color of the stains, as opposed to tea which leaves light yellow or gray residue.
Because teeth are white, any kind of dark color like brown is going to show up much clearer. Even though tea stains your teeth faster and worse, coffee stains are much easier to see.
Do Some Teeth Stain Easier Than Others?
Some teeth stain faster and more severely than other teeth. The reason your teeth become stained to begin with is that teeth have pores in them, in which the discoloration compounds can get stuck.
The reason some teeth are much more susceptible to this is related to the thickness and overall health of the enamel. Your tooth enamel is a protective layer that prevents your tooth pores from being filled with anything.
Genetics And Enamel
As the acid in food and drinks like tea and coffee slowly erode your natural enamel, stains become more frequent. The healthier your tooth enamel is, the less your teeth will stain. This has to do with genetics as well as age.
Some of us are just luckier and have better enamel and better teeth genetically. No matter who we are, as we age our enamel erodes more due to more exposure to acids, from years of eating and drinking.
5 Ways To Avoid Tea Stains On Your Teeth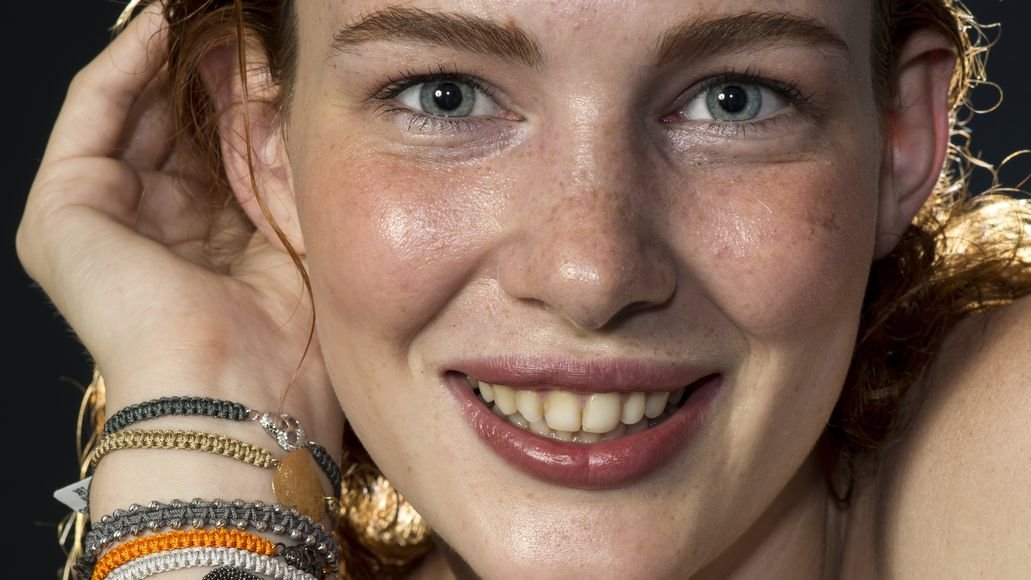 Here are a few things you can do to keep tea from staining your teeth. All but one are are things I would never consider personally. The truth is, there is not much you can do, apart from regularly cleaning your teeth.
Stop Drinking Tea
Obviously, this is not a real option for most of us who love tea. But it is the only guaranteed way to make sure you never get any stains on your teeth from tea. This is the worst option, so I put it first!
If you already smoke tobacco, you could also smoke your tea. Smoking anything is bad for your respiratory system, so I would never recommend this, but if you already smoke cigarettes, I guess it won't make much of a difference.
Use A Straw
The idea behind using a straw when you drink tea is to get the tea to your mouth while bypassing your teeth. This is effective at avoiding stains on your most visible front upper and lower teeth, but does nothing to protect your back teeth.
The tea will still wash over the back teeth, especially the lower ones, when you swallow it. But the straw keeps it off your front teeth.
Personally, I do not like straws for many reasons, but this option may work well for some.
Milk It
Adding some milk to your morning tea decreases the strength and binding power of the tannins. This option only works if you like having milk in your tea. And if you drink tea that works with milk. Adding milk to green tea is never a good idea, for example.
You could also take it one step further and make bubble tea, but then you have the sugar to contend with, which is far worse for your teeth.
Since I am a straight up kind of tea drinker, I do not use milk. However, many people love to add milk to their tea, and if you are one of them you will reduce how much the tea stains your teeth.
Use A Water Chaser
Rinsing your mouth after a cup of tea is an effective way to reduce the amount of time the tannins sit on your teeth.
Have a cup of water handy while drinking your tea and just swish it around your mouth and swallow it after you finish your cup. If you want to extra vigilant you can have a sip of water between tea sips.
Practice Good Oral Hygiene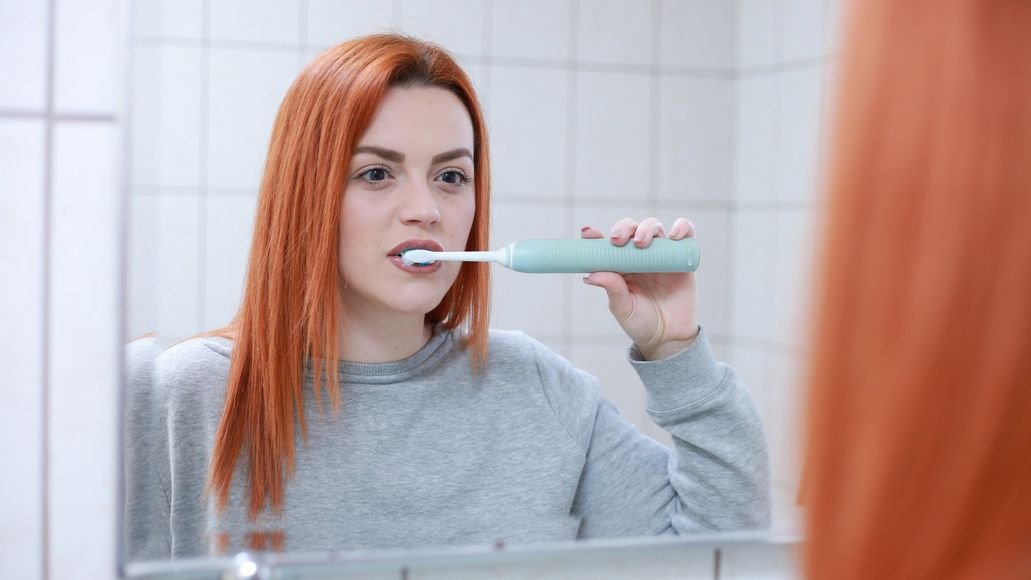 This is my favorite option because I am already in the habit of doing this. If you brush your teeth correctly after meals and snacks (and teas) you are doing a great service to yourself.
You do not need any fancy toothpaste. Normal toothpaste is fine. The reason tea stains is because of the amount of time it sits on your teeth. If you take care to remember this, you can avoid having to get your teeth bleached due to staining (which is not good for them).
Green Tea Stains Teeth: Final Thoughts
If you love drinking green tea (or any other tea, or coffee), tooth stains are part of the deal. Knowing how to remove tea stains from your teeth (and anything else) will come in very handy.
The best (and really only) thing you can do to combat long term stains on your teeth is to brush them several times a day.
If you only have tea at a certain time, you can brush your teeth right after and avoid almost all staining. If you drink tea throughout the day as I do, you would have to brush them constantly.
I just make sure to brush mine twice and accept that they will become somewhat stained over time (so far, it's not too bad. And I've been several cups of tea per day for almost 20 years.