Matcha and yerba mate have a lot in common.
Both have become somewhat of a fad and enjoyed a huge surge in popularity.
And both do actually deliver a ton of health benefits.
But when you compare yerba mate vs matcha directly, you quickly notice some big differences.
And those differences are key. They will determine which drink is the better choice for you.
Or they will be the reason you decide to drink both on a regular basis.
So let's get to it. Keep reading for a detailed comparison of matcha green tea and yerba mate. We will cover everything you need to know about these healthy and delicious drinks.
Yerba Mate Vs Matcha
We will begin this comparison of matcha green tea vs yerba mate by looking at each tea individually, before comparing them directly and getting into the advantages of each. Then we will help you figure out which one is right for you. And perhaps, it's both!
Yerba Mate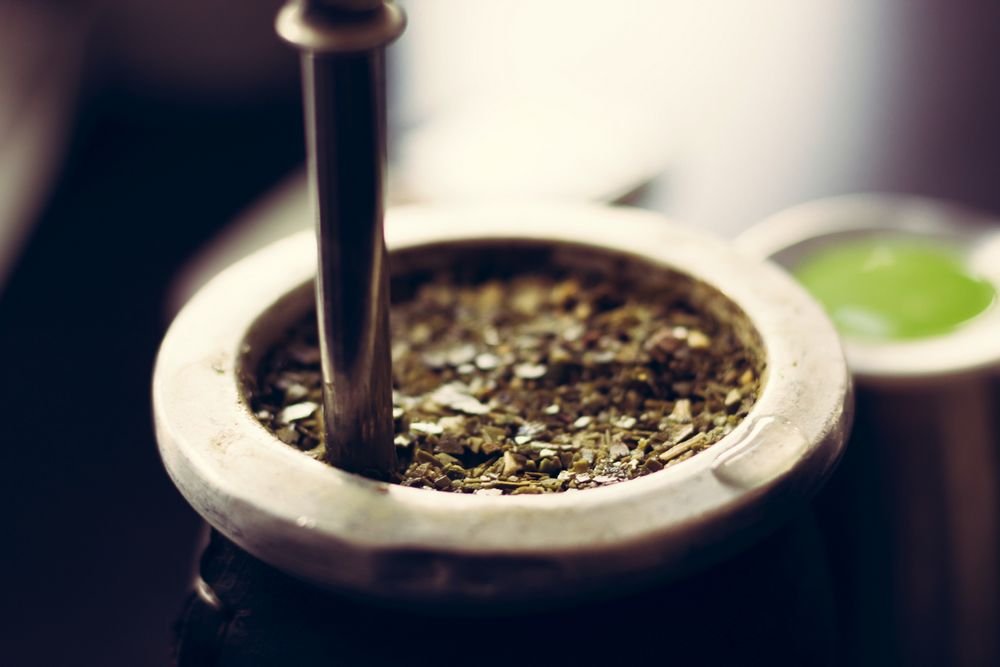 Yerba mate was first consumed by the indigenous Guaraní people, who hail from present-day Paraguay, southeastern Brazil, Argentina, Bolivia, and Uruguay.
Following the European colonization of the Spanish colony of Paraguay in the late 16th century, the drink's popularity began to become more widespread.
Yerba mate is the name of a plant that belongs to the holly genus, whose Latin name is Ilex paraguariensis. Steeping the dried leaves and twigs of this plant in hot water produces the drink known as mate in Spanish-speaking countries or as chimarrão in Brazil.
The resulting herbal infusion, or herbal tea, contains caffeine as well as potassium, magnesium, manganese, and a variety of polyphenols. The drying of the leaves is usually done by wood fire, which gives the final drink a smoky flavor.
Matcha
Matcha originates from a different area of the world and it is a true tea (unlike yerba mate), because it is made from the leaves of the Camellia sinensis plant.
Matcha differs from other true teas in that it is powdered. In the past ten or twenty years, it has become a widely consumed product across the globe.
Its history began in China over a millennium ago. The Tang (618–907) and the Song dynasties (960–1279) of China are accredited with perfecting the art of making powdered tea, before the methods were brought to Japan by a Buddhist priest in 1191.
Matcha tea is produced specifically from the leaves of shade-grown tea plants. During the last few weeks of growth, the tea bushes are covered to protect them from direct sunlight.
This slows down their growth and stimulates an increase in chlorophyll, which turns the leaves a darker shade of green and causes the production of more amino acids. This is one reason matcha is so healthy.
After harvest, the leaves are laid out flat to dry before being deveined, destemmed, and stone-ground to a fine, bright green powder known as matcha.
Similarities Between Mate And Matcha Green Tea
Both yerba mate and matcha have become more popular in recent years. One of the main reasons for their growing popularity is that they are both purported to have inherent health benefits.
Both drinks contain antioxidants, meaning they can inhibit the chemical reaction that produces free radicals, helping to prevent cell damage.
The two different drinks have also been reported to help digestion and metabolism and may aid weight loss as part of a balanced diet. The other main similarity is that both drinks contain caffeine, making theme natural stimulants, but less so than coffee.
One more important similarity to be aware of before buying is that the quality of both drinks is dependent on the quality of the leaves used. Sourcing well-produced leaves ensures you will not get an overly bitter flavor in your final drink.
Difference Between Matcha And Mate
The main difference between the two is that only one of them is classified as a true tea. To be counted as a true tea, a drink needs to be prepared from the leaves of the Camellia sinensis plant. Matcha tea is therefore a true tea, while yerba mate is, technically, a herbal infusion.
Each of the two beverages has its own flavor profile too. What does matcha taste like?
Matcha tea tends to be sweet yet vegetal, with a light, grassy taste. Some people even claim that matcha has a fishy taste, but that is usually the result of low-quality matcha powder.
Yerba mate's signature flavors are more earthy, with strong herbal notes and a smoky flavor, thanks to the method of drying the leaves.
The two drinks are also prepared in different ways. Matcha, a powdered tea, is made by whisking the powder into hot water (or milk), while yerba mate is made by steeping the dried leaves and twigs of the Ilex paraguariensis plant in hot water.
Another difference is that matcha is more expensive. It costs more than other types of true tea and also more than most herbal teas, including yerba mate. If you're curious, we have an article on why matcha is expensive.
Advantages Of Yerba Mate
Yerba mate has a few advantages over matcha green tea.
Nutritional content: Yerba mate contains various essential minerals, including vitamins A, C, and E. The prepared drink also contains decent amounts of potassium, magnesium, and manganese.
Digestive benefits: Yerba mate is purported to act as a natural stimulant that can aid digestion and may be beneficial to those seeking to lose weight.
Caffeine content: Yerba mate contains a little more caffeine than matcha tea, in general. But there can be dramatic fluctuations in the amount of caffeine present in either drink, due to different methods of production and depending on the quality of the leaves used.
Advantages Of Matcha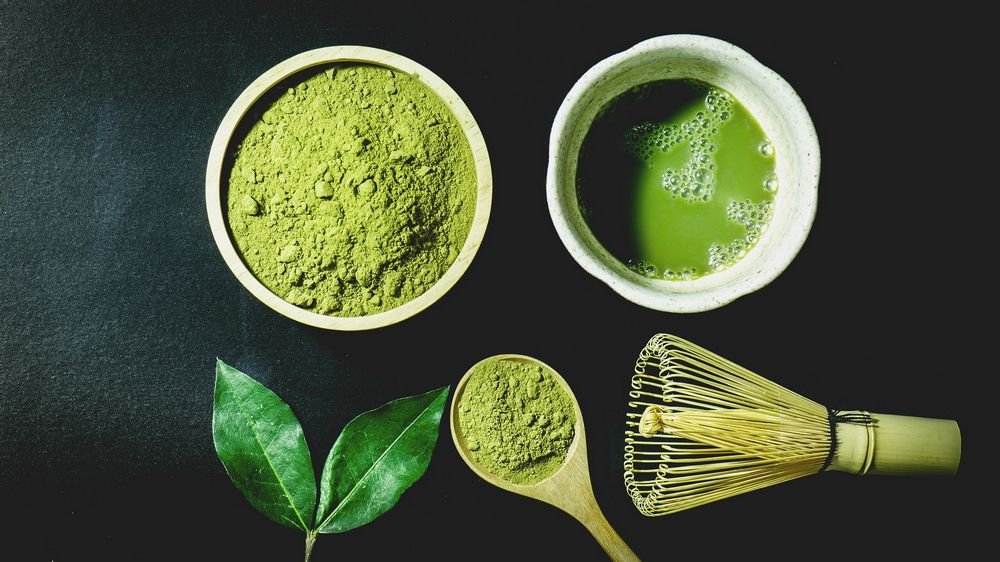 Likewise, matcha has a number of advantages over yerba mate tea.
High antioxidant levels: One of the main reported health benefits of matcha tea is that it is a rich source of antioxidants. They help the body fight free radicals and relieve cell stress and damage, which may help slow the physical signs of the aging process.
Calming effects: Matcha contains the amino acid L-theanine, which is said to have a relaxing effect on the mind and body. The matcha caffeine content, combined with L-theanine, can slightly increase levels of alertness, which can lead to improved cognitive function and focus.
Metabolic benefits: Studies have shown that matcha may be useful in boosting metabolism and may help people manage their weight as part of a balanced and nutritional diet. Drinking matcha before a workout can be beneficial too.
Cooking: As a powder, matcha lends itself well to be used in recipes. What goes well with matcha? It goes especially well with sweet foods, which is why you see it used in so many dessert recipes. There are many uses for matcha.
Should You Drink Yerba Mate Or Matcha Tea?
While yerba mate and matcha tea are two distinct drinks, they do have plenty of similarities. That can leave you wondering which one is best for you.
While they both have similar purported health benefits, they do have distinct flavors, and you may find you have a natural preference for one over the other.
If you prefer a smoky, earthy taste, you may prefer the South American option. But those looking for a sweeter taste may prefer the Asian beverage instead.
Matcha tea is also a little more time-consuming to prepare, with the powder needing a good whisking before drinking. If you're looking for a quick pick-me-up on the fly, yerba mate may be your best bet with its simpler preparation.
Matcha Vs Yerba Mate: Final Thoughts
Both matcha green tea and yerba mate have become extremely popular in the west in the past ten or twenty years. As usual, celebrities let people know they were drinking these drinks and their popularity skyrocketed.
But unlike many fads, this is actually a good one. both drinks are incredibly healthy and a much better choice than the sugary drinks most seem to prefer. The question for many is: which one to drink?
If you like both, drink both! But when you compare the flavor of yerba mate vs matcha, there is definitely a big difference. And for that reason, most will much prefer one over the other. Hopefully after reading the above article, you have a better idea which one you might prefer. Of course, the best way to know for sure is to just try them both!