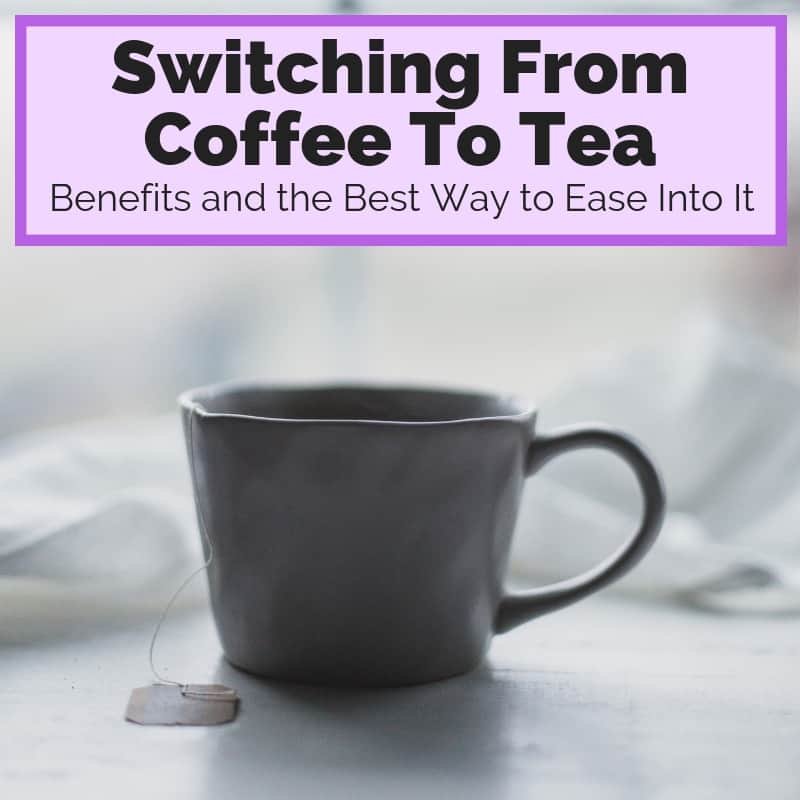 Tea and coffee are two of the most popular drinks in the world.
Both are drunk socially, for their pick me up effect, and for hydration (more about hydration later).
Coffee was long thought of as an unhealthy habit and only in recent years have scientists uncovered many benefits of drinking coffee.
Nevertheless, coffee is not as healthy as tea. Over-consumption can lead to serious health problems.
This is why many coffee drinkers are switching to tea.
If you are thinking about making the switch, you will be doing yourself a favor.
Drinking tea is healthier than drinking coffee, though the green tea vs coffee comparison is closer than most think.
This article will reveal some unhealthy aspects of coffee and will explain the differences between the two drinks. It will also teach you how to avoid the painful symptoms of coffee withdrawal and make a successful switch.
Switching From Coffee To Tea: Why Do It?
Caffeine Sensitivity
As mentioned, both coffee and tea have health benefits, but out of the two, tea is the safest. You can drink tea all day long without worrying about overdosing on caffeine.
I personally drink around 2 liters a day myself, specifically 4 to 5 pots (I use the 600 ml version of this glass teapot), depending on the variety of tea.
With coffee, it's different. You can easily consume too much caffeine. Depending on various factors such as mood, health and how tired you are, caffeine might affect you differently. If you are particularly sensitive to caffeine, it makes a lot of sense to cut down on it.
Sleep
Caffeine affects most people's sleep pattern and quality.
In some cases, a cup drunk in the morning can affect that night's sleep. This usually happens for first-time drinkers, but, in rare cases, it can even affect habitual drinkers. Once you move to the afternoon, most people suffer negative sleep effects if they drink coffee after 1:00 PM (much earlier than I would have thought, to be honest).
Tea can be enjoyed any time of day. You can even benefit from a cup right before bedtime. Unless you are especially sensitive to caffeine, tea does not contain enough to disrupt your sleep if you only have a small cup at night.
Sensitive Stomach
People with sensitive stomachs could suffer severe pain and discomfort from drinking coffee. Sometimes this is a transitory condition, but most times it is for life. Drinking decaf is not a solution for the people affected (though it may help a little), because caffeine is not the only stomach irritant in coffee.
The symptoms vary, because different compounds might affect us differently. Some of the substances might affect the stomach by increasing the production of gastric acid.
Other compounds in coffee might selectively feed certain microorganisms in our intestinal tract. The sudden growth of the stimulated bacterial population creates the discomfort.
Tea, on the other hand, is much milder. If you are not after the caffeine buzz, a herbal tea is healing and will fulfill your need for a hot drink. That said, tea can make you poop, just like coffee. It's not as strong in that regard either, though.
Even caffeinated teas such as green tea and black tea are very mild in comparison.
Stained Teeth
If you wondered why your teeth are not so white anymore, it might be because of the coffee. Coffee stains your teeth and whitening solutions are not only expensive but, most of the time, they are painful and taxing on the enamel.
That said, many teas also stain your teeth. Some even stain them more than coffee!. But most do so to a lesser extent. Learn how to remove tea stains here.
Taste of Tea vs Coffee
Some coffee lovers only drink it for the caffeine. They don't like the taste of coffee, so they add sugar and milk. Many of us like to keep track of calories, but often forget about little things like this: the sugar and milk add up when you have several drinks per day.
If the thought of drinking your coffee black is dreadful, you never liked the taste to begin with. Tea is the perfect alternative for you, because you can choose from a wide variety of teas with different flavors. You can even mix various flavors, like a mix of green tea and black tea, for example.
Whatever the type, most of them are palatable without any addition. Many serious tea lovers even consider it sacrilege to add sugar or milk to their favorite beverage.
On the other hand, many coffee drinkers who add milk and sugar to their cup of joe, find that doing the same with tea makes the switch easier. Chai tea is an especially popular option in such cases.
But stay away from dirty chai lattes, if you're trying to move away from coffee. Our comparison of dirty chai vs chai latte explains why.
One thing to consider though: brewed tea contains considerably less caffeine than coffee, so a caffeine withdrawal is imminent for some. Once the withdrawal period is over, you will find that the energy boost from tea is more balanced and you will be calmer and more productive overall.
Cholesterol
Coffee was found to increase cholesterol levels. If you have problems with your cholesterol, you should be aware that two compounds in coffee, kahweol and cafestol, can raise the levels of LDL cholesterol. On the other hand, tea was found to reduce the levels of LDL cholesterol.
Differences Between Coffee And Tea
Let's start with the most popular question: the caffeine content. When measured in dry (unbrewed) form, tea actually contains more caffeine than coffee. However, when brewed, a cup of tea contains only a third of the caffeine of a coffee cup, on average. But that is not the most interesting part.
Coffee and Tea as Psychostimulants
The psychostimulatory effects of tea and coffee are very different. Even if we were to drink three cups of tea, the physiological effects are very different from one cup of coffee (roughly the equivalent in terms of caffeine content).
One reason is that theine, (the caffeine in tea), is bound to other substances, while the caffeine in coffee beans is freer. This makes the caffeine easier to absorb, so the effects come on stronger and more suddenly. By contrast, theine releases more slowly. We could say that "coffee excites while tea stimulates."
Brewing
Brewing is somewhat similar for both drinks: the darker the bean or the leaf, the less steeping is needed.
The brewing details are much more complicated, but the greener the bean or the leaf the slower they will release their soluble solids and aromas. No major differences here, but it's good to know for when you start to prepare your teas.
Can you make tea in a coffee maker? This is not an uncommon question with people switching from coffee to tea. The answer is you can, but you shouldn't there is no need to whatsoever. You don't need any special equipment to make tea and even loose leaf tea can be brewed directly in a mug.
Health
Although I listed the most important health benefits of switching to tea, I feel that is important to underline that both drinks are beneficial when consumed in moderation. However when abused, coffee carries more health risks than tea.
How To Switch From Coffee To Tea
There are two approaches to quitting coffee, and both work depending on your personality. One method is to quit cold turkey. Since caffeine is only mildly addictive, this works just fine for many people.
The disadvantage with this method is that the caffeine withdrawal symptoms, can be severe. If you start drinking tea as a coffee replacement you could avoid, or at least reduce, these symptoms. However, when you reduce your daily caffeine consumption, you will suffer some symptoms for the first few days.
The other approach is to reduce your caffeine dose gradually. The best tactic is to replace one cup of coffee with one of tea. On the first day, you replace the afternoon coffee with tea and continue for a few days. After five to seven days you can then also switch the noon cup of joe with tea.
After five to seven more days, replace another cup of coffee with tea. This method is for heavy coffee drinkers, but it works for people who drink one cup in the morning as well. You can ease into it by simply reducing the size of your coffee cup gradually.
What Kind Of Teas Make Good Coffee Substitutes?
Many people want to switch to a drink that tastes exactly like coffee. There are a few good substitute options on the market, but most of them are caffeine free.
If you're looking to cut out caffeine, you're in luck. Personally, I recommend Rooibos, since I feel it is the healthiest option. Rooibos tastes great, too.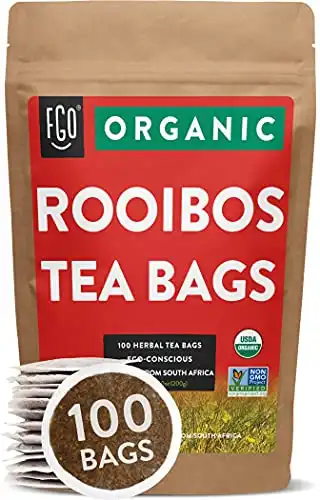 If you still want some caffeine, but want to avoid the negative effects of coffee, here are your options.
Switch From Coffee To Tea: Final Thoughts
You will never find a tea that tastes exactly like coffee. If you love the flavor of coffee, but want to give it up regardless, you are going to have to make a sacrifice. That said, I definitely recommend you give tea a chance.
Yes, it tastes different, but once you get used to it, you'll realize just how wonderful it can taste. And with so many different varieties, you're sure to find the perfect one for you. This article was written specifically to help beginning tea drinkers find the best variety for their needs.
Once you've bought your tea, you need a way to brew it, unless you get tea bags. I recommend you don't, because loose leaf tea is much better. The easiest way to get started with loose tea leaves is to get a tea strainer cup or just a simple loose leaf tea strainer that you can use with any mug you already own.