I have mentioned the green tea powder matcha a few times on this site.
Since it is made up of ground tea leaves, meaning those leaves are consumed whole, it is the healthiest tea available. It is complicated to brew, however, so the easiest way for most people to enjoy green tea powder is to cook with it.
That said, you can prepare matcha without a whisk or other traditional implements. You can use things like a milk frother, a blender, or simply put it in a glass jar and shake it. But cooking with it is perhaps even easier.
And in Asia, a lot of companies already add it to various products, like these Green Tea Kit Kats.
In the west, some people may be familiar with the green tea latte from Starbucks. If you've been to a McDonald's in Japan or Singapore, at least during the limited times it was available, you will also be familiar with this matcha product: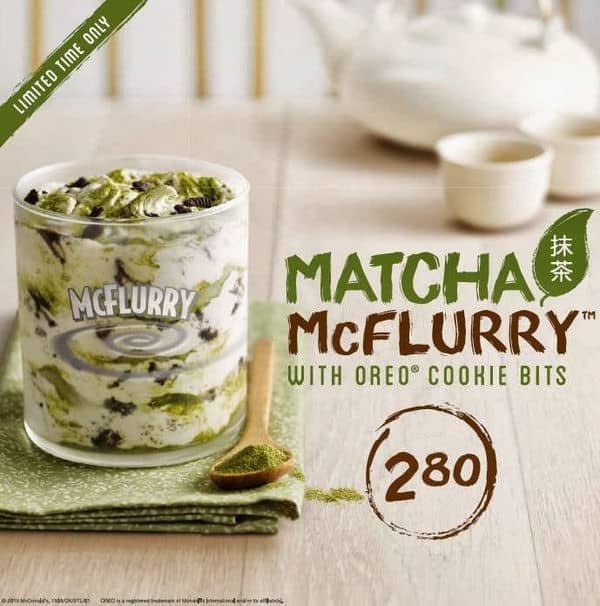 That's right, McDonald's has decided to combine matcha with Oreos, one of the few sweet foods I can't really imagine complimenting it well. It's like no one at McDonald's has any idea how to use matcha powder.
Matcha powder is commonly used in tea desserts, because the bitter flavor goes very well with sweetness and green tea ice cream is actually one of Japan's more famous products among travelers. Sprinkling the powder on vanilla ice cream makes for a delicious treat as well.
I'm not so sure if it still tastes good once Oreos are added to the mix, though. But who knows? There are a lot of flavors that go well with matcha.
I've never tried or even seen this dessert myself, but I'm almost certain I wouldn't like it. I'm not a huge McDonald's fan as it is and I find their desserts especially off-putting—they are simply much too sweet for my taste.
I read a review of this on another site recently and it said you could barely taste the matcha and that it was completely overwhelmed by the sweet vanilla flavor. Knowing what I know about McDonald's, that rings true. If anyone can make matcha bad, it's them.
Apart from the taste, this is just another one of those ideas—like the latte from Starbucks—that takes a healthy food item and manages to make it completely unhealthy by overwhelming it with sugar.
Let's be honest: anyone who orders one of these things because they think it will help them lose weight deserves to be fat.
If you really want to enjoy the health benefits of green tea, have some green tea! And if you want the boosted benefits of matcha green tea, drink matcha!
If you absolutely can't stand the taste and you see cooking with green tea powder as a great way to get the health benefits without the flavor, add it to something at least remotely healthy!
Here are a ton of great matcha recipes.
Definitely don't add it to some of the unhealthiest foods (I really should be putting quotes around "food", shouldn't I) imaginable, with which is pretty much anything on a McDonald's or Starbucks menu.
All of that said, I would actually try the Matcha McFlurry purely out of curiosity. I don't think I would enjoy—or even manage to finish—it though.