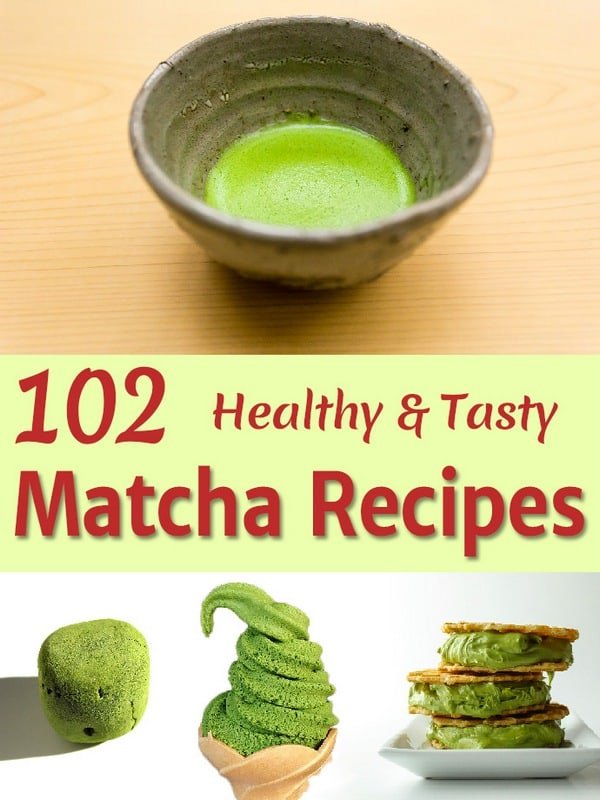 Matcha is the healthiest of all the teas, but it is unfortunately also the most difficult to prepare correctly.
Luckily, it is very easy to use matcha in cooking, And matcha pairs especially well with sweet flavors, hence the abundance of desserts among the 102 recipes below. Plus, there are different ways to drink matcha, too, apart from just the traditional way.
Before we get to the recipes, here's some brief information for those who are not that familiar with matcha or are not sure where they can get some.
What is matcha?
Matcha is a Japanese green tea powder made from the highest quality shade-grown tea leaves. As a powder, it is consumed whole, rather than steeped, meaning you get all the nutrition contained in the leaves.
If you find yourself on this page, chances are you already know about matcha and its health benefits, so I won't go into more detail here. Check out these pages for:
Where to buy matcha
You can get matcha green tea powder in any specialty tea store and more recently, in most health-food stores.
Personally, I get mine over the internet and my favorite place to buy matcha online is Matcha Source.
They have a great selection of different blends and all their matcha comes from the Yahagi river in Japan, which is where the best matcha in the world is produced.
For many people, Amazon is the most convenient place to buy tea. Most of their matcha is not that great, but they do carry DoMatcha, which is a reputable, high-quality brand:
And for cooking, you don't necessarily need the best. In fact, I often just use matcha that has gone bad or a matcha that is not ceremonial grade, like this one:
Alright, it's time to get cooking. Click on a heading in the table of contents to jump down to that section of the post.

Table of Contents
Matcha Snack Recipes
Matcha Breakfast Recipes
Main Dishes
Matcha Dessert Recipes
Matcha Drink Recipes