When is the perfect time for tea?
Trick question. It's always a great time for tea!
Had a great day? Celebrate with tea!
Had a horrible day? Have a cup of tea to melt away the stress.
Cold? A nice hot cup of tea will warm you. Hot? Have some refreshing iced tea.
Feel like eating something sweet? Yes, tea can help with that, too!
There are tons of wonderful recipes that incorporate various different types of tea.
Keep reading for 5 of my favorite tea dessert recipes. A big reason I love them is that they are all easy to make. If I can do it, you certainly can!
5 Best Tea Dessert Recipes
These wonderful tea recipes are listed in no particular order. All are great and you won't regret making any of them. I recommend starting with the one that sounds best to you, or the one for which you already have the most ingredients (my usual strategy).
White Chocolate Raspberry Tea Almond Bark
White chocolate, raspberry and almond. How can you go wrong with that? And it's easy to make, to boot!
Ingredients
16 ounces chopped white chocolate
1 tablespoon of raspberry tea
¼ cup of dried raspberries (preferably whole)
¼ cup of roasted almonds (preferably roughly chopped)
½ teaspoon of some kind of sea salt (optional, not necessary if you don't like it)
Instructions
You first need to line a baking sheet with parchment paper and set it aside. Then, melt 3/4 of the white chocolate and ½ tablespoon of tea in a bowl. We recommend using a saucepot filled with a few inches of gently boiling water with a glass container on top, if you don't have a double boiler. When it melts evenly, stir in the rest of the chocolate.
Pour the chocolate onto a sheet lined with baking paper and spread evenly. It would be best to use an offset spatula. Be especially careful because the chocolate must not harden completely. While it is still wet, sprinkle it with the remaining tea, dried raspberries, and chopped almonds. You can even use pink Himalayan salt or other sea salts, if you like a salty contrast in sweet dishes.
After you're done, let it sit at room temperature for at least two hours. That's roughly how long it takes for the chocolate to harden sufficiently. After standing for long enough, the dessert is ready for consumption. Feel free to cut it into different shapes like rectangles, or triangles, or break it up by hand to make candies or pieces of bark.
Brown Sugar Jasmine Tea Caramels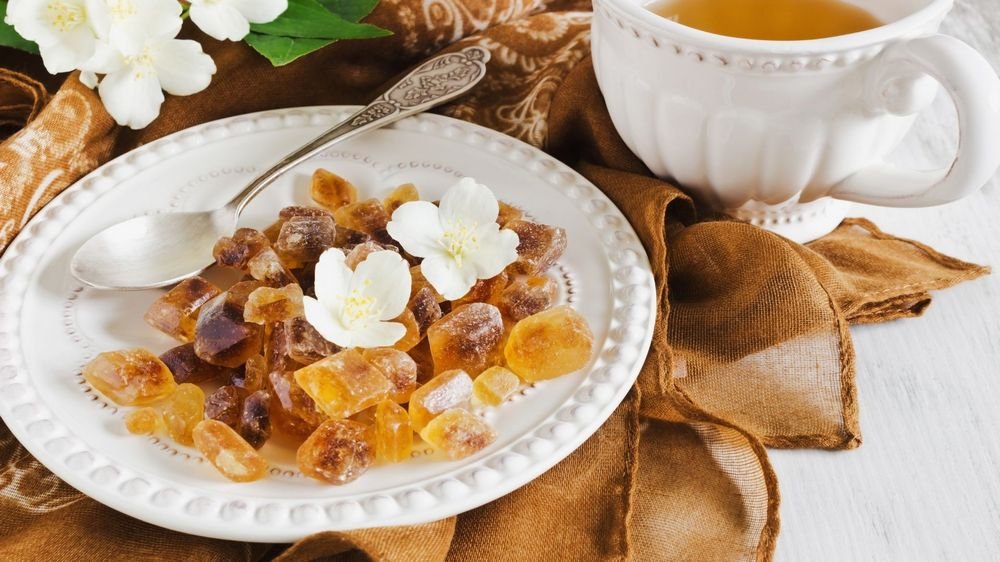 To be honest, hardly anyone needs a special reason to bite into this pure chocolate delight, but let us give it to you anyway. For starters, jasmine tea has numerous metabolism-boosting properties.
In addition, it is known for helping to protect against various infections as well as against Alzheimer's and Parkinson's disease. Jasmine tea can have a lot of caffeine though, depending on the type of tea used to make it, usually white (more caffeine) or green (less caffeine).
This is one of the best tea-based dessert recipes because it contains no artificial flavors or coloring. Also, unlike many store-bought treats, these desserts are only 58 calories each.
Ingredients
1 cup half & half
2 tablespoons jasmine tea (try to find loose tea, the best quality you can get your hands on)
1/4 cup butter (preferably diced)
1 cup sugar brown
1/2 cup light corn syrup
vanilla extract
a bit of salt
Instructions
Find a pan approximately 8×8 inches in size and line it with parchment paper that needs to be greased with butter.
Heat the half & half but don't let it boil. Put a tea bag in, and let it stand for up to 3 minutes.
If possible, use a slightly heavier saucepan in which you will put the butter and brown sugar and mix until it is completely melted and combined.
After that, add corn syrup, salt, and previously prepared jasmine-infused half & half to the mixture. The mixture should be stirred and cooked until a candy thermometer reads 244 F.
The last step is to add vanilla extract; you can add it according to your preference, most people choose 1 tbsp.
Once it cools down, cut into small squares and wrap in wax paper and that's it. You have prepared your brown sugar jasmine tea caramels.
No-Bake Matcha Cheesecake
No-bake matcha cheesecake is not only fluffy, creamy, and rich, but it's so easy to make that it's nearly impossible to make a mistake. One of our favorite things about this matcha green tea dessert recipe is that it doesn't involve eggs or baking.
Ingredients
Cream cheese (it is recommended to soften at room temperature)
Whipping or heavy cream
Confectioner's sugar (a much better option than regular granulated sugar as it will help thicken your cheesecake)
Matcha powder (the best quality you can get your hands on)
Vanilla extract
Crackers (the type of your choice)
4 tablespoons of melted unsalted butter
Brown sugar (a much better option than regular granulated sugar as it will add the much-needed moisture)
Instructions
First, prepare the pan. All you need to do is use unsalted butter to stick the parchment paper onto the baking pan of your choice.
Grind crackers into fine crumbs using a food processor. Crush enough biscuits to fit in 1 cup. Once done, mix the cracker crumbs, 4 tablespoons of melted unsalted butter, and 2 tablespoons of brown sugar in a separate bowl.
Press the mixture well into the bottom of the pan until it is compacted evenly in all parts. To make it easier, you can use the back of a large spoon or the bottom of a glass. Once done, set aside.
Whip the whipping or heavy cream (2 ¼), we recommend that you do it for at least 5 minutes or until stiff peaks form. After that, set it aside in the refrigerator.
The next step is the most important, namely the preparation of the matcha cheesecake layer. To make it, mix matcha powder (2 ½ tablespoons), and water (4 ½ tablespoons) in a small bowl to form a paste. After that, mix the cream cheese, powdered sugar, and matcha paste and beat with a mixer for about 2 minutes or until the mixture becomes soft and easy to spread. When done, set aside.
Make real homemade vanilla cream by mixing and blending 8 oz of the softened cream cheese, 3/4 cup of powdered sugar, and 1 tablespoon of vanilla extract. After putting all the ingredients in a bowl, mix with a mixer until the mixture becomes soft and spreads easily, then set aside.
Fold half of the previously made whipped cream into the matcha-cream cheese, making sure that everything is nicely combined.
Fold the remaining half of the whipped cream into the vanilla cream cheese mixture making sure that everything is well-mixed.
Spoon the vanilla cheesecake mixture onto the pressed crackers, then spread the matcha cheesecake mixture evenly over the vanilla cake layer.
After you finish the cake, you can decorate it with grated white chocolate or with a little more matcha powder. It all depends on your preferences. It is very important to leave the cake to harden well in the refrigerator for at least 6-8 hours before serving.
Find some more matcha cheesecake recipes here. We believe that you will be as delighted with the various combinations as we are.
White Chocolate Almond Butter Cups
All peanut butter cup lovers rejoice, because we have a treat for you! It might sound impossible, but we managed to find the perfect version of this recipe that can shrink your waistline instead of expanding it.
Matcha is undoubtedly a superfood, but did you know that almond butter is rich in manganese, a nutrient that plays one of the most important roles in a healthy metabolism? Find out below how to prepare this indescribably delicious and healthy shockingly dessert.
Ingredients
White Chocolate Chips, 10 oz.
1 teaspoon coconut oil
½ cup almond butter (you can add more or less depending on how much you like this ingredient)
Between ¼ and 1+ teaspoons of matcha (depending on your preference)
Instructions
The first thing you need to do is melt the white chocolate chips and coconut oil together. We recommend using a saucepot filled with a few inches of gently boiling water with a glass container on top, if you don't have a double boiler.
When everything is nicely melted and mixed, remove from heat and immediately divide into two separate bowls. Then mix the matcha until smooth in one of the bowls.
The second thing you need to do is to prepare the muffin tins, then put about 1 teaspoon of white chocolate in each tin, and gently stir to cover the bottom completely. Once finished, the filled molds need to be chilled in the freezer until set, which usually takes about 20 minutes.
Scoop about ½ teaspoon of almond butter into each cup. It would be best to put it in the freezer first to set so it's easier to work with. After that, all you have to do is cover each one with the remaining chocolate and freeze it until firm.
Chai Tea Latte Popsicles
These Chai Tea Popsicles are a great way to get your caffeine and sugar fix at the same time. This is a great tea-based dessert recipe, because it is a low-cal, low-sugar treat ideal for those hot summer days.
A quick note. Yes, I know that chai and tea mean the same thing and I hate the phrase "chai tea", but unfortunately it has become commonplace. So I have to use it, too.
Ingredients
1 ½ cups of quality Chai Tea
1 cup of milk
1 ½ cup heavy whipping cream
2 tablespoons of white sugar
Instructions
The first thing you will need to do is steep 2 bags of chai tea. In the meantime, choose a clean, smaller bowl in which to whip milk, whipping cream, and sugar. Once you're done, stir 2-3 tablespoons of the cream mixture into the tea.
The ice cream must be in layers that need to be added alternately. We recommend adding 1 tablespoon of the mixture to the popsicle molds and letting the mixture freeze for half an hour before adding another layer. Repeat the procedure until all the mixture is used up. If you pour into classic molds, you should get at least 10 Chai Tea Popsicles from these measurements.
Tea Dessert Recipes: Final Thoughts
These are our favorite tea-based dessert recipes. What do you think? Which one sounds best to you?
No matter what flavors you prefer, we hope there is something on this list of tea dessert recipes to satisfy everyone. Now all that is left for you to do is choose your favorite and start mixing those ingredients!