Jasmine tea has a ton of caffeine.
It also has very little.
The truth is: how much caffeine is in your jasmine tea can vary greatly.
For that reason, we can't simply give you an amount and call it a day.
We can give you a range, but it is a large range. What we need to do is explain what factors affect the amount of caffeine in your jasmine tea.
That way, you can determine whether you have a variety with a lot of caffeine or one with only a little. And you can make better decisions when buying jasmine tea, so you get one with the caffeine content you want.
How Much Caffeine In Jasmine Tea?
Jasmine tea has about 25 milligrams of caffeine in an 8-ounce cup on average. But the amount can vary greatly.
It can be anywhere from 15 to 60 milligrams depending on how long you steep it and the way the tea leaves were grown and processed.
To explain, let's look at how jasmine tea is produced.
How Jasmine Tea Is Produced
Making jasmine tea is more complicated than other blends. You can't mix the ingredients yourself. I mean, you can, but it's not worth the effort.
The first step is layering the jasmine flowers on top of the tea leaves. You want to use fresh blossoms during the evening because this is when the flowers release most of their scent.
Once the flowers and tea leaves are mixed, place a weight on top of them to press them together to combine the flavors.
You'll need to leave the weights on for at least one day, but it can be up to three weeks. The length of time has a major effect on the taste. Some tea makers repeat this process several times to create a more potent flavor.
This step does not affect caffeine content in jasmine tea. But the tea leaves you use does.
Unlike some blends, jasmine tea is not a specific mix of ingredients that is the same every time. You can use many different bases for it.
The most common base is green tea (see our article comparing green tea vs jasmine tea for more), but there are also many jasmine teas made from white tea or black tea. The type of teas used is one of the main factors that affects how much caffeine is in a regular cup.
Type Of Tea And Caffeine
Green tea is by far the most common type of tea that is infused with jasmine, with oolong, white and black also being used. But you can't just say that black jasmine tea has more caffeine than green, for example.
Which tea has the most caffeine is a complicated topic. It is a common misconception that black tea contains higher levels of caffeine than green or other types.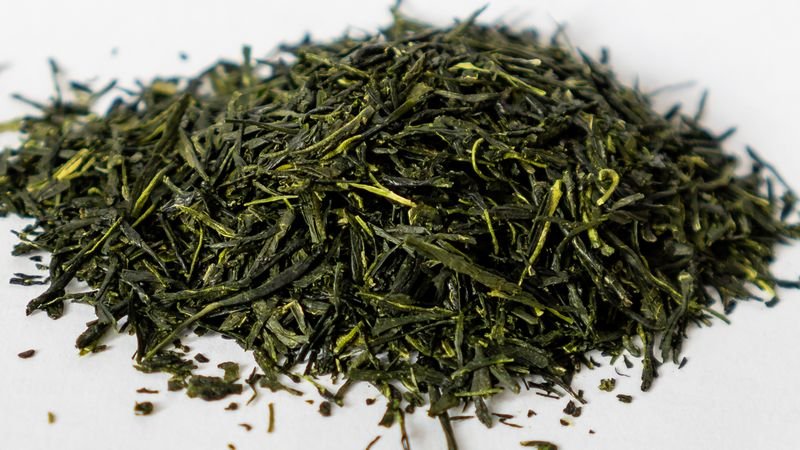 The caffeine content depends on a number of factors, but the type of tea is not one of them.
In general, younger tea leaves contains more caffeine.
This means that jasmine silver needle tea contains more caffeine than most. It is made with white hair silver needle white tea, which contains only the young shoots of the tea bush.
However, steeping time also plays a major role. And you don't generally steep white tea as long as black.
For that reason, your cup of black jasmine tea might contain more caffeine than your green or white, despite the green or white leaves actually having a higher caffeine content.
Let's take a look at the main factors that affect the caffeine content of tea.
Leaf Processing
The way the tea leaves are processed determines the type of tea and thus plays a significant role in determining the amount of caffeine in jasmine tea.
There are three main factors here: the level of fermentation, the way the tea is heated to stop fermentation, and whether the whole leaves are ground up, as in matcha processing.
Level Of Fermentation
Tea leaf fermentation is not the same thing as fermenting alcohol or other types of products. Rather, the fermentation of tea leaves refers to how much enzymatic oxidation freshly-picked tea leaves undergo.
Not fermenting the leaves at all produces teas that retain significant amounts of their original flavor. Green tea is not fermented.
The reason green tea leaves are the most popular choice for making jasmine tea is that it does not have strong competing scents to overwhelm the jasmine. The same goes for other teas infused with fruits or herbs.
Partial fermentation results in oolong tea. There is a great variety of oolong teas, due to large variation in the amount of oxidation.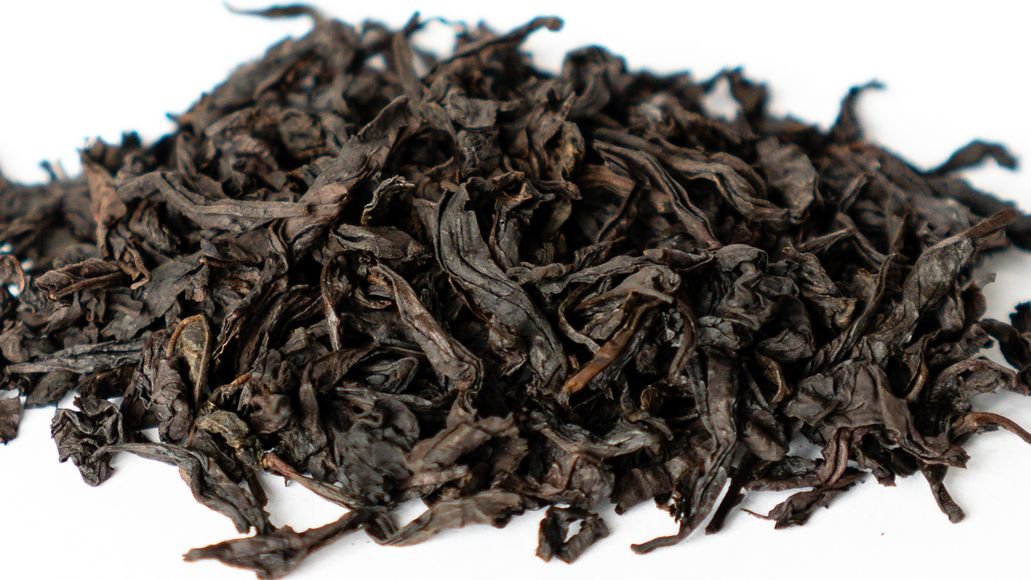 Light fermentation is 10% to 20% fermented. Tie guan yin is a good example of a lightly fermented wulong tea.
These teas are also popular choices for jasmine tea, although for slightly different reasons. Lightly fermented teas tend to have a floral scent, and that blends well with the jasmine.
Medium fermentation is 20% to 50% fermented. These teas tend to range from yellow to brown in color. They are not as common with jasmine, since they have a stronger flavor.
Heavy fermentation covers teas that are 50% to 80% fermented. These are the stronger oolong teas, like Big Red Robe tea. They are rarely used to make jasmine tea.
Fully fermented teas are known as black tea, and they typically exhibit scents of ripe fruit or sugar. These teas tend to have a bolder flavor, which can overpower the jasmine scents and flavors.
Post-fermented teas include pu-erh tea. These teas tend to have a strong, earthy flavor, which makes them unsuitable as a jasmine tea.
Steamed Vs Roasted
Tea leaves begin to oxidize (ferment) the moment they are picked. You halt the fermentation process by heating the leaves. Steaming and roasting are the two methods processors use to stop oxidation.
Steaming is the favored method for making green tea in Japan. It retains more of the natural smell and flavor of the leaves. It also keeps more of the nutrients intact, which results in a higher caffeine content.
Chinese teas tend to be roasted in stead of steamed. This is usually done by pan-frying them. Roasting results in a sweeter, less grassy flavor and odor. Roasted teas tend to have less caffeine than steamed.
How Matcha Processing Is Different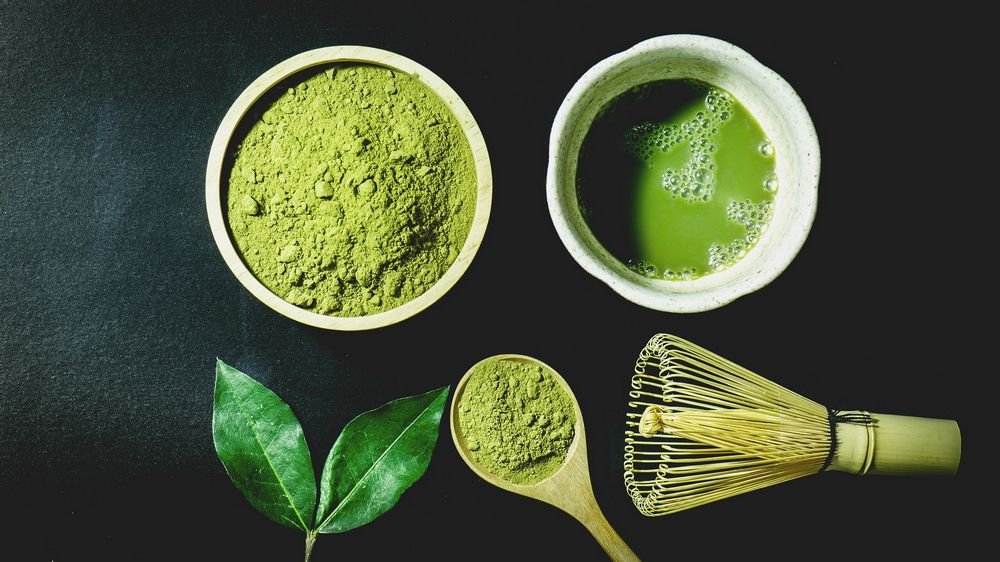 Matcha processing is different from regular tea leaf processing. The leaves are air-dried on a flat surface and the veins and stems are removed. The remaining parts of the leaves are then ground into a powder.
Since the whole leaves are consumed, this results in a much higher caffeine content in your cup. One teaspoon of matcha powder, which is about the right amount for an 8-ounce cup of tea, contains about 70 mg of caffeine.
Growing Conditions
The growing conditions of the tea plant are another major factor that affects the caffeine content of jasmine tea.
Sun Exposure
Tea plants that have a lot of exposure to the sun have less caffeine than plants grown in the shade. The reason for this is that tea plants that spend a lot of time in the shade try to spread their leaves out wider so they can catch as much sunlight as possible.
This process increases the amount of both chlorophyll and caffeine in the plant, creating a mellower and ultimately better tea. Many of the top teas are shade-grown, like gyokuro or dragon well.
Growing Altitude
The growing altitude has an enormous impact on the overall flavors of tea. Generally, high-altitude teas are more prized, with a better flavor and higher nutritional content. This also means more caffeine.
The main reason for this are the rougher growing conditions. Tea plants that grow in lower elevations enjoy good weather and nutrient-rich soil. They don't have to develop deeper roots or work as hard.
In contrast, tea plants that grow at high altitudes have to send more carbohydrates to their leaves, which ultimately makes them taste better.
Plants that grow at higher altitudes also don't have to contend with as many pests, so they don't have to produce bitter pest-control compounds.
Finally, high-altitude plants often experience a lot of fog, which reduces their sun exposure and has the same effects as described above.
Temperature
Temperature usually goes hand-in-hand with altitude variations, so it's difficult to separate the exact effects of temperature from the effects of growing in high or low areas.
With that said, colder temperatures typically slow the growth of tea plants (and most other plants). This means that they tend to produce more essential oils and other chemicals in their leaves. This typically enhances the amount of caffeine within the leaves.
Humidity
High levels of humidity soften the flavor of tea leaves. Humidity can also make the leaves noticeably more tender, which makes it easier to extract caffeine during the brewing process.
If the humidity is high enough to produce fog, that has the same effect as growing tea leaves in the shade and produces darker, richer leaves with more caffeine and other nutrients.
Steeping Time
Steeping time has a major impact on how much caffeine you'll get in any cup of jasmine tea. The longer you brew your tea, the more caffeine you can expect in your cup.
You might think you could simply brew the tea for 20 minutes, to get an especially caffeine-rich cup, if you want a stronger boost. But it doesn't quite work that way.
Tea also contains compounds known as thearubigins, and if you keep steeping your tea, you'll get more of those in your drink.
Caffeine binds to thearubigins the same way it binds to neuroreceptors in the brain, which means that your body will get less usable caffeine when you brew for more than five minutes, even though there's technically more caffeine in the cup.
For that reason, there isn't much point in brewing jasmine tea for longer than five minutes.
How Much Jasmine Tea Can I Safely Consume Each Day?
The Mayo Clinic reports that most adults can safely consume about 400 milligrams of caffeine each day. However, this can vary somewhat by person.
Women who are pregnant, who want to become pregnant, or who are breastfeeding children should limit their caffeine intake.
When determining how much caffeine you can drink a day, remember that 400 milligrams of caffeine is about 16 eight-ounce cups of jasmine tea.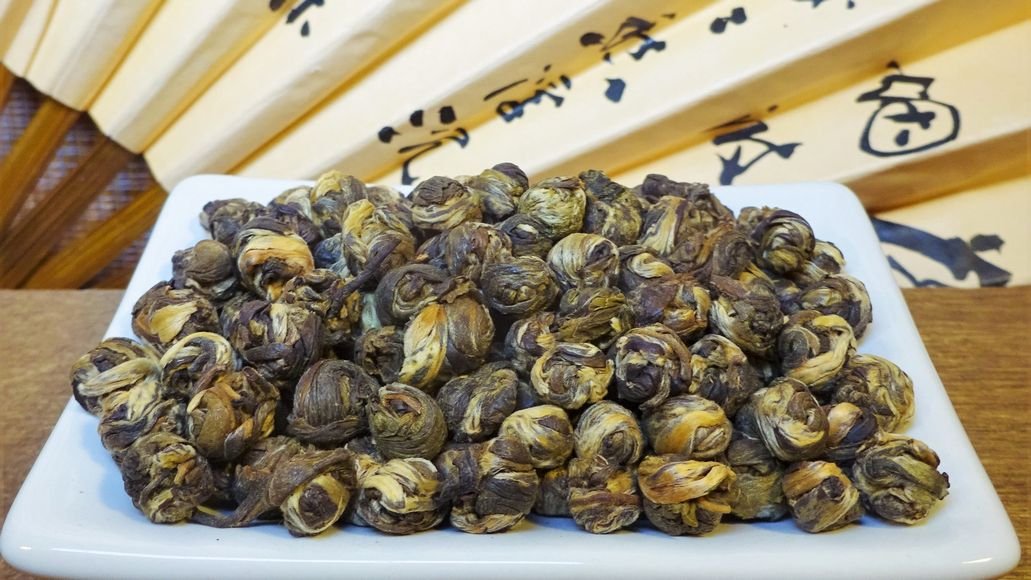 This assumes you're drinking a regular variety based on green tea. Remember that many factors can affect how much caffeine is in a cup of jasmine tea, and therefore how much you can consume safely.
You will never find a cup of jasmine tea with 100 milligrams of caffeine, so we can use that number as a safe estimate. Based on that, you could drink four cups safely, no matter the variety.
That said, your jasmine tea will almost certainly have less than 100 mg of caffeine. Personally, I drink around ten cups of tea per day and I have not noticed any adverse effects. Except for having to pee more often.
Caffeine In Jasmine Tea: Final Thoughts
The amount of caffeine in jasmine tea varies greatly. It depends on a number of factors, most of which have to do with the type of tea used to make the jasmine variety.
The way the tea leaves were grown and processed has the greatest impact on the caffeine content. The steeping time also makes a difference.
Some people add additional herbs or fruits to their jasmine tea. These generally do not contain any caffeine and thus do nothing to change the content in the tea. Our article on the caffeine content of black currant tea goes more into this issue.