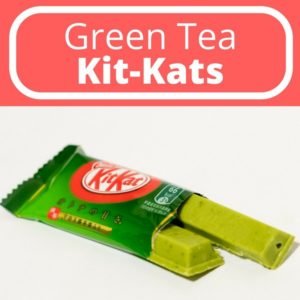 Leave it to the Japanese.
Of course they came up with matcha green tea Kit Kats.
They are, after all, well-known for adding unusual flavors to familiar food items, like Hot Chili Squid flavored or Seaweed flavored potato chips (an exhaustive list would go on for pages; just browse through the Japanese snacks section on Amazon to see what I mean).
As a tea-related site, I'm only interested in the Green Tea Kit Kats.
Matcha Kit Kats are only one of the many interesting (and usually pretty good) Kit Kat flavors available in Japan, but they're my favorite.
Among the ones I've tried, anyway.
I still have a whole bunch of Kit Kat eating to do. There's: Rum Raisin, Wasabi, Baked Sweet Potato, Strawberry Cheesecake, Mixed Citrus, Shinshu Apple, Houjicha (Roasted Green Tea) and many more. Check out the Japanese Kit Kat section and see for yourself.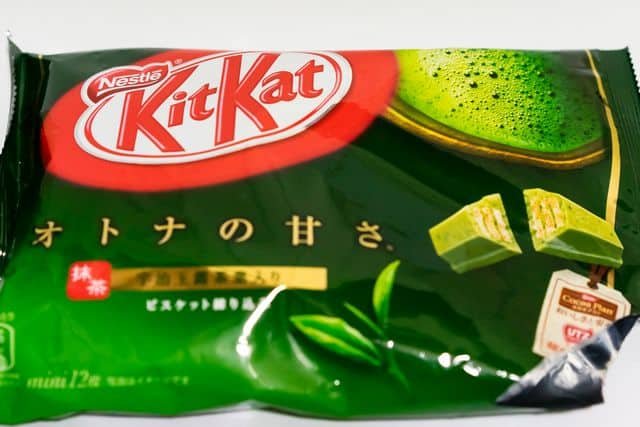 Green Tea Kit Kat Review
When I first saw these, I thought: "Brilliant. Way to take something incredibly healthy and make sure that it, too, can now make us fat." And while they're not really THAT unhealthy (66 kcal per double bar), there's still some truth to that.
But here's the thing: they're REALLY GOOD!
If you've ever had real Japanese food, you'll know that Japanese flavors are very subtle. And that is most noticeable with their desserts. They're sweet, but never too much, especially their tea-based desserts.
The same with these Kit Kats—just the right amount of sweetness and a slight hint of that matcha bitterness. The Japanese on the packaging says "Adult sweetness" and that's a pretty good description.
I don't generally like sweet foods to be honest, but I love these things.
To be fair, I would like them to be a little more bitter, but I also like eating bitter melons, so maybe I'm not the best person to judge an appropriate level of bitterness. Most people seem to think they're perfect the way they are.
I'm currently in Japan for three months and while most of my matcha comes in liquid form (as it should), I naturally can't resist trying matcha flavored snacks, like the infamous ice cream or these Kit Kats.
The main reason I came to Japan is the food, so why wouldn't I try as many different things as I can? Plus, the kit kat version lasts longer than the tea powder. Matcha goes bad relatively quickly.
Where to Buy Green Tea Kit Kat
If you're curious, you might be able to find Japanese Kit Kats, or other Japanese snack foods, in an Asian specialty supermarket and.
And you can always get them here on Amazon:
The Amazon prices don't seem too bad. I'm paying just under $2 here in Japan and the exact same bag on Amazon is generally 2 to 4 times that. It fluctuates a lot.
Alternatively, if you're lucky enough to have the time and money, you could make the trip to Japan and just eat everything—unusual Kit Kats and anything else you can find. Not only is the food amazing, but you get free tea with everything.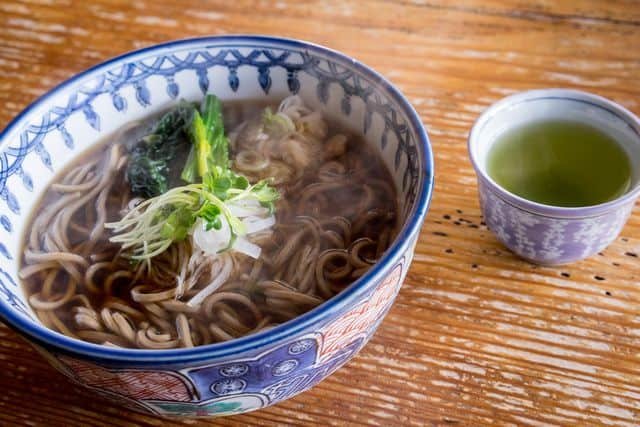 A word of warning, though. The Kit Kats could be a bit addicting. As I mentioned above, one double bar has 66 kcal, but, depending on your willpower, you may want to multiply that by 12 (there are 12 in a bag). You've been warned.
Japanese Green Tea Kit Kat: Final Thoughts
While nothing beats a hot cup of actual matcha green tea, there are also a lot of wonderful food recipes that make use of this green tea powder. Most of these recipes are sweet, but if they are original Japanese recipes, they are never too sweet.
In Japan, you can buy tons of ready made snack that incorporate matcha. Most of those are sweet, too. And most are only available in Japan. But many worldwide snack food brands have started coming out with matcha flavored versions of their snack. Not all are good, but the matcha flavored Kit Kats are an exception.
Matcha Kit Kats are also one of the first green tea flavored snacks to be exported to other countries, so perhaps it's a bit surprising they're still one of the best. At least to my taste. If you like your sweets really sweet, you may not be a fan.
But there's really only one way to find out. Go buy yourself some matcha green tea flavored Kit Kats and see for yourself if you like the taste. But be warned: they can be a bit addicting!