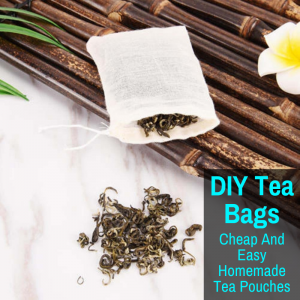 You know loose leaf tea is better than tea bags.
It tastes better and has more health benefits.
But tea bags are just so much easier and more convenient!
If only there were a way to get the best of both worlds, right?
Well, there is. Make your own bags.
But isn't that even more work than brewing loose leaves?
Yes and no.
It takes work to make the bags, but you can do a whole bunch at once, then enjoy the fruits of your labor for weeks, even months, to come.
Even better, you can get pre-made bags that you only need to fill yourself. These make the whole process even simpler and they actually cost less than making your own bags, too!
I will detail both options, along with one more, a reusable tea bag, below. First, let's take a closer look at why you really want to stop using store bought tea bags.
Why DIY Tea Bags Beat Store Bought
Knowing that store-bought tea bags don't taste as good as tea made from loose leaves and don't come with many of the same health benefits, why do we continue to buy and use them?
In a word: convenience.
They're easier to use and we can make a cup of tea faster than the time it takes to break out the tea leaves, and fill an infuser. But for the most part, only beginning or casual tea drinkers prefer to use ready-made bags.
Most tea drinkers know that quality trumps convenience and as a result they brew loose tea leaves, not bags.
But if you're constantly on the go, or don't have the time or tools to brew loose leaf tea, using tea bags provides the type of convenience you can't get from making your tea from loose leaves.
Sometimes you simply don't have a choice. Given that, what's the real truth behind processed bags? Are they really that bad for you?
These bags consist of porous, small pouches that contain the stems and pieces of tea leaves. They're available in a wide variety of teas, including herbal and actual tea made from the camellia sinensis plant
Unfortunately, they simply can't give you the flavor that loose-leaf does. Or the full health benefits of tea.
The bags themselves are made out of food-grade plastics or filter paper. The bags basically just work as tea infusers. They have been used for centuries in the tea industry.
The first ones were manufactured in Germany in the 1920s, and have come a long way in terms of quality and even design. Despite the advances they still contain lower quality leaves and some of them impart a paper (or metallic, from the staple) flavor on your tea.
Most bags contain tea dust and stems, which means you're not able to get the same level of nutrients or flavor as you can from using loose-leaf.
So what do you do if you want the convenience of bags, but can't live with the drawbacks of lower quality tea leaves and fewer health benefits?
You make your own.
Of course, making your own tea bags does take time and effort, which may not always be worth it.
Are DIY Tea Bags Worth The Effort?
People don't even consider making their own bags simply because it's so much easier to run out and buy a box of pre-made ones.
Who wants to take the time and effort to make their own?
But if you're serious about your tea, the taste, quality, and aroma, then you know that the extra effort will be worth it.
And the effort comes all at once. Make a whole bunch of bags in one sitting, then have them ready for use whenever the mood strikes.
Besides, as we'll see in a minute, there are options that eliminate much of the work.
If you've ever had loose leaf tea then you know the difference between store bought bags and a cup of tea made with loose lea leaves is like night and day.
And aside from the better flavor, you're also getting more of the health benefits. And for many, that's a primary reason why they drink it.
Making your own tea bags at home, ensures the leaves inside are high quality. You get all the benefits of loose leaf tea, with the convenience of tea bags.
It does require some effort, but if you make a bunch of bags in one sitting, you can reap the benefits for weeks and even months to come. Plus they allow you to make your own mixes, like a nice chai tea blend with all the spices already in the bag.
Another advantage is that you can make your tea bags with 100% biodegradable materials. Most store-bought tea bags are not compostable, but if you make your own, you can use materials that are.
And there's one more benefit of loose tea I haven't yet mentioned: the leaves can be reused. That means you can use homemade tea bag more than once. With most types of tea, you end up getting 2-4 steepings out of one bag.
DIY Tea Bags: Three Options
There are three main options, when it comes to making your own tea bags. I'll start with the easiest, buying ready-made bags that you simply need to fill. Then I'll cover making your own bags from scratch using coffee filters.
Finally, I'll show you some reusable tea bags. These are basically just like using any other infuser with loose tea. This means you have to fill them before each use (instead of having the bags pre-filled for faster use, but for some, it may be just what you're looking for.
Filling Your Own Ready-Made Tea Bags
This is the easiest way to make your own tea bags and definitely my preferred option.
It eliminates the need to fashion the bags yourself and pre-made bags are actually cheaper than most coffee filters, which you would need to buy to make the bags from scratch following the method detailed below. I recommend getting larger ones, so that the tea leaves have more room to unfurl.
You can get pre-made bags on Amazon. These are a good size.
Fill each bag with one teaspoon of leaves per cup. So if you are using a regular sized tea cup, use 1 teaspoon. If your mug is larger, use two. This is true whether you are using regular tea leaves or using high quality herbs for your tea.
Pre-fill as many of these bags as you like, so that you have them ready to go at a moment's notice whenever you feel like having a cup of tea.
Making Your Own Tea Bags From Coffee Filters
This takes more work, but you can fashion the bags into your desired shape or size. I prefer just buying ready-made bags, since they're both cheaper and easier, but many people prefer to make everything from scratch.
If you're ready to get started, the first step is gathering some supplies. Here's what you'll need.
Required Supplies To Make Tea Bags
Loose-leaf tea (Not sure which is good and where to get it? Read this.)
Heavy thread or string
Coffee filters
Stapler
Scissors
Paper to make a tab
Follow these steps to make your homemade tea bags.
Step One
Start off by taking one coffee filter and flattening it out. Cut off a small piece of the filter from each side in order to get a rectangular shape.
Step Two
Measure out one teaspoon of loose-leaf tea, placing it in the center of the coffee filter.
Step Three
Fold the filter in half lengthwise, making sure to close the tea inside.
Step Four
The long sides of the filter should be folded back towards the middle. Making small folds you should fold it a total of three times.
Step Five
After the tea is completely folded inside the filter, roll the package around so that the tea is perfectly in the center. The folded seam of the filter should go down the middle of the package.
Step Six
Fold the filter in half, cutting approximately three-quarters off the top. This will give the package a traditional tea bag shape.
Step Seven
Now, take the two top edges, folding them in so that the top comes to a nice point. After folding over the point of the filter use a four to five-inch piece of string, stapling it to the top of the package. Doing so will seal the package shut while attaching the bag's string.
Step Eight
Take a two-inch piece of paper and fold it in half. Take the end of the string and place it inside the paper, stapling it in place. Now you have the tab for your tea bag, which you'll hold onto when you steep the tea.
Tips For The Perfect Homemade Tea Bag
When you're making the tea bags, you want to make sure to leave extra space, since you'll be using loose leaf tea. The extra space gives the leaves the room they need to expand and fully seep their flavor into the water.
Try making one or two bags at first and steeping them to determine if you have the dimensions correct. It may take a few tries, but you should be able to easily design the right sized bag based on the type of loose-leaf you're using. Once you've got it right, use those dimensions to make as many as you want.
Reusable Silicone Tea Bags
The final option are resusable bags made from silicone. This is basically just like using a tea infuser with loose leaf tea, in that you need to fill the infuser each time you use it and wash it out afterwards.
Thus, it is not quite as convenient as using tea bags. But it is the most environmentally friendly and also the cheapest method, since you can keep reusing the same bag over and over.
You can find resusable tea bags on Amazon: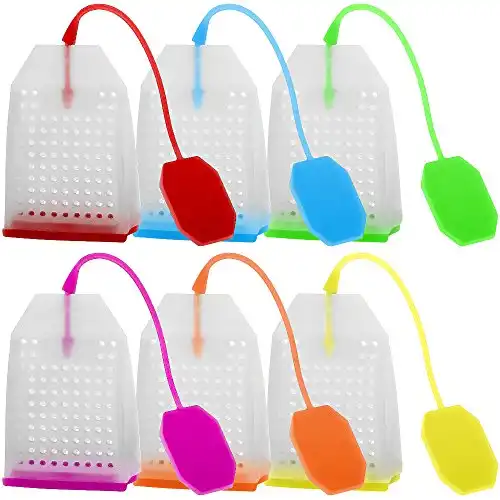 Homemade Tea Bags: Related Questions
Why Is Loose-Leaf Tea Considered Healthier?
Unlike loose lea tea which is usually whole leaves, or at least large portions of a while leaf, tea bags contain fannings, dust, broken leaves, and stems, all of which are a by-product of the the cut, tear, curl method of mass tea production.
Tea leaves are put into a huge rolling machine that's designed to fold them to release mor eof the nutrients and flavor, but also breaks off parts of the leaves. Those parts, along with other non-used parts like stems and twigs, go into the bags.
You don't get the whole leaf and because of this, the bags do not contain all the important compounds such as antioxidants and l-theanine, both of which help to boost the immune system and promote a natural detox.
How Is Flavor Impacted With Processed Bags?
Most processed bags are too small. Because of their size, they end up constricting the tea if the leaves are larger. That is why most bags contain tiny particles only. But tiny particles also cant expand, since they are tiny.
Whole leaves release their flavor by expanding in water. If they are too restricted, or just tiny to begin with, they are unable to fully infuse the water with flavor.
If you make your own bags, you can use larger leaves and also make the bags larger to allow the leaves enough room to fully expand and release all of their flavor.
Why Does Green Tea Taste Bitter?
People who are used to drinking their green tea in bag form often complain that the tea tastes bitter, but if you have ever brewed green tea in loose-leaf form, you'll know it has a very mild, almost sweet flavor to it.
In bag form, it's already dried out and you really have no way of knowing just how long the tea has been sitting there on a shelf. Making your own bags or using loose leaves will have a major impact on the flavor and aroma of the tea.
There are also a few things you can do to make the tea taste better, if you find the flavor is not to your liking. Read my article on how to make green tea taste good to learn more.
How Do I Know Which Tea To Use?
Whether you've decided to make green, oolong, or black tea bags, the quality of the leaves makes all the difference in the world. This is true whether you're using straight loose-leaf or making your own bags.
The quality of the brew all depends on the type of tea you use and how fresh it is. Quality really counts here. Make sure you always buy your tea from a reputable company in order to ensure you get the best flavor out of your leaves.
Check out my pages on the different tea types for recommendations on which ones to get and where to find them online, including Amazon, which is usually the easiest place to get them.
You can also make tea bags using old tea leaves that have gone bad. Bad leaves are still drinkable, but they won't taste as good. It's better to put them to other use, like making tea bags and using them on wounds to draw out infections.
Making DIY Tea Bags: Final Thoughts
To summarize, we've used tea bags for hundreds of years simply because they gave us a convenient, easy way to enjoy our tea, whether we're sitting in our kitchen or we're far from home.
But over the years, with the mass production of tea bags, we've ended up with a product that lacks in taste, aroma, and important nutrients.
By learning how to make homemade tea bags, you can enjoy all of the health benefits of loose-leaf and the convenience that comes with having your tea packaged and ready for steeping.
Choose a day of the week or month to make your bags. Set up your supplies and get started making enough tea to last you for the week or month, or longer. You'll have them ready any time you want some tea. They're also great for making a nice hot tea drink with alcohol.
Now you can enjoy the best of both worlds, with the convenience of the bags, and all the health benefits and flavor that you get from using only the best loose-leaf teas.