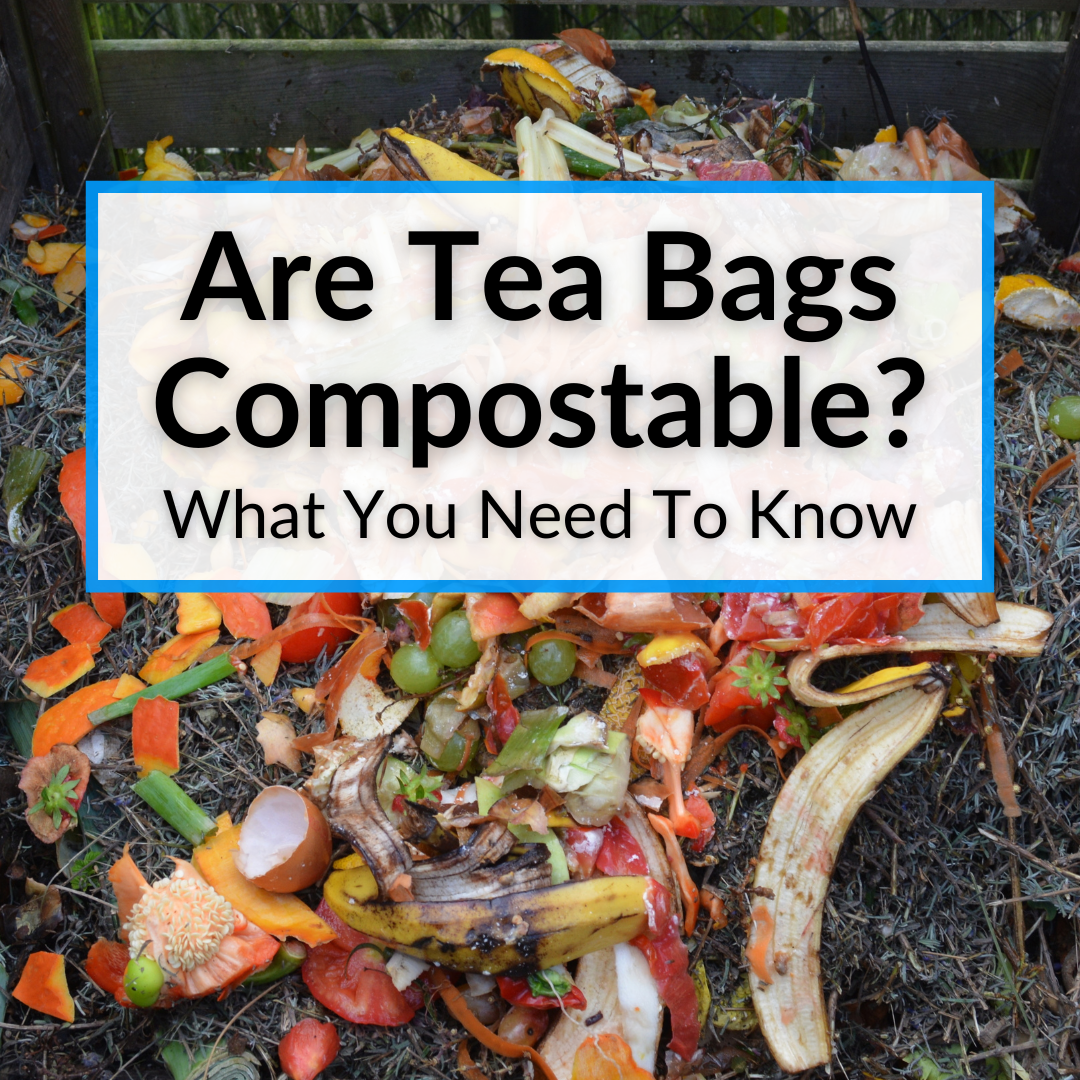 Tea bags are convenient.
They allow you to quickly and easily brew a cup of tea anytime and anywhere. All you need is a cup or glass and hot water.
But tea bags have a number of disadvantages, too.
Top on the list for me is that the quality of the tea does not come close to loose leaf tea.
Simply put: most tea bags just don't taste very good.
Another big issue is the extra garbage tea bags produce.
Are tea bags compostable, just like loose tea leaves?
This is not a simple yes or no question. Keep reading to learn everything you need to know about the biodegradability and compostability of tea bags.
Are Tea Bags Compostable?
No, tea bags are not generally compostable. The tea leaves themselves are organic and compostable, but the same is not true of the bags.
Many tea bags contain polypropylene, a synthetic polymer that is used to "glue" tea bags together and maintain their integrity, even when immersed in hot water. Polypropylene is the second-most widely produced commodity plastic (after polyethylene) and does not biodegrade.
However, you may have noticed I wrote "man" and not "all". Does this mean that there are some biodegradable tea bags out there?
Do All Tea Bags Contain Plastic?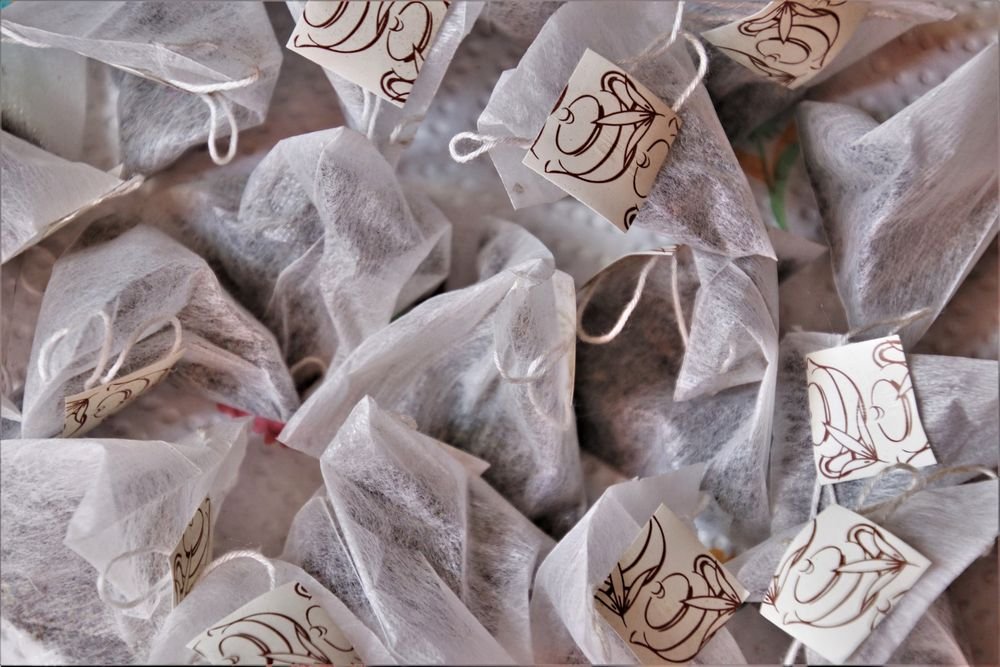 No, they do not. Most still do, but more and more companies are improving the eco-qualities of their products to make them more compostable. Or at least recyclable.
And this includes companies that produce tea bags. Tea bag producers have been steadily improving the design of their products to make them more eco-friendly. To that end, they have been sourcing alternative materials from which to make their tea bags.
Here are a few examples of compostable materials that are being used in the manufacturing of tea bags nowadays:
If you consult the packaging when purchasing your tea bags, you may find some that are made from these biodegradable materials. Such tea bags will break down over time and could be composted.
What To Do With Non-Compostable Tea Bags
If you are not sure whether your tea bags contain plastic, the first step to take is to inspect the packaging. There should be information on the packaging that tells you whether your tea bags are compostable.
If you can't find this information, you could also check the company's website for further details. If you are still struggling to find this information, have a look at the actual tea bags.
As a general rule, if the tea bags feel slippery and smooth, chances are they are not compostable. However, the leaves contained within the tea bags will be compostable.
If you have discovered that your tea bags are not compostable, you can still remove the tea leaves and add them to your compost pile. First, make sure that the tea bag has sufficiently cooled down so you don't burn your fingers.
Once it is cool enough, carefully cut open the tea bag and remove the leaves. Some tea bags also incorporate metal staples in their design. Make sure to remove these as well. The empty bag can then go into the trash, and the leaves can go onto your compost heap.
Biodegradable Vs Compostable
While both terms are linked to the ability of a material to break down, they are not necessarily synonymous terms. The term "biodegradable" means that the materials will, over time, break down into carbon dioxide, water, and biomass.
On the other hand, the term "compostable" means that not only will the materials break down, but that they will completely break down into natural fertilizers.
Materials that are compostable will eventually turn into soil, after microorganisms have eaten their way through them. More and more manufacturers of tea bags are becoming aware of the problems with traditional polypropylene-containing tea bags and are switching to either biodegradable or compostable materials. Always check the packaging to be sure.
Companies That Produce Compostable Tea Bags
There are a million and one (slight exaggeration, perhaps) companies producing tea bags and many of them are producing environmentally-friendly tea bags. Here are a few of the larger producers of tea bags that do make eco-friendly products.
Abel & Cole
Brew Tea Co.
Celestial Seasonings
Clipper
Lyons
PG Tips Pure Leaf
Pukka Herbs
Republic of Tea
Twinings
Waitrose Duchy
We Are Tea
The following larger tea-bag producing companies have not, as yet, switched to compostable materials.
Aldi
Bushells
Lidl
Lipton
PG Tips: Except for Pure Leaf teas
Taylors of Harrogate
Teavana
Tetley
Typhoo
Yogi Tea (East West Tea Company LLC)
Yorkshire Tea
However, things can change. Please always consult the packaging to be sure!
Ideas For Reusing Non-Compostable Tea Bags
Despite not being fit for the compost heap, you can still "upcycle" your tea bags to get a second use from them, instead of just throwing them in the trash. Here are a few ideas for reusing tea bags after they've been used.
Fridge Deodorizer: You can store used bags in your refrigerator to help reduce any lingering bad smells. Tea bags can combat shoe odor, too.
Natural Degreaser: You can clean your plates by soaking them in hot water and then wiping them with tea bags to remove remnants of oil.
Mouthwash: You can repurpose mint tea bags as a mouthwash by drying and rebrewing them.
Pedicure: Soak your feet in warm water with added black tea bags for an eco-friendly foot spa.
Reduce Puffy Eyes: Cool your tea bags and place them on your eyes to reduce puffiness.
Refresh Wood Surfaces: Brew your used tea bags again, then soak your cleaning cloth in the water before wiping wooden surfaces.
Use On Small Wounds: Tea bags can stop bleeding and work as a disinfectant on smaller cuts pr other wounds.
We also have a ton more ideas in this article on what to do with used tea bags.
Are Tea Bags Biodegradable: Related Questions
Next, we will answer a few common questions related to the compostability of tea bags. If you have any additional questions, please feel free to ask them in the comments below.
How Long Do Tea Bags Take To Decompose?
Tea bags that are suitable for composting may take anywhere from 3 to 6 months to decompose. The speed at which they break down depends on your soil's particular composition, along with seasonal temperature and the materials that make up the tea bags.
What Are The Benefits Of Adding Tea Bags To Your Compost?
After brewing a cup of tea, the tea leaves still contain nutrients, including nitrogen. Nitrogen is a natural fertilizer for plants that promotes healthy leaf growth. Your plants grow faster and stay healthier as a result.
How Long Can Unopened Tea Bags Be Stored?
Neither tea bags nor loose tea leaves expire. As long as they have been stored correctly, dry tea leaves and bags are typically good for at least two years.
All true teas, made from the leaves of the Camellia sinensis plant, will keep for a long time. That said, they may become less flavorful as time goes by.
Are Tea Bags Compostable: Final Thoughts
The majority of tea bags on the market are not compostable, although you can remove the leaves and add those to your compost pile. However, more and more brands are switching to compostable (or at least biodegradable) materials for their bags.
If you want to make sure your tea bags are not polluting the environment, read the packaging to verify that they do not contain any harmful materials. Another option is my favorite solution: switch to loose leaf tea and don't buy tea bags at all. It tastes so much better, on top of being far more friendly for the environment.