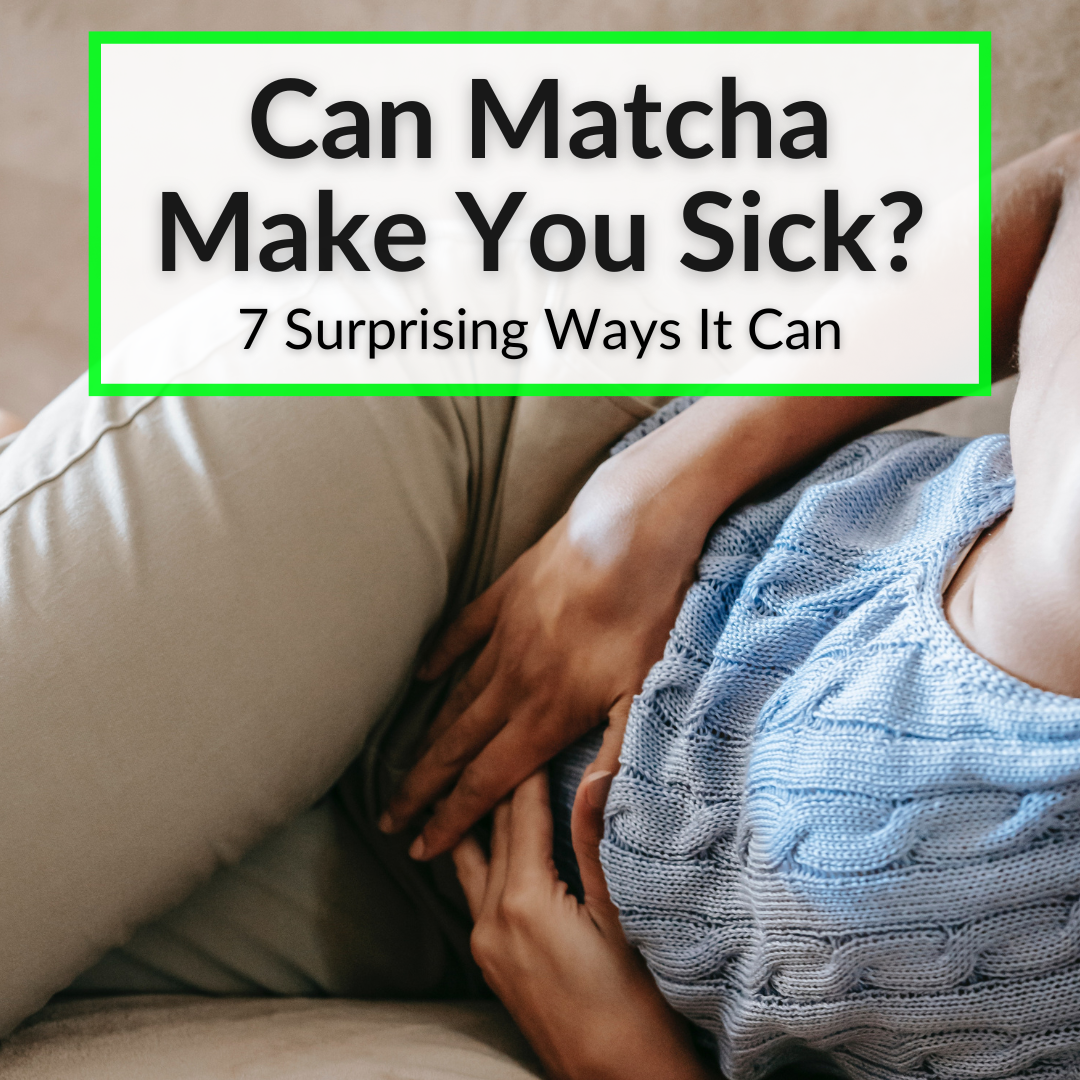 Do you feel nauseous when you drink matcha?
Or even get stomach cramps and diarrhea?
Or perhaps you feel dizzy and have a headache?
Well, you're not alone.
Is it true then? Can matcha make you sick?
It can. While most people can drink matcha and feel fine, some are more sensitive to certain components in this green tea powder.
And that can leave them with various unpleasant side effects. Keep reading to learn what types of side effects, why they occur, and what you can do to avoid (or at least minimize) them.
Can Matcha Make You Sick?
Yes, matcha can make you sick. Most people suffer no ill effects, but some do tend to experience side effects like stomach cramps, nausea, mild diarrhea, dizziness, and headaches after drinking too much of this beverage.
If you experience these matcha side effects, you may want to consider limiting your intake of this tea. You could also try having matcha on a full stomach, instead of drinking it on an empty stomach. Let's find out exactly why matcha can cause you to feel sick.
Causes Of Matcha Nausea And How To Prevent It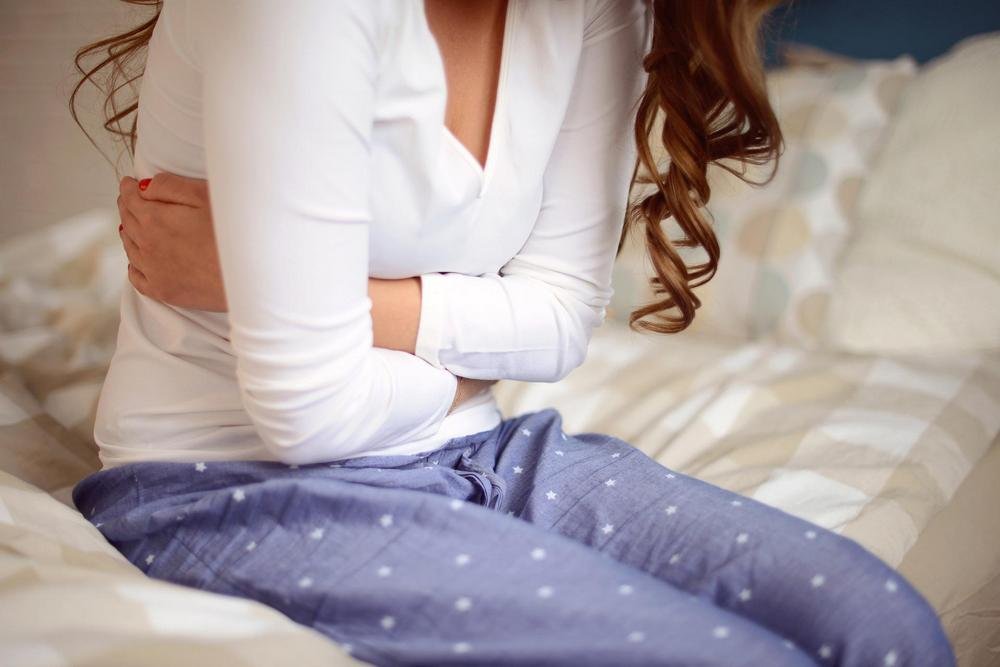 Here are seven surprising reasons some people feel sick after drinking matcha. We'll also give you tips on preventing these things from happening.
Having Matcha On An Empty Stomach
Having matcha on an empty stomach causes stomach acid levels to rise. These acids interfere with enzyme functions and upset natural digestion. This, in turn, could result in symptoms like nausea and vomiting.
What To Do
It is best not to skip breakfast when having matcha. You can also try having matcha with a light meal to see if the symptoms improve.
Adding Sweeteners To Matcha
Studies show that people who add certain sweeteners like honey, aspartame, stevia, etc. to their matcha tea are more likely to experience side effects like headaches.
What To Do
You could try having matcha without these sweeteners to prevent such symptoms. Use some lemon juice if you don't like matcha's grassy or vegetal taste. Or find alternative ways to drink matcha.
Adding Dairy To Matcha
If you have been feeling sick after drinking a creamy matcha latte made using dairy milk, it could be due to the drink's lactose content. Milk is a known gut irritant, and many people are lactose intolerant without knowing it. Drinking matcha lattes in excess could trigger symptoms like nausea, diarrhea, etc.
What To Do
Try switching to non-dairy milk alternatives like oat milk, cashew milk, soy milk, or almond milk to make your matcha latte. You can also try drinking matcha the traditional way (without milk) to prevent symptoms. Learn how to brew matcha in the traditional way.
Caffeine In Matcha
Matcha contains a good amount of caffeine, which can cause digestive issues in some people due to caffeine's known gut irritant properties. Matcha can make you poop, too. Most do not experience this effect, but the tea can cause bowel movements in more sensitive individuals.
What To Do
Most people are easily able to handle matcha's caffeine content. But if you have been feeling sick after drinking matcha, try switching to decaf matcha or simply limiting your intake of regular matcha.
Drinking Other Caffeinated Beverages With Matcha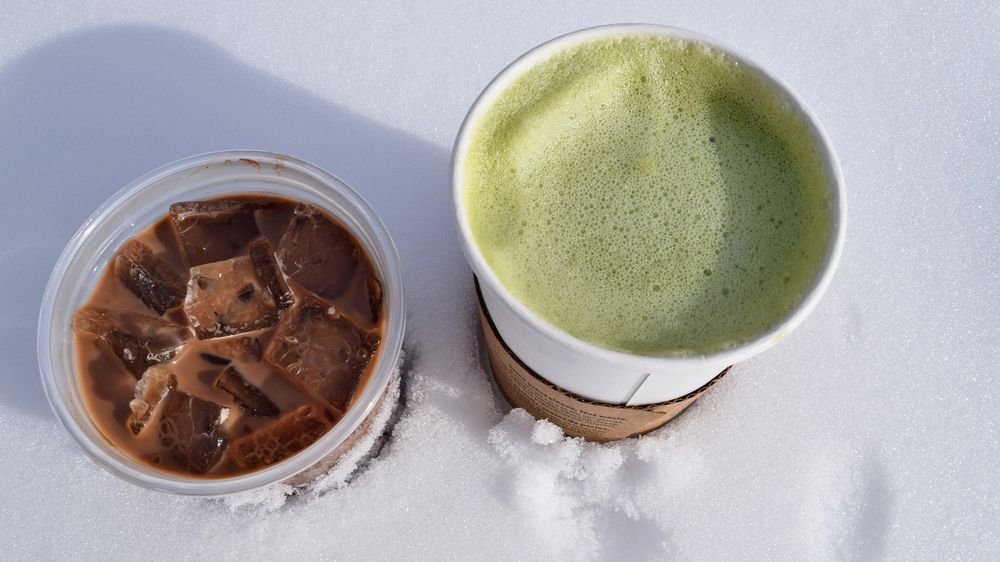 Often, people who feel sick after having matcha have also been drinking other caffeinated beverages throughout the day. Many energy drinks, sodas, and sports beverages contain a lot of caffeine. Excess caffeine can trigger symptoms like irritability, anxiety, stomach issues, etc.
What To Do
Try switching to non-caffeinated drinks or drinking water to replace lost electrolytes. Limit your intake of caffeinated drinks, and limit your matcha intake to no more than one cup.
Fiber In Matcha Could Cause Digestive Issues
Since matcha is a type of green tea, it is rich in fiber and chlorophyll. These ingredients are known to cause excessive bowel movements when taken in excess. Some people even experience mild diarrhea after having matcha due to its fiber content.
What To Do
Try cutting back a bit on your matcha consumption. You could also switch to another brand of matcha to see if the problem gets resolved.
Not Drinking Adequate Water
If you have just been drinking matcha without having adequate water, you could get dehydrated due to the caffeine in matcha. This is not common, but if you are sensitive to caffeine, too much matcha without adequate water consumption could cause symptoms like dizziness, sickness, and nausea.
What To Do
Drink plenty of water to replace the lost electrolytes while also limiting matcha consumption.
Common Side Effects Of Matcha
Drinking too much matcha could cause the following side effects in some people.
Stomach Issues
The high-fiber, chlorophyll, and caffeine in matcha could cause digestive issues in some people, with symptoms like nausea, vomiting, diarrhea, frequent bowel movements, etc.
Headaches
Some people experience headaches with the overconsumption of matcha. This may be due to caffeine sensitivity. The caffeine in matcha can also cut off blood flow to the brain and the central nervous system, triggering migraines.
Sleep Issues Or Insomnia
Matcha contains a good amount of caffeine, but not enough to cause problems for most people. However, some sensitive people could still experience sleep disturbances due to overconsumption, especially if they have it closer to bedtime.
Irritability
Drinking several cups of matcha could trigger anxiety, irritability, dizziness, and nervousness due to the caffeine content. However, these symptoms are usually only seen in caffeine-sensitive people.
Constipation
The tannins in green tea (and matcha is an even more concentrated form of green tea) are also known to cause constipation in a small percentage of people. However, it is more common for people experience to diarrhea and frequent bowel movements due to matcha's fiber and chlorophyll content, which have a laxative effect.
Why Do I Feel Dizzy After Drinking Matcha?
Matcha can make some people feel dizzy for the following reasons:
Caffeine: Matcha's caffeine content can cause dehydration and a loss of electrolytes. Too much caffeine can also cut off blood flow to the brain and central nervous system. This can trigger dizziness, convulsions, and confusion.
Not drinking adequate water through the day: If you're already consuming little water and drinking matcha all day, its caffeine could act as a diuretic, causing issues like dizziness, anxiety, and confusion.
Having too many caffeinated drinks: Overconsumption of other caffeinated drinks, in addition to matcha, can also cause excess caffeine and an electrolyte imbalance in the body, which can cause dizziness and imbalance.
How Much Matcha Can I Drink Before I Feel Sick?
The recommended quantity of matcha tea per day for healthy adults is 1 to 2 cups, which is generally 2 to 4 teaspoons of matcha per day. Most people can easily drink more.
However, if you are caffeine-sensitive, even this amount of matcha can result in nausea, diarrhea, and other side effects. If you have been drinking more than one cup of matcha and are experiencing sickness, it may be best to cut back slightly.
Is It Bad To Drink Matcha On An Empty Stomach?
Some people tend to experience symptoms like nausea, acid reflux, or vomiting after drinking matcha on an empty stomach.
You can avoid these symptoms by having matcha with a meal, or shortly after eating. Eating a small snack like crackers or a light meal before having matcha can prevent gut irritation and help keep your stomach strong.
If you're feeling nauseous with matcha, please avoid having it on an empty stomach.
Can Matcha Upset Your Stomach And Make You Nauseous: Final Thoughts
Most people feel no side effects from drinking matcha, at least no negative ones. The most they feel is a bit of an energy burst and an increase in alertness.
But some people do feel a bit sick after drinking matcha, or they suffer other negative side effects. This is nothing to worry about. It simply means you are more sensitive to certain components in the matcha.
It may mean matcha is not for you, but first you should try some of the suggestions above to try to minimize the side effects. Another option is to use matcha powder in a different way, like adding it to your food, instead of drinking it.