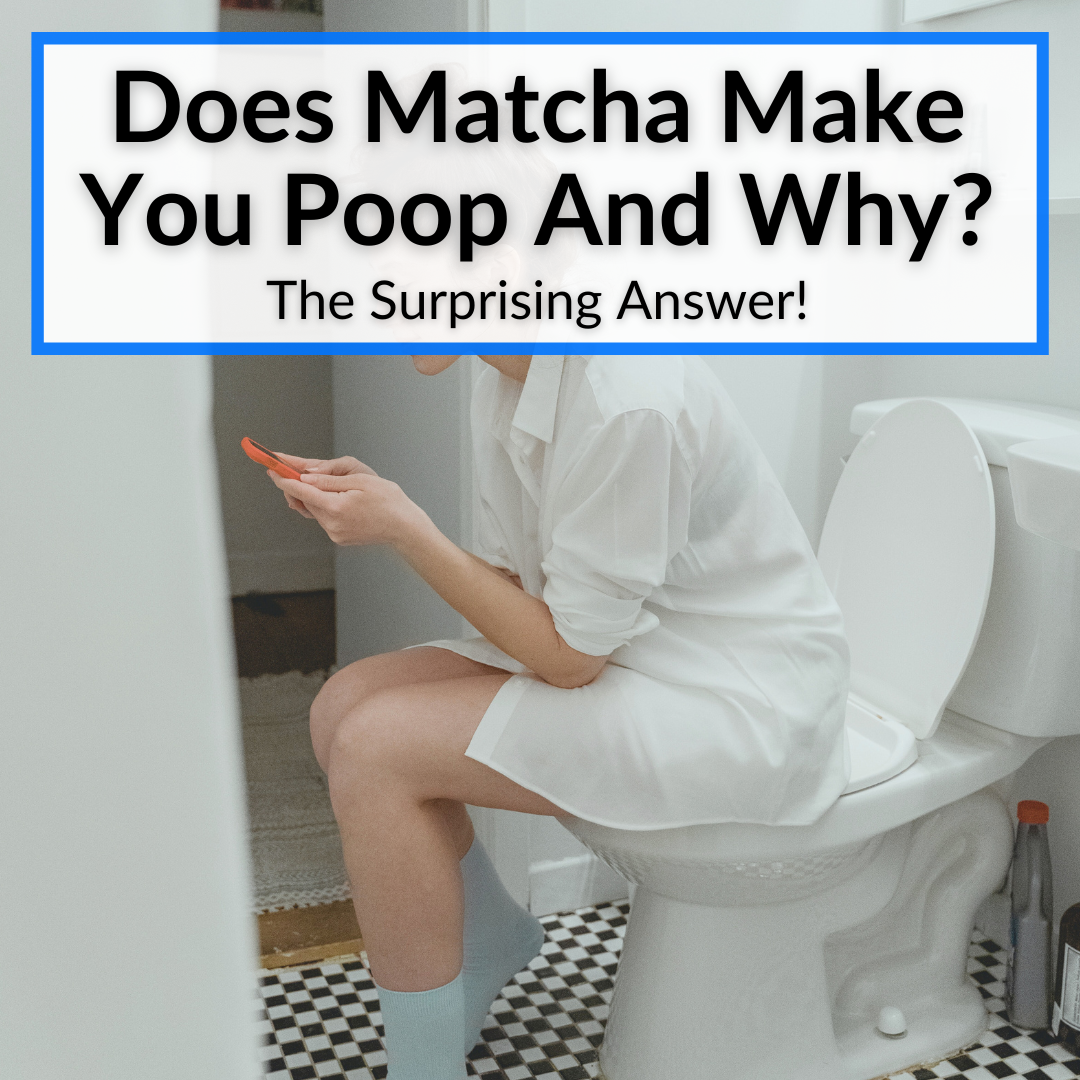 Most people know that coffee can make you poop.
Part of the reason is caffeine.
Matcha also contains a good amount of caffeine.
Does matcha make you poop just like coffee then?
Or does the lower caffeine content and the presence of other components coffee lacks eliminate the laxative effect?
It turns out it's a little bit of both.
Keep reading to learn whether matcha causes bowel movements like coffee does. We will cover everything you need to know about this topic, including whether matcha can cause constipation, or relive it (you'll hear both, for good reason).
Does Matcha Make You Poop?
Yes, matcha can make you poop. Some people will experience a bowel movement after drinking matcha. This results from the tea's laxative effect, due to its caffeine, chlorophyll, and fiber content.
Matcha contains 35 to 130 mg of caffeine per cup (depending on the manufacturer and the quantity you use). This is less than the 120 mg if you compare matcha to coffee. But the amount of caffeine in matcha can still stimulate the bowels and cause you to poop.
But not everyone will experience a bowel movement after matcha consumption. After all, individual tolerances can vary and other factors, like diet, also matter.
Why Does Matcha Make You Poop (The Details)?
As mentioned, there are a few reasons matcha can act as a mild laxative and cause you to poop. Let's go over each of the reasons in more detail.
Caffeine
Matcha contains a significant amount of caffeine. Although its caffeine content is less than that of black coffee, it is still significant. One cup of matcha contains around 70 mg of caffeine on average, with the exact amount depending on the specific powder you use to brew your tea, and how much of it you use.
Caffeine increases muscle contractions and moves the bowels. The effect is more pronounced in some individuals than in others.
Matcha's caffeine also releases gastrin, a peptide hormone that plays a pivotal role in gastric motility and the secretion of hydrochloric acid. This helps speed up the digestive process and could be another reason caffeine makes some people poop.
Fiber
Matcha contains a lot of fiber. Fiber increases the roughage in the intestines and helps push fecal matter through. Fiber also softens the fecal matter and prevents dry and hard stools. It also absorbs water and makes the stools bulkier, which enables their easy passage.
Enhances Gut Microbiome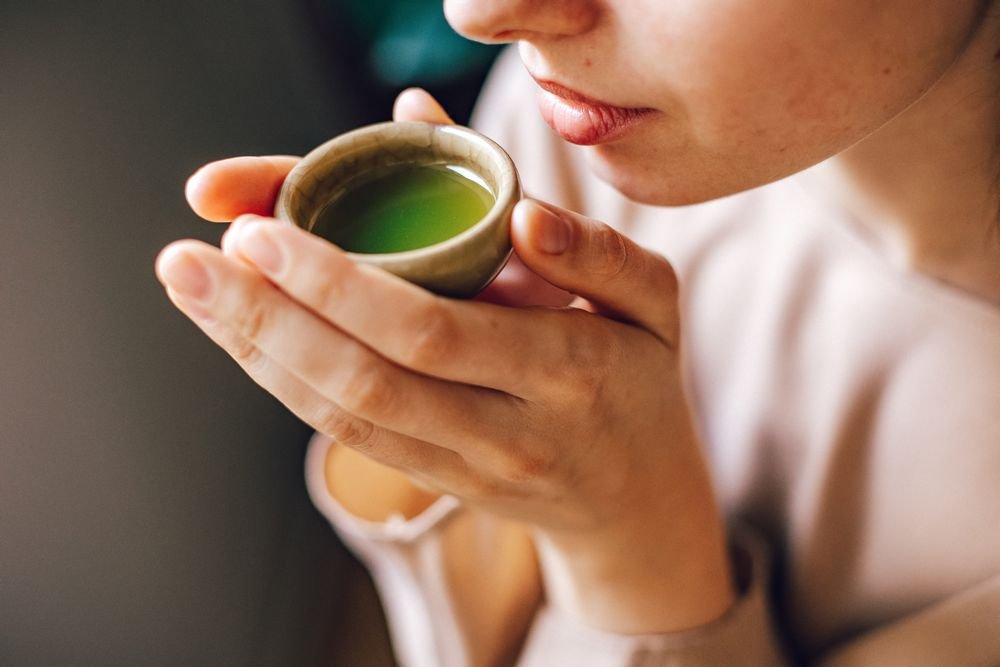 Matcha tea enhances the good bacteria in the stomach. The tea improves the gut microbiome's diversity, which, in turn, can keep you regular, prevent constipation, and enhance your overall digestive health.
Hydration
Matcha tea contains water, which hydrates your body. Water also acts as a diuretic and increases the liquid content in the intestines. Water also softens the stool, which could be a reason matcha makes some people poop.
Warm Temperature
Drinking hot beverages like matcha often causes us to poop due to peristalsis. Peristalsis is an involuntary wave-like motion of the digestive tract. The warmth of the hot matcha tea could promote peristalsis and result in a laxative effect.
Does Matcha Make Your Poop Green?
Normal poop is brown-black-yellowish in color. However, some foods can make your poop green. Some people report experiencing green poop after having matcha.
This may be due to matcha's chlorophyll content. However, simply having one or two cups of matcha is unlikely to be responsible for your poop's green color.
It may be that you are adding a lot of matcha to your shakes, smoothies, and baked goods. In that case, there is a small chance that your poop's color could be green due to your large consumption of matcha.
In some cases, you might have eaten other chlorophyll-rich foods in addition to matcha. This includes vegetables, fruits, and herbs (spinach, kale, arugula, avocado, Swiss chard, hemp seeds, parsley, cilantro, etc.). Foods with artificial green-blue coloring (sodas, juices, and drink-mixes) could also turn your poop green.
Does Matcha Make You Constipated?
Matcha can make some people constipated. There are a few reasons this can happen. Let's take a look at each one.
Tannins
Like all teas, matcha contains polyphenols called tannins. Tannins, in excess, tend to have an astringent effect on some people, resulting in stool dryness. This, in turn, hardens the stools and prevents their easy passage, resulting in constipation.
Dehydration
Matcha can also have a diuretic effect, resulting in excess urination. If you do not compensate by drinking adequate water or other fluids, then you could get dehydrated and constipated.
Can Matcha Help With Constipation?
Conversely, matcha can also reduce or prevent constipation (it really just depends on the individual and other circumstances). Here are the reasons matcha can work to fight constipation.
Caffeine
As mentioned earlier, matcha contains a good amount of caffeine, which acts as a mild laxative and stimulates the bowels to contract. This could result in bowel movements and peristalsis, and keep you regular.
Fiber
Matcha's fiber and chlorophyll absorb water and prevent the stool from becoming dry and hard. Fiber also adds bulk or roughage to the intestines and helps push the fecal matter through the intestines. Regular consumption of matcha can therefore relieve, and even prevent, constipation.
Heat
Drinking hot matcha can also help with constipation since the warmth of the tea stimulates the bowels and keeps them moving.
Hydration
Daily consumption of matcha (one or two cups) can keep you hydrated due to the water content. Water prevents constipation, because it prevents dry, hard stools.
Tips For Using Matcha To Prevent Constipation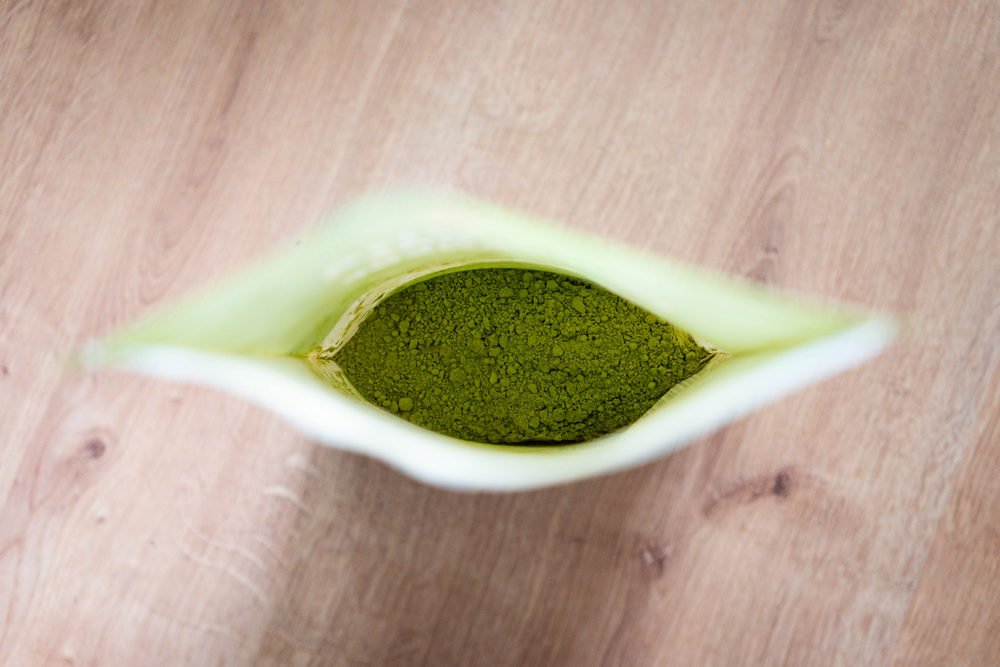 To use matcha for constipation relief, the following tips could help:
Only use high-quality, organic, ceremonial grade matcha. This way, it will be free from additives and preservatives.
Aim to drink at least 2 cups of matcha daily. Avoid excess consumption, because matcha can act as a diuretic and have the opposite effect, resulting in constipation.
Make sure you also consume other beverages, like fresh fruit juices, water, etc. Doing so will keep you hydrated and counter matcha's diuretic effect, which can result in constipation.
Exercise regularly to stimulate your bowels and stay regular.
Eat fiber-rich foods (fruits, vegetables, and whole grains) to add roughage, keep the stool soft and moist, and improve their motility.
Is Matcha A Laxative?
Matcha can act as a mild laxative due to its caffeine, fiber, and chlorophyll content. Caffeine stimulates the bowels to move. Fiber absorbs water into the stool and also provides roughage or bulk to keep the bowels moving.
Chlorophyll improves the beneficial bacteria in the gut and may have a positive effect on overall gut health and digestion. This can improve stool motility and prevent constipation.
Please note that matcha's laxative effect can vary from individual to individual. It is important to understand that matcha also functions as a diuretic. This means it can increase urination, which, in turn, can cause dehydration and constipation.
The bottom line is that you should consume matcha in moderation. Make sure to also drink plenty of water and other beverages to counter matcha's diuretic effect, if you have a lot of matcha.
Does Matcha Cleanse Your Gut?
Yes. Matcha is an efficient gut-cleanser and detoxifier. This is mainly due to its chlorophyll content. Chlorophyll is proven to detoxify the body. Like activated charcoal, chlorophyll absorbs the toxins in the gut, binds to them, and throws them out of the body.
Moreover, matcha's polyphenols, catechins, and antioxidants combine with its chlorophyll to increase the friendly bacteria in the gut. This improves gut microbiome diversity and helps improve digestion.
Matcha's fiber content also keeps you regular. With regular bowel movements, all of the harmful waste is eliminated. This improves gut health and keeps your digestive system on track.
Matcha Causing Bowel Movements: Final Thoughts
Matcha can make you poop, but most people will not experience this, unless you drink a lot of it. The laxative effect is much stronger with coffee than it is with matcha.
But the caffeine in matcha, along with other components like fiber and chlorophyll, can definitely act as a laxative and relieve constipation. Conversely, they can also cause constipation. It all depends on your body and what else you have been consuming.