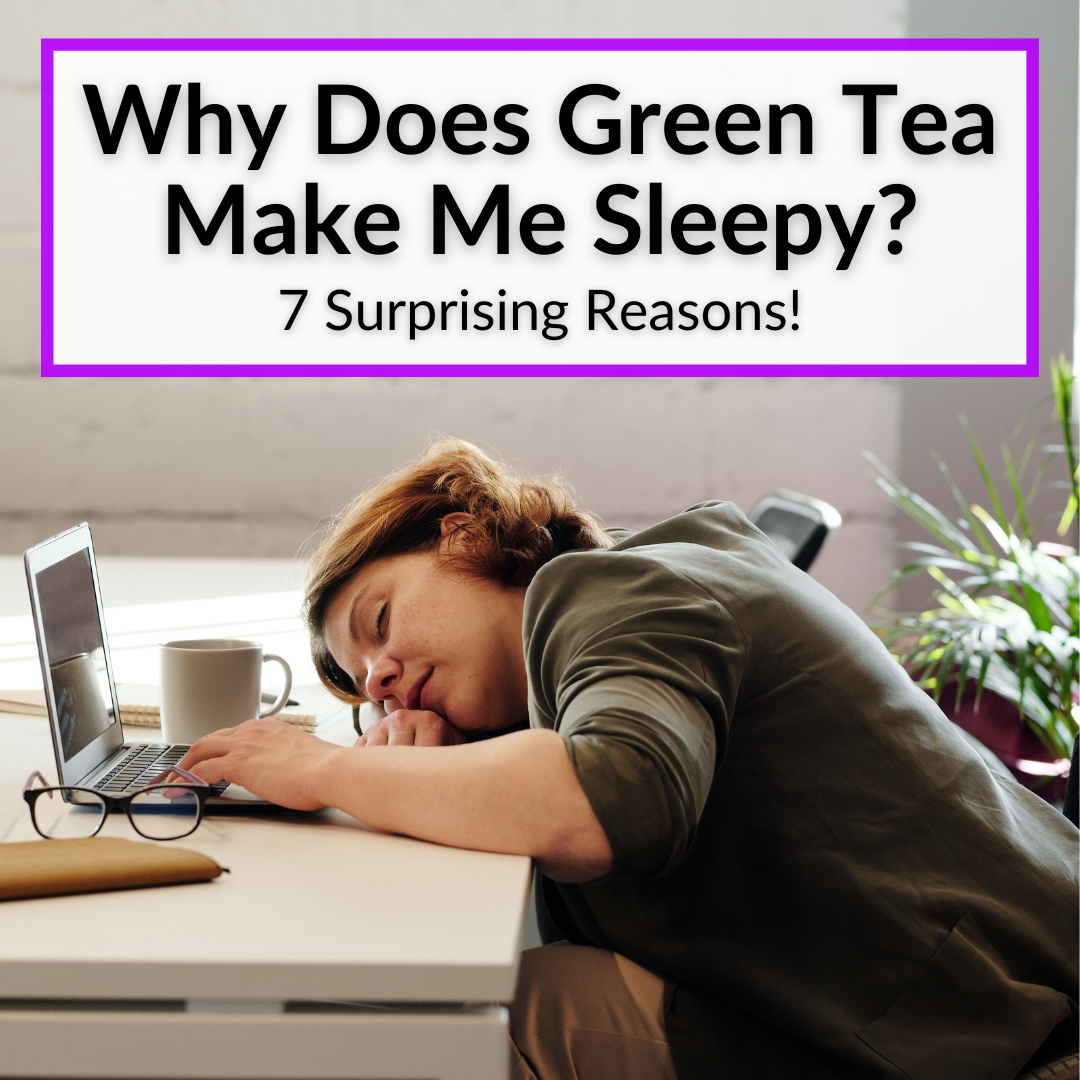 No, you are not crazy.
And you're not alone in wondering: why does green tea make me sleepy.
It's true that tea contains caffeine and it gives most people a slight boost in energy.
But not everyone.
Some people experience the exact opposite. They feel tired after drinking green tea.
And there is a scientific explanation for that. Several, in fact.
Keep reading to learn why green tea makes some people feel drowsy or sleepy instead of giving them energy.
Why Does Green Tea Make Me Sleepy?
Green tea can sometimes make you feel sleepy due to its l-theanine content. This amino acid is a nerve-relaxant that binds with the GABA receptors in the brain and reduces stress.
Green tea does contain caffeine, but most types do not have enough to really keep you awake, assuming you only have a cup or two. That is why some people find green tea an ideal replacement for coffee and black tea.
And is is also why the l-theanine content can make some people sleepy, despite the caffeine. But that is not the only reason green tea can make you sleepy. It also lowers blood sugar, which can cause drowsiness. And there are 5 other reasons it can make you sleepy.
7 Reasons Green Tea Makes You Sleepy
While green tea helps stimulate most people, it can also make some feel sleepy or drowsy. Here are seven reasons green tea can induce drowsiness
L-Theanine
L-Theanine (or L-THE) is an amino acid that promotes relaxation and calmness. It also acts as a nerve relaxant that may reduce stress and anxiety.
L-theanine in green tea also increases certain alpha waves in the brain that are associated with relaxation, mood improvement, calmness, and stress reduction.
Low-Caffeine
8 ounces of brewed green tea contain only 28 milligrams of caffeine on average. Of course, some types (mainly matcha) have far more, while others (like houjicha) have far less. But all except for matcha have a lot less than the 96 mg of caffeine in brewed coffee.
Caffeine interferes with sleep and could result in heart palpitations and insomnia in some people. The low caffeine content of green tea makes it an ideal beverage to drink in the evening, since it won't interfere with sleep.
In fact, it may even promote restful sleep by reducing anxiety and stress and relaxing the nerves. Having said that, it is still advisable not to drink green tea too close to bedtime, if you don't want it to interfere with your sleep.
Dehydration
If you drink several cups of green tea in a day, then its caffeine content can act as a diuretic. This could result in dehydration, which, in turn, can cause drowsiness and yawning.
If you are not drinking enough water with your green tea, that could be the reason why you feel tired or sleepy after drinking it.
Lower Blood Sugar
Green tea also reduces blood sugar levels, making it one of the best teas for diabetics. Lower blood sugar can make you feel lethargic, tired, or drowsy.
Try having a small, healthy snack with green tea and, if needed, limit your consumption to just one or two cups a day. This could help reduce post-consumption drowsiness.
Time Of Day You Drink Green Tea
When you drink green tea could also impact your circadian rhythm and result in drowsiness. That is why the best time to consume green tea is after breakfast, around 10 a.m., and after lunch, or between 2 and 4 p.m.
Remember that green tea does has a mild caffeine content, which might keep you awake if you drink it too close to bedtime, especially if you're sensitive to caffeine.
Individual Tolerance
Some people tend to experience more drowsiness after drinking green tea, because their tolerance level to certain compounds that promote relaxation may be lower.
If you find that drinking green tea in the morning affects your productivity due to drowsiness, you could consider having a cup at the end of your work day instead
Food/Drinks/Drugs You Combine With Green Tea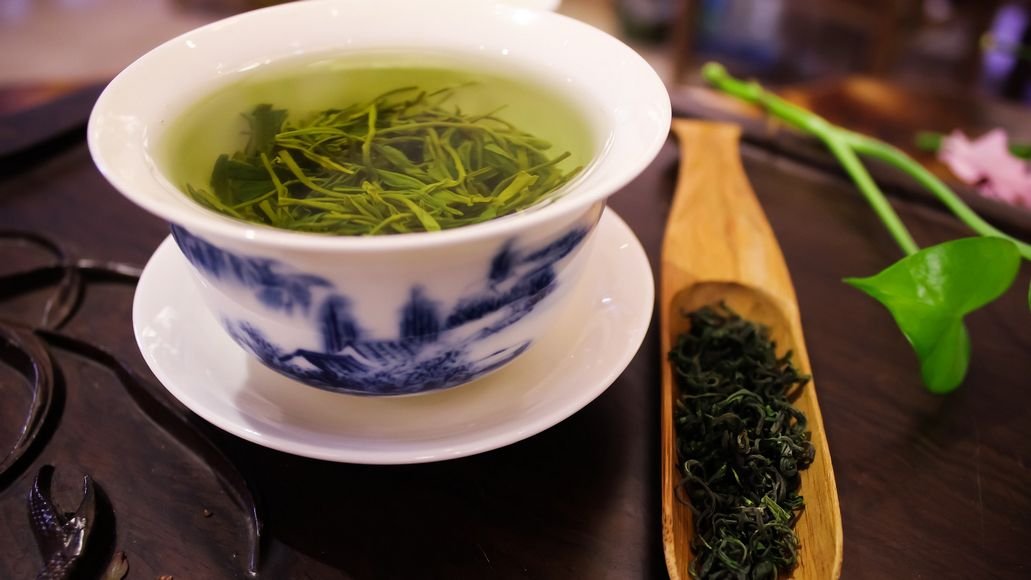 If you are taking any pain relief medicines or eating certain foods with green tea, then those could also impact how you feel.
Nuts (like almonds and walnuts), fish, fried foods, certain fruits like cherries and kiwis, etc., as well as alcoholic beverages, could all amplify green tea's drowsiness effect.
Is Green Tea A Stimulant Or Depressant?
In general, green tea acts as a mild stimulant. Stimulants are substances that increase the activity of brain chemicals, such as dopamine.
That is why it is important not to combine green tea with certain drugs, especially those used for relieving coughs and colds. These drugs are also stimulants, and together with green tea, they may cause a spike in blood pressure. This, in turn, could cause an irregular heart rhythm.
What is the Best Time to Drink Green Tea?
Since green tea contains very little caffeine, you can drink it in the evening, especially if it makes you feel drowsy and relaxed and if you want a good night's sleep.
But if you are sensitive to caffeine, even the small amount in green tea could be a problem. You might want to limit your consumption to the earlier parts of the day. It may be best not to have green tea 2 to 4 hours before bedtime, if you find that it keeps you awake.
Most people prefer drinking green tea around 10 a.m. or with breakfast. But green tea after meals can be a problem, too. Some also have it around 4 p.m. when they need an afternoon pick-me-up, without the crash associated with caffeinated beverages.
What Happens If You Drink Green Tea Every Day?
It is OK to drink green tea daily, albeit in moderation. Green tea has several antioxidants that help fight free radicals. This may reduce the risk of certain cancers.
Daily consumption of green tea could also reduce the risk of chronic diseases, improve brain function, promote relaxation, aid in weight loss, and reduce inflammation in the body. Green tea can even help post surgery, for some procedures.
However, if you are sensitive to even a small amount of caffeine, you may want to limit your consumption to one or two cups of green tea per day.
How Much Green Tea Is Too Much?
The answer to this question depends on your individual tolerance to caffeine. The FDA recommends not having more than 400 mg of caffeine in a day.
Since the average cup of green tea has around 28 mg of caffeine, it may be best to limit your intake to four or five cups a day. But even 10 should be fine for most people.
Remember that excess green tea consumption has been known to cause jitteriness, abdominal pain, and diarrhea.
Also, green tea could interfere with certain drugs, especially blood thinners and heart medications. And the caffeine does add up. Even with the low caffeine content, a lot of green tea could also cause insomnia in people who are sensitive to caffeine.
You can always consult your doctor about how many cups per day of green tea are right for you.
What Tea Makes You The Most Tired?
Chamomile tea is the best bedtime tea, if you're looking for a beverage that promotes rest and relaxation.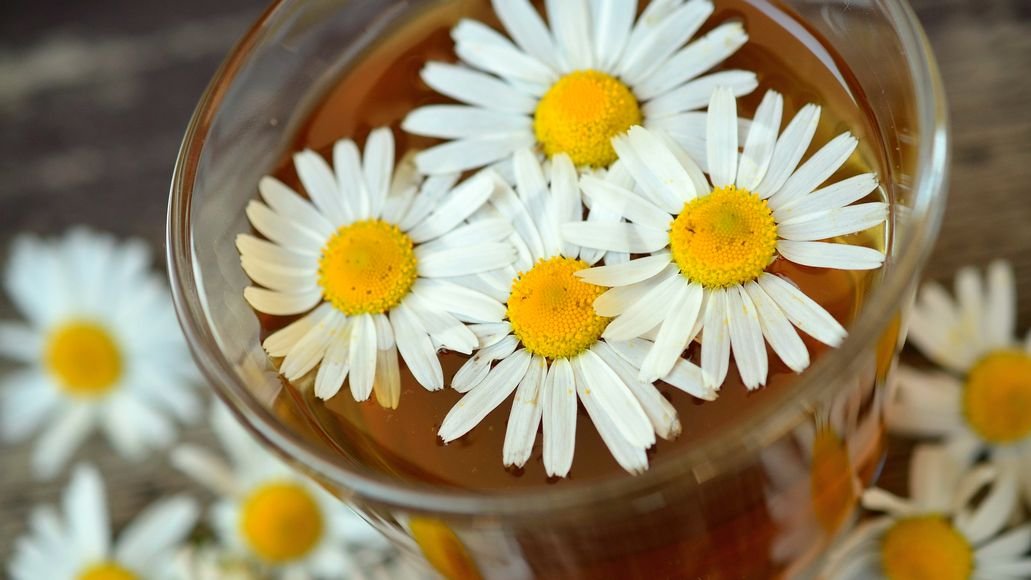 The chamomile herb contains many compounds, including a flavonoid called apigenin, which binds to the GABA receptors in the brain. This reduces stress and anxiety and induces relaxation and sleepiness.
If you're looking for restful sleep at night, have a cup of chamomile tea about 30 minutes before bed.
Why Does Green Tea Make Me Tired: Final Thoughts
If you are one of the people who feel drowsy after drinking green tea, you are not alone. While most people get a boost of energy from green tea, due to the caffeine, it is also not unusual to feel tired instead. Some people just aren't very sensitive to caffeine, and hey are more sensitive to some of the compounds in tea than can cause drowsiness.
Green tea can make you sleepy for a number of reasons. The most probably is the l-theanine content in green tea, but any of the other 6 reasons given above could be the culprit as well. If you want to keep enjoying green tea, but do not want to feel tired after drinking it, try matcha. It contains much more caffeine and is sure o give you a bit of a boost. Our matcha guide has more.