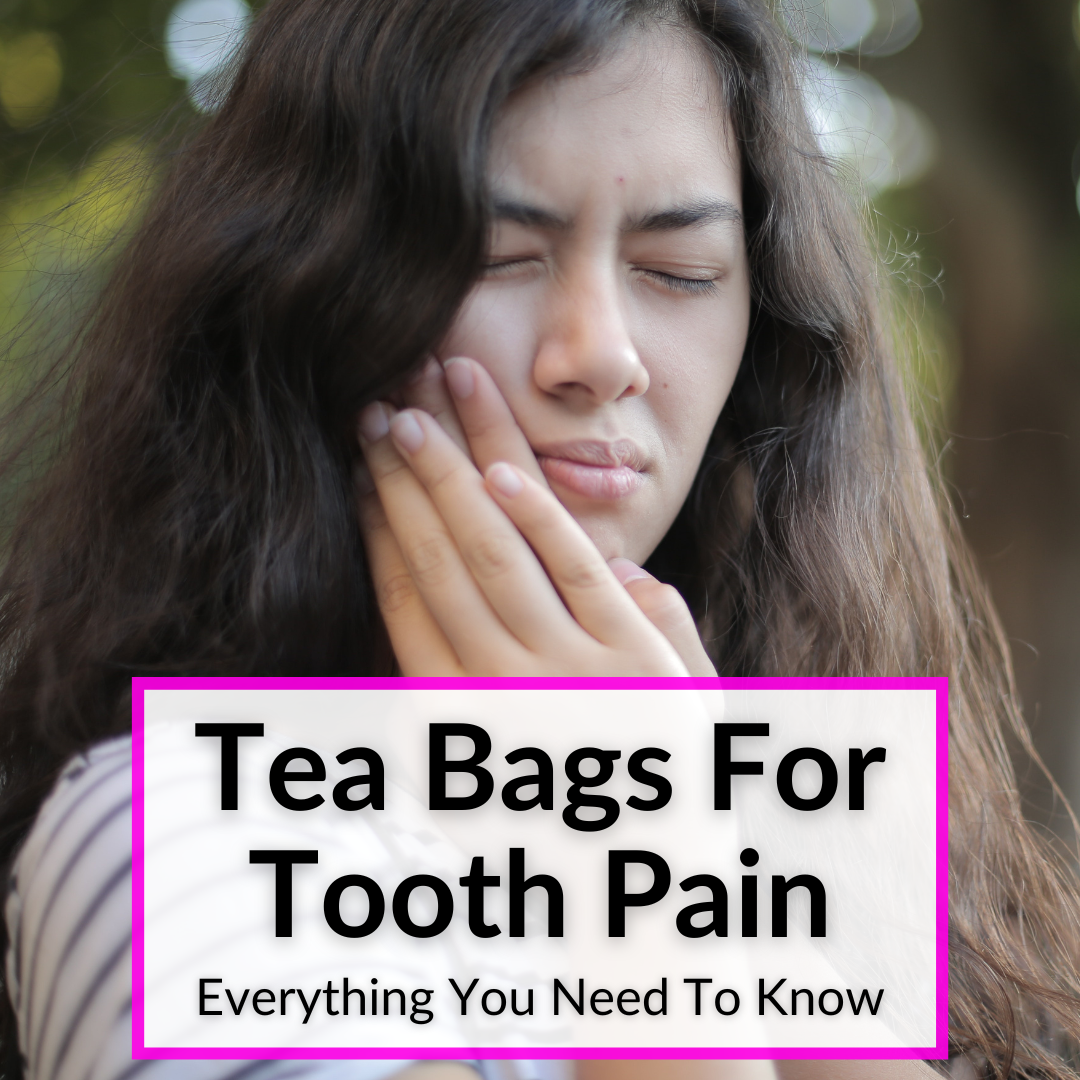 Does it seem like tea bags can do anything?
In addition to making actual tea, of course.
On this site alone, we have a number of articles about unusual uses for tea bags.
And there are many more.
Even your dentist may have some unusual uses for them. Some dentists recommend using tea bags for tooth pain.
But does it actually work?
Keep reading to find out. We will cover everything you need to know about using tea bags for toothaches, from how to do it, to which types of tea work best.
Tea Bags For Tooth Pain
Tea bags are known to relieve tooth pain and bleeding that can occur from a tooth infection, a dental abscess, or a dental extraction.
To stop tooth pain with a tea bag, soak a green tea or black tea bag in hot water. Wring out the excess water and place the warm bag on the affected tooth.
You can lie down with the tooth bag in place for a few hours or until the tooth pain subsides. Repeat as often as needed until you can see a dentist.
How Do Tea Bags Help Toothaches?
Tea bags, especially those containing green tea and black tea, contain tannins. Tannins have natural antibacterial properties. They help fight dental infections caused by bacteria.
Tannins also have anti-inflammatory properties which can relieve toothaches. The warm tea bag also eliminates swelling and soaks up the pus or discharge, in the case of a dental abscess.
The chemical compounds and antioxidants in tea even reduce oxidative stress, decrease inflammation, and help fight inflammatory tooth conditions.
Moreover, tea also has astringent properties which promote blood clotting. A study has even shown that green tea extracts significantly reduced oozing and bleeding in the empty socket caused by dental extractions.
What Kind Of Tea Is Best Tooth Pain?
Many dentists recommend certain types of teas to relieve toothaches. These are the ones they recommend most often.
Peppermint tea: Applying a warm tea bag of peppermint tea is a dentist-recommended remedy to relieve tooth pain at night. The menthol in peppermint soothes the pain, relieves inflammation, and brings down swelling.
Green tea: As mentioned earlier, green tea contains tannins, antioxidants, and astringents. These combine to relieve bleeding, pus, and inflammation caused by a dental abscess or a dental infection.
Black tea: Like green tea, black tea is rich in tannins, which can relieve pain and inflammation. It also has antibacterial properties that could fight the bacteria that caused the dental infection.
Tea Bag For Tooth Extraction
Dentists recommend using a tea bag post-tooth extraction to relieve bleeding, soothe away the pain, and reduce swelling in the socket.
Here are the steps to use a tea bag for tooth extraction:
Soak the tea bag (green or black tea) in hot water for 2-3 minutes.
Squeeze the bag and press it against the cavity.
Lie down for an hour with the tea bag in place.
The tannins in the tea will help relieve the pain and inflammation.
Can I drink tea after wisdom teeth removal? Cold tea is fine, but you should not drink hot tea in the first 24 to 48 hours after a tooth removal. The heat impedes the healing process.
Peppermint Tea Bag For Toothache And Additional Questions
As mentioned, peppermint tea bags are one of the types (along with green and black tea) that dentists recommend the most to help soothe a toothache. I recommend trying all three and seeing which one helps you the most.
Now wwe will answer some common related questions. If you have any additional questions, please feel free to ask them in the comments below.
Is Hot Tea Bad For A Toothache?
Hot tea can be an excellent remedy for toothache. Some dentists recommend using hot chamomile tea, peppermint tea, black tea, or green tea to relieve toothaches.
The heat of the tea helps relieve discomfort caused by the dental ache, by increasing blood flow to the area. This reduces the buildup of fluids in the tissue, which relieves pain, swelling, and inflammation.
However, for some people, eating or drinking hot or cold foods and beverages could aggravate dental sensitivity and cause more pain. If this is the case, please see your dentist, especially if the pain seems to come and go after eating or drinking hot food or liquids.
Should I Drink Tea If I Have A Toothache?
Yes, dentists recommend drinking hot peppermint tea, chamomile tea, black tea or green tea to relieve toothaches. Peppermint tea is known to soothe the gums and relieve tooth pain. Peppermint tea also has numbing properties due to its menthol content, which helps relieve toothaches instantly.
Similarly, green tea extracts can soothe inflammation and reduce pain, swelling, bleeding, or pus. You can either drink the hot tea or use a warm tea bag to press down gently on the aching tooth. Both teas – peppermint and green tea – can also fight the bacteria that may have caused the infection and tooth pain.
What Stops Tooth Infection Pain?
In addition to teas, you can use the following remedies to relieve toothaches caused by a dental infection, abscess, or extraction.
Clove Oil
This is a proven home remedy for tooth infection pain. Clove oil and clove extracts numb dental pain and relieve swelling. They have a natural antibiotic effect, along with anti-inflammatory properties. You can bite down on the clove and place the crushed clove on the affected tooth.
Alternatively, apply some pure clove oil to the affected tooth with your finger or a sterile Q-tip. Do not spit or swallow your saliva. Instead, let the oil sit on the infection and heal it.
Coconut Oil
Many people swear by coconut oil to eliminate dental infections, remove toxins, and stop tooth pain. Take a teaspoon of pure virgin melted coconut oil and swish it around your mouth for 10-15 minutes. This will help eradicate the bacteria causing the infection and also relieve the throbbing pain.
Hydrogen Peroxide Mouthwash
Gargling with hydrogen peroxide-based mouthwash can also relieve tooth pain caused by an abscess or dental cavity. Swish the mouthwash around your mouth for 2-3 minutes then spit it out. This remedy will also whiten your teeth and freshen your breath.
Salt Water Rinse
Many people swear by this remedy for a toothache. Heat half a cup of water and add a generous amount of salt to it. Stir well. Test the water's temperature and, once comfortable, take a mouthful of it.
Keep swishing it around your mouth until the pain subsides. Spit it out and repeat as often as needed. The salt also eliminates bacteria while the heat of the water relieves the pain and swelling.
What Is The Strongest Natural Antibiotic For A Gum Infection?
Clove oil is the strongest natural antibiotic. It is known to relieve gum infection and prevent it from recurring. You can also use garlic and turmeric for gum infections, since they both have natural antibiotic properties.
You can make a compress using crushed garlic, cloves or clove oil, and a bit of powdered turmeric. Apply this on your gums and leave it on for an hour, before spitting it out. Be careful: turmeric can stain the skin and clothes.
Make sure to brush your teeth and gums at least twice a day. You can also use salt water rinses to fight tooth pain and keep your gums clean.
Tea Bags For Toothache: Final Thoughts
Using tea bags for tooth pain might seem a little strange, but it actually does work. And there is science to back it up. As mentioned, the tannins in the tea help to soothe pain and can fight infection as well. Black tea, green tea, and peppermint tea are three two best options, but chamomile tea works well, too.
Those same tannins also make tea bags effective against cold sores. You simply steep a bag in water for a few minutes, then apply it to the fever blister, once it has cooled down sufficiently.
If you're not sure where to buy good tea bags, this article lists the best brands for green tea that sell online. The last section toward the bottom of the article has brands that also have tea bags. Those brands are also good for black tea, as well as other types.
If you prefer to just make your own tea bags, read our DIY guide to making tea bags.