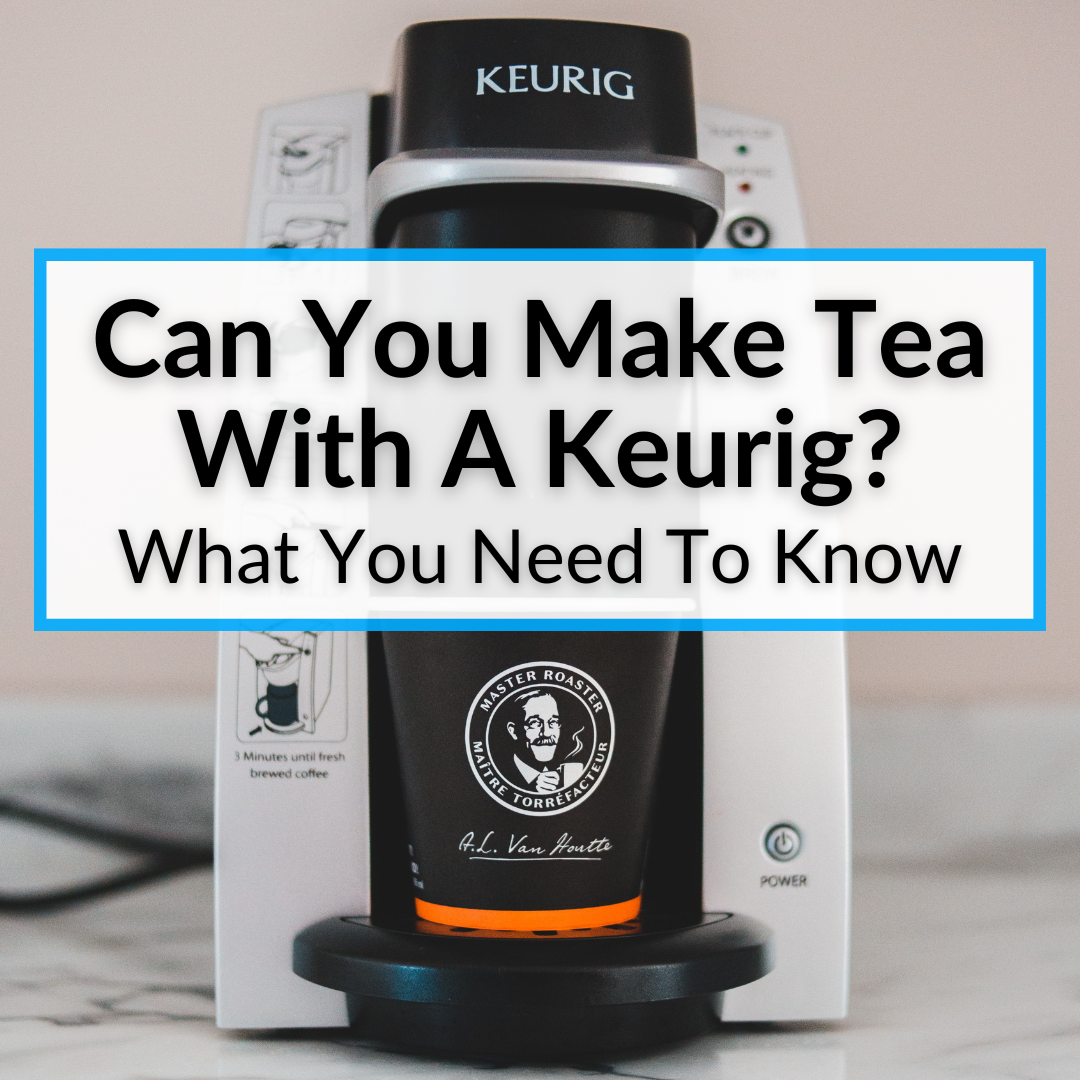 Do you already have a Keurig?
Then it definitely makes sense to wonder if you can also use it to make tea.
The same goes if you are considering one primarily for coffee, but would like to make tea with it, too.
But if you don't have one and are considering it primarily for tea, there are far better options.
So does that mean you can make tea with a Keurig?
Yes. Several different ways, in fact. And all are easy.
Keep reading to learn exactly how to do it. We'll also give you recommendations for good Keurig tea pods and a full rundown of the pros and cons of using a Keurig machine to brew tea
Can You Make Tea With A Keurig?
Yes, you can make tea with a Keurig machine. There are actually many different types of tea available in pod form (recommendations below) and using them to brew tea is quite easy.
If you usually drink loose leaf tea, you probably won't like the tea in the pods. But if you drink tea bags, you won't notice much of a difference.
Of course, you can brew tea in a Keurig without the pods, too. Doing that, you can use any loose leaf tea or any tea bags.
And brewing tea in a Keurig has advantages. In this post, we will show you how to brew tea with Keurig machines and discuss the pros and cons of doing so.
We will give you alternatives for both tea pods and Keurig machines, and tell you exactly what you need, so you can make sure you have everything you need to start brewing tea immediately. But first, it makes sense to review what exactly a Keurig brewer is.
What Is A Keurig Brewer?
Keurig brewers come in a wide variety of shapes. Most of them are single-serve pod brewers, but there are other models with extra functionality for different situations.
Keurig is actually the name of the company that manufactures these brewers, the brand was founded back in 1998.
There are over 400 types of pods provided by more than 60 brands all over the world. There are flavors like hot and cold coffee, teas, chocolate, lemonades, and much more.
Keurig brewers are mainly for small offices and individuals, but there are some machines that are large enough for families.
Pros And Cons Of Making Tea With A Keurig
These are a number of advantages making tea with a Keurig machine, but also some disadvantages.
Pros
Most of these machines are extremely easy to use
You can save a lot of time by not having to wait for the water to heat up to make your tea
You have a ton of tea varieties to choose from, as well as other options like chocolate, coffee, fruit-based drinks, and more
There are a lot of models to choose from, and some of them have convenient features like the possibility of adjusting temperature, auto off, auto on, and more
Cons
The tea in the pods is can't match the flavor of loose leaf tea, but is on par with most tea bags (but you can also use loose tea or tea bags, instead of the pods)
Pods are very damaging to the environment if not recycled (to avoid this you can recycle the pods after using them or you can buy a reusable pod)
Some models are expensive (most of the expensive models are the ones with advanced features, but basic models are usually very affordable)
You have to spend some time on cleaning and maintenance every few days after brewing a strong beverage
Some models can get clogged after a few uses, so you have to constantly adjust the internal systems (this occurs mostly on older models)
How To Brew Tea With A Keurig
The process of brewing tea on a Keurig machine is very simple if you use pods, but it can slightly change depending on the model you chose.
In this case, we are going to show you the exact process for the Keurig K-Mini, and K-Mini Plus.
The first thing to do is to plug in the machine and fill the water reservoir with water. Since the K-Mini is a single-serve model, you have to fill the reservoir with just the amount of water you want to drink. Make sure to use clean water to avoid changing the flavor of your tea.
Press the power button.
Open the top lid, insert your preferred tea pod, and close the lid.
Press the brew button (the big button on the top of the machine), and wait for the machine to finish brewing.
Finally, after you've done all of the steps above, you can just open the lid and remove the pod you used.
One thing to keep in mind here is that, if you brewed any other beverage before the tea, it is highly recommended to run a cleansing brew, so the flavors of the previous beverage don't stick to the tea.
For example, let's say that you've brewed coffee, and then you want to brew some tea. Well, you just have to run a cleansing brew, and you're done.
A cleansing brew is just running a whole cycle without any pod in the pod holder. Just use water.
Brewing Tea Without K-Cups
If you don't have a K-Cup to run a cycle, but you still want to brew some coffee, the process is extremely simple. The only thing you need is a tea bag or loose tea leaves of your preference.
You just have to run a cycle without a pod in the pod holder and put the tea bag or loose tea (ideally in an infuser) in the hot water. You are basically using the Keurig just to heat up the water.
Best Teas To Brew With A Keurig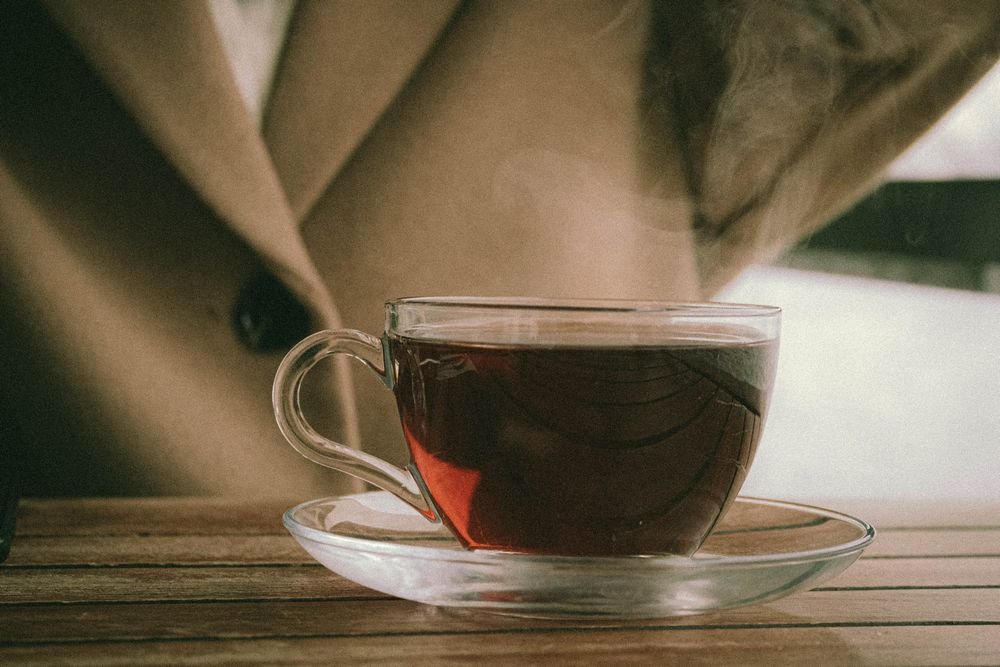 Obviously, this is subjective. The tea pods listed here are highly rated by the community, so they are good options to start with.
Maud's Organic Passion Green With Envy Tea
Maud's Organic Passion Green With Envy Tea is a very high quality pack that comes with 24 pods. It is a mix of green tea leaves mixed with tropical fruits. It comes with 100% Kosher certified ingredients.
The Kosher certification means that the product meets the strict policy of Kosher food laws, which includes, cleanliness, purity, and quality.
These pods were designed to work with all Keurig single serve brewers, as well as nearly all single serve coffee makers on the market.
If you have a different brand and not a Keurig, you will still be able to use these pods on almost any machine.
This product is blended in California, in a solar energy powered facility. The goal of the company is to be carbon neutral by 2024.
Additionally, these tea pods are made from recyclable #5 plastic materials, and they are designed to be easy to recycle.
The company is extremely aware of global pollution, and they want to do their best to contribute to the health of the planet. When buying Maud's products you support this goal.
Other Options from This Brand
Maud's has a bunch of other flavors as well, along with a variety pack that let's you sample eac of the flavors. You can find them all on the same product page on amazon. Here are the other options.
Organic peppermint pattie caffeine free tea
Organic caffeine free tea with lavender
Organic royally good english breakfast tea
Organic matcha green tea
Organic jasmine green tea
Twinings English Breakfast Black Tea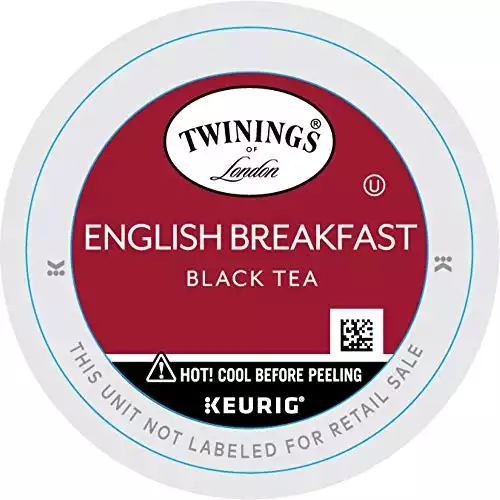 This English Breakfast Black Tea from Twinings is the most popular black tea from the brand. And for good reason. It is quite good.
This pack comes with 24 pods. It is made from 100% pure black tea, but there is no information as to the origin of the tea leaves. It is almost certainly a blend of various types.
They recommend selecting the 6 oz or 8 oz brew sizes for getting the best flavor possible. If you want to drink iced tea, they recommend using the 8 oz option.
If you want more than 1 box of 24 pods, they offer a pack of 6 boxes, and a huge pack of 56 boxes. This is great if you drink a lot of tea and don't want to buy a new pack of tea every few days.
Twinings is a brand that cares about the environment, so the ingredients of their products are ethically sourced. Their sourcing program aims to improve the lives of communities from which they source their ingredients.
Other Options From This Brand
Again, there are a number of other flavor options, and you can select them on the Amazon product page.
Earl Grey black tea
Earl Grey black tea (decaffeinated)
Green tea
Pure peppermint herbal tea
Pure chamomile herbal tea
Reusable K-Cup
There's another option that is very environmentally (and budget) friendly: using a reusable K-Cup. The only thing you need is to buy a reusable K-Cup and loose, broken, fanning, or dust leaves of tea.
You can also just break open a tea bag. You just have to put the tea leaves in the reusable K-Cup and run a normal cycle.
Best Keurig Machines For Brewing Tea
These are the best Keurig machines to use if you are planning to brew a lot of tea. Best is subjective, but these offer the best balance of convenience, performance, and price. And they are all well-reviewed by other users.
Keurig K-Mini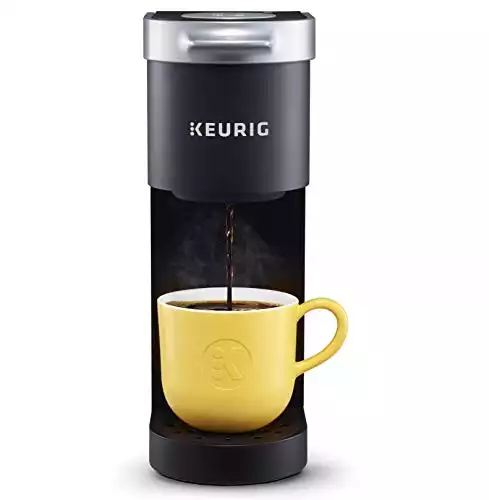 The Keurig K-Mini is one of the best Keurig coffee machines for two main reasons: it is very portable and very affordable.
It features a thin design, with only 5 inches in width. That makes it perfect for taking with you to the office, or for a dorm room.
This coffee (or tea) maker is single serve. You can only brew up to 12oz. The idea behind this machine is that you can only brew the amount of water you put in the reservoir, which can be very practical (or not) depending on how you use it.
For example, if you like to bring your machine with you everywhere, it is nice to have this feature since you won't risk spilling the water in the machine all over the place.
Additionally, you won't have to fill the tank completely in order to use the machine, even when you only want a single cup.
On the other hand, this feature is not so convenient if you plan to use it for multiple people, because you will have to fill the reservoir each time you want to brew a cup of tea.
This machine has other convenient features. For example, it has a small compartment in the back that you can use to store the cord of the machine.
It also has an auto-off feature that turns the power off automatically, 90 seconds after the last brew. This feature is great for saving energy.
Keurig K-Mini Plus
The Keurig K-Mini Plus is an alternative to the K-Mini. Although it is a little bit more expensive than the K-Mini model, it has a couple of convenient features like a removable water reservoir and pod storage.
Keurig K-Express
The Keurig K-Express is very similar to the K-Mini and K-Mini Plus. But instead of being designed for portability, it was designed to be stationary.
This model has a 42-ounce removable water reservoir. It is ideal for brewing several cups of tea before filling the reservoir all over again.
It has 3 brew sizes to choose from: 8oz, 10oz, and 12oz. Additionally, it has a strong brew button which increases the strength and bold taste of the brew.
This strong brew mode works by increasing the contact time of water with the content of the pod (tea, coffee, etc).
Keurig K-Mini Vs K-Express
What are the main differences between K-Mini and K-Express?
As mentioned previously, the K-Mini models were designed for portability and the K-Express was designed to be stationary. Also, its strong brew settings give it more flexibility.
We recommend you choose your machine with these factors in mind. Do you need portability? Go with the mini.
Do you need more capacity, or do you want the ability to modify the strength of your brew? Go with the Express.
Making Tea In A Keurig: Final Thoughts
Now you know that it is very possible to brew tea with a Keurig machine. They are very convenient and there are many different types of tea to choose from.
However, the flavor does not come close to a loose leaf tea. It is more or less on par with tea bags.
If you enjoy drinking loose leaf tea, you can still use the Keurig as a way to boil water, and then simply use that to brew a loose leaf tea (this works with tea bags, too).